JaiGanesh ShivaOm
Hi all, I'm Sia.
I have got this privilege of updating the Written version of the show for
Mondays
and
Fridays
.
I would like to thank you for giving me this opportunity.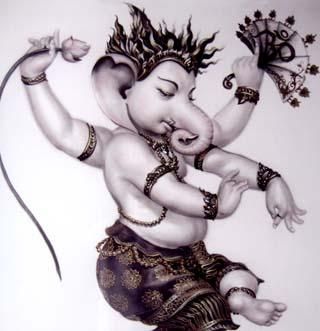 Devon Ke Dev Mahadev30th -Nov-2012 : 'Indr's Nastiness! '
Seeing Mahadev worried mata Parvati feels for him... So she decides to cheer her swamy up and dresses up elegantly.
She advances towards him with a smile adorned on her lips... seeing her Mahadev's worry fades off and a kind of tranquility covers his face...
She asks him, how is she looking in the new look!
Shiv says "In every form you are dear to me "
Then Mata Parvati invites Mahadev to play Chousar (Ludo)... They both as always sit facing each other for the play with all the ganas Mata's side and Nandi on Mahadev's side (Yeh kab huaa
)
There is this ankhon hee ankhon main issara going all the way... (Good to see Mahadev- Parvati's special moments back!)
They start playing the game with only eyes doing all the talking!
But not for a long time... all of a sudden Shiva loses his interest citing his worry for something, so he plays uninterestedly which is observed by all.
At Swarg lok.. Dev guru informs Indr that Mahadev has started the task of making a proper law and order for the world, for which Rishi Gautam is given the vision for the knowledge on justice (Nayaay Darshan gyan )
Indr looks tensed up (as it is he is the one who is going on the trail first.).. where Dev Guru feels happy... but Indr is annoyed as Mahadev thought that a Rishi is best suited for the task than an devta!
He feels that Mahadev is biased and says that Mahadev conspires to give away his (Indr's) thrown to Gauntam rishi.. when Brihaspati ties to argue saying that if that had been the case he would have given his(Indr's) thrown to Kartikeya.
Indr retorts that if that had have happened he would have been blamed for being partial to his own son and when his word is justice bt itself why is there any need for a law book!?!.
To which Brihaspati tells him, why does he always take a wrong meaning for things?
Brhaspati argues with Indr about Rishi Gautam, that he is qualified for it and thus Mahadev has given him a chance.
Indr takes a while and sits on his thrown.. he says that he(Brihaspati) has scratched old wounds saying qualification thing. Indr further says that he once wished to marry Rishi Gautam's wife Ahalya but because of Brhm dev her father he couldn't !(Sorry to writ this I just wanna puke
)
Indr opening his Pandora mouth saying that, he has heard that Rishi Gautam loves his life to the core!
Hearing this Dev Guru asks Indr if he is hinting towards some peril!
Dev guru warns Indr that one if does anything wrong to Rishi Muni's will always take one towards the end!
At Kailash.. the gans are celebrating Parvati Ma's win..but only Parvati am and Nandi knew tat Mahadev was in some worry.
Nandi guestures the gans to move.. after they all go Parvati mata starts.. that she knows thta he is ma at her but she is ready to repent!
Mahadev says that he is hurt and the reason behind it is the whole world. When asked by Mata about it that after the samudr mantha world has benefited then how that possible.. he replies that nothing has changed.. she reasons that its then Shri has returned back.
Shiv says "What kind of Shri is this due to which everyone are getting marred..the whole world took part in the Manthan.. after having poison I became Neelkanth then why didn't the world become Shri Kanth after having SHri.. till the time the poison desn't get churned out of their minds Shri will be misused.. Elixer- AMrit was not meant to nurture Devta's arrogance. it was to see to the betterment of the world"
Mata Parvati says that he is at least trying and gave the knowledge to Gautam rishi about justice.
Mahadev says that just by scripting the knowledge of justice ...it has to be done practically applying ones life.. as rishi Gautam himself is commit a mistake in following it.
further he says that it is impossible to conduct justice in this timid society!
Parvati says that due to their son Kartikeya there no fear of asuras, due to Shri there is not worry of poverty lastly due to amarit devtas has no fear of death.
He asks did she over come fear yet?
He says she herself has taken so many births inorder to get him..yet she has fear of lossing him..
He asks her to chur her own mind,, he says that only after finding this soultion he would go back to Kailash,,
Psrvati ma says even she would want to go with him.. but he asks her to stay back and do her duty.
Indr goes near rishi Gautum's ahsram and sees Ahalya for a while from a distance.
At Kaialsh Nandi asks Parvati ma where Mahadev is?
Indr bugs Sury dev for Gautam rishi's details.. when Suray dev says that it is classified Indr threatens him saying that he is their king,... Sury dev says that GAutam rishi every early morning (around 4) goes out of his ashram.
Down South.. Kartikeya says that they are ready for the attack... MEnakshi asks him if it really is that important for him to go as devsena is still his responsibility>?
He replies that its his duty to go with his army..
Menakshi tells ..EVen if someone loves you, you go away from them>
Kartikeya is shocked hear the word 'Love' and 'DEVsena'
At Gautam rishi's ashram early in the morning... he goes to the river for bathing..as ge goes a little far Indr appears giving evil smiles.
Indr takes Gautam rishi's form and goes in the ashram.. Ahalya asks that he has just gone!
He says that her love has pulled him back..and eh puts off the lamp.
Where as, as The real Gautam rishi walks towards the river the weather condition turns bad.. which hints him that something is gone wrong somewhere.
Shiv goes to Brhm dev and says Indr will get his punishment, but the wrong deed he has started this day will see similar examples forever in this world..And to erase such wrong things from this earth Devi Lamxi and Narayan has to time and again take birth and have to endure the pain of a human life. And he (Mahadev) has find a solution for this damage (Hinting to Ramm n Sita.. givin reason as to why Ram left Sita alone)
-------------
PRECAP:


Gautam rishi gives Indr a curse that he should turn into a diseased one and weaponless and to turn this back only some Vignvinaskhak has to come.
Parvati ma is again making a doll as her child.
Gannu Bhayya is coming soon!!!
Thanks for reading the WU
HAve a nice weekend.
Love Sia