Hey friends,
So our next COTW is none other than the guy who has many powers. He is superman, spiderman, batman...etc. combined in one.
But the best power that he has is to make us fall in love w/ his eyes, his looks, his voice, his ada
, his dance...
Haila haila..hua hua..
haila haila..woh toh legaya..
dil humara haan legaya re...
Bas woh legaya re...
So..as most of you have guessed it...our next
is none other than the hearthrob, the first superhero of Bollywood - Krrish...
Hrithik Roshan
Hey, deewana hai dekho beqaraar voh
Sambhaalo sambhaalo, na pyaar ho
Apna banaake dekho dil na churaa le voh
Aisa kyoon lage hai, bolo na
Jhim chik chik jhoom, tum bolo hai voh kaun jo
Baar baar yeh dil khota hai dekhke usko


Our one and only Duggu (Hrithiks nick), arrived w/ a bang in 2000 and took just one movie to steal away our hearts. Kaho Na Pyaar Hai was his debut film where he played a double role (sort of :p) w/ Amisha Patel as the leading actress. He did a great job in this movie and showed us how talented he was. His dance also rocked in this movie.
Before starting his career in films, he was a assistant director w/ his father in Koyla, Karan Arjun and Khudgarz. So, he didn't just come in and become an actor but did some 'research' on it too. :)
Soon after the success of KNPH, Hrithik got many film offers and he did movies like Fiza, Mission Kashmir and Yaadein. Though these didnt do so well at the Box Office, I think he did a great job in these movies. Here he also paired up Karisma Kapoor, Preity Zinta and Kareena Kapoor respectively.
Baatein...bhool jaati hai
yaadein...yaad aati hai...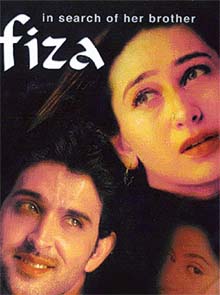 Next he starred in the movie w/ all the superstars. It was Karan Johar's Kabhi Khushi Kabhi Gham. Wow, Hrithik has been part of way too many K movies
But this was a hit and he did a fab job playing the younger brother of SRK.
His jodi w/ Kareena was well accepted by now and rumors of their affair were going around. But our Duggu was happily married to Suzanne.
They recently got blessed w/ a beautiful baby boy named Hrehaan!
So, bfore the baby boy came many other movies like Na Tum Jaano Na Hum, Mujhse Dosti Karoge and others that did not really make it at the box office. Some of the movies that he choose to do, were probably not one of his best decisions.
Although he acted well, there wasn't really any good story in most of these movies. He finally made a comeback with his father's movie Koi..Mil Gaya. Here he played a subnormal child who was blessed w/ powers from an alien named Jadoooo
This movie was quite a success, especially w/ children. His work was by far the best in this movie
He won critical acclaim and lots of awards for his performance.
Yun toh, hum tum..
Milne ko milte rahe
Par kyun aaj aisa laga,
Koi Mil gayaaa.....
He then did a film by Farhan Akhtar - Lakshya! I personally loved the movie, I really dont know about others. But it wasn't a huge success. Hrithik then took a break of about a year and recently made a real come-back and as a superhero named Krrish! Wow, India's first superhero. I have still to watch this movie, But I hear its good!
neend chupti hain jahaan pe
khwaab sajte hain jahaan pe
khabar yeh ayi hai wahaan se
koi tumsa nahin, oh koi tumsa nahin


....sach mein nahin Hrithik!
His next movie coming up would be Dhoom 2! Be sure you catch him in that movie!!
So that was all I have to say about him
Now its your turn to tell us what do you think about him!

1. What did you feel about Hrithik when he entered the film industry? What was your first reaction to him as an actor?
2. Do you think Hrithik made a few bad choices in b/w with regards to his movie selection? If so tell me which one was his 'worst' movie?
3. You do love Hrithik's dance performances right? So, if you were given a chance to dance to one of his songs...w/ him! ..which one would it be and why?
4. Favorite hair style of Hrithik that you think suits him the most? (he is known to have diff hair styles in diff movies)
5. Have you seen Krrish - If so, what did you think of it?
6. What superpowers would you like to have and why?
(this time questions 3 and 6 are special questions and the most creative answer will get a prize :)
Thats it from me! Hope you enjoyed reading the 'life story' of our jaan, Hrithik! Feel free to leave any comments or suggestions to improve this post.
Bole chudiyan, bole kangna
Agli baar hum tum milegne mahiya..
Lekin hoga koi naya jaan humara heyyy...
mil na mil na..
agli baar mujhe mil na mil na...
Love,
khair

************************************************************ *
To continue your support for Hrithik, check out his fan club.


Edited by sweet_kp - 09 July 2006 at 9:46pm