Angad was doing some work.Kripa came and embraced him from behind.
A:What happened?You seem to be very happy.
K:The climate is so good.Let us go to the beach and revive our sweet memories Angad.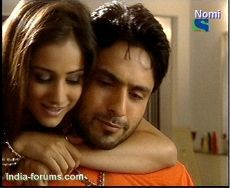 A:Wow!Cool idea.
Angad and Kripa went to the beach.They embraced each other and walked.
Angad sat down and Kripa lay upon him.They both watched the beauty of sunset.
K:You remember how we used to enjoy in the beach during courtship.
A:Yes...ofcourse.How can i forget those days?
K:Those were our golden days.
A:Now also we are going through our golden days.
Kripa became emotional.She looked at his eyes:But I am scared whether I will lose you again.We got separated twice.
Angad wiped her tears which were dipping.
A:No Kripa.We will never get separated again.I assure you.
They smiled at each other.
After a few days...
Kripa was narrating stories to Sur, and Prateek.
S:What a boring story mumma!
Kripa was embarrassed:What?
Angad started laughing.
Kripa got angry:What is the need of laughing like this?
He kept laughing.
S:Papa...you tell us a story.Your stories are much better.
A:Why not?
He started narrating a story.The kids were engrossed in it.
Kripa just walked out.Angad followed her.
A:Are you angry with me?
K:Nothing like that.
A:But your mood seems to be bad.
She did'nt say anything.
A:But i can make your mood good.
K:How?
He grabbed her hand and went out.It was raining.
Kripa became pleasant:Rain!
A:Yes,I knew that rain can make you happy.
Kripa enjoyed herself in the rain.The water drops on her face aroused romantic feelings in him.
Kripa saw him staring at her.She became over conscious.
Kuch tum kaho, kuch hum kahe
Phir ho shuru yeh daastaan) - 2
He went towards her and held her wet hair.She did'nt understand why.He shook her hair and the water drops from her hair fell on his face.He felt nice.
Yeh to kahaani hai apne pyaar ki
Betaab dhadkan ke ikraar ki
Dil mein hai kya, tum jaan lo
Jo hum kahe maan lo
Jaan lo, maan lo, jaan lo
Kuch tum kaho, kuch hum kahe
He pulled her towards him and held her tight not letting her move away from him.His eye balls kept rolling on her.
Hosh hai kahin na qaraar hai
Dard hai ajab sa khumaar hai
O, kya kare, deewanon sa haal hai
Har ghadi tumhaara khayaal hai
Neend bhi aaye na raat bhar
Dhoondhti tumhe har ghadi nazar
Tumko nahin shaayad iski hai khabar
Chaahega na koi tumko is kadar
Dil mein hai kya, tum jaan lo
Jo hum kahe maan lo
Jaan lo, maan lo, jaan lo
Kuch tum kaho, kuch hum kahe
They got lost in their intimacy and closeness in rain.
After a few days...
Kripa was watching Angad's interview on TV.
Question:What is the speciality of your next show?
A:The next show is very special as my wife Pop star Kripa is making a come back after a long time and performing with me.
Kripa was shocked.
The interviewer:Wow!That's a great news.We are going to see Kripa after a long time.
Angad came back home.
K:Angad,I saw your interview.What did you say in the last part?
A:What you heard..
Kripa stared at him.