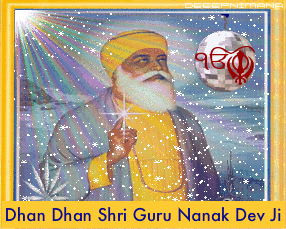 Sat guru Nanak Pargatya Miti dhund jag chanan hoa
(True Teacher Guru Nanak came in this world & the mist of ignorance dispersed and light of knowledge appeared)
Every year in Auspicious month of Kartik on full moon Sikhs around the world celebrate the day when light shone on Indian sub Continent to bring hope and happiness in lives of most vulnerable of the society
In 15th century in 1469 Baba Nanak was born in Talwandi of Rai bhoi later renamed as Nankana Sahib which is located in present day Pakistan.
The first Guru of Sikhs was born in Bedi caste in Hindu faith.
His life history is a path to wards the better world
His birth happened at time when it was ghor kalyug(the time of corruption/deceit)
From his childhood his extraordinary personality was witnessed all around him
From his refusal to wear jeneu(hindu ritual thread thread) by asking Pandit to give him the thread of truth that could never wear off
Let mercy be the cotton, contentment the thread,
Continence the knot and truth the twist.
Oh priest! if you have such a thread,
Do give it to me.
It will not wear out, nor get soiled, nor be burnt, nor lost.
Says Nanak, blessed are those who go about wearing such a thread
to surprise his Persian teacher with a couplet in farsi he was extraordinary as after all was sent by almighty god to guide people to wards true lord.
In his youth he spent time running a state store in Sultanpur lodhi in Indian Punjab.It was there where he disappeared in river bein and came after 3 days and wrote
Japuji Sahib
The first morning prayer of Sikhs
the prayer about universal god and brotherhood of mankind
The message that god doesn't care what rituals/religions you follow but looks at your deeds and one can become close to one's master(god)only though devotion and prayers
Guru Nanak Dev ji traveled extensively in four directions to all major religious cities like haridwar, puri ,Baghdad and Mecca teaching every one that god is one and all human beings are equal --they can be of any faith,gender or color/caste
He talked about universal brotherhood
His followers called him Guru ji(teacher) and he called himself a devotee of God ,a mere humble servant of God and asked everyone to bow only in front of that one eternal God.
He also established 3 basic pillars of Sikhism
Equality of humanity
When in the middle east, the west and the rest of Asia slavery, varna/class and race discrimination was rife and respect between the different classes and caste was at a peak, Guru Nanak preached against discrimination and prejudices due to race, caste, status, etc. He said: "See the brotherhood of all human beings as the highest order of Yogis; conquer your own mind, and conquer the world." He urges all the peoples of the world to "conquer" their minds to these evil practices. All human beings had the light of the Lord and were the same -- only by subduing one's pride and ego could one see this light in all.
Equality of women
In about 1499 when the world offered low to no status or respect to women, Guru Nanak sought to improve the respect of women by spreading this message: "From woman, man is born; within woman, man is born; to woman he is engaged and married. Woman becomes his friend; through woman, the future generations come. When his woman dies, he seeks another woman; to woman he is bound. So why call her bad? From her, kings are born. From woman, woman is born; without woman, there would be no one at all. O Nanak, only the True Lord is without a woman.".In so doing, he promoted women's rights and equality ' a first for the 15th century!
Universal message for all people
It had been a custom at the time for religious leaders to address only their own congregation and for segregation of the different religions -- but Guru Nanak broke with tradition and spoke to all of humanity. To the Muslim he said: "And when, O Nanak, he is merciful to all beings, only then shall he be called a Muslim. ||1||" (page 141); to the Hindu, he said "O Nanak, without the True Name, of what use is the frontal mark of the Hindus, or their sacred thread? ||1||" (page 467); and to all he preached: "To take what rightfully belongs to another is like a Muslim eating pork, or a Hindu eating beef." (page 141).
(taken with thanks from Sikh encyclopedia by Harbans Singh)
Guru ji spent last years of his life doing farming in Kartarpur on banks of river Ravi on Pakistani side of river bank about 3 kms from international border.
Sikhs have tried very hard to get some kind of passage to be able to see that shrine without restrictions
His message about eternal god was
however well i know him, he cannot be described.
he cannot be expressed by words.
the guru is the secret that solves the riddle.
he is the benefactor of all.
let me never forget him.
This year also The celebrations wil be held in Nanakana Sahib --his birth place
and also in all other gurudwars around the world
Crazy creative team wishes everyone happy gurupurab and hope that god Will bless this world with peace and end sufferings of people who are suffering around the world.


Edited by sami01 - 27 November 2012 at 11:58am