Main Deewana-
St. Louis and the louians..
Its the final year of their MBA and our gang decided to pursue their studies in their own college so as to be together for a couple more years..
Now its their final year, 2nd year of MBA.. Their pg course..
And a new development shook the entire college..
Their college had taken over another college named St. Johnsons, since the latter was facing a recession..
And thus the students of that college was to join St. Louis shortly..
And in another year, the college management was to rebuilt the college so as to provide proper facility for all the previous as well as the new students..
It was somewhere a pleasant news for all the louians as they were happy with the success of their college and were glad that they decided to continue their pg there itself.
The current scenario-
Swaron, viha, taa rey, rimar, nimmi and bhavish are couples.. Madly in love..
Taa rey had also become a couple by the second year of their ug course and were so called 'serious'.
Now, the college was busy in preparations for welcoming the new students..
Our gang were very excited, as the fresh batch of MBA students, that is their juniors were directly joining St. Louis from St. Johnsons, since becoz of the recession the latter college itself had directed the fresher's pursuing their PG course to St. Louis.
...
Finally the day had arrived..
When the 1st year MBA students were joining St. Louis from the recommended St. Johnsons..
The other students from St. Johnsons had already joined St. Louis a week back.
The Louians, especially those in their final year MBA were very much excited for various reasons..
To welcome their juniors, a party was a sure thing and to top it.. They were surely upto some little mischief here and there specially planned for their juniors!
All the juniors had finally joined St. Louis.. But none of them could get proper introduction becoz the entire day they were involved in office works and filling forms...
So as to welcome them properly.. And for individual intro of all.. A welcome party was planned by the college authorities.. Party was to be held at a famous club named Metro in Mumbai..
...
This party was exclusively held for the MBA students, both the years.. So as to welcome and give exposure to their freshers..
Swaron, viha and taa rey as well as all other couples and other students were already gathered at the venue, all dressed up to kill.. Eagerly waiting for the arrival of their juniors..
Dilruba.. Mana hai kaathil teri ada..
Laakhon hai aashiq tujhpe fida..
Humko bhi tu aazma naa aa...
The entry of the freshers were planned in a grand manner,
As each of them were entering the spotlight was pointed at them..
Giving their seniors enough chance to study each of them as they came..
Our gang was impressed with the new batch.. All were quiet smart, irrespective of being a dazzler or weakling...
The bg music 'main deewana' was adding more spark to their entry..
It was atlast time for the final entry..
But just when that person was gonna enter, the lights went off...
Though there was a small scream, the spotlight was quickly aimed at the last entry..
It was a girl, and the spotlight very well began from right below and slowly moved upwards...
All the boys present irrepective of being a fresher or senior was literally gawking at the superb figure.. And the dress that so very well clung to each and every curves of that girl..
her dress-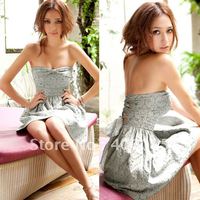 Even our gang, specially the boys had their mouth hung open.. Obvious of their girls standing right beside them..
Finally the spotlight made its way to the beauty's face and a gasp was echoed throughout the party hall..
Almost every guy did so... By looking at the breath takingly beautiful girl.
Whereas our gang did so for obvious reasons.. They had almost forgotten that such a person existed, and her sudden arrival could not define their feelings at the moment..
Rey had almost forgotten his surroundings, and had unknowingly taken a step forward.. But again fisted his hands.. He blocked all feelings that were arising in his heart and instead only thought from his mind.. He was in love with taani and not KRIA who had ditched him exactly 3 years back...
And now he was ought to be the Reyansh he was for those in his bad books, after all he was ought to get a little revenge out of what he had suffered in the past..
He made up his mind, to show Kria how was the real Reyansh Singhania for those in his bad books.
A look around, and the people especially guys were slowly coming out of their trance from the beauty who seemed like she had just descended from heaven.
Our gang thought of approacing her, but then thought better of it thinking she was at fault so she better make the first move..
They also noticed kria was changed now, not only did she carry a better aura of confidence but her physical appearance had also changed alot.
She was still slim, but had put on a little weight in all the right places.. her hair had grown much more in length and was just above her waist line, she also had a new hairstlye..giving her a slightly curly wet finish.
And if it was possible she looked even more innocent than before... In short she looked breathtaking..
And was indeed the most prettiest girl present at the party..
the gang as well was rey not only noticed the welcoming changes in kria but also looked at the majority or the whole guys present there totally latoo over her.
...

Kria slowly made her way into the party and got engaged with a few other freshers like herself... many a time some guy or the other would come and ask her for dance but she always managed to pull off some excuses and kindly decline their offer.
she had seen the gang as soon as she entered the hall..but purposefully avoided their gaze.
That was becoz she knew if she approached them, she would'nt be given a chance to speak...and might be bashed by them without even listening to what she had to say.
And moreover she was also a little hurt by the fact that they had so quickly moved on in their lives, when she wasted an entire year to get over them.. especiaaly the one who claimed to LOVE her, Rey!
and also that none made an attempt in finding her or any thing related to her whereabouts, but even then she kept a track on the upto date detail of each of their lives.
...
just when she was lost in thoughts a hansome hunk approached her...and in her semi conscious state she hit the dance floor with him..
it was when they started dancing that she regained her senses and was about to move back when she noticed the whole gang on the dance floor..
but most importantly REY with his new gf...
so she too decided not to bother and enjoyed herself with the guy.. whom she found cute for a change and upon asking found his name to be Pulkit.
...
rey could see this from the corner of his eyes..and he did not like it A BIT..
And upon questioning himself for these wierd feelings, his MIND replied that it was hurting his ego..
becoz she had ditched him and to top it was dancing with another guy right infront of his eyes... which he believed to be a slap to his ego..
and thus to give it a break he completely indulged himself in his so called love taaani...
,,,
finally the party was over...and everyone left for home as tomorrow itself all have to officially join their classes...
Jaanejaa... ek baar meri baahon mein aa..
tujhko sikha doon hai pyaar kya..
aur kya hai dil ka laganaa aa...
As expected..krias entry the next day was also a BANG ON entry...
For a change neither the dazzlers nor weaklings could classify her under any of them..
kria's dressing sense had also changed along with other changes..(kria wears the same outfit throughout, but different colours)

she was wearing a tube kameez paired with a dupatta, wrapped just around her neck leaving her shoulders bare... and 3/4th churi.
which made her too modern to be classified as a weakling and the little desi touch could not even put her into the dazzlers group.
She was indeed a Louian in every sense and provoked new hopes in every1s hearts..
Yet again there was a que of guys behind her..some already ready to propose her with flowers after having seen her yesterday..
whereas a few others stiil thinking of ways to impress this unique Girl!
our gang especially rey was more than shocked by her ignorance..
They were holding onto their final strands of control... they were angrier on her thinking that even though the mistake is her's..
she had'nt approached them and on top of it was ignoring them..
after a couple of days... the gang could take nomore of it..
and literally trapped her around them in a deserted classroom..after all they were her seniors..
rey was not present... he was with taani...
after a little bashing..and pouring out their anger...kria finally got a chance to give her explaination...
and after narrating the entire incident with her mother and the promise and all...
she also explained them why she didnot approach them before and her disappointment in them since they dint even make an attempt to find her!
they all had their heads hung down and guilt was quiet visible on their faces... just when kria was about to make an exit from there..
she was caught by a pair of muscular hands...'baatcutter...' rey said...but was stopped in midsentence by kria saying he and all of them had lost their rights on her.
after a long silence and after digesting the truth about kria...the gang decided to go and apologize so as to bring back kria...
whereas rey was Hell confused... finally he was forced to face the truth and all his true feelings...
after a long gap rey was once again forced to accept what actually he felt, what his heart had felt all the while since kria left.. and now that she is back again.
...
after spending the whole day alone in the FE...
rey finally found all the answers that he wanted from himself..
there is no denying that kria was indeed his true love...and he still loves her...
Though people might think of it as absurd but he never really loved taani, there was never the same passion between them as he had felt with kria..
But alas he had allowed taani to get close to him and had been in a relation with her just becoz of his insecurities..
THE REYANSH SINGHANIA was insecure after kria ditched him, he even doubted that though all girls go flat over him..would no one be able to love him truely??
Thats when taani entered his life... and he quickly allowed her to make a place in his life...
becoz he found solace n her...she was able to heal his fresh wounds and he so gladly allowed her to do it.. and thus called it love..
but it had been just means to seek solace and get over his insecurities..it was never love, not even infatuation.. for he had never been physically atracted to any girl other than kria..
but he was too much of a coward to face it... though he was deep down aware of this fact that it was not love...
he did not wish on breaking any relation after what he had suffered with kria... thus he buried all his thoughts deep inside and pretended he'd really moved on..
until today's incident... now he was forced to regain his senses and accept the truth!
...
rey had quickly explained everything to taani first... though it was followed by shedding of some tears...
taani had no other option to let go, and find her true mate as rey said... and though she was hurt, she knew that rey was right.. becoz she had never felt that passion between them..
which she had always dreamt of and had read in books.. now maybe she was blessed with a chance to pursue her true soulmate.
rey also explained the situation to the whole gang mainly swayam...
and to every1s surprise sayam was all supportive in rey's decision along with the gang...
now their only aim was to get kria BACK!!
...
Main deewana.. Main deewana..
Aise jaane na doonga Jaana..
Yoon na humse nazrein churana..
Hoga humse hi dil lagaana...
they all had approached kria...for forgiveness..but she gave an outright no..
then after alot of begging.. she finally gave them an option..
either to start all over again as strangers, since it was too late to mend thing, or to never cross each other's path..
The gang quickly accepted her decision..of restarting their f'ship... a fresh start..
Now it was Rey's chance to approach kria..
after alot of tries rey finally got hold of kria at the FE..
He tried explaining but she denied on giving him a chance,, then after along time...
kr- you moved on quiet fast..dint you... is that what u call love?
rey- atleast listen to me... give me a chance to explain..
i accept it was my fault, but even u dint bother telling any1 what's going on.. u just left..
so i was ought to think what u said was true, and i dint follow you bcoz i was scared to get hurt all over again..
and as for what followed..me moving on... im really sorry but the situation you left me in forced me to seek solace in taani..
it was after u returned and i still felt that pull towards you, that i realized ki taani was just means of solace and a cure for my insecurities!
i never loved her...it was only you.. maybe even if you would have actually ditched me! and i have explained things to taani too!
kr- i dont know what to say..
if u can leave ur current gf for me... god knows what if tomorrow you leave me for someone else!!
re- if that was the case... i wcould have gone for some1 else.. other than you now itself right..!!
please kria... Give me and our reltion another chance...
kr- ... i will.. but yet again i dont think we can continue from where we left...
so it would be better to start afresh... before commiting in a relation again..
...and you n taani.. i mean have yo ever... close...
rey- il nt hide anything from you kria.. yes we have shared our close moments..
but believe me.. i had'nt felt a thing, not even a quarter of what i feel even when im just standing close to you..
and as i said...it was just means o solace for me which i realized too late..after you came back to be frank..
n am sure..even if you had'nt sooner or later both me n taani would have realized it!
but believe me...i have never crossed my Limits with her... i was true to you..but plz dont give me this excuse for not giving us a chance..
after a while of thinking... kria replied...
kr- i said lets start afresh..before getting into any commitment..
so that even i have chances to get even with you Mr. Reyansh...
if you can get close and almost move on... why cant i till we start again??
And before rey could register what she said..kria had rushed out of the FE...
And as soon as it registered...
re- NOWAYY!!!!
shouted a very frustrated rey..
...
Main deewana... main deewana..
aise jaane naa doonga jaana..
Yoon na humse nazrein churan..
hoga humse hi dil lagaana...
Rey quickly rushed out to see what kria was upto..
bt to his dismay all had left collge..it was already closing time..
and on asking swayam, he got to know all were meetng at a club tonight to celebrate their new found f'ship with the juniors..
Rey was impatiently waiting for meeting kria..and talking sense into her..
bcoz he was quiet sure she meant what she said.. and all of it was only bcoz she was hurt to know about him being close to taani..
and so as to get over her hurt, rey was sure she would do what she'd mentioned..
but the very thought of her with someone else..even for fun was making rey fume already!
...
NIGHT TIME.. CLUB
Rey reached the club along with every1 else..
but to his dismay he could not locate kria anywhere...
That is when the gang spotted a crowd..
right at the centre of the dance floor.. and in no time the lights were turned dim.. And Main Deewana started playing..
they saw a body moving elegantly to the music and in a swift she turned,, it was none other than kria!!
rey was shocked at kria's dressing sense, he did not expect this...


and he was sure as to what was gonna follow...and was proceeding towards her..
when he was blocked by a huge crowd of people..mainly guys.. who were busy gawking at the dancing beauty and were trying their best so as to get close to her..
That was it ... rey could see almost every guy trying to get hold of kria..and kria was least bothered about it..
finally he decided to get the centre of attention...
he started dancing..along with it lip synching the lyrics of the song, thus when the crowd started parting slowly..
he danced his way to kria..
Dilruba.. Mana hai kaathil teri ada..
Laakhon hai aashiq tujhpe fida..
Humko bhi tu aazma naa aa...
he synched each line..but truely meaning what he said..looking directly into her eyes..
but soon this move of rey's gave other guys a chance too to get hold and dance with kria...
some random guy approached kria n again lip synched the following lines for her..
Jaanejaa... ek baar meri baahon mein aa..
tujhko sikha doon hai pyaar kya..
aur kya hai dil ka laganaa aa...
he twirled and brought her back to him..and was about to hold her waist when she ws grabbed back by rey...
Main deewana... main deewana..
aise jaane naa doonga jaana..
Yoon na humse nazrein churan..
hoga humse hi dil lagaana...
Again a group of about 5 guys approached kria.. clearly besotted by her beauty..
De naa.. de na kisi na kisi ko hai..
mera saath de de tu..
Khonaa.. khona kabhi na kabhi toh hai..
Yeh dil aaj kho de tu..
Each of the 5 guys start dancing around kria... showing their hands towards her, in the hope that she will accept one of them..
Itna sa bas mujhpe.. Ehsan kar de tu..
Apni jawani.. mere naam karde tu...
Another goodlooking guy comes from back, and holds kria by her waist...
indicating her to surrender to him..
Rey literally fumed..watching that guy so close to kria.. and to top it kria was'nt even protesting.
He very well knew she was proving what she had told him in the FE..
He quickly went to her, pulled her by one hand on her waist.. whereas with the other hand he pushed the guy away from her.
Ye haseen pal.. Yun naa khona..
Door mujhse ab tum na hona..
Rey whispered the lyrics along with the song such that only kria could hear him..
They were almost in a hugging position.. and rey was truely happy to have her so close to him again after so long..
Faaslein.. aaja mita de.. lag ja gale..
mauka mile ya phir na mile..
Ye pal haseen na gawana aa...
Before rey could talk sense into her... and enjoy being so close to her, another guy approached them..
asking her for her hand, which she so gladly accepted..leaving a shocked rey behind..

Main deewana... main deewana..
aise jaane naa doonga jaana..
Yoon na humse nazrein churana..
hoga humse hi dil lagaana...
Almost each and every guy out there was trying to woo her..
In the hope that she might accept anyone of them...
While kria was enjoying dancing, and was also enjoying all the attention she was getting that too right infront of Rey..
She was almost satisfied by having a look at rey's face.. which looked swollen due to jealousy and anger..!
He deserved it, she thought.. and smirked to herself.
aaja, Aaja Honthon Se Laga Ke
in Zulfon Se Kheloon Main
na Jaa, Na Jaa Jaana Tarsa Ke
aa Baahon Mein Le Loon Main
tere In Aakhon Se Kaajal Chura Loon Main
gore Badan Pe Sitaare Saja Doon Main...(2)
Kria thoght of having some more fun.. She moved to all the guys who were busy gawking at her..
and sightly moved her hand..among each of them as she walked..
but by the time she reached the last guy, he pulled her towards him..and started playing with her hair..
and was trying to touch her...she was now feeling a little uncomfortable, and looked around in the hope to find rey..
dhadkane Ab Badh Rahi Hain,
Hadd Se Guzarne Ko Keh Rahi Hain..
The guy was trying to cross his limits with her.. when all of a sudden he was on the ground yelling in pain (ofcourse beaten by rey, who else)..
and by that time, another guy took the opportunity and began dancing with kria...
and kria too started dancing again, having no other option..
and she also wanted rey to be a little more uncomfortable watching her with others..
just like she felt when she had seen rey with taani...
bekhabar Jaaoge Bach Ke Humse Kidher
paaoge Humko Jao Jidher
jo Chaahe Kar Lo Bahaana
main Deewana Hoon Main Deewana
aise Jaane Na Doonga Jaana
youn Na Humse Nazrein Churaana
hoga Humse Hi Dil lagaana..
All of a sudden..she was turned with a swift and found herself back in rey's arms..
and when she turned to move away from him.. she was again pulled back with much more force..
this forced her to look into his eyes..and she gulped hard..
maybe she had crossed limits..becoz rey was angry beyond limits.. it was clearly visible in his eyes..

main Deewana, Na Nazrein Chura Na
haan Main Deewana, Jaane Na Doonga Jaana.. (with breaking music in between each line)
kria was now scared of his anger..and wanted to escape somehow..
so as soon as another guy asked her for a dance.. she was about to gladly accept in the hope to be away from "'The angry rey'..
But as soon as she placed her hands into the guy's..
main Deewana Hoon Main Deewana
aise Jaane Na Doonga Jaana
youn Na Humse Nazrein Churaana
hoga Humse Hi Dil Lagaana
main Deewana Hoon Main Deewana
aise Jaane Na Doonga Jaana
youn Na Humse Nazrein Churaana
hoga Humse Hi Dil Lagaana (fast pace)
Rey twisted her hand, pulling her towards him...
such that she came dashing into his chest.. and the next moment she was being kissed by rey right in the centre of the dance floor!
he was pouring out all his frustration, anger, possessiveness and love in that kiss...
Before she could register what's happening.. She heard a door being clicked closed..
this made her open her closed eyes..and she found them in a room of the club they were in..
She somehow managed to push rey off her... and was about to demand an explaination..
when she was again roughly pulled towards him.. first he spoke in anger...
re- 1st of all.. from now i never want to see you in such clothes, iska niche aur piche ke parts kaha hai??.. this is worse than the dress which i had gifted you for shivam's partyy!!
2nd... dont you dare dance with anybody..that too so close other than me!
then he softened a little and said...
re- i'm really sorry kria... it was just the situation that made me do what i did..in the past..
please maaf kardo.. i can assure you ki now on i'll not even think about repeating such a mistake..
not even in my dreams! hopefully now u'll not leave me again.. and even if u do.. i'll make sure ur next to me the next instant!
i'll never do the mistake of doubting..your..no.. our love ever again!
he said with pleading eyes..filled with tears..
kr- i know rey.. even i'm equally at fault for not letting you know.. but i had no other option..
aur shayad even i would have done the same... if i was in ur place... but i just could'nt stop getting hurt when ever i thought of u with taani..
and i could'nt even move on... but u did coz u thought i cheated you.. but i could'nt coz i knew.. i was the only one who knew..
and could'nt do anything for us.. our love..
and she broke into continuous sobs... even rey's eyes filled with tears.. thinking of what all his baatcutter had to face.. that too alone..
he felt guilty for not being there for her, but made up his mind that hereafter.. he will not allow her, him or their love to suffer even one bit!
re- I Love You kria... and that's all that matters... from now, we will restart our lovestory and give it a best ending that one could only wish for!
kria smiled through her tears...and said..
kr- I Love You much more...
re- no! i love you more..
kr- that's not fair.. i said 1st! so i love you more...
re-no me!
kr- me!
re-no..no.. me!!
kr-what is this rey.. aap hamesha aise hi karte ho! maine kaha na ilu more..matlab that's it..
aur this time main aapka kehna nahi maan ne wali jaisa hamesha karti ayi hoon!..

she was continuously blabbering, not giving rey a chance to even speak... and after his last strand of patience..
he sealed her lips with his..and that soon turned into a passion and love filled kiss..
but kria suddenly broke the kiss off...
kr- kya aapne..kabhi... taani..
rey understood what she was thinking.. so again pulled her towards him and started kissing her with all the love of the world!
and after sometime he broke the kiss and said..
re- nahi..kabhi nahii... woh sab sirf aur sirf tumhare liye reserved tha...
infact aur bhi bohut kuch reserved hai...
and he smirked naughtily..and move towards her..
but kria quickly dug herself into his chest to hide the blush which had crept onto her cheeks...
That was just the start of their eternal lovestory... thereafter they not only gave their love a fresh start...
but almost every free second they got, they spend it with each other making up for the lost years...
They redefined the meaning of true love... And was the ideal model for those in Love!

sorry for the length ppl... hope you will like it though...
do comment and like if u did..