Khamoshi''
lakin kab tk''''
Part 1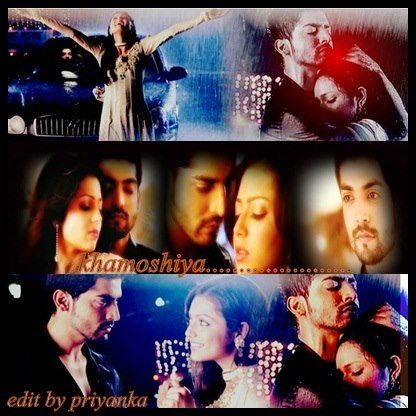 At airport
Driver:
madam ji, maine saara saaman car mein rkh diya hai
Aap'
She: chliye bhaiya
Apne desk ki mitti ki khusboo ko..kitne waqt baad mahsoos kiya''.
Ek arsa bit gya'..yha ke mausam mein saas leye huye''.
Yha ki dhoop, yha ki hawa,
Hmara ghar,pariwaar'..
Mere dost''mera p****?
**********************
He : kaun tha wo?
She: abbu
Unka naam
He: mein nhi chahta tum uska naam bhi apni jubaan pe layo
Tumpe humne itna barosa kiya '..aur tumne ek pal mein hi hmara viswaas tod diya
She: nhi abbu
She continuously crying'.her tears not stops''..
Asa mt khiye'
Allah ki kasam humne kuch asa nhi kiya''.abbu
Abbu: tum paraye mard ki baho mein thi aur tum khti ho'..ye galat nhi hai
She: abbu'..hum unhe pasand karte hai''..
Abbu: geett
He raised hand for slapped her but stop in mid.
Ammi: khuda ke waste aap shant ho jaiye
Abbu: kaise ho jayu mein shant
Is ladki ne ek baar bhi khayal nhi kiya hmari izzat ka
Aap is ladki ko hmari nazro se door le jaiye
Ammi: zaira , geet ko andher leke jayo
Zaira: ji
Zaira: geet andher chalo
Geet: ek baar hume abbu se baat krni hai''..
Ammi: geet andher jaiye apne kamre mein
Geet: ammi ek baar'''.
**********************
Due to Sudden break of car, she came out from own thoughts''
Driver: madam aap thik hai na
Geet: hmm
Driver: madam ghar aa gya hai
Geet: hmm
**********************
she: kaisi hai meri baby
She cupped her face and kissed on her forehead.
geet: thik hu daai maa
daai maa: baby tum room chalo'..ye samaan deepak le aayenga
geet: hmm
*********************
Geet: abbu dekhiye na
Daaimaa ne hume chocolate nhi dilayi
Abbu: aap hmare pass aaiye
She came near and sat on his lap.
Geet : abbu hume chocalte khani hai
Abbu: hmm
Hmari princess ko chocolate khani hai
She nodded.
Abbu: ye lo
Geet: itni saari
Abbu: hmm
Geet: mere liye
Abbu: hmm
Geet: thankyou abbu
Abbu: welcome beta''
She stands'..but her father words stops him.
Abbu: mera gift
She came near him and kissed on his cheek.
He smiled.
*******************
She smiles'.but vanished in few seconds''..
Geet: abbu ab aap humse shi se baat kyun nhi karte'''.
Kya ab hum apki princess nhi'''.
Maine sbko bs dard diye hai'''.
Aur kuch nhi diya'''..
She cries''''.
Itni khamoshi kyun ho'''
Har ek rishte mein itna dard''..itni udaasi kyun ho
Mein kissi se bhi kuch kyun na kh saki'''
Na in saalo mein ''.maine wapas apne abbu ko paya''..
Aur pyaar to'''.phle hi kho chuki ho''''
Unhone kyun ek diwaar si khich di''''.hmare rishte mein'''
Kyun khamosh kr diya hmare rishte ko'''
Aur kuch ase rishte hai''..jha humne diwaar kbhi girani chayi hi nhi'''..
Khamoshi chayi hai'''''..bs ''''.darmiyaa''''''
check this update also
maaneet ff - kaisa ye pyaar hai maan bane joru ke gulam
http://www.india-forums.com/forum_posts.asp?TID=2669586&PID=69915543&#69915543


Edited by maaneetpriyanka - 21 November 2012 at 10:14am