Wish u many many happy returns of the day Sunshine.. May all ur dreams come true..
Wish u all the luv, luck n happiness in ur life..
God bless u..


bellaaa

A smile is a curve that sets everything straight
A smile is a curve that sets everything straight and wipes wrinkle away
hope u share a lots and receive a lots 4 days 2 come
happy Birthday
''SUKIRTI YOU ARE THE MOST BEAUTIFUL AND CUTEST ACTRESS
I JUST ADORE AND LOVE YOU
YOU JUST MAKE ME FEEL SO MUCH CRAZY ABOUT YOU BY JUST YOU ACTING
AND THE MOST ADMIRING SHOW AND THE FANTASTIC PERFORMANCE OF YOURS AS PIYA


love you sukirti and just want you be remain happy always and may god fulfill your all dreams and you will succeed in every step of your life and every day is better than the other and you just keep shining and make many more shows too and best of luck for your future serials...just love your smile and your innocence...happy birthday to you sukirti...


.rumki.

Happy Birthday Sukirti
many many happy returns of this day


luvkasu

Hey Sunshine suku!
We all love you so much! Keep up the amazing work. You are a talented actress and treat to watch. Dying to see you and karan wahi toghter..


sukugeny

My Dear SunShine-Wishing You a Very Happy Birthday!


Hope we get ur Interviewfrom sbs,sbb or IF!On your birthday, may you experience joy
On your birthday, may you experience love
On your birthday, may all your dreams come true
On your birthday, may all your desires be filled

As you wish upon a star, your life be starlight
As you wish upon a star, your life be star-bright
As you wish upon a star, zillions of stars gaze over you
And a wish upon a star, made come true

Happy birthday, to a beautiful soul
Happy birthday, to a wonderful you
Happy birthday, to a gentle soul
Happy birthday, to a great you
Happy happy birthday to a once in a lifetime kind of person
Happy birthday to you SUNSHINE!
---------------------------------------------------------------------------
Flourishing are the flowers of the spring with joy
Singing are the birds cheerfully chirping harmony
Blowing is the breeze blissfully across the blue sky
Shining is sun vibrantly on this day of your journey

Wishing
HAPPY BIRTHDAY

Filled with idyllic melody is the air everywhere
Swaying are the trees in step with blissful bounce
Buzzing are the bees along with butterflies with flair
Dancing is the moment filled with ever lasting pleasance

Wishing
HAPPY BIRTHDAY

Pleasant is the feeling for this joyful occasion
Glowing are the candles titivating the moment
Aligned are the stars to complete the celebration
Dazzling with delight is this singular instant

Wishing
HAPPY BIRTHDAY to my SUNSHINE!Happy birthday to you,
Happy birthday to you,
The number of candles you blew,
And the number a years that flew
All the strength that you drew
And the happiness you knew
All the old things and new
The love you found so true
The dreams you did pursue
Coffee and chocolate fondue
The white hue and morning dew
All these makes you get through
Twenty Five years in the que
Happy birthday to you
Happy birthday to you I know ,You know me well...from my HORRIBLE COMMENTS!
KYA KRU...i am jst..WHAT M ABOUT U...!Love u Suku.

Write krne ke liye bhot hai...bt pure IF ke pages bhi km pd jayenge...
choti -si story for u...few words...,aur mera msg hi smj lo.

You have came in
Industry as Cute Sakshi in Jersey No.10 make some yougusters fall for u when u became Ridz of DMG
prove us that u can do the strong roles,then agle jnm ki sidheshwry..mindblowing as -ve char.
them MY MOST FEV.PIYA N METZ..!

You ARE amazing as Sakshi at ur 20 yearrs old,Ridz-cute in all 3 at ur 21 yr,Siddheshavri at ur 22,
Pia -Maithli at 23 yr and now Jazz 24 yr!yes u r here from 5 year,n still u r doing ur work.
You stole our Heart as Ridz,Pia,Metz.Sorry,i was not watching Jersey No.10-watched now-u were fab!
all characters u hv played were fab only coz of u...tumne un characters main Jaann dal di n made them femous!

OOkkk...I Just want to Say u something...mere dil ki jo Bhadass...hai...!

Hear You Go...,m mad about u.
I really don't know-first i saw u when...n when i become the bhadu ur Fan No.0-1st ke bhi pehle...AISA main manti hun!
I remember,i was in 12th...when i was watching pkyek...in 2010...!
it was the scene of Kuch Khass hai sequence...u look nice...ya it was vivi too to hold my breath...
then u r drunk n abhay comes to save pia...u
were mind blowing in act as drunkn state...cute...then abhy-tumhe yhi chod dunga...jungli bhediyon k beetch!
then daily i was watching pkyek...i really loved ViSu...No words for them!they are just ready
to screen on fire if they come face to face.

You were n are always Fab,if its just 2 words scene with kabir,misha n all.In Each n Every scene...
i just want to see u n watch u.
it happpens with me in most scene of pkyek...Itni main aaj tk kisi ki fan nhi thi jitni ki tumhari.
I was alwys waiting for SBS,SBB segment ki chlo muze my abhiya dikhenge,my sunshine dekhne ko milege...
aur kbhi kbhi vo sch bhi ho jata tha!
what i feel when u were with viv in sbs,sbb segment-u both r funny,comfertable with each-other,
AISA muze kisi aur couple main nhi dikha...
now kuch hai bt un dino ki bat hi kuch aur thi!
Then net pe bhot search kiya,IF pe kuch friends se friendship huyi,then got to know tht u were
Ridz of DMG,n ur all baki role,
then sare vdo's dowload kiye DMG,JN10,n pkyek ko to main roz hi record krti thi!then also
saw more ur interviews,ur bday intervws,mithi chori
n all.YOU are alwys my SUNSHINE!
u were also fab in beauty pendent contest,other calender photoshoot n ur all ads like PC Chandra jwellers n all!
yup-I like u in recently Shapth n Gumrah-u were fab!
I really wish ,if Pkyek-2 comes,i will get to c u with Viv again,kya kru-Dil Hai k manta hi nhi!
ek aur baat,i hv seen ur lot of photos on FB,smj main nhi aata vo aaye kaha se...u r not on FB then how?
u were looking cute in ur baby photo...!

Ek last ki request-plz sunshine-If u can come on any Social site then-plz come on Twitter,
we all fans r waiting for u,plz sunshine...for us!plz!

muze tumhe-Zing k cover photo pe bhi dekhna hai!

n COME BACK AS LEAD.You are awesome actress v al know our pyari ridz,pia,evil metz!

Kya bat thi n u choose this show-u were awesome in Shapath n Gumrah-

like sakshi,ridz,pia,metz in any new show with any actor-ur chemistry
is awesome with any actor-weather it is Shravn for jersy,kran in dmg,VD,RD,SK,Vishal in pkyek-
nw ashish in rssi.u rock with all.plz come back as lead.plz-n in any new interview
I WANT UR ANSWER For this-when vl u back as lead-ya m very possesive about u,asia hi smj lo.love u sunshine
.I TRUST U SUKU, n I KNOW U Will L Be BACK WiTH bang N ROCK d
screen with ur performance,plz cm back.vhi purane photos k saath kitne din khelenge?NEED 2CM BK
THANX N SORRY.

ab likho to pages bhi kuch km pad jaye...i am writing it...which my heart is telling me!
AGAIN WISH U MANY MANY HAPPY RETURNS OF THE DAY SUNSHINE!


Neha_bodle

Wish U Many Many Happy Returns Of The Day SUNSHINE SUKU.
Love You FOREVER.Hope-U will get everything,what u want.
God Bless U.
JUST COME BACK SOON IN ROCKING LEAD ROLE.PLEASE COME BACK.


RIDHIMA_BASKET1

HAPPY BIRTHDAY MY LOVE SUKIRTI



wowww awieee so here comes my SunShine BirthDay!!!
A very special Day of every sunshine lover
ahaaa
Party Time Guyz
FIRSTLY I WOULD LIKE TO SING BIRTHDAY SONG FOR MY CUTIE PIE
HAPPY BIRTHDAY TO U
HAPPY BIRTHDAY TO U
HAPPY BIRTHDAY MY ANGEL SUKKU
HAPPY BIRTHDAY TO U
MAY U HV MANY MORE...MAY U HV MANY MORE...
HAPPY BIRTHDAY...HAPPY BIRTHDAY
HAPPY BIRTHDAY TO U
On this special day, I wish you all the very best, all the joy you can ever have and may you be blessed abundantly today, tomorrow and the days to come! May you have a fantastic birthday and many more to come may all ur dreams come true and u get all the success and happiness in life u deserve... HAPPY BIRTHDAY!!!!
Sunshine I love u so so sooo much jaan dat u cant imagine...m so crazy abt only n only for u...u hv become my life...bcz sukku thank u thank u thank u sooo so sooo much for playing lovly romantic innocent angels "Ridhima n Pia "both ur charaters are damn close to my heart n m missing dmg n pkyek alot if u want they can b back...bt whenever i saw u both as ridhima n pia i jst start loving u more n more...i can only say bt i never cant stop loving u my darling...love u too much for playing both the charaters muahhh jaan!!!
u never know sumtime i got so emotional on little things abt u bcz i love u alot
love u in all ur charaters u chosed...u r 1 of goodlooking cool n beautiful actress i hv ever seen n this is ur special quality
Sakshi to Ridhima to Sidheswari to Pia n nw jazz...amzing in ghumrah n shapath also...simply beautiful awl ur photoshoots n adds i saw till yet...
i jst love u as jazz also u r looking so doll cool beautiful hot sexy n bratty in hot short dresses...
would love to see again wid ksg viv rithwik and karan wahi as well..u can fit wid anyone bcz u r tooo cuteee
Everyday i keep watching ur vms scenes wid ksg n viv n keep loving u more n more
i hv so much to say but i think i should stop here otherwise the whole page would fill wid only my wishes
awww
hope will see u soon as lead in youthful charater
umuahhh
n 1 thing more i want to meet u but i cant bcz m frm Pak but i so want to interact wid u by anyway plzzz sunshine if u read my this msg plzzz try to interact wid us m dieing to to talk u
n m jealous of others fans who r connected to there favs
anyway i jst hope u will b there for ur fans
once again A VERY VERY VERYYY HAPPY BIRTHDAY TO U
Let this new year of your life be special, full of precious moments, bright emotions, full of happiness and joy! Let Love follow your footsteps evrywhere you go!!! HAPPY BIRTHDAY !!
A SPECIAL BIRTHDAY GIFT FOR U FRM MY SIDE
IT FIRST N LAST SIGGY I MADE OF U SO THOUGHT GIVE U AS GIFT BCZ I DNT KNOW HOW TO MAKE SIGGIES BUT I TRIED ONLY FOR U hope u like it
HV A BLAST BIRTHDAY

annokhi

It's your birthday time again;
It's true; there's no denying,
Another year has come and gone;
You know that I'm not lying.
So for you, the birthday person,
Here's what I want to say:
I hope this birthday's the best one yet,
In every delightful way.
So happy birthday to you.
Have lots of birthday fun!
May your birthday wishes all come true,
Even if you have a ton.
--------------------------------------------------
Itz tHE DaY of CakEs N CandlEs..
snOw N soNgs..
cElebrAtions N dEcoRtions..
LaughtEr N Luv..
Itz ur B'day!


arunsunita_gm

* Lovely msg for a Lovely Person from Lovely Friend 4 a Lovely Reason at a Lovely Time form a Lovely Mind in a Lovely Mood in a Lovely Style Have a Lovely "BirthDay"
* "Fly in the plane
of ambition,
and land on the
airport of success,
Luck is yours,
wish is mine
may ur future
always shine. . .
With LOTZ LOVE
"Happy BIRTHDAY 2 YOU"".
* SURAJ RAUSHNI LE KAR AAYAA
AUR CHIDYOn NE GAANAA GAAYAA
PHOOLOn NE HAnS HAnS KAR BOLAA
MUBARAK HO TUMHAARA JANAM DIN AAYAA
* Gul ko Ghulshan Mubarak..
Shair ko Shahiry Mubarak..
Chand ko Chandni Mubarak..
Ashiq ko uski Mehbooba Mubarak...
Hamari taraf se aap ko ... Naya Janam Din Mubarak
* Phoolon ne Amrit ka jaam bheja hai*
Sooraj ne gagan se Salam bheja hai*
Mubarak ho Aapko Naya Janam Din*
Tahe-Dil se Humne ye Paigaam bheja hai


Koli97



_Chandni_Sadia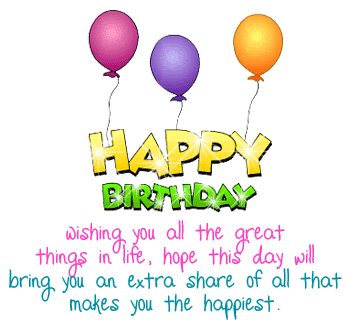 abhiyarock
z

May every path be smooth for you,
May every corner bring you happy surprises,
May every day put a smile on your face,
May every friend bring you price and joy,
May you get whatever you always wished for,
I wish you a very Happy Birthday.
Sukirti Kandpal!


--sonali--

WISH YOU MANY MANY HAPPY RETURNS OF THE DAY SUNSHINE!
GOD BLESS YOU!
LOVE U FOREVER.-I HEART U FORVER U R STAR FOR ME-ALWAYS!


DashingCuteJazz















tamanna02ashish

Hows this..cute na
,thodi si chotti hai,but jaisi mere se bani maine bana di.
Happy B'Day Suku,may god bless you.