New Delhi: For the first time in the history of 'Bigg Boss', the creative team had to go inside the house to control a contestant. Artist, choreographer, body language expert and image consultant Imam Siddiqui crossed all lines on day 43 and gave a tough time to his housemates Aashka Goradia and Dinesh Lal Yadav. They were staying together in the mud house, built adjacent to the main Bigg Boss house.
Aashka and Dinesh were already irritated with his habit of talking endlessly. He kept on repeating one line in front of the cameras, "I am here to play a game." Finally Aashka told him, "People who don't matter to me don't affect me. You are simply overacting. Please somebody give him his medicine."
Imam continued to argue with her. Later, he went inside the confession room and started pretending that Bigg Boss is talking to him. He was later seen hiding Aashka's stuff under his bed. He told Bigg Boss that he is prepared for any punishment for doing this.
Video
Photo
Gallery
Imam wearing a strange bodysuit
When Ashka and Dinesh tried to complain about this to Bigg Boss, Imam didn't let them go inside the confession room. Aashka told him that he has seen so many cameras for the first time and he is simply showing his desperation now.
After all this, he started howling in front of the cameras and demanded an apology from Aashka. He also told Bigg Boss that he doesn't want to be a part of the show and packed his bags. After all this, Aashka finally came out, but Imam refused to talk to her. With an artificial expression she said sorry to the cameras.
Imam still kept on telling Bigg Boss that he wants to go. When Bigg Boss didn't take any action, he started breaking utensils inside the house. Scared Aashka and Dinesh kept their doors closed. He refused to have any discussion with Bigg Boss and threatened to strip in front of the cameras. The Bigg Boss team had to go inside the house to stop him. Finally, Bigg Boss decided to throw him out of the house because of his violent and uncontrollable behaviour.
Contestants like Kamaal R Khan, Dolly Bindra and Pooja Misrra were also ejected from the show, but Imam has certainly beaten all of them. It seems he could not really handle the pressure of being on the camera all the time.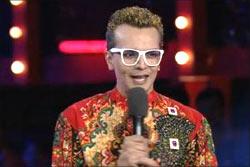 B
igg Boss 6
saw a sudden eviction on Monday, when fashion stylist Imam Siddique was asked to leave the house.
Siddique had not been nominated for eviction but in fact, was asked to step down because he had a fight with housemate Aashka Goradia.
A well-known anchor and the man behind the stunning makeover of Mona Singh's character in
Jassi Jaisi Koi Nahi,
Siddique was also the host of
Style Addict
on UTV stars.
According to a source, "Aashka said nasty things about Imam to Nirahua, saying he would spread dirt around and that he was in the house to play a game. While having dinner, he kept taunting Aashka and telling her that she should not talk while eating. He was also imitating her cry-baby behavior. Aashka taunted him in return, and spoke to him in Imam's feminine style.
"After some time, he apologised to Aashka.
"Later in the night, he wore Aashka's clothes and started doing antics like brushing his teeth. When Aashka and Nirahua reacted to this, he was angry and locked them inside the house. After that, he removed his clothes in front of the camera. This part will be edited out.
"Then, he broke some earthen pots, and threatened to burn down the house. When it went out of control, he was asked to leave the house at 3.30 am. The other housemates kept him in an isolated place since then."
AI BHO WO
GAI BHI WO
KHATAM FASAANA HO GAYA !!!
HAI MERA IMAM SIDDIQUI AT ADHORA RAH GAYA RIFFAT BI !!!
Welcome to IMAM SIDDIQUI APPRICIATION THREAD
IMAM SIDDIQUI
Age : 47
Star Sign : Scorpio
Nationality : Indian
Occupation : Image consultant and casting director
How we know him : He has been a fashion model since his young days and is a well known talent manager
Imam Siddiqui is a casting director and image consultant by profession and a photographer, dancer, poet and performer by passion. He has launched many a faces in the fashion world. He is also a former model. He is also a fashion critic and anchor.
Members
ShahZur4Cruiser and Cruiser51
fkbutts
Arsha_Kriyansh
Be.A.Rebel
saturn
Dexterkilaila
HelloHiByeBye-
amina.ahmedraza
alia
blackie
F-bomb
Shreya_luvs
Mahek_No1
Chandramukhi
D3_4life
taurusbb
saitan
Isa_Rahman
guess_wh0
MrManagement
tere_mere
pehalnaz
Shaf13
saregamapa31
Angel x
perfectlystill
King-Anu