Surprise Surprise!
Here I am folks with
this time...
(At the outset let me clarify that I am all for adoption in real life.
This post is only for fun and not intended to hurt sentiments.)
How can we stop Kushi from getting adopted.
1. Introduce the Cadbury's Chairman to Kushi and tell her she can't have a better "sugar daddy".
2. Threaten Nani
that DB and BB will live with her if she doesn't take Kushi to her house.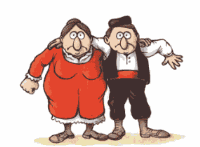 3. Get all of Kushi's dead rishtedar to do a spooky dance in MM.
4. Tell Nidhi that even surrogate moms put on lot of weight after adoption.
5. Give Ashu a spreadsheet
on what it costs to bring up a growing child.
6. Show Nidhi and Ashu a film on raising teenage girls.
7. Send a letter to the court telling them how Ashu and Nidhi have the habit of running away from their homes at a drop of a hat.
8. Scare Kushi with stories and photos of Bhajrangi, Sandeep Bagchi, Mansukhani, Mallika and Suhasini.
9. Put Kushi on a staple diet of HCKMM (Hare Chane ..)
10. Send Kushi to stay in Ranga's joint family, after all one more won't even be noticed.