Lakshmi is commonly known as Goddess of wealth. Wealth is not only money. Tradition & value of life is also a wealth. Our family & progress is also our wealth. Our belongings such as land, properties, grains, animals etc. as well as virtues like patience, persistence, purity etc.in the form of character are nothing but our wealth & so also our glory or victory. Thus this eightfold of Sri Lakshmi is known as 'ASHTA LAKSHMI'.
Mother Lakshmi is the source & provider of the following enumarated well known 16 types of wealth & many more :-
Fame
Knowledge.
Courage & Strength
Victory
Good children.
Valor
Gold & other gross properties.
Grains in abundance.
Happiness.
Bliss
Intelligence.
Beauty
Higher aim, High thinking & Higher meditation too.
Morality & ethics. 15. Good health. 16. Long life.
Let us glance upon the glory of mother Lakshmi individual nature & forms.
ADI LAKSHMI :- Mother Lakshmi resides with Lord Narayana in Vaikunth, the abode of Narayana. She is known as 'Ramaa' means bringing happiness to the mankind. She is also known as 'Indira' (who holds lotus or purity in hands or heart). Divine mother this form is normally seen serving the Lord. Lord Narayana is omnipresent. Adi Lakshmi or Ramaa Lakshmi is symbolic of her serving the whole creation. Though the Lord is attended by innumerable attendants, still she personally loves to serve Lord. Actually mother Adi Lakshmi or Lord Narayana are not 2 different entities but 1only. Many a place we see her form sitting in the lap of Shri Narayana.
DHANYA LAKSHMI :- Dhanya means grains. This includes all forms of purified food containing essential vitamins, minerals, protiens, calcium, carbohydrate & so on. With the grace of mother Dhanya Lakshmi one gets all essential fruits, nutrients, vegetables, grains & so on.
DHAIRYA LAKSHMI :- This form of mother grants the boon of infinite courage & strength. Those who are in tune of infinite inner power, are always bound to have victory. Those who worship DHAIRYA LAKSHMI, they live & lead a life of tremendous patience & inner stability.
GAJA LAKSHMI :- In the holy book of 'Shrimad Bhagwad' the story of churning of ocean by Gods & demons is explained in detail. Author sage Vyasa came out of the ocean during Samudra Manthan. S she is known as daughter of ocean. She came out of ocean sitting on a full bloomed lotus & also having lotus flowers in both hands with 2 elephants on her side, holding a beautiful vessel filled with milk, pouring it over Sri Lakshmi. Many a times we see Shri Lakshmi standing in the lotus & elephants pouring nectar over her. During the festival of Diwali, along with Shri Lakshmi, Ganpati Bappa or the elephant also gets worshipped. This signifies the protection from evils & abundant grace & blessings for additional prosperities !!
SANTAN LAKSHMI :- In the family life, children are the greatest treasures. Those who worship this particular form of Shri Lakshmi, known as 'Santan Lakshmi'are bestowed with the grace of mother Lakshmi & have in the form pf desirable children & long life.
VIJAY LAKSHMI :- Vijay means victory. Vijay is to get success in all undertakings & all different facets of life. Some are physically strong & mentally weak while others are economically rich but poor in their attitude & cannot exert any influence.Vijay is to have encompassing all victory. Vijay is to rejoice glory of our real nature - Vijay is to conquer the lower nature. Vijay is the victory in external & internal wars & of course eternal wars!! Hence, those with the grace of Mother Vijay Lakshmi, have victory everywhere at all time, in all conditions... Victory to Vijay Lakshmi!!!!
DHANA LAKSHMI :- Dhana is wealth. But as per 'Rigved Purush Shukta' Dhana is not only wealth in coins & currency. Even sun & moon, fire & stars, rains & nature, oceans & mountains, rivers & streams, all these are our wealth, so are the progeny, our inner will power, our character & our virtues. With the grace of mother Dhana Lakshmi we'll get all this in abundance.
VIDYA LAKSHMI :- Vidya means education/ knowledge. Education is not mere studies to receive degrees & diploma certificates from educational institutes but other knowledge existing in the real world. With the grace of mother Vidya Lakshmi we'll have this in abundance.
// OM SHRI HREEM SHRI MAHALAXMAY NAMAH //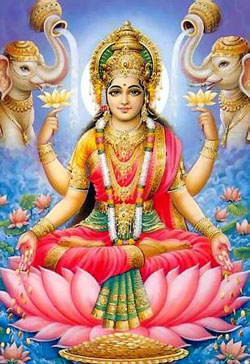 Edited by smiley4567 - 15 November 2012 at 8:17am