" Taking Ashutosh back to his roots has been on the cards"




I have been in the eternally waiting mode for the next track...
...for the past 10 nahi..20.. pata nahi...mmm...25..dunno...lost count... no.of episodes... and finally, got this message direct from the
Since then wondering...what could this mean... (me and my disgusting suspicions...
)
>>> Does that mean ...
He is hell bent on introducing a baby track... If not Ashutosh's baby... then Ashutosh himself is a baby...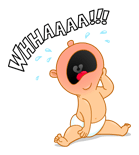 ...
or Ashutosh as a teenager and our cute chic Nidz will be a baby...
... visiting Roots mean this???
>>> Is he wishing to take Ashutosh to the ROOTS of mankind???
... Oh..Oh.. Now ..I got it..why else on the earth we have been encountering our forefathers quite often on the show!!!! A visit to the zoo or another HM in the National parks!!!!!
YIPPEEE!!!!
>>> Do you think the meaning of the 'ROOTS' is something related to Mathematics????
Its not a laughing matter ji... Mathematical roots might mean to disintegrating into infinitesimally smaller you... Ashutosh is neglected off late so much in making Nidhi ..'The Mahaan'... We cannot afford to see any further deterioration...
>>> Hey, Come On!!! What kind of a mother I am
... Poor Ashutosh was crying all these days...and I dint notice...he needs a
...
>>> Yes... this could be the meaning... (wiki says)
In
music theory
, the
root
of a
chord
(in French,
basse fondamentale
) is the
note
or
pitch
upon which a
chord
may be built by stacking thirds...
(root in red is a C major chord)..
Now after Khushi left, and Nidhi sambhalfying the KGH... Ashutosh will be all set to get another daktari degree...this time in music...

So, friends!!!! What are you 'ROOTING' for ???


Edited by mudraswathi - 12 November 2012 at 8:26am