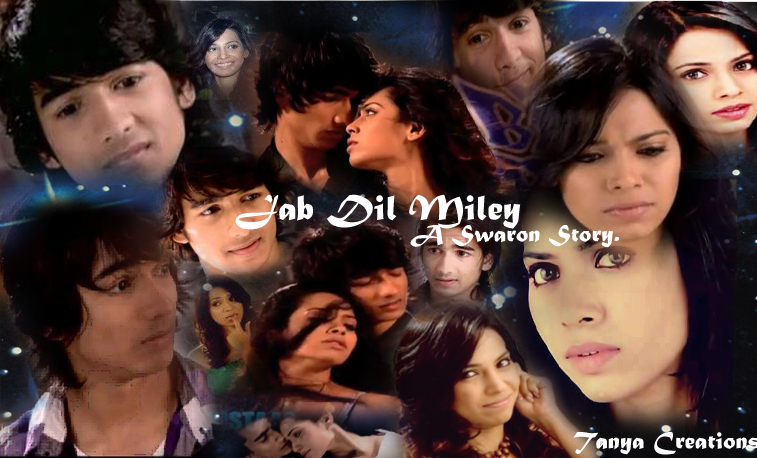 PART- 15
They reached rehearsal hall and their team blast a bomb in them..
R:Guys..you know footloose is coming..we are in a big mess!
Sw:What mess?
Sh:KR's? don't tell me rey..they are taking the advantage of my win for their college! SHIT!
R:YES! They are'
Sw:What you guys are talking about..i am not getting anything? He gave Sharon and rey THE confuse look.
Sh:Arre..swayam I won female best solo lead competition na..remember the candidate of any college will won gets a authority of judging next footloose..i won for KR's..now they have power..shit..it's all my fault..
Sw:hey..hey relax it's not your fault okay? Be relax..but rey atleast tell me what has happened?
A:Swayam..listen they have dismissed our team from coming footloose saying that Sharon was once part on their team and she knows their routines..so it's impossible to have both teams at same time..So they dismissed us..
Sh:WHAT!? But I don't know anything about their routine..I was practically not even a part of them..i just joined them for competition'
R:yes..sharon u know this..we know this..they know this..but heads don't..and for now KR's have power so they are using it against us..
N:shar! Can't u talk to shivam..u know he had been nice to you?
Sh:Yeah..definitely..i'll talk him..
Sw:NO! u are not talking to him..he has a power..he did this which means he obviously don't have a good intension..so I can't let u talk to him..at all..
Sh:But swayam..
Sw:Meeting dismiss..we will talk about it later Sharon..
They all left the rehearsal hall but sharon kept standing looking at swayam..
Sw:WHAT!?
Sh:Don't act..you know I have to talk to'HIM!
Sw:no..not necessary at all..u r not..
Sh:OKAY! But atleast think that our team has always wait for this day'every year..you wait for it..i can't do nothing to help u out..
Sw:Well we will figure out something'but u r not talking to anybody..if its about me..than nothing is important for me more than you..and if about team..then they will surely understand..if destiny have footlosse for us..than nothing can stop us from performing but if not..than nothing can let us perform..not even KR's..
Sh:You are not understanding..
Sw:SHUT UP! Sharon'He shouted..on which Sharon got scared'Just zip your mouth'.my decision is final'since I am captain..and u have to obey me..
Sharon felt hurt on the way swayam talked to her..She run out of the rehearsal hall and hide herself in fire escape..
Swayam banged his hand on wall..he felt bad on the way he talked to her..He walk out of rehearsal hall and searched whole college'he even tried calling her..but her phone was switch off..He was scared now..as he know that Sharon do get affected with very small things also..
He was passing through the fire escape when he felt Sharon presence in it..He opened the door and find Sharon their sitting on the stairs..and tears falling down from her eyes..She looked at the back at him and quickly wiped her tears..He came and sat next to her..on which she instantly moved her head sideway..
Swayam smiled on her..pull her closer with her waist but she kept her head sideway..
Sw: SORRY! He whispered in her ears..
Sharon gave him no response..He again pulled her closer and said sorry..again no response'this time he pulled her on his lap..and circled his arms around her..and again said sorry with a little pout..
Sh:Mujhe tumse baat nahi karni..
Sw:Oh..tu him baat nahi karenge..
He said an holds his ear and indicate her sorry..
Sh:Swayam please..
Swayam ponted his thumb towars him and than made heart from his finger and then pointed towards her..He said I LOVE YOU..while actions..
Sharon pointed her finger to her'and indicate no action and made heart and again pointed towards him'She said I DON'T LOVE YOU..
Sw:but I dooo'
Sh:let me go..because you are a bad boy..and I don't love you'and..and..dont talk to me'because you shouted on me'She was just standing from his lap when he suddenly again pulled her down'
Sharon glared at him'and swayam holds his ears and mouthed sorry..
Sharon melted on his gesture and gave him a very light smile'and said it's okay..
Sw:Thankx..i am really sorry that I shouted on you'He said and rest his head on Sharon shoulder..as she was still on his lap..
Sharon smiled and ruffled his hairs with her fingers..
Sh:swayam I wanna ask you something..? She said and sat next to him and holds his arm tightly.
Sw:What? He said while pacing his hand on her hand holding his arms.
Sh:Sorry'I know you don't want me to do this..but I will talk to him..for me..for you..Please swayam..
Sw:Sharon! Please I really think that you should not talk to him at all..he said very politely.
Sh:But I will..i hope u will support me..rather discourage me..please..i know I can expect this from you..She said while looking into his eyes.
Sw:Sharon you know na..
Sharon cut him in between..
Sh:Please..She said and kissed him on his arm.
Swayam took a deep breath and said YES.
Sw:But you have to promise me that you do be careful..?
Sh:Yes..i will meet him alone only'please please please..he did that stupid thing against you all..i think no one from dazzlers should go with me..especially not you..
Sw:okay! You always do this to me..you are a FOX you know..
Sh:Oh really? Am I? She said in a very seductive tone..and pulled swayam closer by his collar and places her lips on his..
They soon engaged into a very passionate kiss..They broke off'and swayam starts tickling her on her tummy'She tried to run away but he didn't let her..She was laughing and he tickled more..
Sh:swayam'please'stop it..She said while laughing.
Sw:No way Sharon'
Sh:Oouchh'!
Swayam suddenly stops and look at her..who starts laughing again..
Sw:Very funny..prank mere saath!
Sh:shut up swayam..be serious now and listen to me..i am going to meet him today..in night I suppose..so?
Sw:so what? Don't ask me as if u cared..He said while pouting.
Sharon pulled his cheek with her hands..
Sh:You are shooo cute'!
Swayam rubs his hand on his cheek..and Sharon starts laughing.
Sw:cruel witch..
Sh:yes..any doubt my boy! Now get up it's already too late we need to rush home and then I need to meet shivam tonight..
They reached sharon's home..Sharon called shivam.
Sv:hey Sharon'whats up? I knew you will definitely call me..He said
Sh:Hi..shivam it's better agr hum kahi comfy main baat Karen..you know we can sout it out..
Sv:Why not! I would love to..come to my place..i am all free..
Sh:Your place? Can't we meet outside?
Sv:actually babes my leg is little injured so I can't walk properly you know..
Sh:OH! Um..um..No problem..I'll come..at 8:00?
Sv:Fine..8 is good with me..
Sh:See ya..
She said and cuts the call..she went to swayam who was waiting for her in hall..
Sw:So..iss unpredictable..baat ho gai apne "FRIEND" se..kya kaha sahib ne? He said and made a disgusted face.
Sh:swayam..don't be a baby..he just ask me to come at his'I mean he asked me to come at caf..we will sort it out..She said while giving him smile.
Sw:Argghh'okay'is it really important to go alone? I mean..
Sh:Sh'keep your finger on your lips..She said and he did so..like an obedient kid..
Sw:Hitler!
Sh:Thanx..i will take it as a compliment baby..She said and kissed his finger..
Sharon checked her text from shivam'in which he texted her his address..She reached there..They both settled in hall..
Sv:Look sharon..I knw it's been bad on part for dismissing your team just like that..but I had too'you know your team have 2 excellent dancer..in there presence we can never win..and they are you and that swayam pig'
Sh:hey..watch out..mind your tongue..She said it politely but she wished to kick him on balls..
Sv:relax..he deserve it..he is a bloody excellent dancer'I hate to admit but we can't win if u both will be in one team u know..
Sh:Look..u guys can..its need hardwork shivam..
Sv:Oh please..itni raat ko mene tumhe apne house'.is bhashan ke liye nahi bulaya hai..I have a deal for you..He said and smirked.
Sh:I can do anything..just tell me..i dunt want my team to not perform..
Sv:Soch lo Sharon..baad main mat kehna..ke I didn't tell u before..
Sh:shoot it shivam! She said and folds her arms around her chest.
Sv:SLEEP with me Sharon..ONE NIGHT..and footloose is all your's!
Precap:
What will happen..will Sharon except his deal..than will she compromise for swayam and team..or she will stand against it..
___________________________________

I know I stopped it on cliff hanger'
Nehal isse big nahi likh saki sorry because yahan update end karna tha for bigger surprise for tom..and lub u
Tell me how was it and do comment and like please..
Thankyou!
-TANYA-