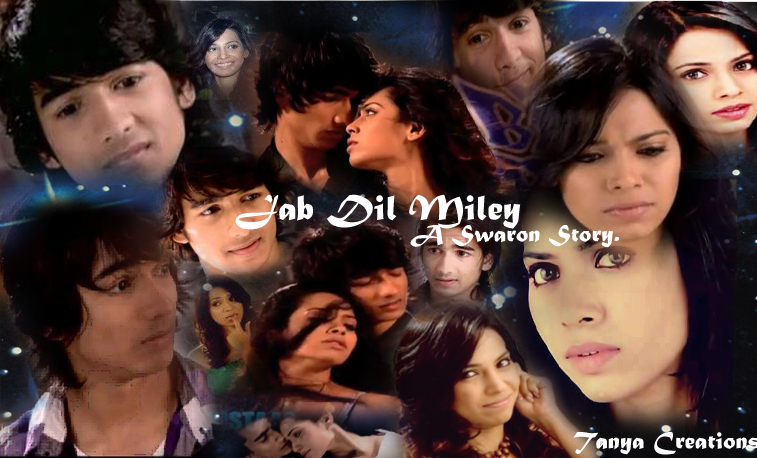 PART- 14
She opened a drawer..and took a picture out from it with a letter'she traced her hands on the letter and walks towards swayam.
Sw:whats this Sharon? He said while looking at the letter.
Sh:read it..She said and handed over the letter to swayam.
Swayam starts reading it aloud.
"LETTER"
Sharon..mom loves you'I know I am not anymore with you..You miss me I know..but you are a strong girl..my little girl..promise me you will never cyr in front of anyone..promise me you will be strong..promise me beta!
I know you must e thinking that why I wrote this letter for you..because I am dead..
Swayam tones initially starts lowing with every single word.
I wanted you to know that we had another child before you..she had lost somewhere..she was a girl..your sister..I was pregnant with you when she lost..me and your father never told you about this..but I think you deserve to know the truth..Your father loved her so much..he couldn't adjust after we lost her..he broke down..he stops realizing that he have another child..but I had you..i could see her in you..you were the most precious diamond for me baby'Dad do loves you..he really do..he never showed it back when you were small..but he only was the one who always got tensed when you were in fever..or something happened to you..though he never showed this but he do..i wanted you to be brave'because he will never show you his love..his concern which he HAS for you'you will be alone..all alone'I hope Ayesha take cares of you..she is a sweet girl..i can leave you to her responsibility..she is alone Sharon..think her as your elder sister..okay?I have a picture of Sneha'your sister..see it..
Love you meri jaan..mama loves you more than anything..
Forgive me..
He read the letter and looked at Sharon down head..but she managed to give him a small smile..
Sh:Don't worry I am okay! She said while tapping his shoulder.
Sw:Can I see the picture?
Sh:yeah sure..she said and gave him the photo.
Sw:She is very less similar than you..she must on your father? He said with a smile.
Sh:yeah..she was..though I never saw her in real..but still I can feel..if she would have been with me..she would have treated me like a baby..She said and giggled on her own statement..which made swayam laughed..
Sw:yeah..just like Ayesha!? He said
Sh:yeah man..sometime..no rather all times she panic a lot for me..she is 3 years older than me..but we was friends from childhood..
Sw:if she is 3 years older than you..than why is she in same class??
Sh;actually 3 years back..she had an accident..doctor said that she will not survive more..but she did..and she could not even move her body for 2 years..that's why she had to left her studies in between..and now she again joined the college..
Sw:Oh..sad! he said.
Sw;hey SHAR! I have something for you..
Sh:for me! What?
Sw:chocolate..he said and grab 2 big bars of chocolate from his jacket.
Sharon eyes glittered with joy..she always had a joyfull effect with chocolate..she could eat chocolates in breakfast..lunch..and dinner..she was a chocolate freak..before she could take the chocolates from his hands..he ran out of a room..and turned back..
Sw:catch me if you can sharon..catch me and chocolates are yours..He said and run again.
Sharon run for him..he entered her bedroom..taking a tour of it and again while sahron was kept chasing him..at last..sharon got a grip of his collar and he stopped'they sat on the couch..and Sharon opened her hands..swayam kepps chocolate there..Sharon starts eating chocolate like a kid..she was rather feeding her dress and face'her nose was fully covered with chocolate'Swayam kept looking at her..only he know how beautiful she looks when she pout or eat chocolate like this..the wrapper of the chocolate was in her mouth..trying to clean it because some of the chocolate was even sticked with it..her lips were fully covered with chocolate'swayam couldn't resist and starts leaning in..he took out the wrapper from her mouth..leaned in more slowly..sharon was nervous..but she was loving his closeness..he leaned and leaned until Sharon was half laying and he benting on her.
Sharon grab his hairs from preventing to fall with a thud on coach..when as she even closed her eyes..she was not in her senses..her heart took on her mind..Swayam leaned in and fill the gap between them..he was not kissing but slowly slowly..and seductively licking her lips with his tongue..he starts tasting the chocolate..but he bet her lips were more sweeter than any chocolate..Sharon felt heart raising its speed..swayam felt a soft tug in his hairs..which turned him on..and he took her bottom lips in between his and suck it smoothly..sharon too did the same..now they both start kissing each other passionately..swayam swiped his tongue on to her lips..asking for permission..she opened her mouth and gave him entrance..his tongue was doing tickling in her mouth..making her moan in her throat..They break the kiss finally due to the lack of oxygen..but Sharon kept giving him sweet small peck on his lips..which made him smile..he carried her to her bed..made her lay..and layed beside her..She cuddled up against him..and wrap her legs with his..he holds her protectively with her waist..and nuzzled his face in her chest'
Sw:I..i love you Sharon..he said and kissed on her chest..
Sh:I love you too..she confessed and kissed on his both eyes.
They drifted to sleep..in each others embrace.
Continue...scroll down.