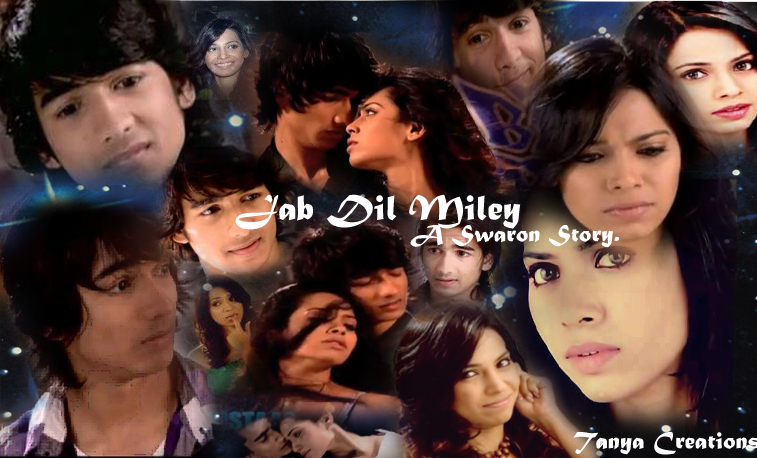 PART- 13
Swayam was trying hard to sleep..he forgot that his cook was on leave for today..and even he was in no mood to cook for himself today as he was little tired..but this hunger was not letting him sleep at all..it was 2:00 and even all the shops were close..He jerked up from the bed and holds his stomach which was making horrible noices.
Sw:Kya karun ab..? there is nothing to eat..ab main kitchen main ja kai kuch cook nahi karne wala chahe main behosh hi ho jaon..Mummy bohat bhook lagi hai..He said while pouting like a baby..
Suddenly he thought of something and stands from the bed..walks upto the mirror..adjust his hairs with his hands..pick his car keys..and drive.
Sharon was in her bed..sleeping peacefully as she was very much relax after their convo..so she slept little early.She was hugging the teddy bear and her leg was on it..she was looking more than an angel.
Suddenly her door bell rings..
Ting tong..ting tong..ting tong..
And kept ringng..She was confused that who is it at such late..She jerked upt from the bed and start walking towards the door in half sleep..her eyes were half open..half closed..She opened the door and rubbed her eyes like a baby..and pout..Swayam was standing there..she again rubbed her eyes..and then her eyes opened widely.
Sw:bohat bhook lagi hai..i forgot ke maid off pe hai..aur itni raat ko koi shop bhi nahi khuli hogi! He said with a cute pout.
Sharon did not utter a word..she turned and walked in house still sleepy..went to kitchen and switch on the lights..where as swayam followed her and sits on the dining table.
Sharon take out the the food she made for herself..but it was not enough for swayam's big tummy..
Sh:tumhe abhi bhool lagna zarori tha kya? She said while giving him a irritated pout..
Swayam did not answer..
She asked again but still he didn't as he was starring at her..
Sw:I think that you should change this dress..he said while pointing towards her night suit.
She was sleepy and totally forgot that she was in her short..rather very short night suit..She looked upto her..and again at swayam with eyes opened more than her mouth..
Sw:no..you look stunning with this dress and your messy hair'and yes not to be mention your beautiful pout..but still I think you should change..He said with a smirk'and next second she almost ran into her room.
After some time she come back wearing a silk pajama with that short night suit..
Sh:wait 15 minutes..i make something for you..She said and starts cooking for him.
Swayam to himself: Aw,she look so cute with ghar ka kaam and all..i wonder when I will see her in OUR kitchen..He thought dreamily..
Sharon was making allo ka paratha for him..
She prepared 2..place them on plate and walks upto dining table..keep it in front of swayam..and sits beside him..
Sw:wow..itni jaldi paratha? I love paratha's btw..He said and starts eating like a kid..It was soo hot that he stopped in his first bite..
Sharon laughed at her gesture..and placed her elbow on table and starts watching him again..She felt very happy seeing him enjoying paratha's..He was taking big big bites..as they are the last paratha's of his life..
Sh:swayam relax..parathai kahi bhaag nahi rahe..araam se khaao..she said while giggling.
Sw:nai Sharon tumhe pata nahi hai..mujhe kitne zoro ki bhook lagi thi..mujhe khaali pait needh nahi ati..aur itni raat ko sirf tum hi thi jisse paas main apni bhook mitane aa skhta tha..he said the last like very huskily.
Sh:Kyun..rey aur baaki sab bhi tu thai..? she said hopng that he will say ke I am the most important..
Sw:haan..but tumhari baat alag hai..tum mujhe kabhi mana nahi karogi I know..he said while smiling..
Sharon felt her heart beat raising faster..She was controlling her tears.tears of joy..she was happy that atleast he think I am different from other to him..
Sharon's POV
Thankx swayam..mujhe yeh batane ke liye ke main tumhare liye mean karti hoon..but kaash tum mujhse pyaar bhi karte..kaash'I love yu swayam..and I promise tumhe main kabhi kisi cheez ke liye mana nahi karungi..chahungi bhi tu kar nahi paongi..
Sw:thank god..sharon thi..warna main tu marr jata..he said loudly..after finishing food.
Sh:swayam! Kis tarhan se marne ka keh rahe ho..are you mad'.aise mat kehna phir kabhi..she yelled at him.
Sw:kyun tumhe bura lage ga agr main marr jaonga..he said while smiling to her.
Her smile faided..
Sh:please swayam..offcourse mujhe bura lage..bura anhi lage ga..i will die as well..She said and swayam hold her wrist..
Sw:shut up..okay shut your mouth..pata nahi kya kya bolti rehti ho..main ab se aisi koi baat nahi karunga..aur tum bhi kabhi marne ki baat nahi karogi..He said in a soothing tone.
She smiles.
Sh:okay..ho gai tumhari pait pooja..now out! She said proudly.
Sw:NO! he said and walks upto the picture hanging on the wall..
He kept looking all the pictures of Sharon..He picked one of them and start laughing..when Sharon realize that which picture he has picked she runs to him and tried to take the picture from him..but he hold it tight..
Sw:Sharon tum bachpan main bhi kaprai nahi pehenti thi..he said and starts laughing..as Sharon was just wearing pamper in a pic.
Sh:HAWWW!! Swayam..you are looking me naked..very bad..give me the picture..She tried to snatch the pic.
Sw:oh please..i have even saw u without close at your this age..he said and closed her eyes tight as he realized that what he just said..
Sharon felt shy and lowered her gaze..but she felt good that he was the one who saw her without close.
Sw:sorry..i didn't.
Sh:SHHH! It's okay..i know you didn't mean it that way..so mr.shekhawat when are you planning ti leave my house..since I wokeup because of you only..She said while wrapping her arms in her chest.
Sw:I dunt fell like going now..i am here for sometime..he said and his eyes fell to a picture of a lady kept on the shelf'he hold the picture in his hand and smiled.
Sw:Sharon your mom was beautiful you know..he said while his back to her.
Sh:how did you know that she is my mom? She said calmly.
Sw:umm..you smile just like her..same eyes..same nose..same lips..you both are carbon copies..btw where is she? I never met your family? He said while walking upto her with the picture in his hands.
She took the picture from his hand and sits on the couch indicating him as well to sit'he sits beside her close.
Sh:She died..she said and looked to him..again looked at the picture and said..when I was 7 years old..I miss her..she said and a tear rolled dwon from her eyes and fell to the picture'you know what swayam..she was the best mom in the world..She was everything to me..She said and hugged the picture to her chest.
Sw:And your dad? He said while holding one of her hand.
Sh:He is good..he don't live here..he live in newyork..he never had time for me..for his only child..he even don't know my date of birth properly..We hardly talk..She said while giving her a weak smile.
Sw:When was he last here to meet you?
Sh:he was never here initially to meet me..but yeah he was here for a meeting..2 years back..we met for about half an hour only for a silent lunch.and he left..It's been 1 year and 8 month since we last talk on phone only for 2 minutes..And she starts crying now'I dunt why swayam..dad doesn't feel like talking to me'like being with be anytime..why doesn't he realize that I miss him a lot..why he never wish me on my birthday..why he never ask me how my studies are going or how am I surviving here alone with him..I am 18..and I am living without him after since mom died..even he never used to spend time with mom and me when she was alive..but alteast he loves us..may be atleast mom..he even do try that time to take time for both of us..but now..am I that less important for him..am I that bad..that my dad even don't know that he has a daughter who has been waiting for his call for more then a year ..i have dad but people around me shymphatize with me as an orphane! She said and looked at him for answer..
He had no answer..his heart arched seeing her in this pain..he forgot his own pain'he took her into embraced and hug her tight..even a tear rolled from his eyes and drop on her shoulder'she felt something wet on her shoulder..broke the guss and look at him..
Sh:idiot me..tumhe bhi rula dia..acha khasa mood kharab kardia..apni boring story suna ke..she said while wiping her tears.
Sw:hey'I am here always for you..i am happy that you shared it with me..shayed tumhare pain kuch kam ho jaye ab..whenever you feel like crying..my shoulder is here for you..! said and caressed her cheeks.
Sh:Thanx swayam..
Sw:okat..now show me your house atleast..
Sh:okay..chalo..she said and grabbed his hand and take her to her secret room..
They entered there lights were off..it was dark..
Sw:what like you are planning to rape? He said..
Sh:very funny..
Sharon switch on the light and the room was decorated with lots of posters and pictures of her's..in different poses..
Sw:wowww..sharon you look beautiful he said while tracing on of her poster in which she was wearing the same night dress'sitting on the bed..legs crossed..and drinking milk with a disgusted expression..
Sh:you know..i hate Ayesha for it..she used to make me drink milk all the time..and said and pout.
Sw:I will thank her for that sometime..he said and walks toward the picture which catches his eyes most.
It was a big picture..her mom as in bed holding an angel in her arms..covered with white blanket..SHARON..she was touching her mom's cheek with heer tiny lttle finger'and yawning..her eyes as deep as ocean..her cheeks as red as blood..her lips as beautiful as herself..He traced his palm on that picture which made Sharon blush deep..He walked to another picture..picture which stops his heart beat..she was sleeping peacefully in her bed..cuddled with a teddy bear..it was her very recent picture..her hair falling to her face..her petite figure was showcasing in moonlight coming into her dark room..he bet she can give complex to any angel..He took his phone out and take a snap of that picture from his phone..and make it his wallpaper..Sharon smiled on his this gesture.
Sh:you made me your wallpaper?
Sw:yes..any problem?
Sh:nahi bus sochlo tumhe baar baar mujhe dekhna parega phir!
Sw:issi liye tu wallpaper pe lagai hai..takai tumhe dekh sakon..
Sharon blushed and lowered her gaze and walks towards a drawer.
_________________________________________

Guys,I know this update is not as long as before once..but spare me guys..hahaha
Neha again managed to take the update out from me..we are best at taking updates from each other by deals.
Do comment and like..as next time pm will only be send to commenters and likers both..next update after 25+ likes and pg 85..
Thankyou!
-TANYA-


Edited by Tanya_Swaronluv - 02 January 2013 at 3:02am