Dazzlers reached the venue.They diverted whole crowd's attention,crowd
seems to cheer only for them.Swayam and team entered in auditorium from
top stairs..crowd was cheering them up...they were
shouting..swayam..swayam..swayam..
Swayam smirked and wave his hand and give a flying kiss to girls out there
All performance were good,but no one can compete dazzlers or rather
Host announce dazzlers name on stage.
They danced,every eye out there were just popping out like a bunties on
them.They were spectacular,they even made judges to give them hats off.
(imagine dzzlers dance performnce to prove themselve and enter in
footloose elims,they danced that).
They went off from stage..backstage they were hooting for each toher..they
Shikha: OMG,we did it..we nailed it..bus i hope...
She was cut in between by swayam as he gave her a deadly glare..
sikha:i mean we WILL win..she said while looking at swayam.
sw:better,much better my lady! and tap on her shoulder..
They heard host announcing KR college on stage..
After sometime they can heard crowd cheering ofr them as well.That made
swayam fume in anger...he was controlling his anger.he wanted to rip the
heads off of all the crowd out there cheering ofr that bloddy KR's.
After half an hr..all group performance ended now it was time for solo's.
Host:So,soo guys as you can see group performance were gone excellent..now
it's time for solo..na na..not a simple random solo..It is "BEST FEMALE
LEAD SOLO DANCER CHALLENGE" yes..you heard it rite..every college will
send there best female lead for challenege..and the winning colllege will
be given an authority of judging next footloose dance competition after
every 5 months...isn't it great..! So pull up your socks ladies..it will
be difficult..and kick it off..so now we would like to call upon the one
and only,the great shikha from St.Louis college"..give her a round of
Swayam and gang cheered for shikha...She danced on a salsa style..the ong
was some salse track.She did it very well.her moves were flawless like
cream..she must nailed it.
Host:wow wow ow..that was a fabulous performance..i can see competiton
getting tough..so now it's turn for KR college..
swayam was shocked to here KR's name in this solo dance..they did not have
any female dancer in their team,so how come they can participate here.Host
called out the name of the girl "sharon raiprakash"..but swayam did nit
hear it as he was in his though..
A girl wearing a black and silver satin salsa costume.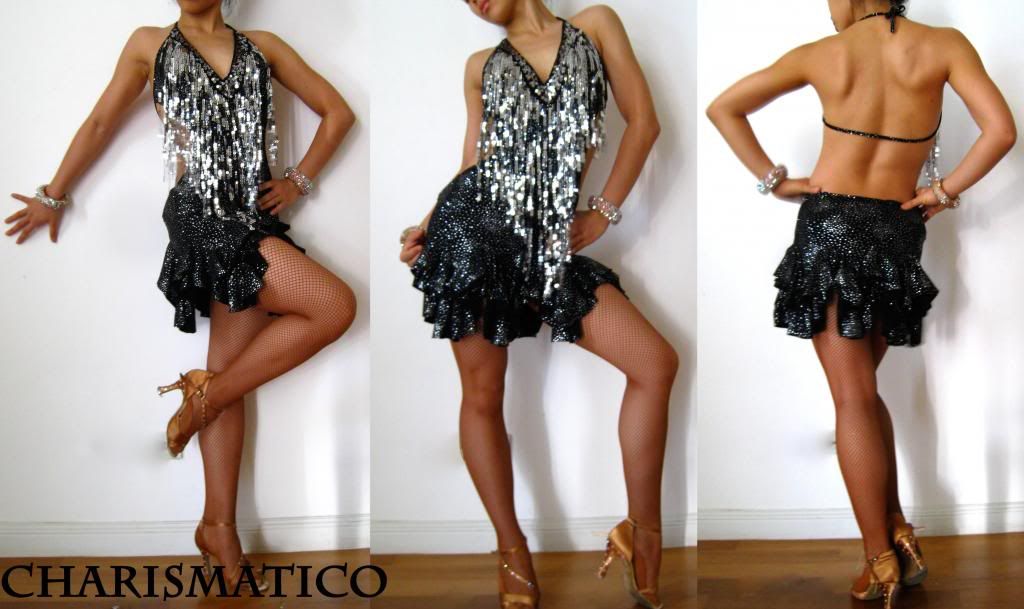 A spot light was on her and entire auditorium was blackout.She came in
between stage in a bull posture as if was going to do pasa dobla.
she looked sizzlingly hot..hto as fire..hot as hotness..she can burn her
stage with her looks.every guy was drooling on her.Even swayam couldn't
take his eyes out from her.
And the song start..rasiya from kurbaan..
Swayam was shocked to see her dancing as merged salsa..samba..jazz and
pasa dobla in her routine..It could be the most toughest routine in all.
she was moving and flying like a bird..her expression was like hell
seductive in while whole performance.She was doind some bold..and sexy
moves.She was miving her curve like to seduce someone...Her eyes were
sparkling,and lips were glossy pink and delicate.
Her bare creamy back was as smooth as feather.
Suddenly she walk out of stage and starts dancing in front of swayam and
if challenging him to get anyone like her in against her.As if she was
seducing him.she even rubbed her back body on his chest to his legs and
then went straight to stage and end the performance.
And in the end one moore shocking thing was that..she ended the
performance with bharathnathyam mudra's and in last did ADAAB!
And left the stage..
Swayam could not understand how come she can dance for KR's when there was
no female in their team..and how come such hot girl can be in their team
now.he was getting curious.
Dazzlers were mouth opened..
Shikha:swayam...she was damn good..i am nervous now man! she said while
Rey:Yeah,man you saw her move..i have never seen someone dancing like
Rinni and neha said...She was so good...i bet if shikha can win now.
All other guy in their teams said...Wow man,she was hot like fire!
Swayam wasn't listening anything.he ran towards the backstage leaving his
team behind,to find the girl who just blowed his mind out.
He then chase her..she goes in a dark room and old room.
he saw the leader of the rival gang there..he was giving her money,and
L:hey you girl..you was amazing i must say...take your money...u did our
work..btw,you are leaving college na??best of luck for your next college
which one?and yeah thanks for dancing on such a short notice..why did not
i notice you before in our college...you could have been my dancing
partner way back then...and smiled.
Girl:St.loius is my destiny now..i joined it..i dance for myself...boy i
do not need to be with anyone to show my dancing skills...dance is in
me..and yeah thanks for the money...i would not have taken it..but i need
them right now that;s why i demanded it..she smiled and left from the
room.Swayam on the other hand was hide outside the room and listening all
their convo..he then chased her again..and when he realised that there is
no one is corridor..and came near and grab her from her waist..and the
second later she was in some dark.and alone room..with a guy..holding her
tight from her waist and another hand on her mouth.
Without any hesitation or leaving her mouth.he starts questioning her..
sw:who are you? why don't me..swayam shekhwat knows you yet...answer me..
She was struggling in his arms and trying to push him off,but he was way
strong for her.She speedly take her hand to his face to slap him..but he
grabbed it and places it behind her back..she was confused now..she tried
Sw:do not even think of shouting...aur else you will face the
result,though no one can hear your voice here..and then shout ANSWER ME!
sh:just me leave you jerk,idiot..bas***d..how dare you touch me han??leave
me rite now..i said leave me..and she bit on his hand,which was lightly
Sw:Ouuchh..jungli billi..and tightened his hold on her waist.
Sh:Ah,you are hurting me..leave me..what do you want to know?
Sw:tell me who you are..and how you danced for KR's?
Sh:why? don't you heard my n KR's leaders convo in tht room..she smirked.
Sw:so you saw me...and comes dangerously close to her.
Sh:yes..what do you want...and leave me..it is hurting! she said while a
tear rolled down her cheek.
Swayam loossened his hold on her..but did not leave her!
Sw:Dance for us..as you are joining st.loius..dance for..join our team..
Sh:you wish..i dance for myself..i won't join your team...wash your
Sw:You will dance for US,i will make sure of it...and slid off his hand from her mouth..give her a small peck on her lips..and went from there..
Sharon was shocked and angry..she came out from room and shout behind him...
Sh:You idiot how dare you kiss me...i will make your life helll.just wait and watch..and pat his feet on floor.
Sw:waiting and watching miss..miss hotness! and left from corridor.

So,guys how was it...boring..good..bad..or what so else..
Please comment and like..as it means a lot to me...next chapter after 25 likes.
And for PM's buddy me...
Thank You!
-TANYA-