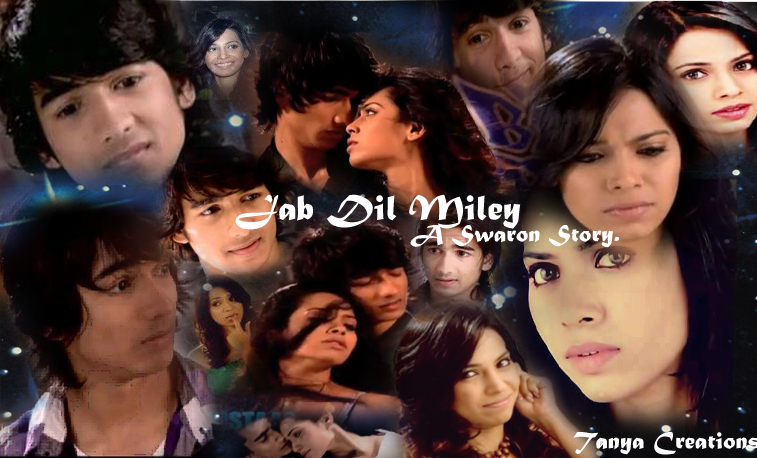 Warning: This update contain bold scene..so reader who feels uncomfortable can skip it.
PART- 11
Recap:Swayam was stunned to see Sharon in red saree.Swayam and Sharon confessed their feeling for each other and made to love in hostel room in alone st.louis school.
______________________________________

Swayam wokeup..it was almost 8:30 am now..He jerked up from the bed'and was scared if any one saw them here'but suddenly he realized it was Him only and not THEM..Sharon was not in the room..he saw her one earring stuck to his hair and dropped from there..he picked it and smiled crept on his face'every image of last night flashed in front of his eyes..He did not know why he said Sharon that he loves her but he was sure that he do and was happy that he said that to her last night..he was shirtless..and wore his shirt and thought that Sharon must be feeling weird of what happened last night'because it was very soon for her..so that's why she is gone..he decided to directly go and meet Sharon as soon as possible'He peeped out of the room and found one body there..he run out of the school and sits in car..He was adjusting his hairs in front mirror in car when his eyes fell to his neck..he saw the love bite there..which was given by sharon last night in pool..He traced his thumb on it..he could still the feeling Sharon wet lips on his neck and whole body..He was eager to meet her.He drove her car to Ayesha's house..as he knew Sharon would need Ayesha rite now but she obviously would not have tell her anything about last night..so ayesha must be in college rite now and Sharon must have skipped college today'He drove to Ayesha' house.Some maid opened the door..swayam asked her about Sharon..she told him that Sharon madam is in her room upstairs..he instruct the maid to not let anyone come upstairs until we want anyone.He ran upto her room and opened the door..saw Sharon leaning against the window realing..she was looking out from the window'swayam could by her face that she was tensed..He entered the room but let the door open.
Sw:Sharon..
Sharon stiffed hearing his voice..after some second she turned to him'
Sh:Swayam..tum..tum yaham kyun aye ho..?? WHY? He said in a very rude manner.
Sw:Sharon..i though I should meet you soo I came here..what happened to you'Why are behaving so different?
Sh:Look you don't be smart with me..You have no right to meet me like this alone..leave..she shouted.
Swayam felt hurt and start getting angry at the same time..he did not expect Sharon to be this rude after what happened last night between them.
Sw:Sharon..WTH are you talking'he shouted a little coming towards her.
Sh:stop it swayam..I hate you..ok..i really hate you..just leave me alone..go out of here..she shouted turning her back to him.
Sw:You hate me? Sharon..i won't leave'I want my answer'rite now..He shouted back..loudly this time..
Sh:You are nobody to ask me any questions..leave or else I am going to call the security..
Sw:I wont Sharon..i will not any at any cost until you will answer my questions..She said through his teeths.
He said while coming more close to her.
Sh:okay'don't go..than I am leaving'She said and turned to walk away from him..
He holds her wrist to stop her'She felt a current run down to her entire body..She closed her eyes to control her self..She looked upto him..
Sw:Sharon I love you..he said politely while holding her wrist..
Sh:but I don't..I can never love you..swayam shekhwat'she shouted..
His grip tightened on her wrist..
He was fuming in anger now..he don't know the reason why Sharon was behaving such weird as if nothing happened last night..
Sw:you do Sharon..YOU DO LOVE ME..you said it last night..stop pretending as if nothing happened last night..
He said and pulled her closer into his chest with anger in his yes..
Sh:Behave swayam..leave me..jaane do mujhe..i don't know tu kis baarai main baat karahe ho..i dunt remember anything..she said while trying to free her self from him..
Sw:We made love to each other..we love each other..you can't deny it..u do remember..stop faking it Sharon..he shouted on her.
Sh: I dunt remember anything..agr kuch hua bhi tha..tu it was a mistake..i don't matter to me..it is nothing to me..He said while looking away from him.
Sw:oh..really meri aankoon main dekhn ke kaho yeh sab'
Sharon looked into his eye and repeated again.
Swayam was beyond hurt but he knew that Sharon is still faking it..
Sharon saw swayam misty eyes'and her heart was stopping seeing those brown orbs drenched in tears for her..she did not have any more strength to look at him..he loosened his grip on her..She freed herself and turned to walk out of room..Swayam was annoyed on her weird behavior..he wanted answer and he was in no mood to leave her until she answer his question..He pulled her again into room and throw her down..He goes and locked the room..took his shirt off and threw it in the corner of her room..His eyes were blazing with anger by now..Sharon felt scared but she knew swayam would not do anything bad to her..She was shivering..
Sh:what are you doing swayam? Wear your shirt at once..he shouted..her leg was paining as she was throw in a bad position.
He did not answer her ad pulled her up and pinned her to the wall..crushing her upper body with his chest to the wall..and a lone tear escaped from her eyes..followed many ohers..
Sw:what happened..was just nothing to you..rememeber I touched you..we made love to each other'I claimed you..i kissed you..i even f****d you'He shouted out his lungs make her to close her eyes in horror.
Sh:leave me swayam..how can u talk about me like this..leave me please..I hate you'
Sw:I am talking the reality..reality which happened last night..may be my words are harsh but its all truth..and said in low voice.
Sh:leave me'I hate u swayam..
Sw:you hate me..hann?? Don't you dare or else I have to do very thing which happened last night to remind you that u said you love me..he shouted at her..she could feel his lips touching her lips while he was talking because swayam was way close to her..
Sh:no response..she just lowered her gaze and tried again to free herself from him..only to feel his grip tightened more on her..
Sw:tell me you hate me? You don't fell anything na..when I kissed your lips..when I kissed your body..When you was feeling my hands on you..entirely..huh?? tell me Sharon..why are you looking down..you tu don't remember anything from last night na'than why?
Sh:Swayam leave..It never happened..Leave me rite now..She Shouted on her..
Sw:Okay'than miss Sharon do tell me how will you going to feel it now!
He said and inserted his hand in her shirt'He took his hands to her back..unhooked her bra'sharon was in a total shock..but feeling his hands touching her skin was sending shiver down her spines..Swayam took off his bra from her shirt and threw it away..Sharon felt dizzy while he as touching her..only she knows how she was trying not to moan his name is pleasure..Swayam looked straight onto her green orbs with anger and love both remain there..and leaned in..suddenly Sharon closed her eyes and dug her nails into swayam neck..as swayam pressed his bare chest on her cleavage hard after taking off her bra..She gasped on it..He closed his eyes and place his forehead with her..
Sh:leave me swayam..it will not work..you are only making me hate you more... She said while her eyes tightly closed.
Swayam opened his eyes and could feel the pleasure she was feeling rite now..
Sw:Hate me more than Sharon..he said and rubbed his chest on her cleavage..he felt her nails dugging deeper in his neck..a lone drop of blood came out of his skin as she dugged her nails in pleasure without controlling her self..When suddenly she felt something wet on her fingers and opened her eyes to see what was it'seeing blodd coming out from his skin..she pushed him little..and lowered her gaze realizing what swayam was doing and what she was letting him do.
Sh:Swayam its bleeding..You need aid..
Sw:No Sharon..you hate me'mene maan lia..but I love you'u dunt remember last night..mene maan lia..but I do..meri zindagi ki sabse beautiful night thi kalki raat'you don't feel anything when I touch you'mene maan liya..but I feel so..yeh khoon jo nikal raha hai na..woh bhi mujhe takleef nahi de raha hai jitna hurt tumne mujhe kya hai'Aaj se tumhare aur mere raaste alag hain Sharon..We are nobody to each other..Hum sirf ek team..ek college ka part hain..aur kuch nahi'He said and a lone drop rolled down his eyes to his neck..followed by many other.
Sh:Swayam..it must be hurting..She forwad her hand to touch his neck..but he grabbed her hand..and don't let her.
Sw:we are nobody Sharon..we don't have any right on each other..than leave it..Saying so he left the house.
___________________________________
Continue..scroll down or go to next page.