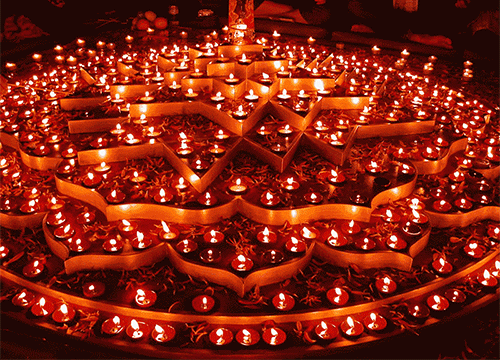 Deepawali or Diwali is certainly the biggest an the brightest festival of NOT ONLY FOR HINDU...IT IS FOR ALL...It's the festival of lights (deep = light and avali = a row i.e., a row of lights) that's marked by four days of celebration, which literally illumines the country with its brilliance, and dazzles all with its joy. Each of the four days in the festival of Diwali is separated by a different tradition, but what remains true and constant is the celebration of life, its enjoyment and goodness.,,,,,,,,

"Diwali", the festival of lights, illuminates the darkness of the New Year's moon, and strengthens our close friendships and knowledge, with a self-realization!,,,,,,,,

Every year on the dark nights of Diwali the sound of firecrackers announces the celebration of the favorite festival of Indians. Homes are decorated, sweets are distributed by everyone and thousands of lamps are lit to create a world of fantasy. Of all the festivals celebrated in India, Diwali is by far the most glamorous and important. Enthusiastically enjoyed by people of every religion, its magical and radiant touch creates an atmosphere of joy and festivity.


Edited by liza81 - 10 November 2012 at 5:33am