EPISODE 3 RECAP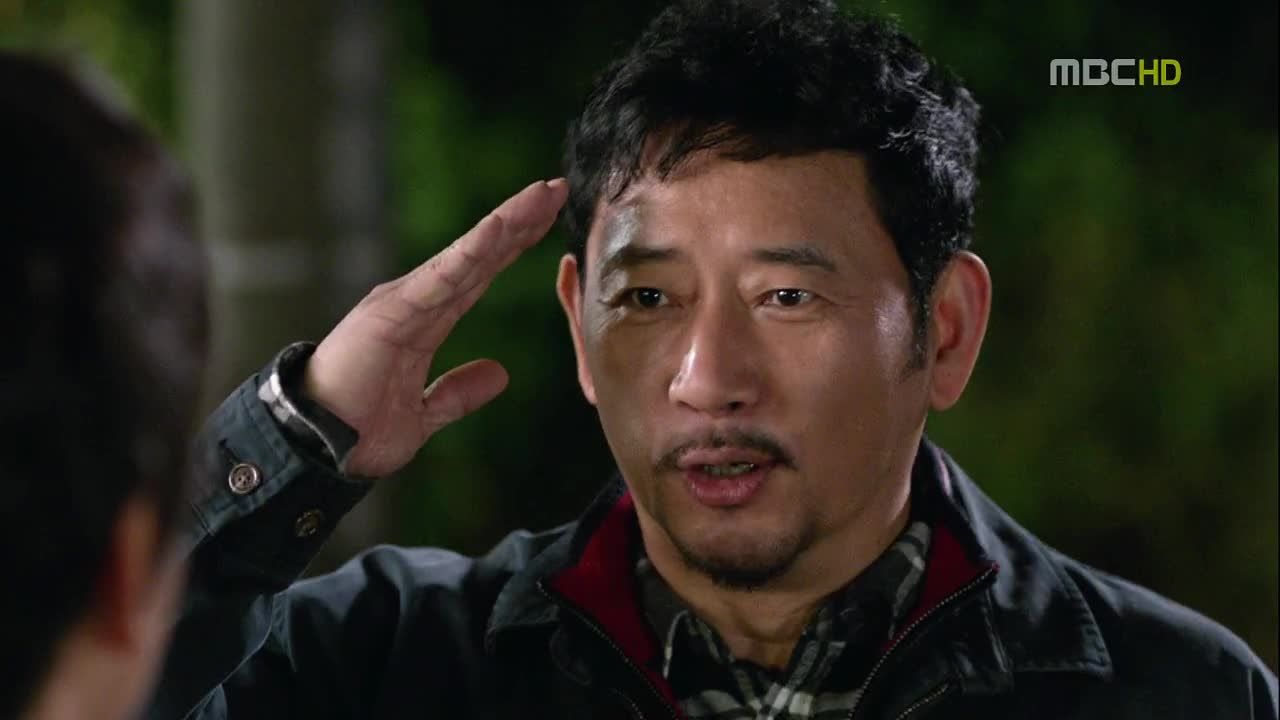 Detective Kim gives Jung-woo a ride home and is surprised to realize how rich he is. They have a heartwarming rapport already, which relieves my mind since it's so clear Jung-woo wants a close relationship with his father'at least he can find that kind of connection with ajusshi.
Detective Kim gives him a bit of advice, saying that he thinks Jung-woo will be able to fulfill his own life's unfinished dream: "Grow into a proper adult. That's the hardest thing." He leaves him with a salute and the request to look after Soo-yeon.
Dad (Chairman Han) arrives just then, and casts a suspicious look at the police siren in Detective Kim's car. Jung-woo introduces them, but Dad ignores the handshake and heads inside.
Detective Kim notices a strange van parked across the street, and his officer instincts kick in. He approaches'we see shadowy figures sitting inside it'and the van immediately peels away. Yeah, that's not suspicious. Detective Kim makes a note of the license plate.
Since having a cop around tends to put a damper on being able to continue with one's lifestyle of crime and skullduggery, Chairman Han tells Jung-woo not to associate with the detective anymore. Jung-woo says he wants to keep seeing him, only to get threatened with being shipped off to the States. Aw, this just makes me love him more for growing up into a cop.
In front of her house, Soo-yeon answers Jung-woo's call (she's carrying around the huge cordless phone). He says teasingly that he's about to cry since the wind is getting in his eyes again (in his big empty house) and tells her he had fun today, asking if he can come over again. Soo-yeon says yes and tells him Eun-joo likes him too. He sighs about how it's annoying that all Eun-joo talked about was kissing, and then cuts himself off, remembering the kiss she totally slept through.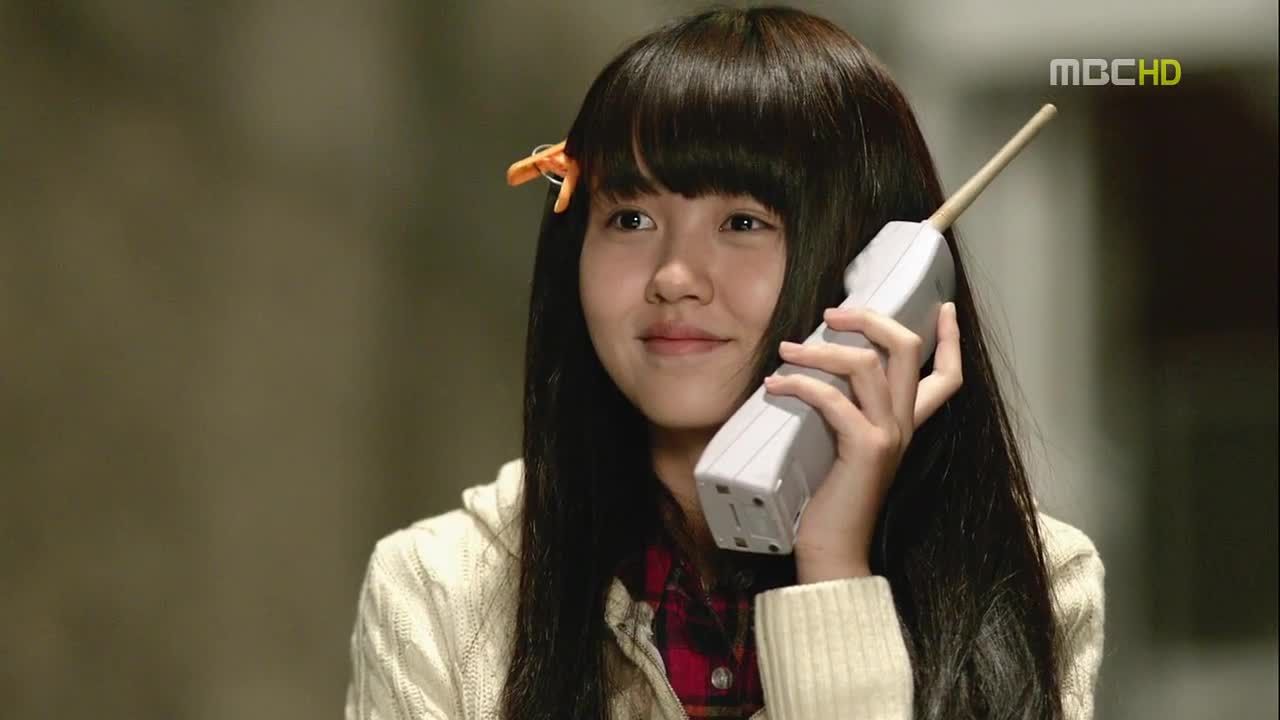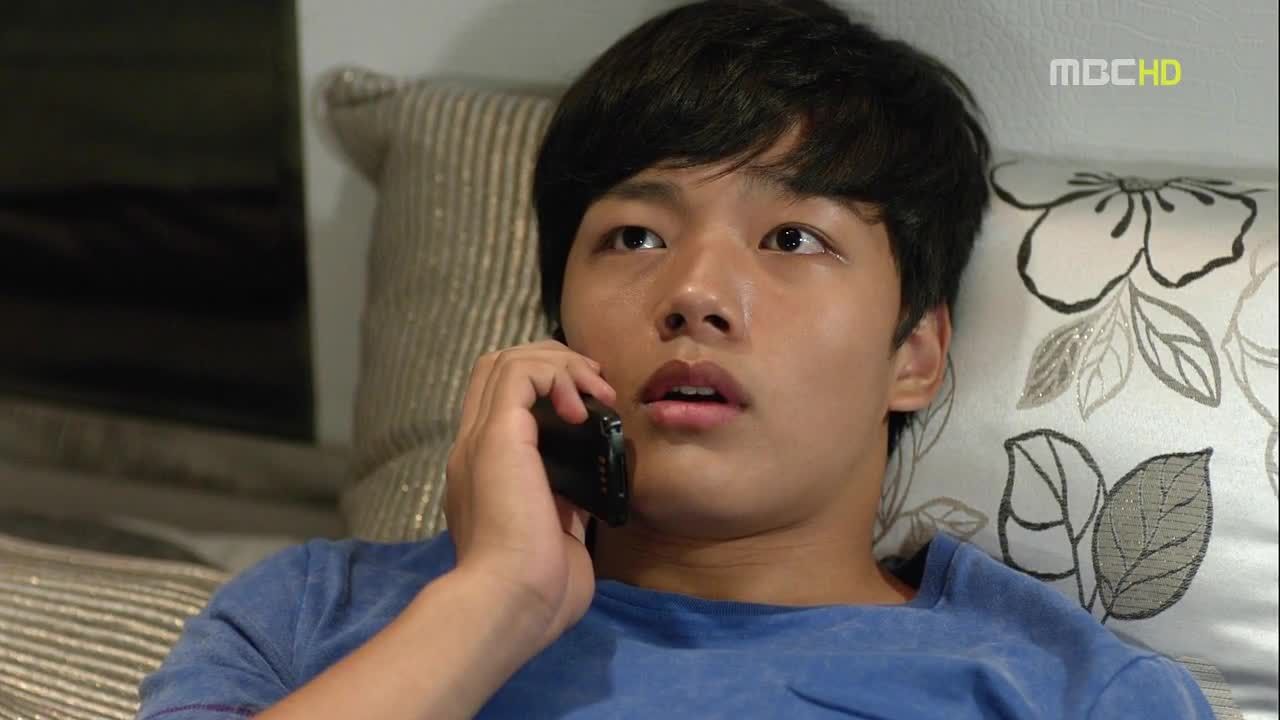 Jung-woo tells her to be ready to give that promised present tomorrow: it's supposed to rain. She says no, it's snow on the forecast. He bursts out, "No, it can't! Before the first snow falls, it has to rain." Adorable! Since rain equals Soo-yeon's present and first snow equals kiss, he basically wants something from her before he kisses her.
Soo-yeon asks what he's going to do on the day of first snow. He answers that he'll have to meet her. They are so cute.
Soo-yeon has been drawing on the wall as she talks, and now we see the chalk letters spelling our drama's title: "I miss you."
The days pass. Soo-yeon makes a little flip-book with her school notes, showing a boy and a girl meeting under an umbrella and kissing. Is your present a kiss? That's awesome. Basically there are gonna be smooches all around.
As Jung-woo looks up at the sky and holds his hand out wishing for raindrops, Soo-yeon writes in her diary of their respective waits. She's never waited for anything before in her life, but decides, "I like waiting. And I like Jung-woo."
Then, it starts to rain. Jung-woo goes tearing out of his house, HAHA.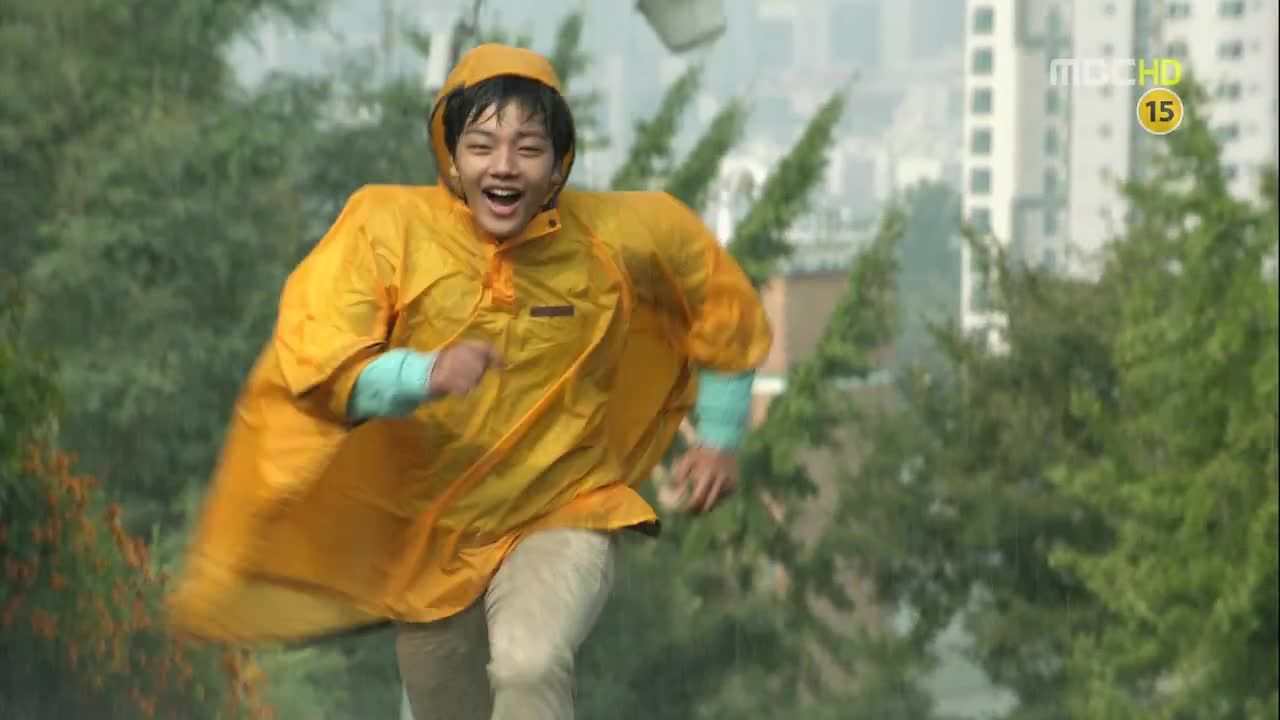 Soo-yeon has to wait for Mom, who's taken the umbrella, and impatiently tries to usher her home so she can run back out. Mom's gabby today, though, so finally Soo-yeon just says, "Mom, I'm sorry." And runs off, leaving Mom stuck in the rain.
Just as Jung-woo races past that broken light, it sparks dangerously. He stops to take a closer look, which makes me a little nervous' and then he's grabbed from behind. A man drags him backward while clamping a drugged cloth over his mouth, and Soo-yeon gets there just in time to recognize Jung-woo.
She screams his name and runs after the car, and although the kidnapper is safely on the move, he growls that the girl saw his face. Stop the car.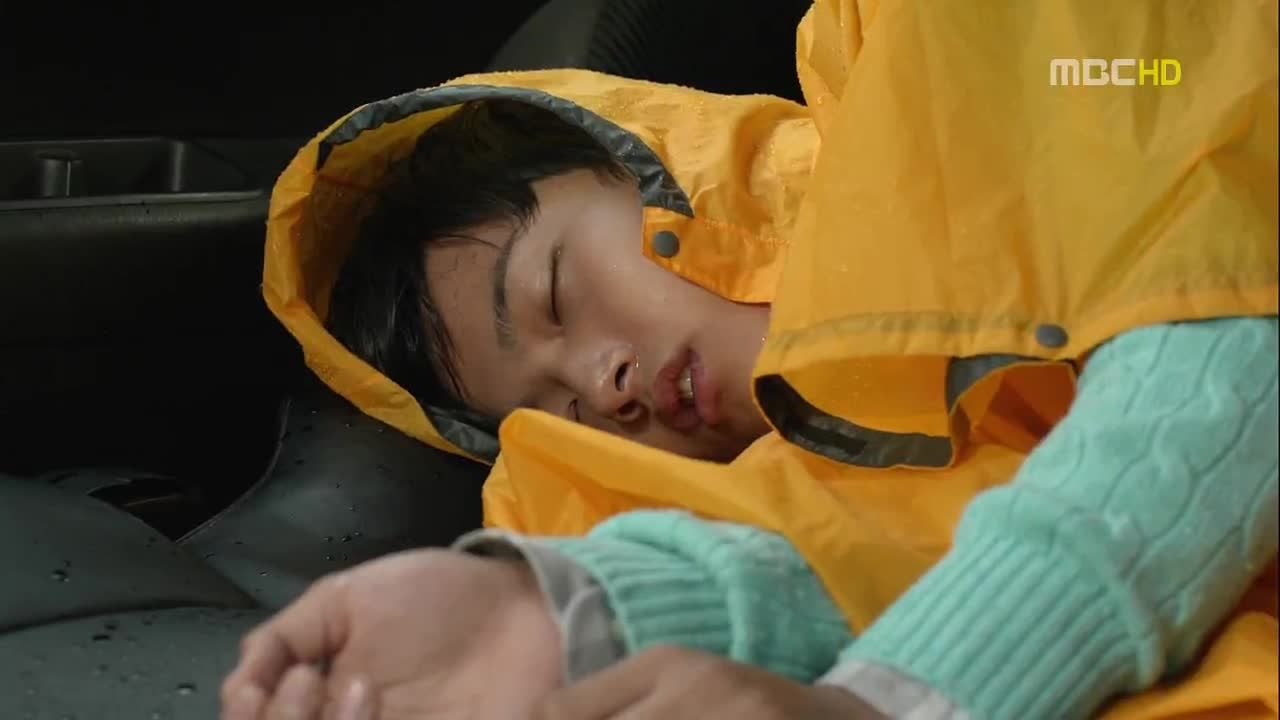 Soo-yeon peers inside to see Jung-woo slumped over, unconscious. She pounds on the window begging the ajusshi to let her friend go, and finally the frustrated kidnapper opens the van door'
As expected, it's nurse Hye-mi behind this plot, acting on the instructions of Kang Hyun-joo. Hye-mi has relocated her hideaway and Hyung-joon looks better now, though his leg is still injured from that dog bite. She tells the boy that he'll get his wish and see his mom now.
Mom is still being held essentially prisoner by the chairman, and she sobs to see Hyung-joon arriving and hobbling toward the building. But rather than allowing him inside to her monitored hospital room, Mom and Hye-mi exchange a look, and the boy is dragged back to the car. I guess she just wanted to see the boy, if not up close.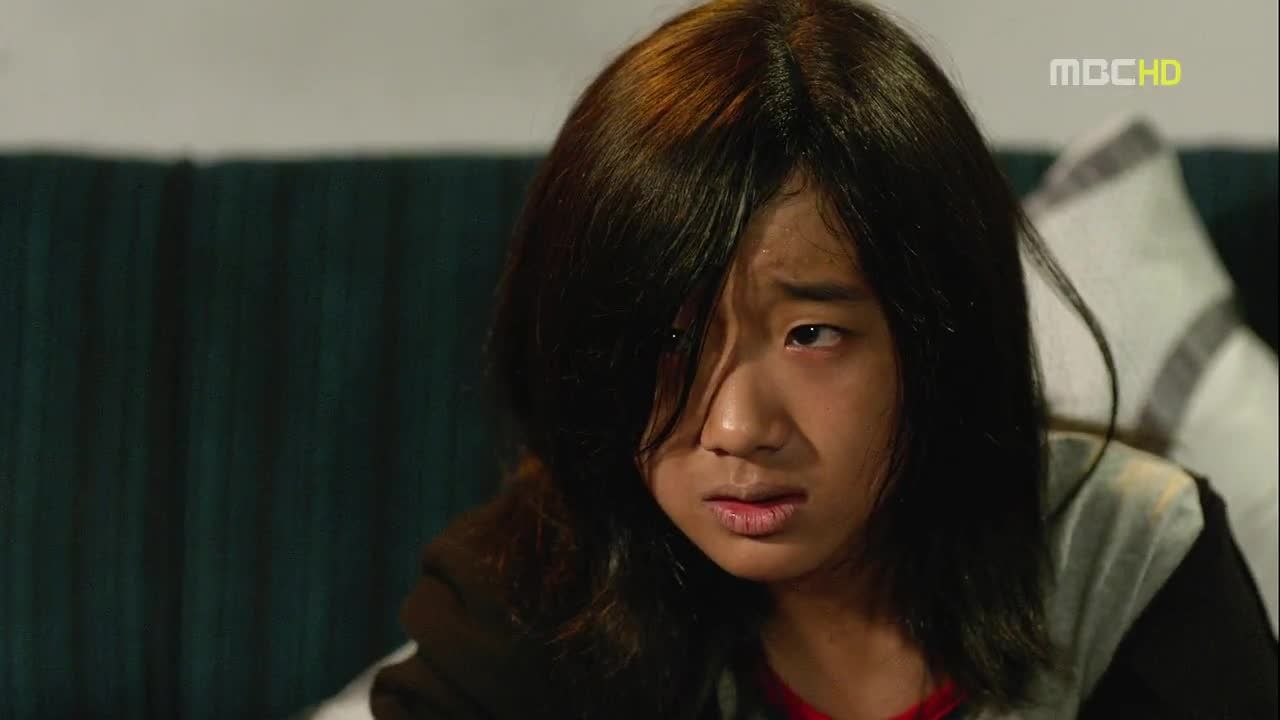 She makes her decision and agrees to meet Chairman Han. He gets the call and smiles devilishly. (It just occurred to me that these two played out a bumbling romance in the MBN sitcom You're Here, You're Here, You're Really Here. What a change.)
That night, Eun-joo alerts her Dad to the umbrella she found in the street. It tugs my heart a little that she's been standing guard over it to make sure it stayed exactly like this until Dad could see, and she fears that this is bad news. Soo-yeon went to see Jung-woo, who isn't answering his phone, and she'd never throw away that treasured umbrella.
When Jung-woo comes to, he's lying with his hands tied behind his back in a grimy warehouse. He works the cell phone out of his back pocket, but the call doesn't go through.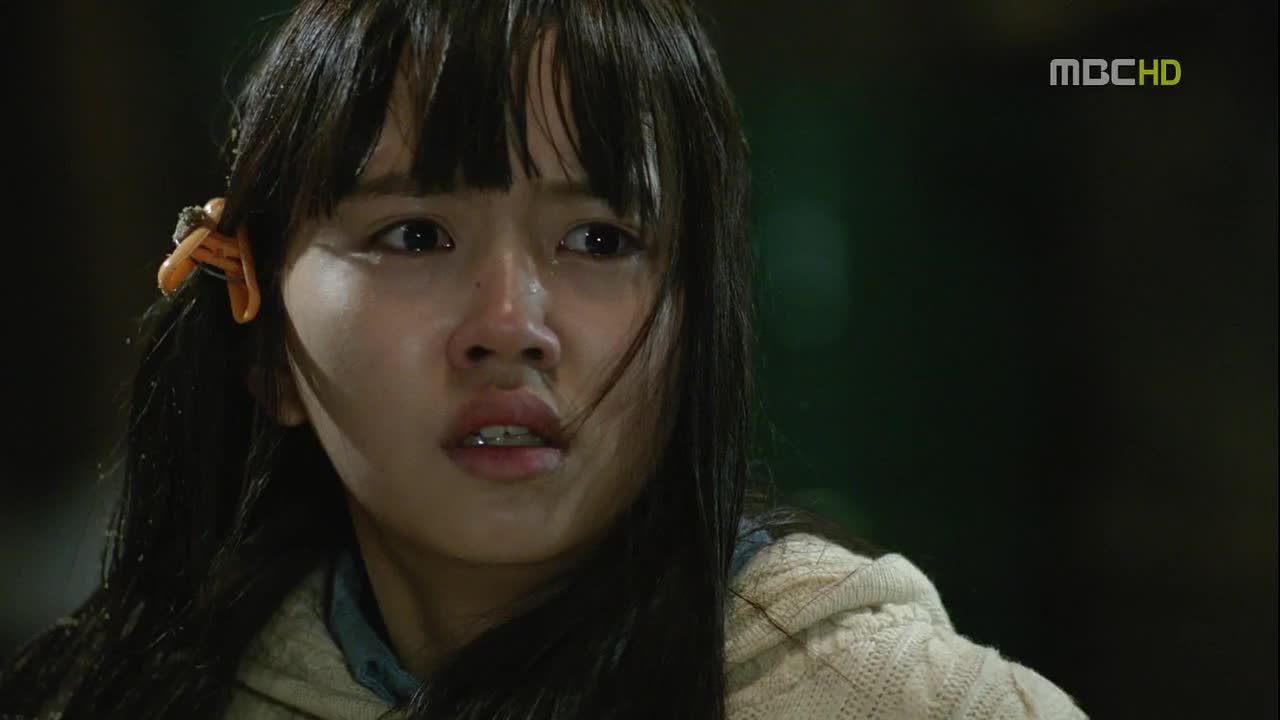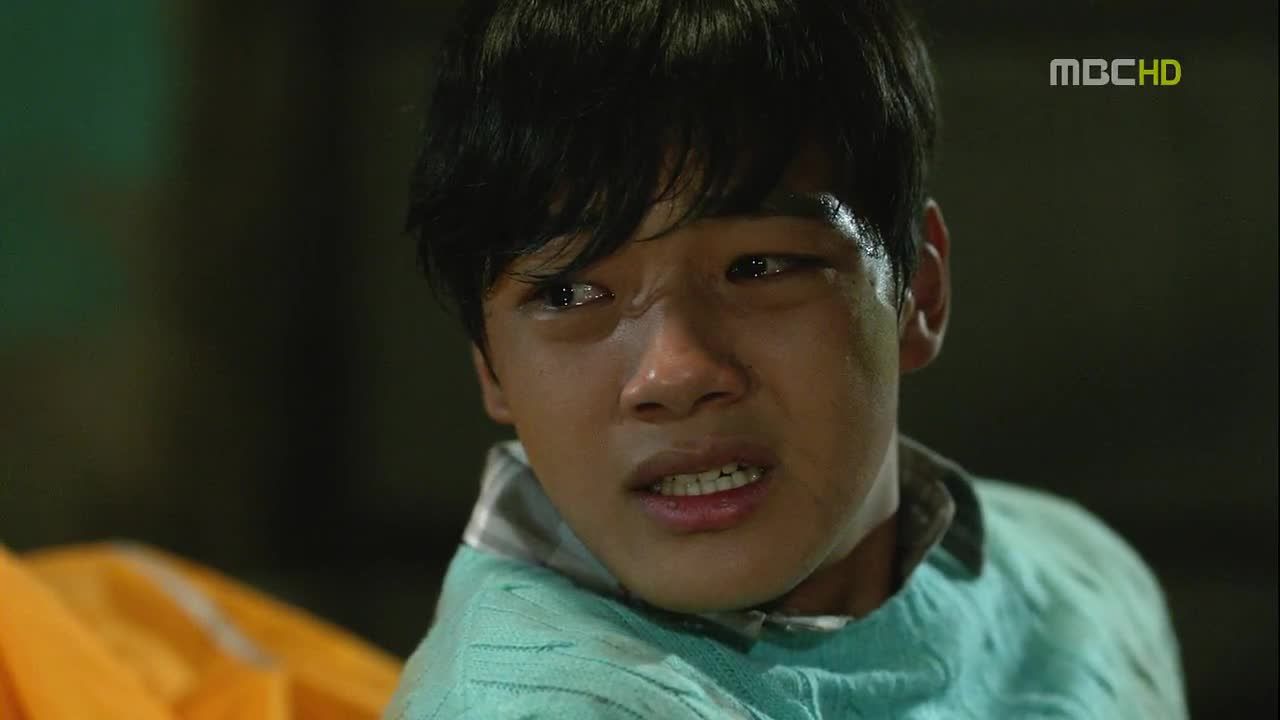 He becomes aware of Soo-yeon lying nearby, painfully stirring awake. He scoots toward her on his back and asks tearfully why she's here. Her answer just makes it worse: "To save you."
Hearing the kidnappers moving, they shoot each other panicked looks and huddle closer together. Looks like the guy's doing some drugs, and he pays the kids little heed.
Jung-woo says, "Let's go home." He looks around and spots broken glass nearby, which he can cut his ropes with.
Chairman Han arrives to see Hyun-joo. Ah, he had her locked up in an asylum, which explains her virtual prisoner status. Hyun-joo repeats the chairman's own words at him to make her threat known: Go get your son, he won't be dead yet.
Chairman Han calls his wife immediately, who isn't even aware that Jung-woo's out of the house. But he puts on his stone face when confronting Hyun-joo, who thought she could barter the son's life for her freedom. She threatens that Jung-woo will be killed if she doesn't leave this building, but he calls her (possible) bluff.
Instead, the chairman orders her dragged off, never to see the light of day again. She's carted off screaming that he'll never see his boy or his money.
Hye-mi calls her kidnapper thugs to ask if the job's been done. The kidnapper tells him to come and get both kids, wanting to be rid of the unexpected tagalong. Hye-mi doesn't care about the girl, but she's intent on getting Jung-woo.
Hye-mi has been watching the hospital window from her car, and both she and Hyung-joon see the lights go out in the room and realize that the plan failed. The boy screams for his mother, but Hye-mi tells him to forget her now because she's dead. There's no way Chairman Han would let her live'he killed his father (who is, crazy enough, also little Hyung-joon's father) and maimed Hyung-joon's leg. Her plan now is to get Jung-woo, then somehow flee with Hyung-joon.
Jung-woo stoically works on his ropes, even though this cuts up his hand on the broken glass. Then the kidnapper approaches the kids in his drug-fueled stupor, and the scared kids clasp hands. Jung-woo pleads with the man to get his ransom from his father, but the man just grabs Soo-yeon by the feet and drags her off.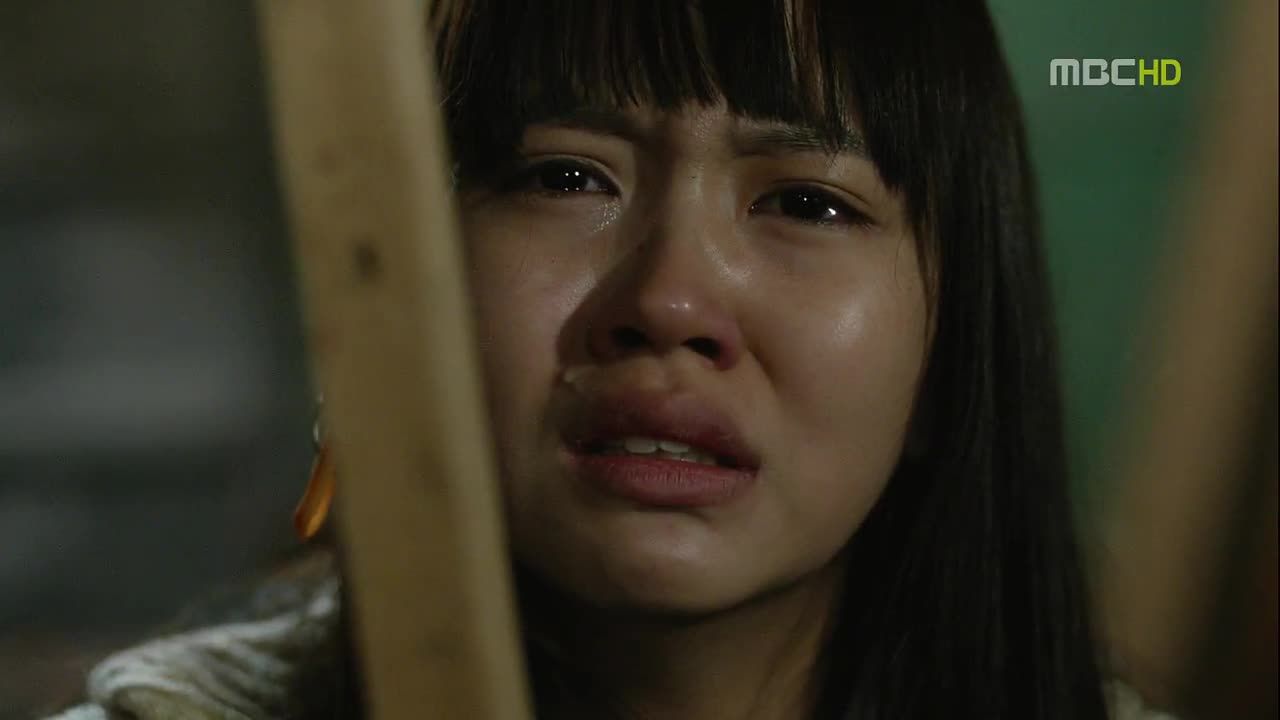 Jung-woo shouts, which gets his mouth slapped with tape and a few hard kicks to the gut. The kidnapper turns, and gets whacked in the head with a stick. Soo-yeon wields a wooden beam and warns him to stay away, while yelling at Jung-woo to go. He works harder on cutting his ropes, and Soo-yeon holds the man at bay, warning, "Do you know who I am? My father's a killer!"
She screams that she can kill too, while Jung-woo cries. The man knocks her to the ground and crawls over her body. Ugh.
Jung-woo gets more frantic, and she gets dragged away again. We don't see what happens to her, but it's perhaps all the more horrifying because of that'the sounds, the slaps, the screams. The camera fixes on Jung-woo's reactions as she's assaulted. Gack. It's wrenching.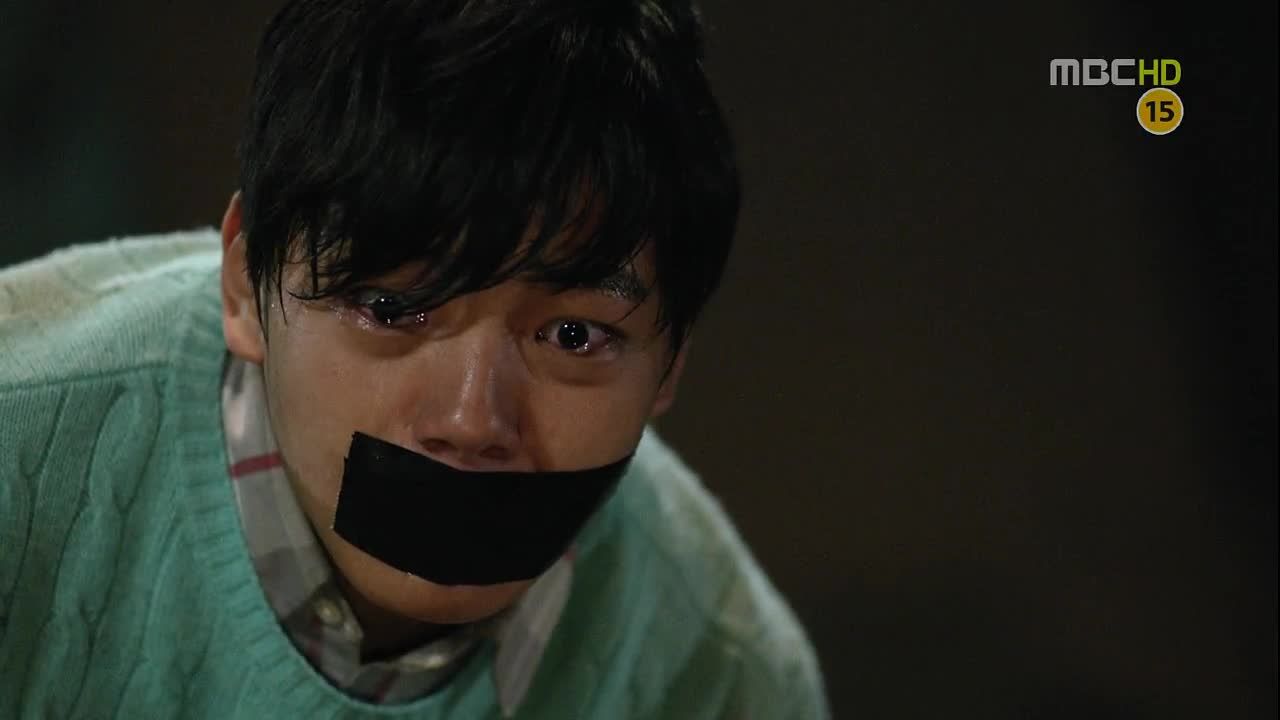 Finally Jung-woo's ropes give way, though it's a bit late because it's over by now. The door opens, and the other kidnapper sees the scene and realizes his partner is doped-up again. He growls, "You oughtta die!" and starts punching him.
Jung-woo staggers over to see Soo-yeon on the ground, beaten and traumatized. She just lies there with her eyes open. He takes in the terrible sight, but registers that the door has been left open' and makes a break for it. Leaving her there? Ack!
I totally get why'he needs to run for help'but the way she just lies there whispering his name is pretty awful.
Then to make the worst day ever even just a little bit more hellish, it starts to snow, making a mockery of their innocent romantic hopes. Lordy. We get it. Why don't you add in a Truck of Doom while we're at it?
The kidnappers realize Jung-woo's flight and give chase, the sober kidnapper pursuing Jung-woo into the woods and the druggie driving the van. Uh, did you think this through? Didn't think you might want to trade roles here?
The chase takes them to a railroad station, where he ducks for cover underneath a train car. He manages to leave unseen and arrives in a sad-looking town. He runs from closed shop to closed shop asking for help, and spies a pay phone.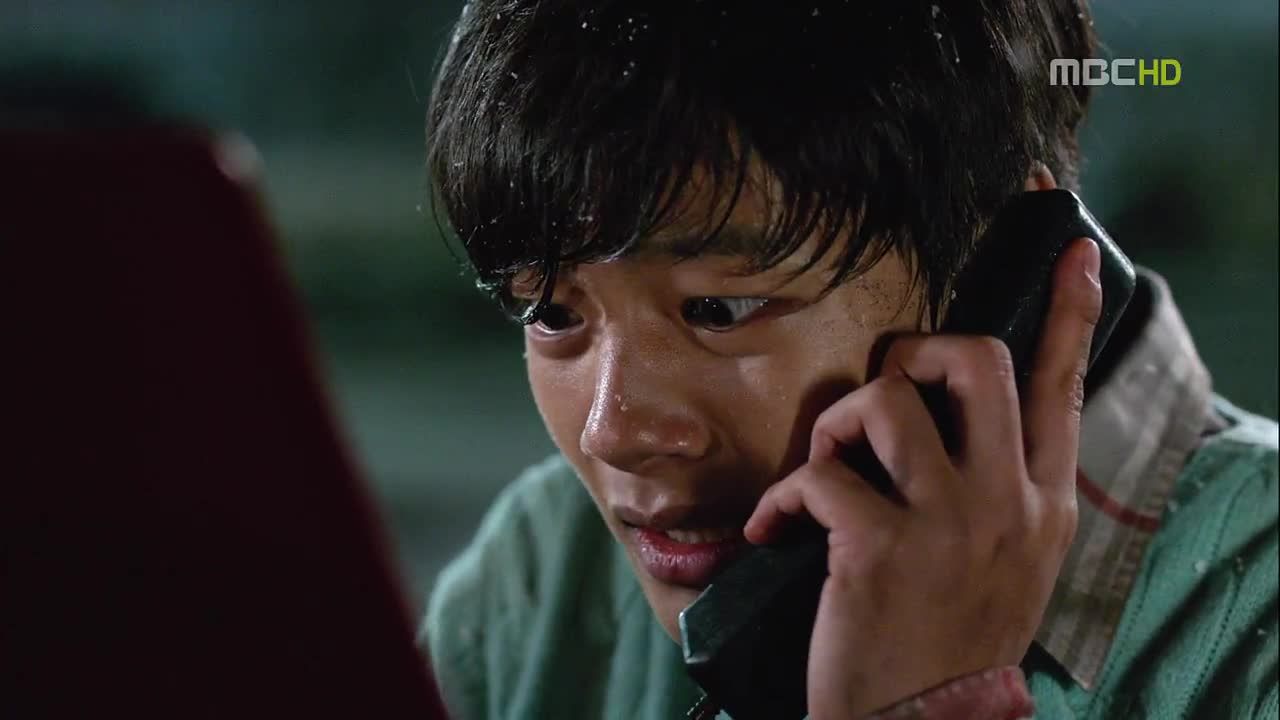 Chairman Han doesn't seem very worried about the kidnapping, and would rather not kick up a fuss by reporting it'not when the nurse is bound to contact them. But then Jung-woo calls him and gives him his location, begging him to save Soo-yeon.
Chairman Han orders his men mobilized. Then, Jung-woo calls the police line and begs for help. He's asked to provide his location' and drops the phone. He runs to hide himself, but the kidnappers find him anyway.
Detective Kim arrives at Jung-woo's house to ask after him, but Stepmom turns him away with a lie that Jung-woo's in bed. Thankfully this is not a man easily deterred, plus he gets the call that Jung-woo called the police.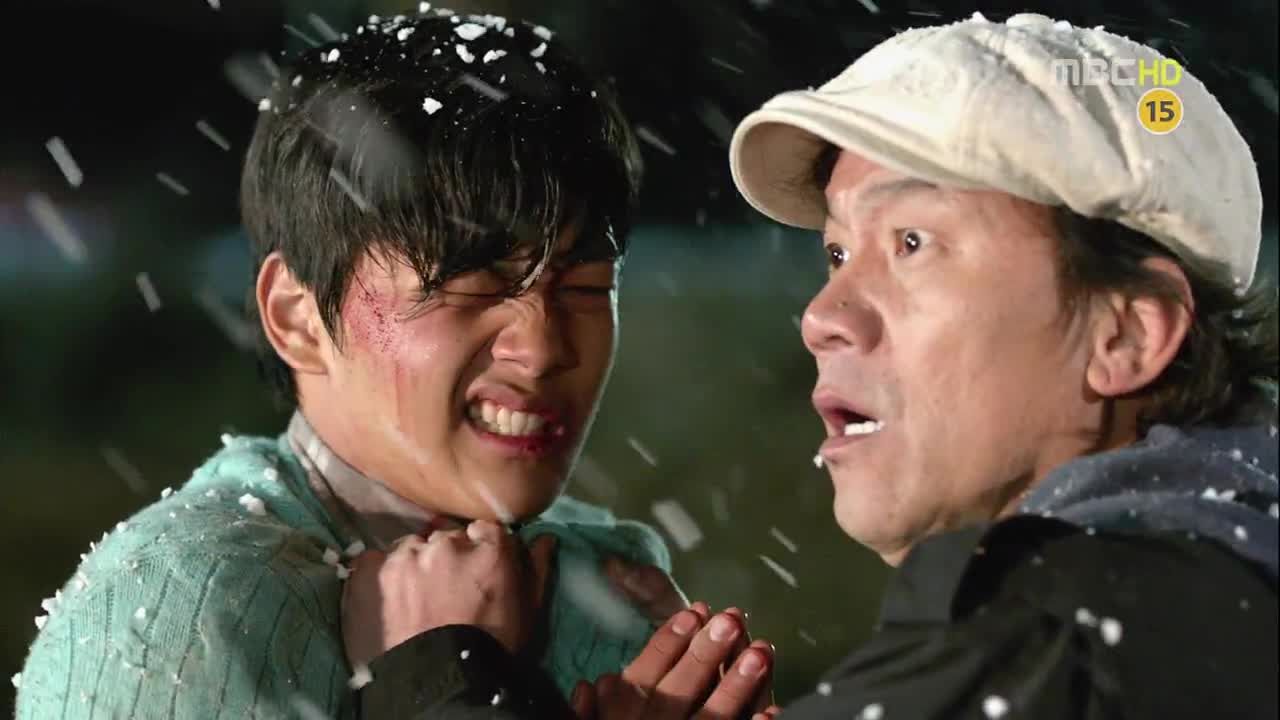 Jung-woo gets a beating by the two kidnappers, but they're not out to kill him and call it a day, saying they have to get back to "take care of the girl" anyway. Jung-woo begs for mercy, not for himself but hers.
An then, a whole fleet of black cars arrives: Chairman Han and his private thug army. Druggie makes a break for it, while Jung-woo begs his father to save Soo-yeon. Dad sends his right-hand man but refuses to let Jung-woo go too, even though Jung-woo begs, saying that Soo-yeon's in danger from the second man. He can't even bring himself to say why, because it has him breaking down again.
Dad slaps him and orders him taken home.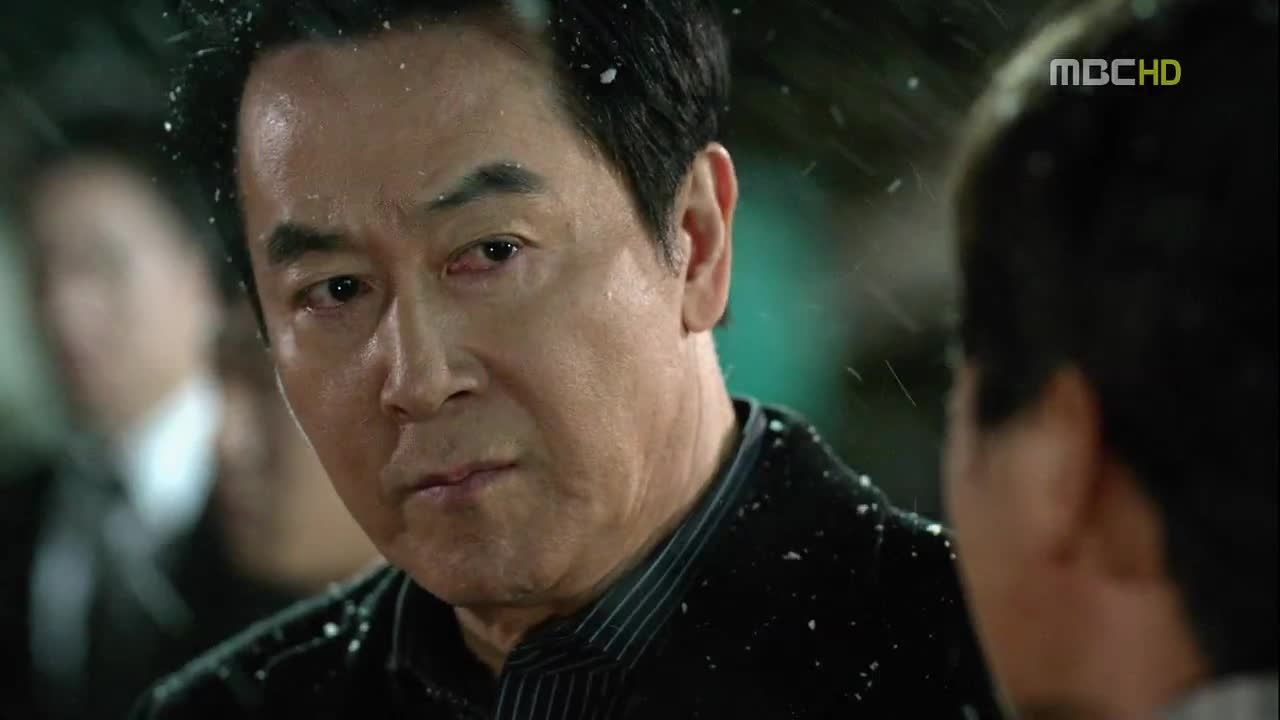 The kidnapper's cell phone rings. It's Hye-mi, calling to check up on the hostage situation, and the kidnapper is forced to answer as though nothing is wrong, telling her she'll find the boy at the warehouse.
A figure darts in front of her car, and Hye-mi slams to a stop. I don't even know whether to be glad Soo-yeon has found them, or worried.
Hyung-joon recognizes noona, and Hye-mi realizes that this must be the extra kidnappee. This means something went wrong' so she drives backwards, leaving Soo-yeon collapsed in the middle of the snowy road. She gets ready to run her over. Goddamn it, drama, you're really starting to piss me off with all your heaps of terrible terribleness. Whatever happened to a little subtlety?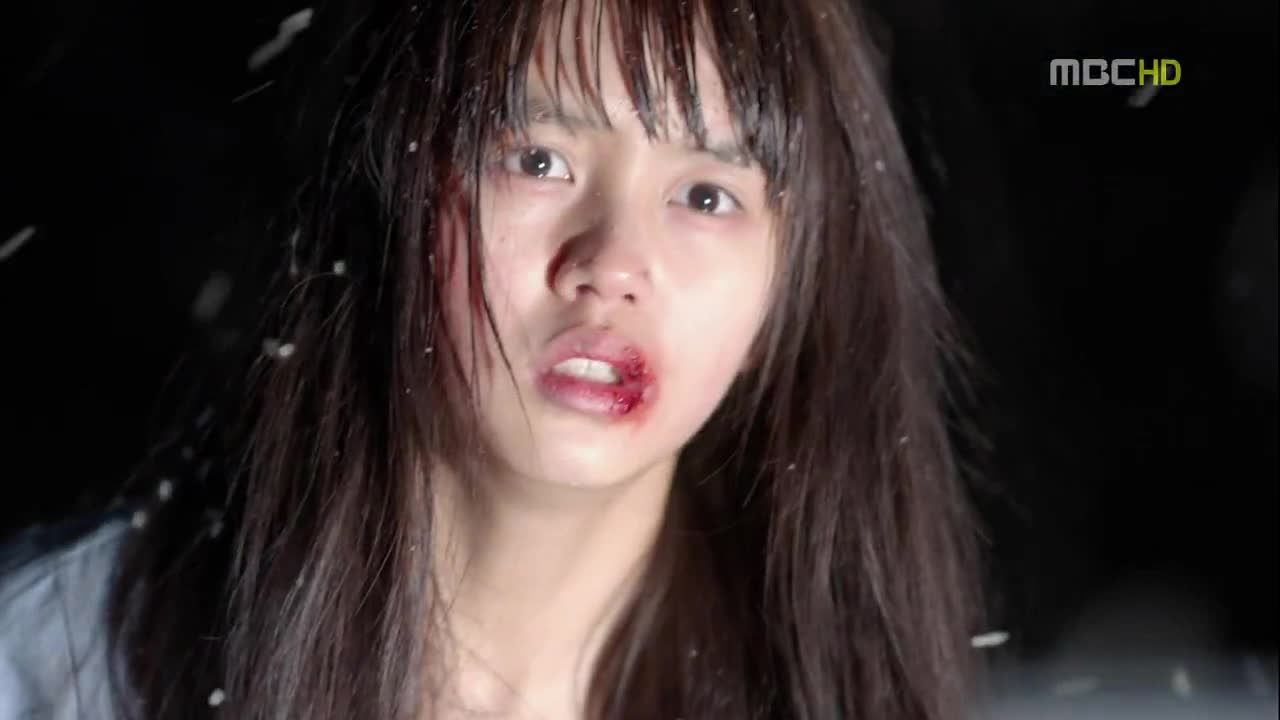 Hye-mi says that the girl knows the kidnappers' faces, so she can't be left as a loose end. Vrooom. Hyung-joon screams, "NO!" but the car hurtles for Soo-yeon, who can only stand there frozen in fear.
Chairman Han's men take care of the warehouse crime scene by setting it ablaze.
Detective Kim arrives in the vicinity to see the fire from a distance. A parade of black cars passes him on their way down from the mountain, and the chairman seems to recognize the cop. So does Jung-woo, though Detective Kim is preoccupied with the fire.
At home, Mom and Eun-joo worriedly await news. Eun-joo is keeping the details from Mom at her father's request, though she confirms that there are no hospital admittances. Mom grumbles that she's off with that boy again.
By the time the police arrive at the scene, everything is charred black. Detective Kim hunts for clues in the rubble, and finds' one charred clothespin. He knows it's Soo-yeon's, even though his teammates scoff that it's an ordinary pin and not a clue.
Detective Kim keeps looking, though, and follows prints in the snow, tracking Jung-woo's escape route.
At home, Jung-woo gets scolded by his parents, just in case you weren't clear on how awful they are as people. Dad growls at him for being a 15-year-old who had the audacity to get kidnapped, like that makes him weak and unmanly. Though really, the whole point is that he's not a man yet.
Worst of all, he called the police'Stepmom chides him for making that mistake, since drawing attention to ex-con Dad will hinder his business recovery prospects. Excuse me while I say: Boo f**kin' hoo, lady. Guh, I hate these people.
Jung-woo kneels before his father and begs him to help Soo-yeon, saying she was trying to save him. Dad says derisively, "Save you? And you left her behind?! If something happens to her, you killed her."
Fear-stricken Jung-woo even appeals to his stepmother, asking her to stay with him, but she snaps her hand back and tells him none of this would have happened if he went back to America: "Don't act so high and mighty with me. This is all you amount to." LORDY.
Finally, Detective Kim finds a clue in the snow: blood spatters here and there, and a shoe. Soo-yeon's. He imagines the scene in his mind's eye, seeing her staggering along this way, and follows that vision to the road. More blood spatters here, and then a large stain. Eek.
With renewed vigor, he returns to the Han mansion and demands to see Jung-woo. Dad's assistant tells him to get a warrant.
Detective Kim continues the investigation and makes the connection to the strange van he saw the other night. His boss gets wind of his investigation and tears him a new one, because if Soo-yeon's name gets involved, that draws interest in her father's name, and that puts them all back in the hot seat for that criminal execution. He seizes his badge and orders him not to go around doing any illegal investigations.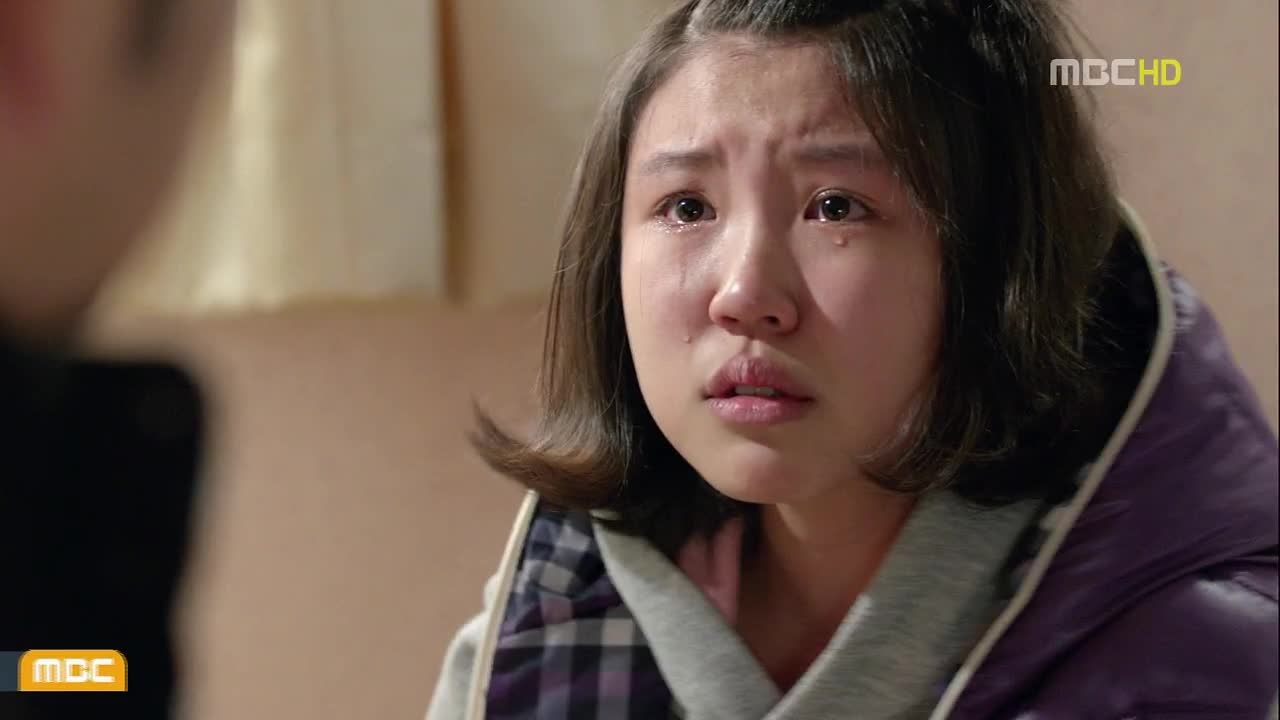 Eun-joo calls with news. By the time he gets back home, Mom is convinced that Soo-yeon's been taken or attacked by the victims of her husband, and begs Detective Kim to make it known that her husband was wrongly accused. Detective Kim lies to her to calm her down, saying nothing's happened and he'll bring her back.
On the other hand, news about the false accusation has Eun-joo looking disillusioned with her father. She rebuffs his attempt to explain and can't believe he'd lie, either, reminding him that he'd once said that as a cop, he hated lying more than dying. And does Soo-yeon know her father wasn't a killer?
She starts to cry, her whole world crashing down around her: "You catch bad guys, you aren't a bad guy yourself! You tell me not to lie, but why do you lie? Who am I supposed to trust now?" I really like this girl.
Jung-woo lies in bed, mumbling Soo-yeon's name in his sleep, reliving her assault. He rips off his IV and runs downstairs yelling her name, interrupting his father's meeting to ask where she is. He's practically hysterical as he screams that Dad said he'd find her. He falls to the ground, sobbing.
(Credit: Dramabeans)


Edited by .Echo. - 16 November 2012 at 5:23pm