<font face="'Times New Roman', Times, serif" size="3">
Part 43:
The Breakfast was ready and Arnav was down now.. He had met his In lAws and he also had asked for forgiveness from them for the Forced marriage with their daughter. Things werent so simple for the Parents to forget but knowing their Son in law and his Temper, they didnt wanted to extend this topic.. Khsuhi was little more surprised when she actually saw Arnav asking for forgiveness from her parents.. Was it so easy to forgive someone?? Specially after getting hurt from him till death?? Never.. She just couldnt forget the night in Paris when he had crossed all limits with her.. The forced marriage was still Ok but not the forced Physical encounter which he tried that night .. It was something she could remember her whole life.. And even if things start getting fine between him and her in future, everytime she would think of that night if he tries getting initmate with her making the relationship between them more complex.. She was still in the same thoughts when Garima came inside the kitchen..
Garima: Khushi.. What are you doing here? Arnav was asking you.. Come out.. There is a big surprise for you..
Khushi came back to her senses and saw her mother taking bowls and plates outside.. She just followed out with the other things..
Arnav saw his Wife in Red and surely a smile slipped from his lips and she saw that.. She didnt react much.. She kept the bowls on the table and then started serving..
Gairma: Khushi.. You forgot to ask me what that surprise is?
Khushi was serving her father and she asked in a low tone..
Khushi: Mumma.. I know what it can be.. You must have made Jalebi's for me.. What else?
Garima: No No.. Its something else..And this time.. I havent done anything.. Its your husband's idea to make up for the troubles he gave you..
Saying that Buaji, Garima and Shashi started laughing and Khushi looked at Arnav in surprise.. Garima opened the Bowls which had Gol Gappe in it and there was a Wide smile on Khushi's face..
Khushi : Gol Gappe??? Wow!!!
She stopped serving and took a Gol Gappa from the bowl, stuffed the Filling inside it and then dipped it in the Tamrind paste and then inside the Spicy Green Liquid and stuffed in her mouth opening it wide.. Making a perfect "Ummm" Sound.. She had closed her eyes to feel the taste and she just loved it.. She forgot what her mother just told her .. That this Gol Gappe surprise was from her husband and not her family..
Arnav was just lost in her looks.. For the very first time he was seeing a girl having Gol Gappe at breakfast and that too in a way which was actually turning him on.. The sounds that she made while she hogged it was just so damm perfect in some other sense..
Khushi : Ummm!!! Mumma.. They are just perfect.. Loved them.. Feel like kissing your hand..
She said and dipped another Gol Gappa and then fed her mother.. Arnav was only watching her.. He was so much lost in admiring his wife that he was not at all concentrating on his breakfast.. Shashi was watching the looks that Arnav gave to Khushi.. They were so calm and soothing .. It confirmed that he was no longer in any intentions to hurt Khushi from now on.. He cared for her.. And he wasnt faking for sure..
Garima had the Gol Gappa and then replied back..
Garima: Kiss my hand?? For what??
Khushi (Still having): For getting these.. (She said showing the next Gol Gappa from her hand..
GArima: Ohh!! Then you neeed to kiss your Husband's hand because he got it for you.. Not me.. I told you minutes back this.. Forgot so soon???
Khushi had just finished eating that Gol Gappa when she remembered that Yes her mother had told her this Gol Gappe was got by her husband and not her mother.. She looked at him and could easily see he was still admiring her with a small Half smirk on his face.. His eyes looking at her face and then his eyes on her lips gesturing her to know there was some particle on her parted lips..She wiped it from her hand but continued to look at him.
She wasnt sure what those expressions on his face meant.. He looked contended for making his wife happy early morning and she could try reading that..
Garima: Khushi.. For the first time I am seeing you so much lost.. What happened?? (She said patting on Khushi's back )
Khushi came back to her senses..
Buaji: Arnav Babua .. Why arent you having the breakfast??
Arnav : Buaji.. I.. I wanted to wash my hands.. I was in the garden some time back.. So..!!
Garima: Khushi.. Will you have all the Gol Gappe's alone?? Go and feed one to Arnav too..
Khushi's expressions were worth seeing after hearing this.. FEED?? She needs to FEED HER HUSBAND? No way..
Khushi: Mumma. He .. He doesnt have all this.,.
Arnav: I can have one.. (Was his instant reply. Garima , Buaji and Shashi blushed seeing the eagerness Arnav showed to have the Gol Gappe from his wife's hands)
Khushi was tongue tied.. What was wrong? He would have Gol Gappe? Really? Why is he faking so much?? She turned to her Mother and thats when Buaji replied.,.
Buaji: What are you seeing your Mother?? Go and feed him. He wants One Khushi..
Khushi had no option now.. She took one Gol Gappe and then walked to him.. He was waiting.. Waiting for his wife to feed him, waiting for her fingers to caress his lips , waiting for his tongue to lick her finger?? EXCUSE ME!!! What was he thinking??? Why was he thinking all this? He wanted to do all this with HER? Really?? No.. Thats impossible.. He never felt like this before.. What he did with her that night was full of Anger and frustration. But today he actually felt like he was already turned on and he wanted to touch her, feel her, lick her? Something was surely not right..!!! But then he didnt wanted to lose this chance of getting fed by his wife.. He saw her coming towards him and he turned to her side.. She stood near him and then lookeed at her Mother..
Khushi: Why Feed Mumma?? He can have..!!
Buaji: Feed him Khushi.. See his hands are all covered with Mud..
She gulped seeing her Buaji commanding her and got the Gol Gappa near his mouth. He opened his mouth and took it In slowly .
Unknowingly his tongue licked the corner of her fingers and his warm lips and saliva were already on her fingers marking her as his somewhere..
Khsuhi removed her hand and then looked at his face.. He was truely looking so innocent.. How can he mask that ASR inside him so easily by being a Good Husband.. Or to be specific.. BY PRETENDING TO BE A GOOD HUSBAND BEFORE HER PARENTS..
SHe kept the Gol Gappa Plate on the table and rushed inside her room.. Everyone at the table felt she was shy but Arnav didnt think So.. Something was surely wrong with her.. He followed her which made the 3 people at the table BLUSH again..
************
Khushi came inside and started folding the clothes from the couch. She picked his Black Jacket which was on the bed and walked to keep it inside the closet when he came in between and stopped her..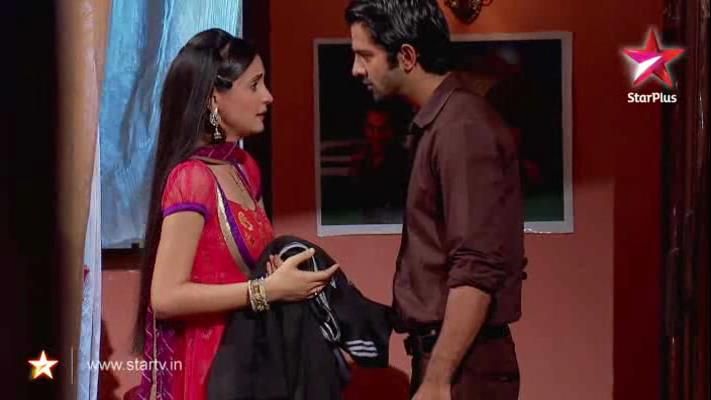 Arnav: Khushi.. Why did you come inside??
Khushi: I have work to do.. You have your breakfast..
Arnav: What The!!! Now dont tell me you completed your breakfast by having 8 Gol Gappe??
Khushi : What?? You counted how many I had?
Arnav: No.. I mean.. NO.. I didnt. I just guessed..
Khushi moved him aside and opened the closet and kept the jacket..
Khushi : I am not hungry.. You have yours..
Arnav: Khushi.. Let me remind you. What the Dr said.. You should be having a proper diet now on .. You need to put on some weight .. You get that??
Khushi closed the closet and turned back to face him..
Khushi: Put On Weight?? For what??
Arnav: Khushi... Look at your health.. You are on medicines after coming back from the Hospital. Its obvious you need to eat properly..
Khushi heard him and continued working..
Khushi: You dont need to worry so much.. I can take care of myself..
Arnav: So you wont listen to me?
Khushi: I dont need to .. (Saying that she walked again to the closet and in next 2 seconds, her husband was carrying her in his arms outside at the Dinning Table to make her eat a healthy breakfast..)
Khushi (Struggling): Arnav.. What are you doing? Put me down..
Arnav: Not until we reach out..
Khushi:(Still struggling): Arnav.. Everyone would tease me.. Please.. Put me down..
Arnav (Still walking out): I dont care.. I think they have all rights to tease us.. We are a couple Khushi.. A Legally married Couple..
Khushi: (Looking at his face and not struggling): No Arnav.. We are a Couple.. A FORCED Married Couple..
To be Continued
</font>