EDITED TO ADD:
New Reema Kagti interview, kinda similar topic
What sets Rani Mukerji and Kareena Kapoor apart?
Mid-Day.com | Sunday, November 11, 2012 (Mumbai)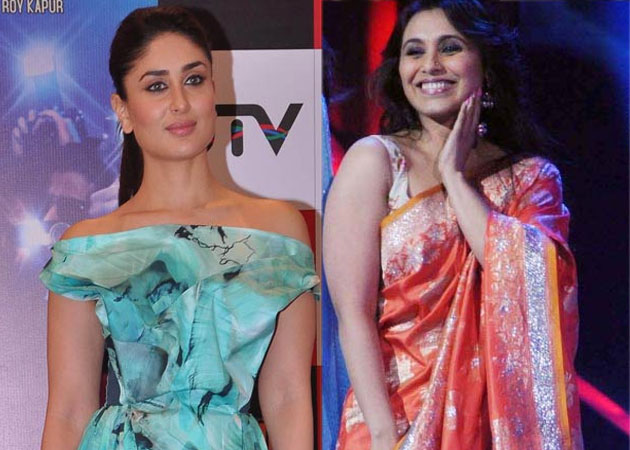 Kareena Kapoor and Rani Mukherji both star in
Talaash
It's been over five years since she made her directorial debut with Honeymoon Travels Pvt Ltd, but Reema Kagti doesn't seem bothered. After all, her second venture Talaash -- after months of delays -- will release later this month. Furthermore, the director feels the film's postponement has been a blessing in disguise as the complexity of the project required the extra time. Reema talks about her experiences, the difficulties of filmmaking and working with acclaimed actors.

What are the stereotypes you've faced as a female director?

None, whatsoever. Personally, I haven't faced anything yet that would even marginally discourage me but I'm quite sure that others might have.

Which filmmakers inspire you?

A lot of filmmakers, actually. I don't like to drop names but they don't necessarily have to be internationally reputed as such. My life inspires me. (Pauses) Newspapers inspire me too (laughs). Whenever I sit down to read, I always end up having solid ideas for film stories!

Don't you feel like a newcomer working with established actors like Shabana Azmi and Aamir Khan?

Let me put it this way -- their experience covers my ass (smiles)! There's nothing to complain about as they reduce the stress and make you feel comfortable behind the camera.

Do you have a wishlist of actors you'd like to direct in the future?

I have tremendous respect for a lot of actors in Bollywood and I'd love to work with him in the not-so-distant future but it all boils down to the demand of the character in a given script.

Honeymoon Travels Pvt Ltd happened in 2007. Isn't that a long gap?

I don't know but just for argument's sake, I'll put it down to bad luck. One more film was supposed to happen in the middle but it just didn't take off. Perhaps this is how things are for a writer-director in the industry. Sometimes, you just have to deal with failures with your chin up. Does the delay in the release of Talaash bother you?

No. I think it's a difficult film to make. In fact, I was working on it until two days ago though the general perception is that it's delayed. We just took the time we needed.

Was Aamir the first choice for the film?

When Zoya (Akhtar) and I were writing the script, Aamir was the first choice. But when the script was ready to go and we contacted him, he was busy shooting Ghajini and couldn't give us time. So we approached other actors who didn't want to do it.

How was the experience of working with Rani Mukerji?

Rani is your proverbial frontbencher. She wants to prep and get into everything -- including my head -- be it the script, sets or dialogues. She's similar to Aamir in her approach towards her job.

And what about Kareena Kapoor?

Kareena has more of a hang-loose approach. Left to herself, I don't think she'll do any prep at all but she has a very spontaneous instinctive skill. I never really knew what she was going to do until she did it. She frightened me in the beginning. Both are accomplished actresses in terms of their craft but their processes are totally different.

What's on your agenda next?

I'm writing two scripts at the moment. One is for myself to direct next -- about a serial polygamist. And the other I'm co-writing with Zoya Akhtar for her to direct.
------------------------------------------------------------------------------------------------------------------------------------
Reema Kagti: Kareena is not as intense as Aamir and Rani
By glamsham.com editorial | Glamsham ' 13 hours ago
By Rachana Sheth, Glamsham Editorial
Besides Aamir Khan Reema Kagti's much-touted film TALAASH stars two of the best and finest actresses of the industry - Kareena Kapoor and Rani Mukerji. Both have their individual standing, art is in their blood, both have created their distinct mark and both command supremacy in their respective spaces, yet when asked about their working styles director Reema Kagti didn't mince her words in saying that Aamir and Rani are more intense than Kareena.
"Both Rani and Kareena are two of the finest actresses that industry has. Both have different working process. Rani loves doing prep for her films. Before the shoot she wants to know everything how will she do, what she'll be doing, the backstory, what's going in my mind etc. While Kareena has a completely different approach," says Reema.
She further adds, "If you compare them as students then Rani is proverbial front bencher and Kareena is proverbial back bencher. Prep ke time Kareena ki koi khabar hi nahi hoti. I did little bit of reading and rehearsals with Kareena. But she is nowhere as intense as Rani and Aamir. So they have different styles of working but what matters ultimately is when camera rolls on and both of them seem to have terrific control over their art."
Produced by Farhan Akhtar and Ritesh Siddhwani's Excel Entertainment Pvt. Ltd and Aamir Khan Productions', the story and screenplay done by Zoya Akhtar, music composed by Ram Sampath and distributed by Reliance Entertainment, TALAASH is set to release on November 30, 2012.
More on bollywood at glamsham.com


Edited by desigal90 - 11 November 2012 at 2:11am