Hey there guys.. amidst all da may-hem,i thought of sharing n debating on a certain issue.. ''THE CURSE OF GEN.JHA''...
Altho its just a Suggestion/Possibility..but i wntd to raise it here fr discussion purposes.. i cn b TOTALLY WRONG here.. bt i cudnt ovr luk da possibility.. evn if am wrong,its still sumthg dat ADDS to general knowledge.. going to only point out da points i found interesting in da context of da FF,revealing so far..n also wch may in da future.. off late,i had been considering an option as da creature Gen.Jha may b.. a GRYPHON ! yes,i knw its a mythological creature.. bt thn dis story is also a FANTASY ,weaved in magic n curse wth strong description of layered human nature... so fr nw i'm considering dis option..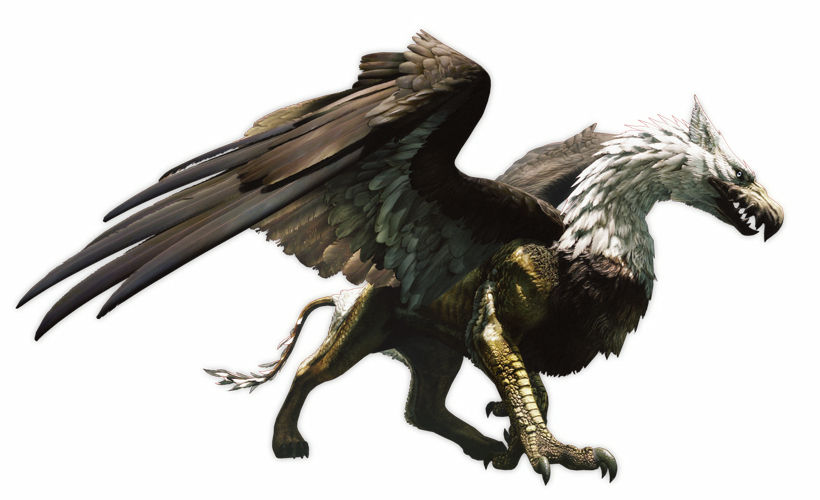 A GRYPHON/GRIFFIN


The gryphon (alternate spellings include griffin and griffon depending on historical culture) is a mythological creature..are noble beasts with the head, forelegs and wings of a majestic eagle and the strong body of a lion.
As the lion was traditionally considered the king of the beasts and the eagle was the king of the birds, the griffin was thought to be an especially powerful and majestic creature. The griffin was also thought of as king of the creatures.
While griffins are most common in the art and lore of Ancient Greece, there is evidence of representations of griffins in Ancient Persian and Ancient Egyptian art as far back as 3,300 BC..
In Greek mythology, griffins guarded the gold of the Hyperboreans. According to different legends, they would either attack any who tried to claim the gold, ripping them to shreds, or would drag them high into the air and then drop them to their deaths.
Griffins were frequently associated with the guarding of gold by Greek writers.
griffins have often been depicted as chariot- or carriage-pulling beasts for especially noble or powerful individuals. Nemesis, Greek goddess of balance and vengeance, and Apollo, Greek god of the sun, were both said to have chariots pulled by griffins.
The gryphon was adapted by early Christian mythology as symbolic of Jesus' half divine and half mortal nature, the eagle as king of the heavens and the lion as king of the earth. One historical record from 1688 attaches the gryphon's significance to the combination of intelligence (the eagle) and strength (the lion). As the griffin in some mythology was said to be phenomenally monogamous, only taking one mate in its lifetime (even if one of the two perished the survivor would never seek a second), the Catholic church used the gryphon for a time as a symbol of its approach toward remarriage. Today the gryphon continues to be a powerful symbol of regal strength and loyalty.

Gryphons, like birds, built nests, or eyries (aeries), as the nest of a bird of prey is called. The Gryphon laid an agate, rather than an egg, therein. Gryphons found gold in the mountains and made their nests from it.This made their eyries very tempting to hunters, so Gryphons were forced to keep vigilant guard over their nests. Gryphons had instinct which allowed them to know where buried treasure was, and they would apply themselves to guarding it as best they could, keeping plunderers at distance.

It was written by Pomponius Mela, that a certain area was uninhabitable, "because the Griffons (a cruel and eager kind of wild beast) do wonderfully love the gold, which lies discovered above the ground, and do wonderfully keep it, and are very fierce upon them that touch it." Gryphons have always been depicted as guardians of treasure. Gryphons themselves depict gold, as they represent the wealth of the sun at dawn, the gold in the east. They are also said to line their nests, called Eyries, with pure gold, woe be to the traveler looking to steal it.
In Christian symbolism, the Gryphon originally represented Satan and evil, but later came to represent Christ, especially his dual nature, both divine and earthly, as the Gryphon had mastery of both land and sky, and was noble and majestic. Gryphons were said to kill serpents and basilisks, both embodiments of evil, thus protecting mankind. Gryphons symbolize both strength and wisdom combined in heraldry. On medieval buildings, Gryphons were often used as gargoyles, great stone guardians.
In heraldry, the griffin's amalgamation of lion and eagle gains in courage and boldness, and it is always drawn to powerful fierce monsters. It is used to denote strength and military courage and leadership. Griffins are portrayed with rear body of a lion, an eagle's head, with erect ears, and feathered breast, with forelegs of an eagle, including claws. The combination indicates a combination of intelligence and strength.
"They engage too with other beasts and overcome them without difficulty, but they will not face the lion or the elephant." and as stated by Philostratos, "...they get the better of elephants and dragons... and thetiger alone is beyond their powers of attack..." Gryphons are in fact so strong that many stories have been told of Gryphons plucking men, horses and oxen into the air with ease.. ..."But one griffin hath the body more great and is more strong than eight lions, of such lions as be on this half, and more great and strong than an hundred eagles such as we have amongst us. For one griffin there will bear, flying to his nest, a great horse, if he may find him at the point, or two oxen yoked together as they go at the plough. For he hath his talons so long and so large and great upon his feet, as though they were horns of great oxen or of bugles or of kine, so that men make cups of them to drink of."
Like many other mythical beasts of the time, in the Middle Ages it was believed that the feathers and claws of a Gryphon has special magical powers. It is said that a poisoned liquid will change colors if served in a cup fashioned from a Gryphon's claw. The only way one could acquire a Gryphon's claw though, in legend, is by a holy man who cured a Gryphon of some illness and received the claw as payment for his kindness. A Gryphon's feather is said to be able to cure blindness.
This is the most well known of all Gryphon characteristics, and quotes describing the Gryphon's love for gold can be found by nearly every person who has ever written of the beast.,,..they did hoard the metal, and because of this, were much sought after by neighboring humans and Arimaspians. Aelian perhaps provides the most interesting description of the Gryphons and their gold hoarding nature.
Gryphons have extremely good eyesight:...Highly adaptable to any current situations makes the Gryphon an awesome predator: Long legs, flexible spine and sharp claws help to propel the Gryphon forward at speeds of 110+...Wild Gryphons can also live up to 800 years.
Gryphon's are rumored to be the pets of the Gods. Having been created in sight of the lion's bravery and the eagle's grace and intelligence. It has been said that the Gods wanted a true, pure creature that would defend to the death, but not cause problems otherwise. They saw the lion as the king of beasts, the source of bravery, and the eagle as the source of intelligence and thus, created the Gryphon. The Gryphon can control both land and air in its form.
The Griffon dominates both realms - the spiritual (sky/wind) and the material world (ground/earth) and therefore shouldn't be underestimated as an opponent. Others tend to link the Griffon back to the mage wars of long ago, the so called War of the Chosen (9500 b.S.). At this time many creatures were magically bred by evil sorcerers, especially the genderless Centaur is said to have originated from this unforgetable age of darkness which brought havoc over the Sarvonian lands.
Although or even because Gryphons are rather rare they have been known for centuries as symbols of strength and vigilance. Regarding human ethics and virtues they also represent power, arrogance and pride. Because of the latter and the mentioned mythological interpretation the true nature of the Gryphon may be interpreted in a dual way: On the one hand several religious communities interpret Gryphons as beasts of the light, on the other hand the symbol of the Gryphon has also found its way into demonic rites representating Cor, the Shadow of the World.
As such, the gryphon was considered powerful and majestic and itself a king of creatures. It was also the symbol of divine power and a guardian of the divine...and were able to travel at the speed of lightning. .
ok guys..jst being curious dats why researched so much..above mentiond facts r excerpts frm various articles..so may not mk enuf sense..i jst pointed out afew thgs dat md me curious! ..n i knw dat many must b ''frowning'' at me..well,dnt worry guys,u knw i suck at guesses..so ignore it or jst tk it as an informative post in general.. oh btw,there's anothr creature i found dats more hideous thn Griffin..

Hippogriff...
vl write sumthg on it trw.. tc.


Edited by shass - 26 November 2012 at 7:02pm