Maan simply loved this new side of geet...This girl was splendid with every shade of her character...She looked beautiful when she shied, cute when angry, gorgeous when expressing her love, serene when felt emotional...and a sparkling diva when up with her naughtiness...
Geet looked up surprised, yet delighted with his words...She leaned in, brushing her lips on his..."make me yours" she smiled, looking into his eyes...then snacked her arms around his shoulders, hugging him with her possessive hold...
Maan hauled her body onto his and grabbed her petite waist...He looked deep into her soul, wanting to make her his right at that moment...
"chalo" he huskily whispered, and dragged her out of that room...walking through the corridors...
"I am so excited" geet chirpily entered into the lift, occassionally kissing his cheeks...
"aise karogi toh mera mood nahi hoga bahar jaane ka" he pinned her on the wall...and was about to capture her giggling lips...When an old aged couple entered their lift...Maan swiftly pulled away, straightening himself...while geet laughed looking at his consious state...She naughtily moved closer to him, ignoring the gasp she heard from the intruders...
Maan looked at her in awe...guessing what was this devil upto...
"love me sweetheart.....she kissed on the curve of his neck...naughtily snacking her hands into his shirt...
Geet was all up with her teasing...she knew he won't reciprocate infront of those oldies, so continued her teasing...kissing him senselessly every where possible...
The intruders shook there heads, and ran out of the lift...allowing this shameless couple some privacy...Geet continued kissing his skin, while maan closed his eyes leaning his head on the wall behind...He was lost in her seductive assault, and felt so vulnerable with the mere touch of her lips...
"maan" he heard her whisper and opened his drowsy eyes..."mera kaam ho gaya" he looked at her confused..."woh log chale gaye" she controlled her teasing smile, looking at him so aroused...
Then moved back, leaning on the opposite wall...she winked at him, giving him her cheeky smile...then started laughing holding her stomach...
Maan narrowed his eye brows, mouthing..."that was mean" he cribbed, straightening himself...Then stormed out of the lift as soon as they reached the ground floor...
Geet cutely pouted, and ran behind him...hugging him from back..."gussa ho" she whispered biting his ear...
Maan freed himself from her arms, and looked around...as everyone where eyeing them naughtily...He gave his stern look to geet, then moved towards the reception...and handed over the keys to them...
"we are checking out...can I have my final bills" he uttered keeping his face straight...
"par maan" geet suddenly panicked..."hum yaha se kyu ja rahe hai" she sounded low...But maan ignored her pleas, and walked out after paying for their mini stay...
He sat into the cab, and waited for her to hop in...She stood their looking at him, scared with his anger...Unknowingly tears formed in her hazels, for hurting him...She sat in the car, looking down, gulping the lump formed in her throat...
Maan waited for her to settle down, then softly closed the partition...Geet kept looking down, feeling guilty...Her mind crowded with thoughts of what maan must be thinking about her...
She was in her own reveries, when felt his possessive arms snacking her shoulder...She abruptly looked at him, surprised with his moves...
"I am sorry...mai majak kar rahi thi" she whimpered, moving closer..."aap aise gussa mat karo na" her whimper turned into cry...
Maan smiled looking at her intently...then caressed her cheek, wiping off the tears, which were threatening to fall...He cuddled her closer, feeling her warmth...then bend down and kissed on her forehead...
"mai majak kar raha tha...how can i be angry on my jaan" he teasingly smiled...
"sachi" she chirpily pounced on his lap...snacking her arms around his neck...
"ummm" he leaned on her face, intending to capture her lips...But geet pulled away, giggling with her musical laughter...
They kept playing, teasing each other through out their drive...Finally the car stopped, and both of them realised their destination...Geet tried to leap off his lap, but maan suddenly pulled her back...pushing her back on the seat...He kissed her senselessly, surprising her with his passion...
"hold your breath for my surprise" he moaned in her mouth...Then softly moved back, looking at her drowsy state...
He dragged her out, and ran towards a beautifully decorated small church...Geet was confused, yet accompanied him...swaying in his love...She kept looking at him, guessing what is he upto...
Maan walked her through the concrete blocks, till they reached the main entrance...Geet kept looking at maan, spellbounded with the thoughts running in her mind...Maan guided her through the wooden table, softly holding her hand...They stood infront of the altar, looking at eachother...anticipating their future...
Geet's heartbeat raised as he bend down on his knees, and took her palm in his...
"I want to spend the rest of my life with you...will you be mine forever...will you marry me" her world stood still as he uttered those words...
Geet gasped as he pulled out a box from his pocket...Her eyes widened, as he opened it gazing at her hopefully...Their was a gorgeous diamond studded ring...It looked expensive, the band was pure silver and etched with a swirling design, the curled tendrils wrapping around the entirety ring...Atop it was a shining diamond, the crystal clear surfaced tinged with a gorgeous sky blue...Geet stared at the gem, then glanced at maan...The glow of his eyes matched the stone perfectly...
A grin lighting his whole face, as he took the ring and slided it onto her finger...He looked at her face, which dazzled with the magic of their love..."abhi toh ring bhi pehna di...still you didn't answered my question" he narrowed his eye brows, pulling her down...Geet blushed and came into his arms..."shadi nahi karni toh bol do" he smirked, squeezing her closer...
"karni hai" she desperately looked at him, innocently blinking her lashes...Maan laughed loudly and kissed her hard "I love you" he whispered, amazed with the tears forming in her hazels...He got worried, but before he could react...geet through her arms around him and hugged him tight...He lifted her into his arms, his embrace just as unwavering as hers...
For a long moment both were silent, neither of them wanting to end that picture-perfect moment just yet...The way geet's face fit perfectly in the crook of his shoulder, the frantic dance of his heart against my own...Some part of her wished that we could stay, locked in an embrace forever...They pulled away slightly, and geet looked at him...though his face was seemingly blank, the mischievous glint in his eyes told another story...A ghost of a smile lingered on her lips as she waited for him to make the first move, her heart pounding.

"You're going to be a beautiful bride" he whispered, his free hand moving to stroke the side of my face...His hand tightened around my waist as he brought his lips to her, forceful and strong yet somehow still delicate...Geet's eyes fluttered closed, drowning in his passion...The way he held her, the intensity of his touch...it was as if there was nothing else in the world that mattered to him except the two of them, together in that moment...Geet kissed him back the same way, as though she never wanted him to stop...
After what might have been minutes, hours, days or weeks, they broke apart, our bodies heated and faces flushed...
"It's going to be you and me...till death do us part" maan huskily whispered, hugging her close...to which geet nodded shyingly...
Soon the father came and maan asked him to help them take the marriage vows...The father smiled and agreed, and even helped them with the best man and girl for their wedding...
They sincerely took their marraige vows, and followed whatever the priest said...Both of them kept looking at each other with mixed emotions...Maan was pretty much excited, while geet was having butterflies in her tummy...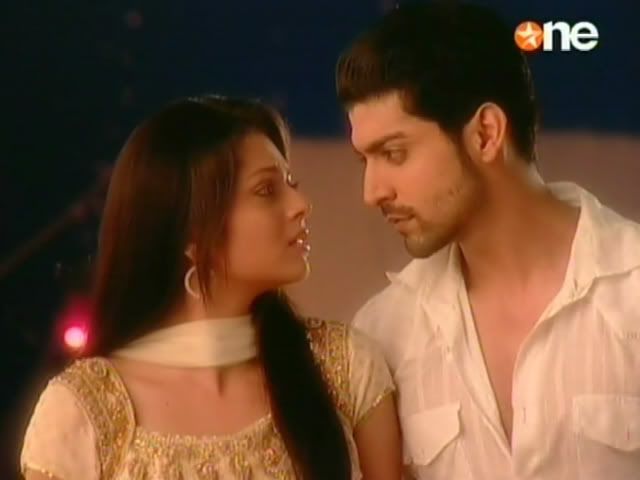 Finally the priest declared them husband and wife, after registering their marriage lawfully under church rules...Maan silghtly pecked her lips, and took her in his arms...They walked out of the church thrilled with the new name to their relation...
"I love you so much" geet moaned in his arms, cutely flashing her grin...
Maan kept her in the cab, and asked the driver to take them on the written address...He hopped in, and hurriedly closed the partition between them and the driver...while geet shied and looked down...She kept playing with her locks, till maan hauled her to him and kissed her hard...They passionately hugged each other, snacking their arms wherever possible...Their rubbing skin created havoc, urging them to go wild...
Geet naively kept kissing him back, till he pulled away finding her breathless...
"slow down jaan" he naughtily bit her lips...
"ummm" she moved still closer, cupping his cheeks..."aur karna hai"
"acha" maan laughed...and pushed her laying on her back...He hovered over her, rubbing himself on her..."wait till we are alone" he kissed in a line, starting from her chin, to her throat...going still down to her cleavage...
"ummm what alone...aapne woh honneymoon wala room toh..." her words died, as he moved further down...teasing her breast with his mouth...
**************************************************************
Precap:- SR + teaser
...and hopefully last part for this story
I know few of you where waiting eagerly for my updates...n i am really sorry for being late
...I hope this part will be satisfying, as i have written it wid mixed emotions
...Will finish off its last part may in 1-2 days...
abhi likes n comments ke baare mai, i dont want to request anything
...
love u lots,
varsha
(C) Varsha Khedekar, All Rights Reserved.