Aww thanks everyone who is following and enjoying my os thanks each and everyone one
of you for commenting i am happy that you all like it
and all those who write ff and os i love your ones too a lot you are all excellent writers..

Right here is the next part enjoy
Part 2
HOSPITAL ROOM

Pratigya quickly tied her gown and rushed out of the bathroom to see what was going on. At the sight she burst out laughing.. her poor husband confused holding their baby in front of him.
Krishna: Eee ka.. babu isne to susu kar de he said bringing their daughter close to her.
Pratigya: Kyu, papa bane ka bahut shock tha na.. she teased
Krishna: haa..
Pratigya: to?..
Krishna: Aree yaar tum isko lo.. humo ghar ee badalne jana pade ga. Pratigya smiled. taking her daughter.
Pratigya: Aaja mommy ke pass..
Krishna: Hum shirt ko dho ke ate hai. He went in the bathroom.
Pratigya: Kya kiya hmm papa ko pura ghilla kardiya. She said smiling at her daughter. Krishna came out of the room..
Pratigya: hogaya? She asked whilst cradling their baby in her arms and looking at him, he was drying his shirt off with a hand towel.
Krisha: Hogava..
Pratigya: theek hai..
Pratigya attention went back to their baby, she was adoring her and making cute faces.. This sight of Pratigya as a mother was amazing, she was motherly to Samar but this was a different feeling this was their baby, Pratigya looked radiant in the pink
night gown and Krishna's eyes lit up she looked gorgeous, he found her so sweet, the way she made cute faces at their daughter reminded him of the first time he laid eyes on her when he saw her smile lovingly to that puppy.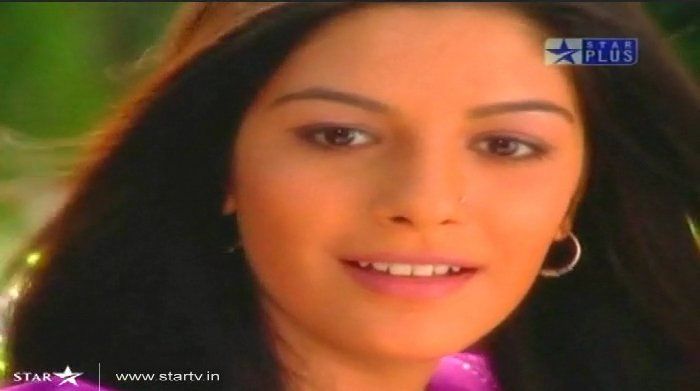 Pratigya showered kisses on their daughter's face. Krishna just watched in happiness. All of a sudden the lights went dim Pratigya looked around to see why.. and she felt strong arms wrap
around her waist.
(Kriya theme hai.hai.hai...plays)
Pratigya: Krishnaa.. kya kare ho tum..
Krishna: ka babu humri iccha. aaj tum ee gawn mein bahut zyada khoobsurat lage re ho. He said leaning his chin on her shoulder. Pratigya couldn't help but smile at his comment even though Krishna's timing was wrong she loved his compliments, any wife would, especially after feeling fat for 9 months but Krishna never made her feel like this not once.
Pratigya: Accha .. Pratigya smiled to herself. And got a little distracted
Krishna: aur ka.. he whispered close into her ear.
Pratigya: Lekhen Krishna.. yeh sab.. hum.. Krishna placed a kiss on the nape of her neck..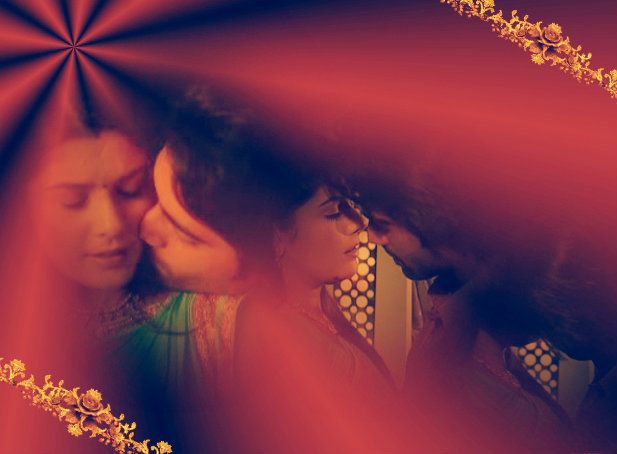 Pratigya: tum. Suno. Krishna ruk, Krishna abhi ese ke kapde badalne. Krishna placed another kiss on her nape, Pratigya let out a sigh of pleasure she hadn't felt this close to him for months and her whole body wanted to respond to his every touch.. but this was nor the time or place, she had to control herself.
Pratigya: Krishna, hum yeh sab yaha nai kar sakte .. krishna, Krishna! She moved away.
Krishna: ka bhava?
Pratigya: Krishna abhi tum papa bane ho, thoda sharam karo,aur yeh sab hum yaha nai kar sakte, yeh hospital hai aur bachi ko change karna hai.
Krishna: Babu yaar. He felt bad, sometimes he couldn't control himself he loved her so much.
Krishna: haa theek hai.. Pratigya felt slightly bad and guilty, they were both caught in the moment.. before she could dawn on it, the room door opened..
Doctor: Pratigya kesi ho. She was the same doctor who helped them through their pregnancy.
Pratigya: Acchi hoon doctor, bus esi abhi change karna hai..
Doctor: haa theek hai. Use yaha lavo aur let do she instructed Pratigya to put the baby on the bed.. Pratigya gently laid the baby on the bed and began to unravel the blanket off her.. then a nurse entered the room and assisted her, the baby was fast a sleep still, she made small movement, which her mother couldn't help but smile at and Krishna also stood close by and caressed her head. Seeing this side of Pratigya was heart warming.
Krishna: Accha to babu hum nikel te hai.. Pratigya could tell he felt bad.. and she didn't like it, he wasn't being himself he didn't make any funny comments like he would do.
Pratigya: ek minute Krishna ruko. Krishna waited next towards the end of the bed. The doctor showed the newly mother how to change the nappy.
Doctor: Accha yeh hogaya she handed the baby back to Pratigya..
Doctor: Aur abhi unka first feed thode der mein hai. Nurse ab Pratigya ko le kar ana.
Pratigya: Doctor um Kya Krishna yaha raath ko rukh sakte hai hum dono ke saath? His words surprised her, infact she surprised herself .. she knows he would a big distraction yet she wanted to share these moments with him.
Doctor: Haa kyu nai. tum nai maa ho to accha rahega woh tumhari madut kar sakte hai, tumko aram karne ki zaruraat hai, abhi kamzoori hogi. She finished her sentence looking at Krishna.
Krishna: theek hai sahi bol re hai.
Pratigya: Haa Doctor. Krishna and Pratigya shared a look.. she smiled at him, he felt better now.
Doctor: Its my pleasure, then she turned to the nurse,
Doctor: nurse tum Pratigya ko ek ghante baad le kar ana, baby ka pehla feed ke liye, aur yaha kamre mein ek bada sa bed Rati ko rakhne ki request bhejo.
Nurse: Haa doctor.
Docotor: Pratigya tum baby ko ise let do woh aram se sojayegi and aur tum ko bhi aram mile ga. Nurse wheeled in a nursery bed for the baby to sleep in.
Pratigya: Krishna tum let do bachi ko es mein.
Krishna: haa, haa kyu nai, hum humri rajkumari ko sulade te hai. He said as he took their baby from her and laid her down on the nusery bed.
(in ones of these type)
Pratigya smiled, doctor and nurse left,Pratigya sat on the bed. With the nursery bed next to her.
Krishna: Accha babu to hum ghar jake, kapde la te hai.. kucho chaye?
Pratigya: haa.
Krishna: Accha ka? He asked confused.
Pratigya: Yaha mere pass betho.. Krishna did as she said and sat down..
Krishna: hmm, bolbo.. Pratigya hugged him tight.
like this
Krishna: Accha beta to ee baat haa..
Pratigya: hmm.. she said enjoying the hug. Krishna stroked her hair, and her hand rested below behind his neck..
Pratigya: Accha .. she came out of his embrace.
Pratigya: ab tum jao aur jaldi wapas ajao.
Krishna: theek hai babu. Hum jaldi apne dono rajkumari ke pass ajayenge. He said as he got up and kissed his daughter's temple, and quickly gave Pratigya a kiss on her cheek.
Pratigya: sambhal ke jana.. she said as he exited the room. As he was out of sight.. she pulled the nursery bed towards her to check her baby was ok and smiled at the Angel
fast a sleep.
TN
Krishna entered tn..
Amma: Itni der ka lagadi? She said coming towards him
SS: Kisnabahu theek hain na?
Krishna: Haa theek hai. Bus hum thoda samaan le ke khatir aye.. He said making his way to his room.
SS: Baba ruk.. Krishna heard his father and stopped. Sajjan came close to his son and looked at him..
SS: Ka samaan?..
Krishna: Kucho ne bauji..oo doctor ne kaha hum Pratigya ke saath aaj re sakte hai. Sajjan singh expression changed.. before he could say anything his good for nothing son Shakti heard this.
Shakti: Ka be baba.. tum pratigya ke saath raat bitaoge.. ka dusra bachan bane ka plan hai.. he laughed and sat on the sofa
Krishna: tum kabo ne sudhroge! he said angily at his brother's pathetic remark, his amma came towards him.
SS: ee khatara Naresh, apne bakwas apne pass rakho.. he said taking his shoe off and throwing it in his direction.. Shakti dodged it.
Shakti:Aree ka bauji.
SS: salla, behooda,kutta .
Amma: Ee baba Pratigya hai tumhar bachan ke saath oo kafi hai..ache se khiyal rakhe ge.
Krisha: Nai amma abhi oo kamzoor hai, and hum unka madat karne khatir jare hai, humar bachi ke humka zaroorat hai..

(SS tune plays)

SS: Baba sun.. Kishnabahu humar poti ke saath hai tumka raath rukne ki kono zaroorat nena! Krishna was not happy with this decision'
To be continued.

comments are fun to read so comment thank you.



Edited by Khushi96 - 03 November 2012 at 6:11am