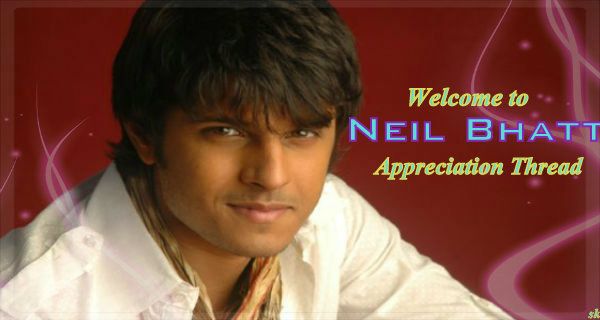 LINKS TO THREAD 1
Thread 1
LINKS TO THREAD 2
Thread 2



Neil Bhatt, the hunk, smasher and stunner ,born on Aug 4, 1987, is a versatile , wonderful actor with expressive eyes and a dazzling radiant smile.With the looks that could kill Neil Bhatt has stolen millions of hearts.

Excelling exceptionally well in academics , having a wonderful supportive family , ,Neil Bhatt is an awesomely talented, soft spoken and down to earth human being.

Very few people know that the wonderful actor who is a lawyer and a choreographer has a brilliant knack in photography too.



He is also the winner of POPULAR NEW FACE award which is an added feather on his already overloaded cap.


Having won accolades in the field of dancing with BOOGIE WOOGIE ,Neil's path was paved to grab wonderful shows one after the other.. In his first show Arslaan ,he essayed the role of a stylish superhero on Sony TV.He moved on to playing the male protagonist in Jo Ishq Ki Marzi Wohi Rab Ki Marzi on Sahara One, which was later on renamed as Kismet Connection and .But the major breakthrough came to Neil Bhatt ,when he became a household name essaying the role of Abhinav Tarneja as a male protagonist in 12/24 Karol Bagh on Zee Tv. He reached the zenith of glory with the wonderful show where he surpassed all the trends in the history of Indian Televsion by his heart wrenching potrayal of Kesar in Gulaal on Star plus. He also participated in Nach le ve Neil Bhatt,performed with Jayashree Venkatraman and won the hearts of his fans and judges .Recently seen essaying a negative character as Aditya in V Gumrah Season 2,Neil redefined himself proving his versatility as an actor.


In Neil's words

If I woke up one morning and discovered I was a woman' I would do woman-oriented roles (laughs). Maybe! I will act according to the situation.

One thing about you that nobody knows.
I'm an open book. There's nothing hidden about me. (Suddenly remembers) But ya, I guess that few people really know that I've also been an athlete. I've won accolades at the Inter- state level as well.
How can your fans make their workout fun?
Exercise will be fun if you are dedicated towards it. Many people just join a gym but don't attend regularly, which is pointless. Think about the kind of body you will achieve if you workout regularly and motivate yourself to exercise. You can also take your I-pod along to the gym so that you don't feel bored while working out.
Share some fitness tips that you follow.
The most important tip is, go to bed early and make sure you get eight hours of sleep. Stay away from smoking and drinking. It is a misconception that smoking and drinking relieves tension, just avoid it.

What do your prefer?Sports or Sex
The teacher you were always scared of?
When I was in 6th Std, I was really scared of my Maths teacher
Any childhood memory related to mangoes?
I come from Baroda and remember that my neighbour had this huge garden with a mango tree in it. Being the mango freak that I am, I and my friends used to sneak into the garden to steal mangoes from the tree. I can't forget how irritated my neighbour would be whenever he caught us.
What happened the first time you got drunk?

I am very health conscious, and hence its a no to drinking and smoking for me.

How is Neil in real life?
In real life I am a very simple person and don't like complications. I am a hardworking person. I am not saying this just to praise myself, but many people have told me about this. I am a choreographer as well. That's it about me
"My original profession is choreography. In fact I have done choreography in college. I am in the fourth year. I am originally from Baroda but I have been brought up in Mumbai."

Your ultimate strength?
I think it's my will power that keeps me strong.
Like every actor I also went for auditions worked very hard on every character and then one day I got a call from Sagar productions for a show in 2006 but that didn't click.
But as per my destiny after two long years I got a call from the same production house for my first serial on Sony TV called 'Arslaan'. The casting director then told me that he remembered me from the previous auditions but then he thought of me to be raw in my acting skills that required some polishing and so I was rejected for the role of young Prithvi in the serial Prithvi Raj Chauhan earlier.
Yes, I had always desired to be an actor .Also I was so much involved in extracurricular activities that acting had to be the natural outcome. But I took up LAW coz it's my family business and I wanted to have something to bank upon in my career.
So do you opt for scripts that have action sequences in them?

"I prefer and I ask producers if I will get to do some stunts. But other than that, if my character is good enough, then I will go for it even without action sequences."I love doing my stunts. There are times when my stunt director tells me to use a body double but I budge. I go for it and do it on my own,
What are your career plans?
I want to see myself as a director so I'm working towards it. But that does not mean I'm leaving acting it's just a wish which I want to see being fulfilled.
Neil concedes that acting is inborn but yet admits that he did join Namit Kapoor's Acting School to learn the technical aspects of acting, because as he puts it succinctly, "If you do not have the talent, no one on this earth can teach you how to act.


Edited by manzilmukul - 29 October 2012 at 2:28pm