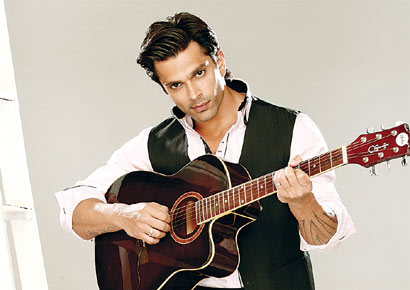 Karan Singh Grover
We will be seeing you doing fiction after a long time. What appealed to you about the role in Qubool Hai?
Recently, I did a telefilm Teri MeriLove Stories, but yes I am returning to fiction after a long time as the last soap I did was Dill Mill Gaye. What I liked about my character Asad inQubool Hai is that he is layered. There is a lot of depth to him as he has gone through some difficult times in his childhood. He's a serious guy who never smiles and doesn't get emotionally attached to anyone. Most importantly, he is completely different from Armaan, the character I essayed in Dill Mill Gaye. Though he was also self-made he was a fun-loving prankster.
Which character do you identify with more?
Armaan. I am absolutely like him, which is why initially, it was hard for me keep a straight face and say Asad's dialogues. I would keep thinking 'aisekaun baat karta hai'. In comparison, Armaan was a cakewalk. But as I saidAsad's character is layered and it's a challenge to portray him.
Did you undergo any special training to play a Muslim character?
I have a lot of Muslim friends as I had studied in Saudi Arabia. I have taken inspiration from them, but yes I trained in Urdu. The serial is based in Bhopal and people there have their own tehzeeb and dialect. Urdu is a beautiful language, but I have to be very careful while pronouncing the words — it takes an instance to go wrong. We have a diction teacher on the sets to correct us.
You have done several reality shows...
I have done everything from dance and music-based shows (JhalakDikhhla Jaa) to adventure shows (Fear Factor). Let's see what else comes up, now that I am doing this serial, I am sure more will follow.
After Dill Mill Gaye, what kept you away from fiction for so long?
I was waiting for my film — tentatively titled Lori — to get over. It was being rescheduled constantly and now I don't think it is releasing. I believe everything has its own time, I only feel bad that I spent so much time on it.
Will we see you with your wife actor Jennifer Winget in any show?
Nobody is casting us together. However, Jennifer is doing one show, which should be on air by December. .