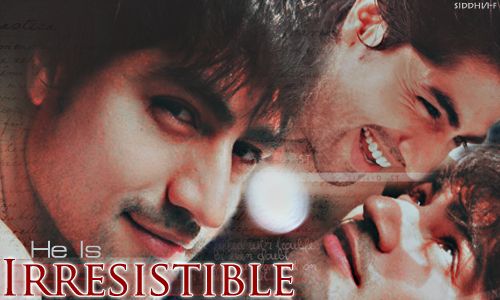 Messages From Fans
Wow just can't believe that we are actually hitting 75th Harshad Chopda's FanClub! It has been a long journey. I still remember how there were only Four members who lead a draft of this place, and then slowly and gradually as the time passed, so many people all around the globe became an integral part of it. I can bet no one ever thought Harshad's FC would be reaching at this stage, but well it's just all because of Harhsda's inborn Talent and his hardwork to make it known to the world, We all are here :-).
Let me take a chance over here to thank each and every member of this FC, as its only because of you guys and your nonstop Harshad chanting Mantra that we are able to reach here. And InshAllah we will hit 100th FC in no time ! Love you All
Now to Harshad...well words never do justice when I think of saying something about him. It's been years now and still I feel speechless. Speechless because its like I'm arrested in some kind of blind fold by Harshad. LOL. but yeah it's true. The way he had given life to Karan, Ali, Akshat, Prem, Anurag, Mohan and now Raghav is just amazing! I never thought one day these characters would be ruling my life. And all thanks to Harshad. He really deserves some appreciation and I wish he gets his due soon ! And yeah one more thing, no matter what happens Harshad your true Fans will always stick to you, like we already did in past. Wish you all the best. Hope you get more and more success and happiness in life. love You.
Alina

Harshad I dont even know how I became your fan, it just happened. From a mere glance from KDMHMD to the craziness that TL brought inside me. With every role you have just done the absolute best and your hard work and dedication is so appreciated. God bless you in whatever you do further in the future. We will be there supporting you always!. Bless you always

Chandni

When I think of you I am unable to think anything else
When look at you I just can't see anywhere else
When I start talking about you I don't have enough words
When I count your potentialities I forget counting
When I see you performing I forget all my sadness
When I hear you speaking your voice it soothes my nerves
When I watch you putting all your effort in your work I wish to be like you
Without watching you my day is not complete
I've been so addicted to watch you that I see you daily in dreams
This is you Harshad who has made me insane
And I love you for this
SwEeto.G

let my wishes shadow you everywhere,
let my soul shield you all around;
person like you is so rare,
an invaluable treasure to be found!
smile of your's lit up countless lives,
honesty of your's to be proud of;
your humanity a beacon to many,
humility is an inspiration to many!
may you get success at every step,
don't you dare any time give up;
you are a treat to watch,
man of your stature hard to match!
may all your wishes come true .
without you, life has no hue;
even your silence speaks to us,
every act of yours leaving us breathless!!!
lakshmi

for ur wonderful smile which lights my surrounding, making me smile even in midst of my tears, thats magical something never happened in my life... u r magical and unique.. love you loads. keep rocking with ur outstanding performances
gayatri

wohoo!!!! Congo shongo gals...so here is the 75th fc of my jaanu harshu
thanku so much for being such great friends...love you all
and about you harshu I just wanna say that I love youuu!!!!!
may all your dreams n wishes come true...God bless you!!!!!!
p.s. I m horrible at these senti stuffs so bear me
silky

Success is not a matter of being the best and winning the race.
Success is a matter of handling the worst and still finishing the race.
This is what we like in you and love you for as you have always triumphed the worst and came out winner.
You are heart winner , your honesty, humbleness and sensibility are some virtues that has bonded me with you as proud fan. Keep rocking. Lot to say but have no words to express. God bless you
svetlana

Harshad is one of the finest actors of tellywood. He is a book of talents and his charisma still makes him the star he is. Wishing him all the luck and proud that his fanclub has reached the 75th. Its a pleasure to be his fan and being able to watch his work .

luvrajivharshad

Hey hc.
i loved ur work assweet as prem juneja...as cute
as anurag ganguly... As stylish as mohan gala as angry as raghav as innocent as cadet alibaig...ap plzz dsdd.sb k baadjaldy new show myn aana plzzznd loved u hc...u alwayz rock nd i wish k myn ap se aik baar zaroorr miloun...
I loved u soo muchh nd respect u from the bottom of my heart...
Regards
Sana imran


U happy Me happy always, will be with you no matter what
will support until my last breath
and wish my prayers protect you always...
My only hope is that no matter how far u be,
my love and prayers may always
help u find success and happiness in life.
Lakshmi Ramanujan


Wo Rooth Jata Hai Aksar Shiqwa Kiye Bagair...;
Hum v Toh Sehjata Hai Shikayat Kiye Bagair...;.
Hum Soch Te Rohe Muhobbt Be Loss Hoti Hai...;
Ye Uhi Ho Jati Hai Inayat Kiye Bagair...;
To Kitna Nadan Hai Sanam Itna To Soch Le...;;;
Jannat Kab Milti Hai Ebadat Kiye Bagair...;
Kosur To Hamara Hai ...;;;
Humne v Muhobbt Ki Unki Ejazat Liye Bagair...;;;
Luv u Harshad..
Dibya

ya Bs unko bolna ki wo jaldi
Aye I love Him nd God bless him
kunika love prem

love u always n will always
support u in ur decisions. keep
rocking
div(dkmystery)

i love
yuh Harshad so much and i
always wish yuh a happi career
life and stay succesfull...
loads of love
xx.Rikki.xx

Harshu i love you,
i love u sooo much,
n i wish you all good luck,
god bless you harshu
may you always have success in watever you do,
our support will always be with you...
n i dream to meet you atleast once in my life
Vinolya Venny

harshad chopra mein apse pyar
karta hu aur mein apko miss bhi
kar isliya main apse ek baat
kena chata hu harshad apse
pyare koi nahi apko main apna
god maan ta hu I LOVE U
Harshad chopra
Thank you
Prabhjot Singh


" Harshad " This Name Drives Me Crazy...
More Than Any Other Guy..
U R My First And Last Crush..
U Had Everything Different From Other Boys
Something Special Which I Loved In You...
U R Charming , Sensational , Handsome , Well -Build Personality , HonestySmartness..Everything
And D Main One Killer Attitude...
You Are D 1 In 1000 Guys
Who Stolen My Heart ...
U R A Prince Who Captured My Heart From Your Powerful Performance
And Your Smartness ...
I Love You More Dan Anything Else...
Congratulation On 75th Fanclub...
Keep Shining And Rocking Always..
Proud To Be A HCian
Shivani sharma


HARSHAD I LOVE YOU SO MUCH
JUST WANT TO SEE YOU
ALWAYS HAPPY N CAN DO
ANYTHING FOR YOU
ramya
shree

I LOVE YOU SO MUCH HARSHAD
AND CAN DIE FOR YOU
ALSO..FOR ME THE WORLD IS
SMALL IN FRONT OF
YOU
harsha

i am ur huge huge huge fan harshad...
In my whole life i have never seen such a fab human like u r...
i am always wid uh abd whtever decision u may take...
i just pray to God tht he always remain with uh and profects uh
in every stay of ur life...
People live People die People Laugh People Cry
Some give up Some will try Some say hi Some say bye
Others may forget YOU but never will I.
from
komal


" Harshad, I have been your great admirer since the Left Right Left days.
Your charm, talent and humility are a lethal combination that is not found in anybody else.
I am proud of the fact that I share the birthyear with you.
I shall always pray for your good health, success and happiness.
Love you a lot.
God bless you always. May you scale many more heights in every sphere of life.
Love you always.. "
tina

"HC is one actor in Indian Television who never fails to bring something new to the table everytime he enters a show. I think I've said this a dozen times already -- but that's only because it deserves to be said -- he's one of the few who will go beyond what the director says and give the role his own interpretation, and match his mannerisms with what he's portraying, all the while giving it a piece of himself. In Raghav, we see the activist side of HC; a man who believed that to control a woman's autonomy was to violate her, a man who wouldn't hesitate to go against those he loved in order to do what was right. HC made Raghav a troubled, messed up man, who nonetheless was able to empathize, especially with the underdog. A man who would never, ever support wrong.

Ironically, it was in leaving the role of Raghav for good - before the channel and CVs could abuse the characters, and the cause, further - that HC stood up for his beliefs and raised a powerful voice.

God bless you always, HC.
lizzy

Mera Harshad Pyaara
Kayi baras pehle ki baat hai
Ki ek chehra mujhe parde par dikha tha..
Na jaane kya baat thi unme ki
Tabse har khwab unke naam likha tha...
Pata chala jab ki maine jis saal janam liya tha,
Usi saal woh pyaare shaks bhi is duniya me aaye,
Tab ek ajeeb si khushi hui thi dil ko,
Aur hum unko dil se apna khaas dost banaaye...
Phir kayi baras tak hum unse anjaan rahe,
Aur unko to pehle se hamari khabar na thi,
Lekin jab bhi dikhte the wo kahi par bhi,
To tanha hokar bhi tanha hamari dagar na thi..
Aankhon me unki aisi noor ki mera jahaan roshan karde,
Muskaan me maasumiyat itni ki khamoshi ko zubaan karde,
Ab kya tareef kare hum us pyaare farishte ki
Chehre me kashish itni ki banjar ko gulistaan karde..
Wo jo bhi kirdaar nibhaaye to is kadar shiddat dikhi,
Jo bas kaagaz pe likha naam tha, usme jaise jaan phook di,
Kabhi koi bhula na paaye aise logo se milwa diya,
Aur har kirdaar ka ehsaas hamare dilon me hi rok di...
Kabhi sharmile Ali bane to kabhi masoom Anuraag,
Mohan ki adaa kabhi to kabhi Prem ki achhaai thi,
Akshat ki sharaarat me bhi kuch waqt tak jaan bhar gaye,
Karan ka tedhapan tha tab to ab Raghav ki gehraai thi...
Har roop me har bhes me hame dikhe sirf ek nayaab insaan,
Wo jinke hunar se badhke unki rooh ki sachhaai thi,
Unko ek nazar dekhlu to din mera nikhra sa lagta hai,
Aur aaj ek anokhi khushi hai jahaa pehle bas tanhaai thi.
Mujhe aapse bas itna kehna hai farishto se pyaare shehzaade,
Jab tak yeh jaan rahegi aapke hi naam meri duaaye rahengi,
Aur aap chaahe kuch bhi thaan le apni zindagi mein,
Bina jhuke bina hile hamesha kaayam meri wafaaye rahengi.
with lots of love
Tina_1983

First of Congratulations on the 75th FC of our beloved Harshad Chopra'.
I just don't understand where to start yaar''..
Harshad Chopra'the person who makes me smile when he smiles, makes me cry when he has tears ib his eyes, person who makes me blush with his romantic charm''
Words will fall short to describe this person'
When I first saw him as an actor during last few days of KDMHMD, I really didn't know how much popular he is. It was Tere Liye promo which brought that click in my heart for this person' while watching the initial promos of TL, I was lyk 'God, wat a superb actor he is'' After that it was an SBS seg where I saw him off-screen for the first time(Tie wala scene with APK) n I was again lyk 'wow yaar he is sooo cuteee'' n when I watched him in d first episode of TL, he just left me astonished with his performance' it was then wen I started reading his articles, I tried to get as much information about him as possible' with each article or any news, I started to fall more n more for him'
With each passing day, I realized that he is not only a superb actor, but a very very genuine person, a good human being.. there is a reason that I don't hv much fondness towards the glamorous world and that is dat I just can't stand their "I'm the best" attitude' but I found harshad totally different from those people' I really admire people whose feet are on ground even after getting all success in life n I can say this that harshad is one of those few people for me.. his humble, polite n down-to-earth nature made me respect him more n more.. there may be so many to charm u wid luks, but harshad is one who can make you fall for him with his heart..
My love for my hero started increasing when I found this amazing forum n it's totally gone HC pankhas'gosh!! u guyz made me even more mad in his love with ur posts n love for him n thank u guyz for that..
Another thing I lyk about HC, is his bonding with kids..i just luv people who have fondness for kids 'whether it's kuhu(TL) or that little kid form DP(I forgot his name) or it's our pyara Yash' his onscreen n offscreen bonding with kids is just adorable.. someone has said ki "bachche unhi ke sath ghul mil jate hain jo bachchoki tarah saaf dil ke hote hai" n harshad is just lyk that..
Harshad has always been a great inspiration for me.. his hardwork, dedication towards his work is simply commendable.. his eyes are enough to convey the message.. n only a dedicated actor can have this ability n harshad is indeed one of them.. whether it's 'Pagal ONU' or 'charming and handsome Mohan' or 'inspirational Raghav', he portrayed each of his character lively n that's why we could connect to him..n only coz of harshad(n APK n TL), I cud find the goal of my life' all thanx to them'
A salute to this person who is not only the BEST ACTOR but also a good HUMAN BEING' a person, to whom I can proudly look as my inspiration'.
May god bless him with all the success and happiness he deserves' Harshad was BEST for me, he is and always will be..
For the first time I have written such a long post.. so sorry if I have bored any one of you.. but I couldn't help myself'
Let's have a rocking time here till we get our new home with harshad's fadu comeback'love u harshad n love u all my crazzzyyy HC pankhasss'

sid

"I run out of words when am asked to say why i love u so much and why i just love you this much Harshad. One glimpse of you in Tere Liye...and the rest is history.You are the reason for me watching Indian soaps.If not for you I would have loved a lot of tv actors...but you have set a standard that no one will ever surpass.When i first came across your offscreen segments,I desperately fell in love with you more...n even today you make me discover deeper depths of love.Each time i watch you as Prem,Anurag,Mohan or Raghav(many more to come) you keep me in a magical trance.The depth you bring to your roles is beyond beautiful.May Lord bless you with all success and joy.Love you so much."
apz
HC i have been admiring u since kis des. With every show u brought out ur best
We got to c a diff HC as raghav dat ws fab.. now dat u r leaving d show vd enuf reasons i strongly support u n yeah m proud to be ur fan
Good luck l always support u.. be back with a milestone bang!!
sehreen

People call me crazy for you, friends make fun off me.
Parents keep scolding to get free from your charm and my head keps on thinking that why do i have to be so mad for you. Why do i have to get attched to those fictional characters with heart which you portray onscreen? Harshad , everything still remains the question and i get the answer when i watch you onscreen, your charisma, your charm is magical, and like many fans of yours i am also addcited to it.
I feel proud and happy, tha god made me your fan. You had said that your fans motivate you for your hardwork, and i am saying similarly you motivate us to live our life being positive.
Feeling immensely happy to hit the 75th FC .
Happiness as light as air.
Happiness as light as air.
LOVE as DEEP as OCEAN.
Friends as solid as diamonds
And success as bright as gold.
These r my wishes for you today and everyday
sundas

hi,
Harshad you deserve the place you are holding now, not only in tellyworld but also in the hearts of
your fans.
i am your diehard fan since left right left.
& the biggest fan of kis desh main hai mera dil, still watch the show & specially your scenes

I hope that you will have a good time and win many awards.
I wish you the best of luck.
may you get the best of both worlds.
sadia

Harshad
will always keep loving u and admiring you
be there for us...always
vandy

Every time I try to comprehend "Harshad Chopda"... A smile lights up my face...
My words many a times do not do justice to the way I feel when writing those lines about him...
And so I guess I tend to leave my statements regarding Harshad Chopda with "..." (yup the three dots) following each sentence. As if there is much more to than what I'm able to write about him... Write for him...
Well I'm supposed to write out a message to Harshad Chopda and here I am .. smiling to myself ...looking out of my window... to see the rain drops wet the ground beneath... spreading the wet muddy fragrance in its wake.. giving me all the more reasons to churn out another couplet in his name.
***
Jab maddham si boondon ne bhikri,
Ek saundhi si khusboo...
Yaadon ko tumhare liye sirhane;
Tassavur se ki mithi guftagu...
**

Yeh baaton ka silsila,
Yunhi jaari rahega...
Tumhe mile who har khushi;
Dua mein dil yehi kahega...
**

Main ek akeli nahi jo maange tumhari khushi,
Aur bhi hain chahnewale kayi...
Jab milegi tumhe tumhari chah;
Paaoge hum sabhi ko muskurate wahin...
***
God Bless You dear Harshad... You will surely get all your dues and in leaps and bounds... Keep smiling.. Because your smile has been a reason for many to smile...
And this 75th FC goes out to speak for the phenomena that is Harshad Chopda... Thanks again Harshad for propelling us to write further everytime... may this FC rock as the previous ones and preceed beautifully for the many more to come in future... And now I get back with my usual japp of HC HC HC... Off to the 'oh so famous lala land' HC is hell bent on sending us to...
sneha

1st of all,this is my prayer 4 u,
Harshad---May u b blessed with unprecedented prosperity,true & intense bliss,
love & harmony,in abundance,
along with your family & all of your beloved friends..
& Aap apne life ka every single ups & downs
& obstacles ko face kare with profound chivalry & fortitude...
aap ka har dream sach ho...
& victory achieve karo aap life ke har turning point pe..
& aapka fan following infini8 rahe 4ever.. ...
Last but not the least,
I really wanna tell u that I'm crazily in love with u,
eversince I've watched u on LRL...
U've rocked my world with your outstanding per4mance & unique demeanor...
aap ka har sad scenes dekh kar main roti hoon...
May Alimighty bless u my Harshad...

anika khan

HARSHAD
i luv u ye to meri bad naseeb ha k tum mere nhi ho sakte
but main khuda se hamesha dua karti hu k
tumhe dunya k sari khushi mle tohi main khush rahungi!

aishwarya

I m a big fan of harshad...
I love him and I so wanna meet him!!!!!!!!!!
malik muhammad saudul faisal

hai harshad
dis is SHEEMA SARA here your biggest fan ever
i love u a lot
may all dreams n wishes come true
god i was just in 8th standard
just fall in love vd u,
i saw u in amber dhara n just fallen in love
i am sure dat one day i will definetly meet u somwhere
love u a lot
may ALLAH gives u all universe happiness
u r d best
want to see in bollywood flims
love love love love love ...u a lot keep smiling ur smile is really precious to me
Seema

I always think of You as the Sun.
I pray your Dreams Will Shine on all men.
EVRYthing you Desire will Come True
and I will ALWAYS Love You and be with You .

Komal Naik

na muskurane ko ji chahta hai
na aasu bahane ko ji chahta hai
aapki yado me,or kiya bas
aapko dekhne ko ji chahta hai,,,,,,,,,,,
love u harshad
Rizz Yesmin

Hi Harshad
i love u so much
Ahmed Hasham

This 75th FC celebration comes at yet another odd time in our fan history (nothing new I know). I don't have much to say except thank you for the joy you have brought in our lives, thank you for the wonderful characters you breathed life into, etching them in our memory forever. I pray that you get all the success and happiness always and May God shower his unlimited blessings on you. Seeing the course of events at times I feel our prayers for you are mere words that we repeat every day, with no affect but deep down I still believe God is listening. So good luck and despite being apprehensive of if I want to bear the torture of another daily soap, I know I am eagerly waiting for your return already :| So Good Luck and come back soon (Short break is all we can allow, am sure you know us too by now :P)
nads

Harshad's 75th FC! WOW... That feels like the greatest accomplishment as a fan!

Harshad Chopda! This name, this man meant nothing to me before 5th May 2008. That day also, I happened to watch him by mistake. Today I feel, some mistakes are worth committing and this is one mistake that turned out to be the best blessing of life.
It all just started with watching him act a character, but later on I happened to see one of his offscreen segments and was sweetly surprised to know that HC is so different compared to his onscreen presence. As it turned out, there was no turning back after this point. With each passing day, my respect, love, appreciation and gratitude only kept growing for HC.
I am just spell-bound even today when I watch any of his old scenes, the impact that those scenes have is still the same... be it Prem hurt on knowing about Chahat, Onu teasing Taani, Mohan lieing to Kastur with a smile on his face, Raghav selflessly helping Sia.
What is amazing is... none of the characters have been the same. I have to keep reminding myself that it is the same Harshad enacting those different roles. Though they all had love as a common factor but still HC always added his own flavor and made sure each character is miles apart from the others.
It was only when TL was ending that I decided to start interacting with people here and then found this FC. It has been like a second home. Not a day goes by when I dont visit the FC, when I dont check out for any new news of HC. I have truly enjoyed my journey here, with all the other fans and HC as well.
In the end, all I want to say to Harshad is ...Always remain the way you, because that is what makes you special. God bless you with all success and happiness.

And ofcourse... Thank you Harshad for just being there for us!!!!
Sam



Edited by -vandy- - 01 November 2012 at 7:55am