Sorry for the delay in update friends. First we were busy and the second being our mood low due to the show's happenings
. Anyways are you ready for a mega update?
PART 6
London:
Arnav occupied himself on the couch near Khushi's hospital bed after giving himself assurance that she is alright - which he had been doing for every two minutes since the morning when she fainted.Khushi was injected with painkiller to make her rest. With his deep chocolate eyes he looked at the lady infront of him sleeping peacefully which just awakened his spirits and made his mind refreshed. ASR never felt those emotions to a girl though his only reaction in pretence would be anger. The same anger now hides itself under the core of his heart. Making himself shred off all these thoughts he took out his laptop and started checking his personal mails which was discarded for the past few days among his busy schedule. While going through the unread mails one name struck him and gave him a slight tremor in his brain. A mail from "Mr.Sashi Gupta" dated 2 days before his death?..Curiousity took the charge over him and hurried to open it and read what was it..

Dear Arnav

Hope this mail finds you in good spirits. You must be wondering why I had written a mail to your personal id as I have not done it before. The reason is something very crucial & personal and I wanted to discuss with you only. Though we had only business communications/discussions till now, there is something within which urges me to seek help from you. I hope I am not troubling you or taking advantage of you in this. If anything happens to me later I have my child left alone like an orphan who would not be able to survive among this mess. Her happiness and joy is my only concern. I have not hidden anything from my doll till now but I couldn't see myself hurting her by the truth that my company is under a big trouble and I wont be able to help myself to come out of this. I would really wish if you could contact my lawyer once you arrive in London. Trust and belief which I had lost among all of my business associates and friends now bends down only before you Arnav! I don't know the reason why God has made me think so..The same reason why I felt it would be nice to see you as my Son In Law since I thought my kid would be under the safest hands. Ultimately there is only one "hope" now I can see in my life and that is you.

Regards
Sashi..
Arnav felt blank for sometime Sashi was trusting him so much and how he had asked for his help. He banged his fists on the table for the delay he made to read this mail.There could have been a chance to have saved his life if he had done so. He felt terribly lost but started to read between the lines. Sashi's company is in danger so he must do something to save it. And while giving a prior thought on how to do it, his heart was swayed away with the wish Sashi had expressed. He wanted Arnav to be his son inlaw? A small happiness and a tinge of possessiveness popped up in him looking at at the petite figure lying on the bed in unconscious state. His thoughts were running havoc in him and more fuel added to the fire on the responsibility of saving her from this mess. It didn't take him one minute to decide finally as though he has received the consent from her father to take her into his life.

Arnav (meditated) "Khushi , I will save you, I will be there throughout your life. You are not alone."
Suddenly his words to Akash on how he will choose a partner, his sister's words on the random girl who will cross his life. All these started juggling around his mind and he closed his eyes to get a clear picture which the destiny has planned for his life. Is that girl by any chance Khushi? Are these just a hints to lead me to her for marriage? But his thoughts were disturbed by Khushi who was just getting up from her bed. He rushed near her to help her sit comfortable.
Arnav : "Khushi wait. You can't just get up like that."
He helped her to sit on the bed. She opened her tired eyes and looked at him. She looked fresh but her stare on his eyes were not giving her a break. She tried to clear herself by rubbing her eyes and started to talk to him.
Khushi :"How do you know me? I mean I don't know you. But I know you. I mean '."
Arnav :"Okay Okay. Relax. Don't get into more confusions.Khushi, my name is Arnav Singh Raizada I am from India, and I was the one who was driving the car which hit you yesterday. Now I am really sorry as I wasn't aware of you coming opposite to my car in that street. And regarding how I knew your name.It was from my Manager who told me that you are Mr.Sashi's daughter.I knew Mr.Gupta'."
Khushi hearing about her father was overwhelmed and excited.
Khushi: "What ? You knew my father?"
Arnav pacified her and moved on to explain but considering her health which should avoid these excitement and stress he deviated from the topic and started telling her about his business and family. He talked about his nani, his Pari,his sister and his brothers. She felt happy hearing about the big family and wished to be a part of them. She felt calm and rejuvenated.. He made her have her dinner and that's when he got a call from his manager.
Arnav : "Mr.Sharma. Just extend my stay till one more week. And do the necessary hotel bookings near by Khushi's house. "
Mr.Sharma: "ASR, I hardly find any good hotel near her house as she stays near the outskirts of the city."
Arnav:" I don't care.I need some place to stay nearby her house and do inform Akash about my stay."
Arnav kept the call and looked at Khushi.
Khushi : "Arnav why do u take unnecessary trouble in helping me. I will be fine. "
Arnav:" I am responsible for this state of yours. I won't leave you before clearing out everything. "
This assurance stuck both of them to which she extended her hands and asked him.
Khushi : "OK can we have a deal? You are going to stay in my house till I am getting recovered and we shall be friends! What say?"
Arnav stunned for a moment. An inner conflict spurred up.
ASR in him ' "What the? Friendship with a girl? That too staying with her? Unbelievable".
Arnav opposed "Shut up, let him proceed after all she is his responsibility and there is no harm in staying together".
Khushi snapped him from his thoughts. Arnav after a lot of hesitation agreed. He shook hands and said "Yes Friend."
They had lots to talk before calling it a day.They went off to sleep peacefully. Both had a sense of inner satisfaction as if they are destined to be together foerver.
Next day :
It was just some hours that she was discharged from the hospital.. the doctors din't allow the discharge as Khushi was still not recovered, but the desperate look to move back to her home was never un-noticed by Arnav.. Arnav helped Khushi to get home by signing the discharge papers and completing the required formalities.. .They were now home and Khushi showed him the rooms and asked him to get comfortable feel as if it is his home too.
Arnav helped Khushi to her room and helped her lay on the bed, before ordering her to just rest.. .. It was his strict warning for her not to move unless it was anything urgent.. He didn't knew why but he ordered her.Has he the right to order her? She is his responsibility but that doesn't mean she has to agree what he says.Soon these thoughts were halted with Khushi agreeing on to his order.
She was resting in her room and he was sitting outside the room when he heard some noise from inside the room where she was resting and he got up panicked.. He rushed to the door which was closed just for privacy,but it was not locked.. He knocked the room and entered to see Khushi trying to stand straight taking the support of the table near by.. He saw her looking at him and his eyes moved to the cause which made a sound which drove his attention here.. He saw the glass flower-vase on the floor and it hit him that this vase may have fallen down from the table when Khushi tried to stand up on her not-so-strong feet..
He rushed to her and her by her arms facing her, and she now held his hands leaving the support of the table.. Her body weight was surely all in his hands as her feeble feet were lifeless, and all the support she was getting to stand was just the cause of her grip in his hands.. He got angry but anger turned worry at the sudden look on her eyes.
Arnav-(worried and in a rough voice ) "Khushi, Why did you stand up? Do you need anything? You should have called me..I was just sitting in the drawing room, after all am here for just you."
He realized what he said when he saw that confused look in her eyes which stared him.. but he got tongue tied .He was lost in those dove shaped eyes staring him..
*RABBA VE*
She didn't take her eyes of his choclatey eyes, yes those eyes.. Again her thoughts got back to the pavilion analyzing the dream and the real! She lost the chain of thoughts when his husky broke the silence..
Arnav-"I mean- - I mean I was just here.. why did you stand up? You need anything? Tell me "
Khushi who still held his hand, was now trying to move to the bed again and Arnav helped her to move as she was still trembling..
Khushi-" ya actually, my head was paining a bit so wanted to drink a dark coffee..I loved to make it myslelf. I always loved the way how my papa used to make one for me but now neither can I feel his touch nor his coffee '"
She started sobbing as her sentence was left unfinished and her eyes had gone blur.She didn't know what made her do at that instant. She hugged Arnav and cried as if there was no tomorrow.
He was not sure how to react as she has no one to share her grief. She had sort a resort on him to vent out her emotions and he let her pour out all her feelings,. He did understand the pain of being without a dad and here, Khushi was all alone without any support now, he could imagine how lonely and restless she would be feeling due to the loss.. He wanted to divert her mind and cheer her up.. He wanted to reciprocate the hug but decided against it..
(The writers from behind shouting- "Damn the ASR brain"
!)
For Khushi she felt her heart light after this hug .Understanding the weird position she is in she quickly broke the hug.
Khushi ' "I am sorry Arnav,, its like I mean'"
Arnav-"Its ok I understand, Are u ok now?"( touching her head as consoling)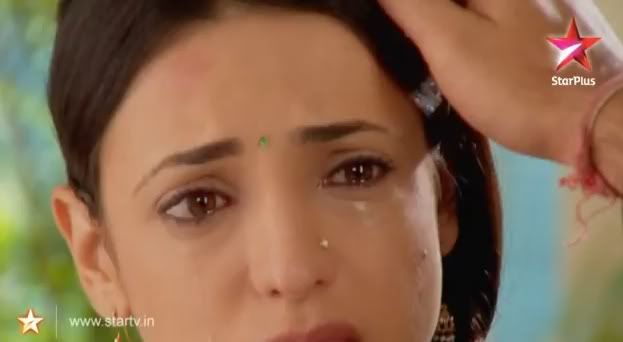 She looked up in surprise just to see his lighted face and nodded Yes.
Arnav:"Ok now I will make coffee for you as you wish"
Khushi-"Arnav you don't need to do that.."
Arnav-"NO ! let me do it today.. being a good businessman, am also a good cook!"
Khushi smirked forgetting her pain.. This man really has some magic in changing her mood.
Khushi- "Oh really? Are you? Well, ok.. I would let you to make a coffee for me, but in my way.. now for that, I need to go to the kitchen.."
Arnav-"Okay.. come,I will carry you..you can't walk ! (ASR in him ' CRAP ! that was spontaneous.. Shut it)
She was dumb-founded and her smirk immediately vanished..
Arnav- "I mean, let me help you to the kitchen.. You can guide me and I will prepare a cup what type of coffee you want.."
She nodded and he helped her.. His warm touch on her arms gave her goose-bumps and her cold-small arms made him feel big in-front of this this small figure, as her small arm was fisted in his large hands..He was leading her to the kitchen by holding her arms but both the souls feeling a positive current in their bodies passing sweet vibrations in them.. their hearts were trying to get back to beat normal but it seemed impossible at present..
She gulped and closed her eyes to try to concentrate on nothing else.. while then, her leg hit the door.
Arnav yelled-"CAREFULL! "
She was about to fall when his grip on her arms tightened and he pulled her just to end up hugging her and she fell on his hard chest..
*Raaba Ve*
Arnav-"you okay?"
Khushi pulling out of the hug now a bit embarrassed..
Khushi-"yea I'm 'fine".
He took her to the kitchen and made the coffee. She has not felt so comfortable with anyone else .Did she feel more comfortable than her father? Her confusions were unending. She was trying to find answers in her thoughts. On the contrary he gave break to his ASR- Arnav confrontation and enjoyed looking at her angel like face. Later they ordered food and he passed his day with his office work and she took ample rest pretending to be sleeping but fighting within herself thinking on what happened to her suddenly .Truly it was the Golden touch that make her go crazy.
The next day:
Khushi was in her room on the bed working on her laptop checking some official mails when he entered inside her room with 2 Mugs of Coffee..
Khushi: "Arnav.. Why did you get it? "
Arnav walked to the bed and served her the Coffee..
Arnav: "I didn't make it by the way.. Your maid did.. I just got the Mugs here.. "
Khushi smiled and sipped her Coffee and continued Typing her mails.. Arnav was still beside her and was watching her emailing the client..
Arnav: "Very busy??"
KHushi (Looking at the Laptop still): "Yeah.. Some pending work.. And after Eddie Uncle ditched me, there is more than what I expected. "
Arnav: "Ditched?"
Khushi stopped drafting her work and looked at him with teary eyes..
Khushi: "Eddie Uncle was like my Daddy's Right Hand.. He knew everything about our work, our clients, our profits, everything.. He was like my Dad's Younger brother. But then as time passed, he started getting greedy seeing our Profits and then last week after Dad's Demise, I came to know Eddie cheated us, he cheated our Company by procuring 50% shares.."
Arnav was shocked. He kept looking at her.. How could his thoughts cloud over the fact that he had to help her company according to Sashi's request mail? His Coffee was surely getting cold but that didn't matter. He looked in her eyes and he could easily see how hurt she was..
Khushi: "I fired him from the company the same day. May be he intended to take over all the 100% shares one day and since he couldn't do this, he tried killing me.. Remember when I was hit by your Car I was running from someone.. They were his men only.. I know.. He is no more the same sweet Uncle, he used to be. Money and the greed for Power have changed him.. "
There was a complete silence for sometime after that.. Khushi was lost in flashes of that day when she came to know about this Truth of Eddie and Arnav was thinking something else..
Arnav: "I think I have to tell you something on this matter.. "
Khushi ( Surprised):" On this matter? What is it?"
Arnav:" I was checking my mails yesterday when I saw a mail from your Father .. He had sent it 2 days before his demise but I could check it yesterday only"

Khushi immediately placed her laptop aside and held his hand.. She wasnt in a sense to know what she was doing.. Hearing that her father's topic she wanted to know everything about it..
Khushi: "Paapa's mail? WHat did he say? And why did he write to you???"
Arnav could see her tight hold on his hand and he placed his hand above hers and looked at her..
Arnav: "Relax Khushi.. Dont get so much tensed.. You know what the Doctor said.. Its not good for you to get so much excited and tensed these days.. You still have not fully recovered.."
Khushi understood his concern for her but she just couldn't help herself from asking him this..
Khushi: "Arnav.. Just tell me what that mail was about?"
Arnav: " I dont know why he wrote such a mail We had some business communications from last year .I regarded him as equal to my father but we rarely spoke our hearts out. There was something strange mentioned in the mail. He had asked me to call his Lawyer and talk to him.. He had written that his COmpany can be saved only by my help and he trusts only me on this.. I dont understand why he wrote like that.."
Khushi was surprised to hear this.. She just tried to understand what made her father write so..
Khushi: "You called our lawyer and confirmed that then?"
Arnav: "No.. I didnt. I mean I never got a chance..as I was not in contact with him."

Khushi instantly dialed their lawyers number and then looked at him meanwhile till the bell started ringing ..
Khushi: "Hello Mr Johnson? Khushi Gupta here.. Umm.. Actually I needed to speak to you on some matter.. Did my Dad tell you anything about Mr Arnav Singh Raizada? SOmething which he could tell only to him or something like that??"
There was a Big Pause on the call and then finally her lawyer spoke..
Lawyer: "Yes Miss Gupta.. But he told me that Mr Arnav Singh Raizada would himself call me.. But I didnt get any appointment from his end yet.."
Khushi: "He is here.. With me.. I mean if you want to tell him about this then we can come to meet you for that.. I can fix an appointment with you when you free.."
Lawyer: "Ohh No.. Its not about that Miss Gupta.. I can tell this to you too.. Afterall you are Shashi Gupta's daughter.. "
Khushi: "Thanks Mr Johnson.."
Lawyer: "Well Mr Shashi Gupta has transferred his 50% shares on Mr Arnav SIngh Raizada's name.. Now its upon him how he wants to utilize it .. Either for the benefit of your Company or sell it and utilize that money as per his wish..."
Khushi had placed the Call on Loudspeaker and they both looked at each other shockingly.. Both trying to find a reason why could Shashi Gupta do something like this!
To be continued..
Writers comments
Harhem : Was it too much Rabba ve?
Madhu :No Hari,now we can only imagine our couple with these cute moments
harhem: true Madhu, Arhi/Sarun forever
! btb where is kiddo..
trivedishraddha : Dont u dare disturb me di.. I m in my la la land..
Rabba ve
No Precap in this thread!
THREAD TWO LINK -