The Wall has scaled greater heights in our lives and the show, needles to say they run wall to wall.
The Witness Wailing Wall
I house a young happy bride's wedding frame
But first came a ghastly guest and knocked them off with deadly aim
Then came a little pest and set me aflame
Soon afer did she colour me to claim
That it was a masterpiece all the same
So she's to be absolved of any blame

After she's gone the surgeon's not the same
He sits in front of me all maim
Not even paying attention to his pretty dame

All he does is stare at me and take the unhappy name
Oh! why do they put me to such shame
The Virtual Wailing Wall
I was a mere brick barrier
Now I have graduated to a news carrier
Many wide-eyed hover around me as a harrier
While some bark at me like a cranky terrier
Sometimes the more questions the merrier
But meeting demands are getting scarier
Every twist and track is a burden growing heavier
Some want a smart woman with a career
While some feel a baby is no barrier
How can I be everyone's wish carrier
After all I am just a courier
Who loves to don the role of a warrior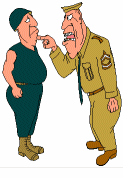 Don't turn your back on me the wall
We can still find reasons to have a ball
The writing's not yet on me the wall
Let's all stick together till the time it is curtain call.