hey guys its an old news but i wanted 2 share it with u.
Telly stars twinkle in city
Tribune News Service
Chandigarh, August 28
It poured stars in the city today. Thanks to Sony, the visitors to Hotel Mount View had a mouthful of "starry" treat. Name them and they were there, right from Kumkum of "Kumkum" and Kumud of "Kksum" to Maanav Gohil and Amit Sareen of "Kkusum" and Shakti Anand of "Saara Aakash" and "Crime Patrol." Glorying in each other's company, the small screen stars spared all the time in the world for one on one interviews. But as time constraints would have it, one barely managed a glimpse into the life of each one of them. For Juhi Parmar, one could conveniently say "she is here to stay". Already a well rated actress, she is now going places with a Pakistani project at hand. Recently signed up by Humayun Sayeed for a Pakistani serial, Juhi will play the female lead in "Pehchann", being directed by a Pakistani woman. "Devi" and "Kumkum" still have a long way to go. Shakti Anand knows his act very well. No wonder he gave up the profession of a medical examiner to pursue acting, the first love of his life. He is among the few actors who did not allow them to be labelled as Balaji actors. So while Shakti has Ekta Kapoor's Kyunki…" going for him, he is already hogging the limelight with "Saara Aakash" and another realistic crime documenting show "Crime Patrol".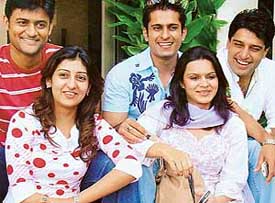 Maanav Gohil and Amit Sareen owe their fame to "Kksum". While Maanav again gave up a bright future as an MBA professional to pursue his passion, Amit was sure he wanted to head westwards from Banaras. Quite rooted in tradition, Amit struggled for long before making it into the Balaji team. He took several auditions, and laboured day and night to get the role of Kshitij in "Kksum." For Maanav, who is a familiar face in other serials too, the going was not as tough. After miserably failing as a model, he made a rather smooth foray into TV. He has a lot at hand now, just like Aashika Goradia, the Ahmedabad girl, who is now sharing the woes of dear mother Kksum in "Kksum."
All these stars danced to Sony tunes in Dara Studio tonight, even as item girl Nigar Khan added the much needed zing to the event.