Who will inform Ashu about the fire?

1. Hiraman Kaka after making sure it is not one of Nidhi'cooking
experiments in the kitchen.
2. Kushi
herself after she realizes that her chocolates
will be charred.
3. The neighbours
after ignoring it initially, as they thought it was a ritual in Mathur Mansion, for the guests to set fire to the house.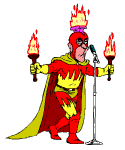 (Remember Mallu and her wedding saree bonfire)
4. Bade Baba,
who was forced to come out of his hiding from under the bed (don't ask me how he got in there) to avoid babysitting Kushi.
5. Bhajrang Bhaiya just to safeguard himself that nobody thinks he was behind the fire.


Edited by waves - 08 October 2012 at 3:07am