Posted:

08 October 2012 at 12:55am

| IP Logged



~Visha_Dhami~

Oh ho, look at whose birthday is it. Its the girl who has the name Rani and she is also cute. Guess that just gave away the hint right? Yeah, Cutiepie Rani.
Pheww, one year pass by so fast right? Remember wishing you last year and here i am wishing you for another year. What does that means? You are now older by a year
Where do i start from? We both meet on YMGGK Forum and one of the reason i am a DT now is thanks to you. When our YMGGK Forum was having hard time with the updates, i got inspired by your writing and decided to help in and slowly we both became a team. So YMGGK was the home where we both got our entry tickets to the DT world
She's sweet and can also be strict. So make sure you play your cards well. And a tag that only belongs to me is that she is my Karan that stands by me and support in any decision/tasks i do. And what a lucky girl you are, Karan is coming as Rohit on Teri Meri Love Stories just before your birthday
Keep being a 'Rani' and my awesome Karan and i really do hope we get to work together again. My best wishes to you and may you have a blessed birthday ahead.

~Amanda~

Today will always hold a special meaning...,For on this day, you came into the world, bringing with you a world of happiness and blessing of love.
A very special birthday wish may your day be filled with lots of love...May your life be blessed with everything that you are dreaming of...
Happy Birthday to this true fan of Rani Mukherjee!!!

~J.M.Singh~

I am wishing you a next year,
of cheerfulness joy and fun,
Surprises, laughter and happiness,
So much that i hope it never done.
On your birthday i wish you gladness and joy,
i hope all your wishes come true,
May every second be filled with delight,
And your birthday be perfect for you
Happy Birthday Cutiepie Rani!!

~Payalibm~

Each friend represents a world in us, a world possibly not born until they arrive, and it is only by this meeting that a new world is born."
so today with this quote and in your b'day i want to be your frined and with that
wishing you many many hapy return of the day
may god bless you today with all your wishes and dreams to come true and remains through out the year till next b'day arrives
once again many many happy returns of the day

~M.S.SK~

Happy Birthday Rani
Wishing you all the best in the year to come
May your days be filled with sunshine and beautiful colors
And may your nights be filled with comforting dreams and wishes to come
I hope that for every candle on your cake you get a wonderful surprise
Many happy returns of the day


~-Ridzz-~

Many Many Many Happy Returns of the Day Rani.
Have an enjoyable day with loads of happiness and a day full of enjoyment and fun. May you always have success in everything to u aim to achieve. God Bless and Keep Smilin! Have a BLASHHHT!
Keep Smiling and Rocking!

~Nirvana~

Happy Birthday Rani!
May this day be filled with lots of joy and laughter,
& May God bless you always.
Hope you have many,many more to come.
-Nirvana

~Nirvana~

May everything happy
and everything bright
be yours on your birthday
from morning till night.
And then through the year
may the same thing hold true
so that each day is filled
with life's best things for you!
Have a Happy Birthday



~love_karanabha~

Happy birthday Cutiepie Rani



Hope you have heaps of fun and all your dreams and wishes come true
Love jesh xoxo

~aarcha~


~Sahil70~

To Cutiepie Rani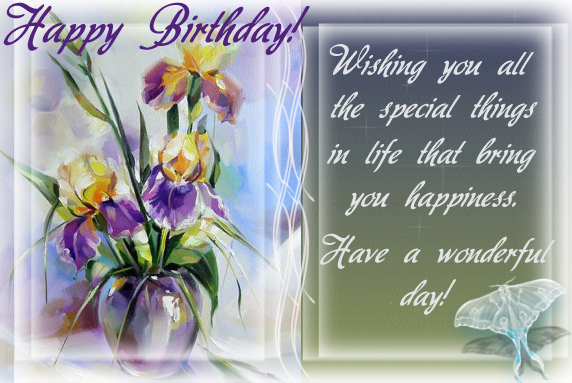 Edited by MP_Radha - 08 October 2012 at 1:11am