This time, Nani and Anjali plan a honeymoon for Arnav and Khushi, Aakash and Payal, as Aranv refuses to go to Bali on a honeymoon. Anjali makes grand plans with Nani, Mami and Mama to help her out. Shyam once again spoils the start of the night for Arnav and Khushi by offering Khushi her favorite flowers... Arnav's eyes notice though that Khushi does not even look at Shyam.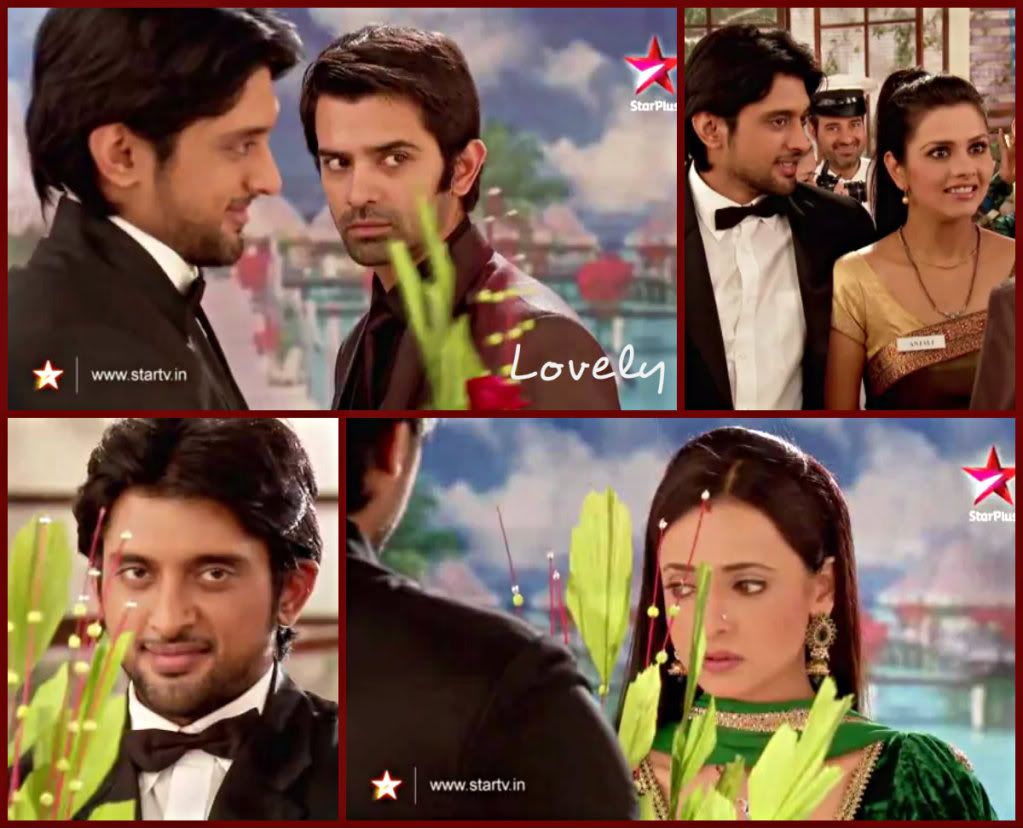 The outfits...the decor.. the ambiance.. all breathtakingly beautiful...
But for Arnav, nothing is more mesmerizing than his beautiful Khushi...
He wears his heart on his sleeve during this whole evening as his pain reflects in his eyes...
His hurt makes him more possessive about Khushi..
Khushi's eyes reflect the same pain and hurt... aching to be with her beloved.. yet with her unrealized love... they start the evening hand in hand at the urging of Mama and Anjali...
Arnav.. when passionate.. never hides it! As he catches Shyam's eyes prying on Khushi, he takes Khushi with him... Khushi goes with the flow and gets swept in Arnav's passion.. They dance very passionately...Khushi becomes just Arnav's Khushi..The family watches them with stunned eyes..
Khushi and Arnav end up in a close embrace at the end of the dance.. with their hearts beating in unison... Arnav knows the pain of the untold love. Khushi is stunned at his display of passion...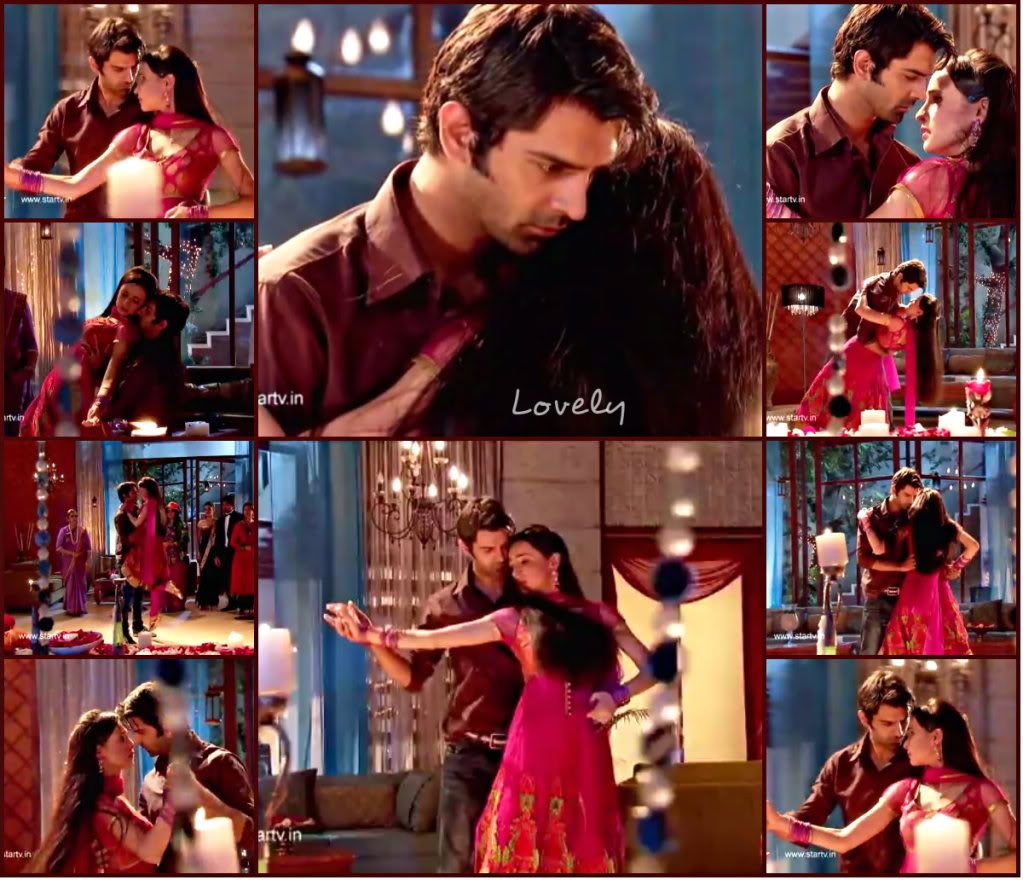 The sej is decorated once again... Anjali purposefully has electricity shut off to Aranv and Khushi's room... Though the night starts with Aranv and Khushi initially not talking to each other... then arguments before the dance..The passionate dance opens up communication between them..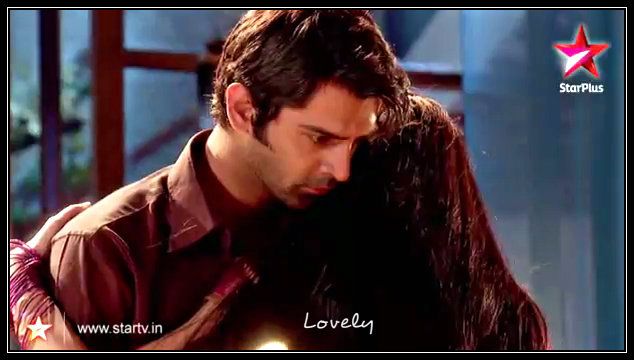 Khushi admires the decor. Arnav starts working on the laptop in the candle light.. Khushi keeps taunting him saying that she knows he is staring at her angrily in the dark.. Aranv walks over and despite Khushi's protest blows the candle off! Later on they find out that they have no electricity.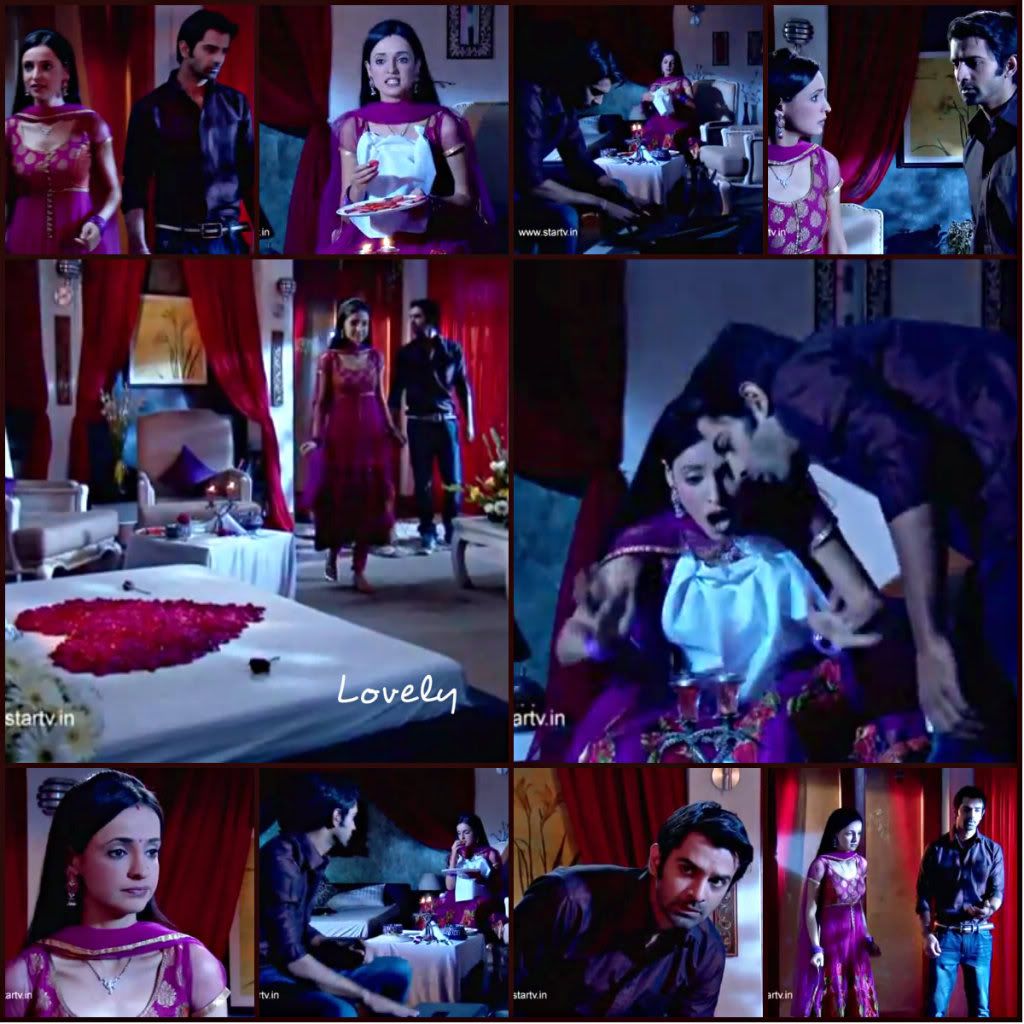 As Arnav and Khushi search for a matchbox, and find one... they get entangled and fall down on the decorated bed in each others loose embrace... Arnav can not take his eyes off Khushi... Khushi gets drowned in his eyes.. until Khushi gets worried that Arnav may burn his hand..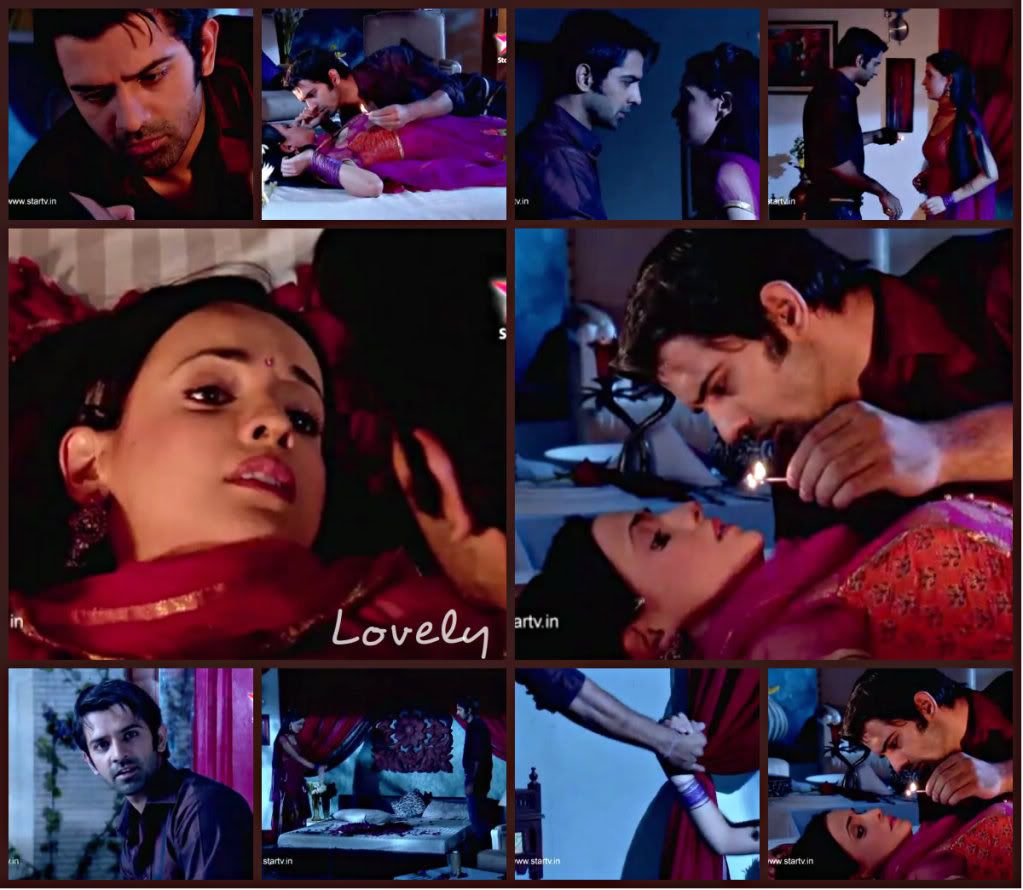 .
Arnav gives Khushi a hand.. Khushi takes it to get up from the bed.
Khushi pours so much water on the bed to stop the fire that it get drenching wet. Aranv blames her, Khushi blames Aranv for not letting her out of his embrace.. Both run to the chaise.. and end up sleeping in the most weird fashion... whole night. Even in deep sleep, Aranv struggles to keep Khushi from sliding down the chaise..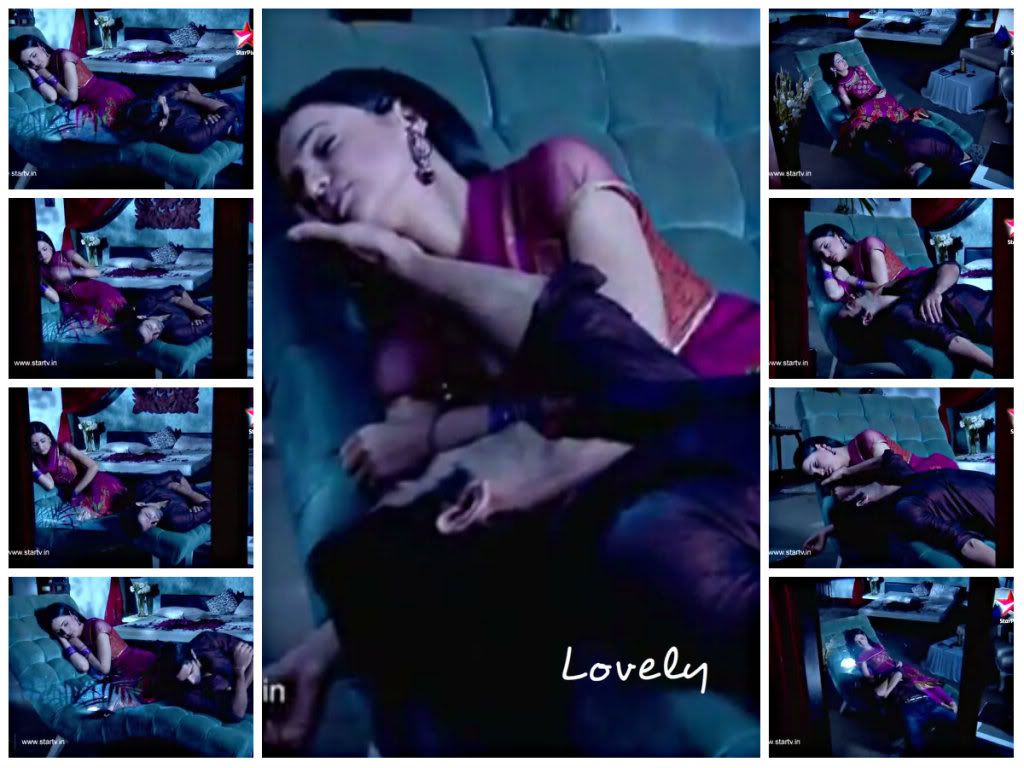 Next morning:
Arnav would wake up to the most beautiful sight in the world for him... Khushi's angelic face.. realizing that they slept whole night snuggled with each other.. on the chaise.. He would admire her.. his eyes most pure.. filled with love...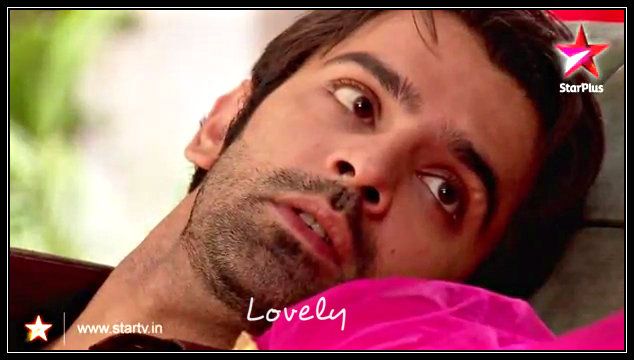 Arnav would position Khushi well so that he could get up.. in turn he ends up waking her up as her 'Mangal Sutra' gets stuck in the button of his shirt... bringing them closer early in morning... in the most beautiful setting.. Khushi realizes they slept on each others shoulder...and woke up next to each other.. their hearts have the sweet feeling... their eyes know it... but their lips... are sealed!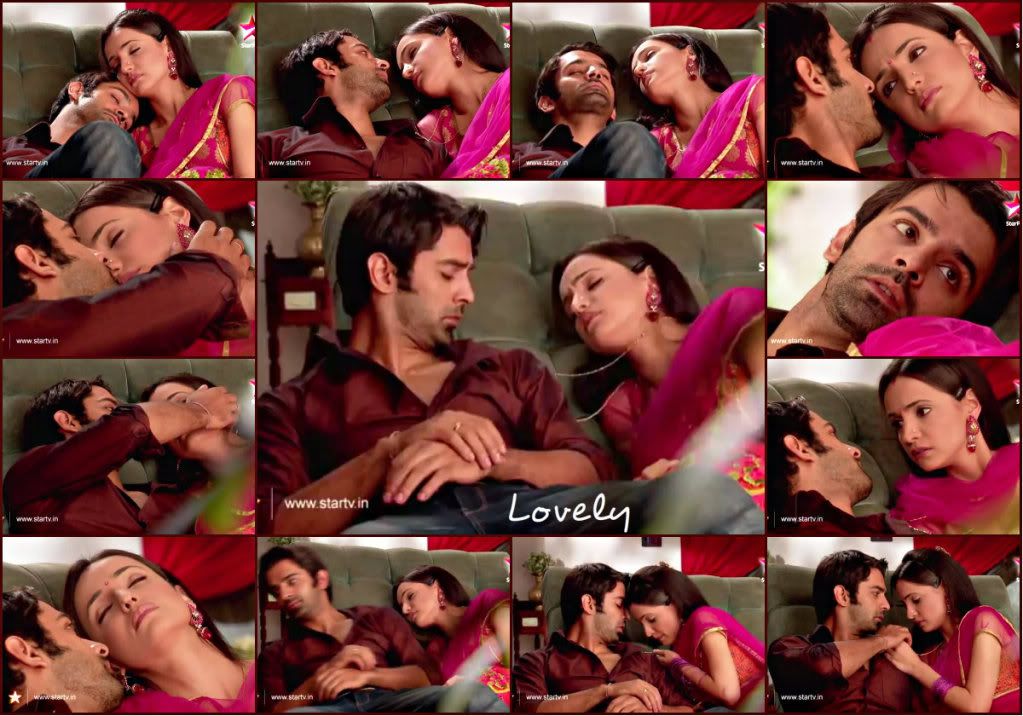 However, they would make the most mesmerizing sight of all...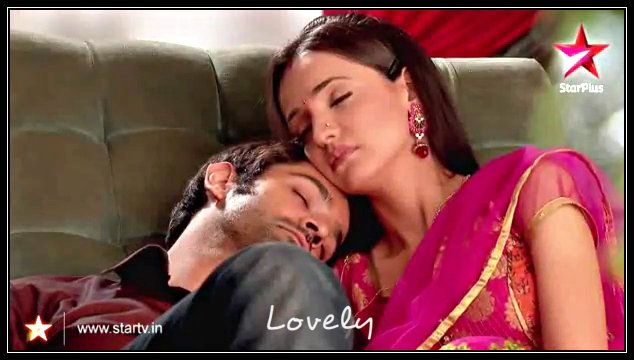 Suhaag Raat #3


Khushi and Arnav have realized their love for each other... they have even confessed their love to each other... Arnav longs to get intimate with Khushi...but, Khushi wants rasms... Arnav says that they will start with 'Suhaag Raat' first! On the Janmashtami night he plans their Suhaag Raat..



As usual, they start their night with an argument.. Arnav hands her the out fit in a gift box with anger as Khushi takes too long to come to the room.. that spoils his mood.. Khushi gets upset that he hands her the gift so roughly.. however, she follows his directions and gets changed.. With no dupatta, she hides away from Arnav's eyes..
Arnav's eyes.. filled with desire.. mesmerized by Khushi's beauty and bashfulness..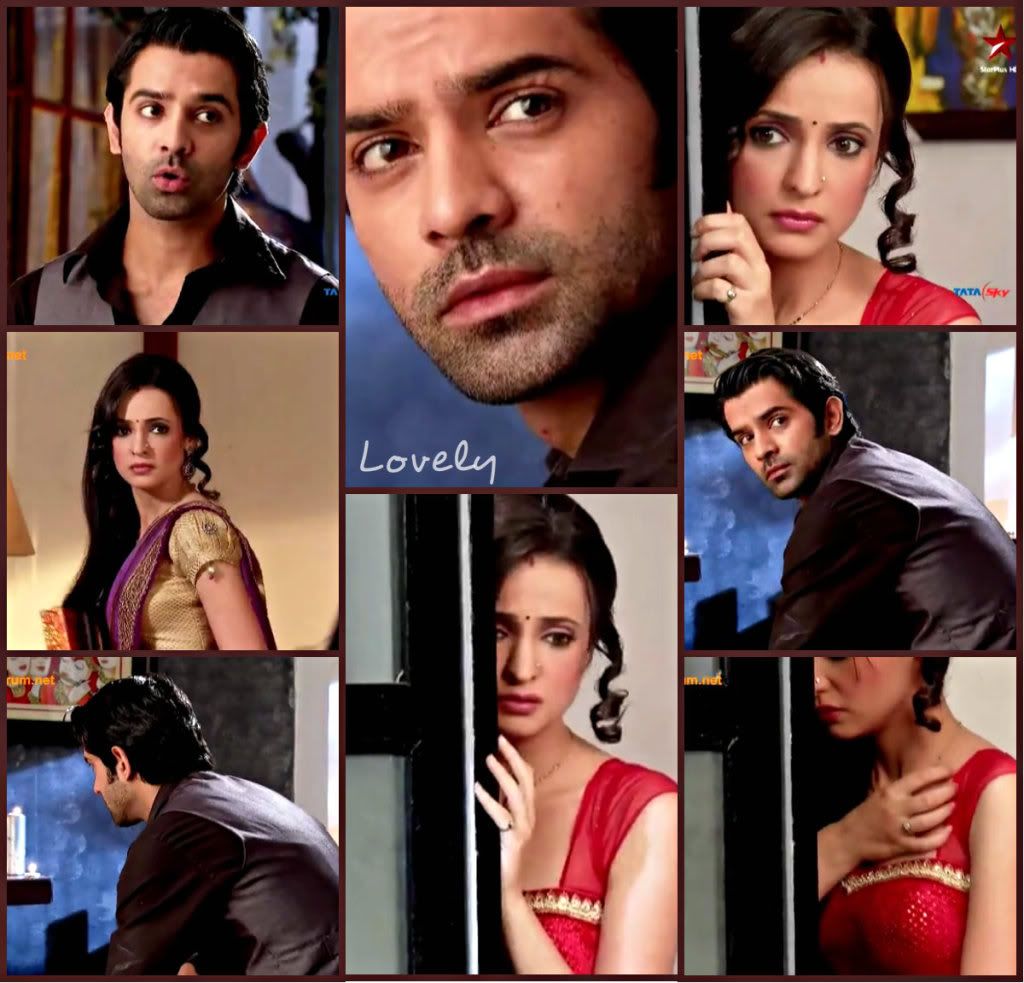 Arnav holds the dupatta in his hands... gestures of passion and love follow. his eyes ooze affection, love, desire and longing... as he walks his Khushi to the 'sej of suhaag' decorated by himself, hand in hand.. and then gives the respect his bride deserves by covering her head with the dupatta!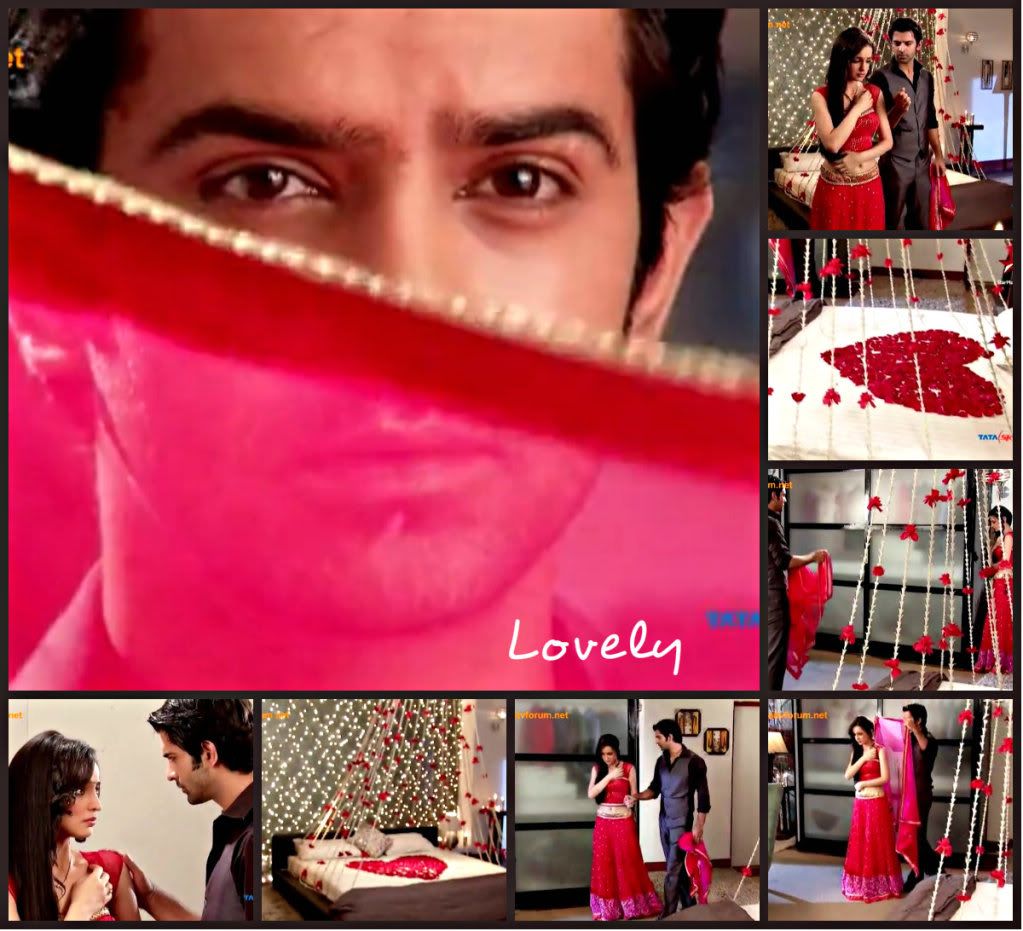 Khushi is ready but not quite... however, her heart takes in all the love and affection Arnav showers on her,.. his heart reflects in his eyes. as he gingerly caresses her face... holds her ever so delicately close to his heart. and embraces her as if she is the most cherished possession of his! Khushi willingly completes the affectionate embrace and savors the moment.. Arnav carries her to the sej..
But.. Khushi backs out last moment as Arnav's face comes closer ...as she looks at the idol of 'Radha-Kishen' by bedside.. she jumps out of the bed stopping Aranv in his track! Khushi cites that without 'phere'.. 'nuptial rounds' their marriage is incomplete. Aranv does not force Khushi against her wish but gets very frustrated. He brings her to the terrace and lights a fire by breaking some wooden stools.. lifts Khushi in his arms and starts taking phere when Dadi walks in on them..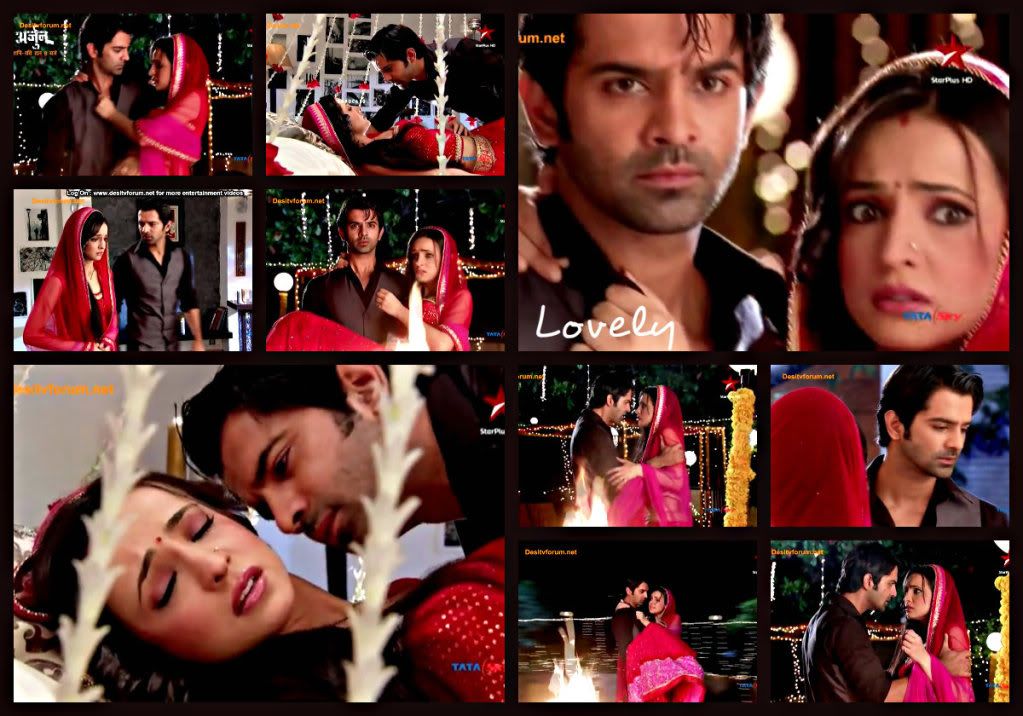 Bewildered.. hurt.. Aranv stares Dadi in the eye.. Khushi tries to get down, Arnav pulls her even closer and holds on to her tight!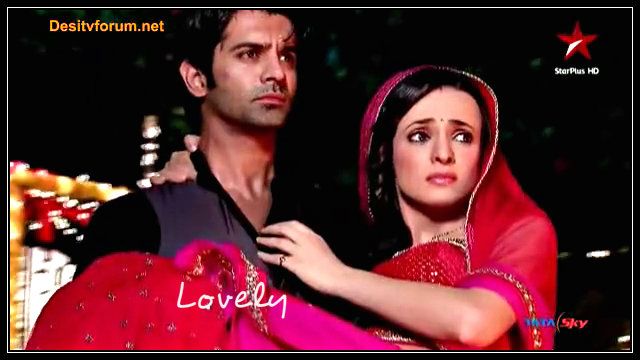 Rest Of The Night and Next Morning:
Arnav tells Khushi that what should matter the most is that he loves her... Khushi spends the night with absorbing his words... rejoicing.. waiting for him.. Arnav spends the night in the car, on the streets... Khushi falls asleep on the chaise... wakes up to find Arnav missing... Dadi takes full revenge by revealing their incomplete marriage to everyone.. Khushi gets put on the spot and everyone hounds her with questions,.. Buaji is about to slap her when Arnav walks in and stops the hand saying that he has not given anyone the right to slap his wife! This would start the official preparation of their second marriage...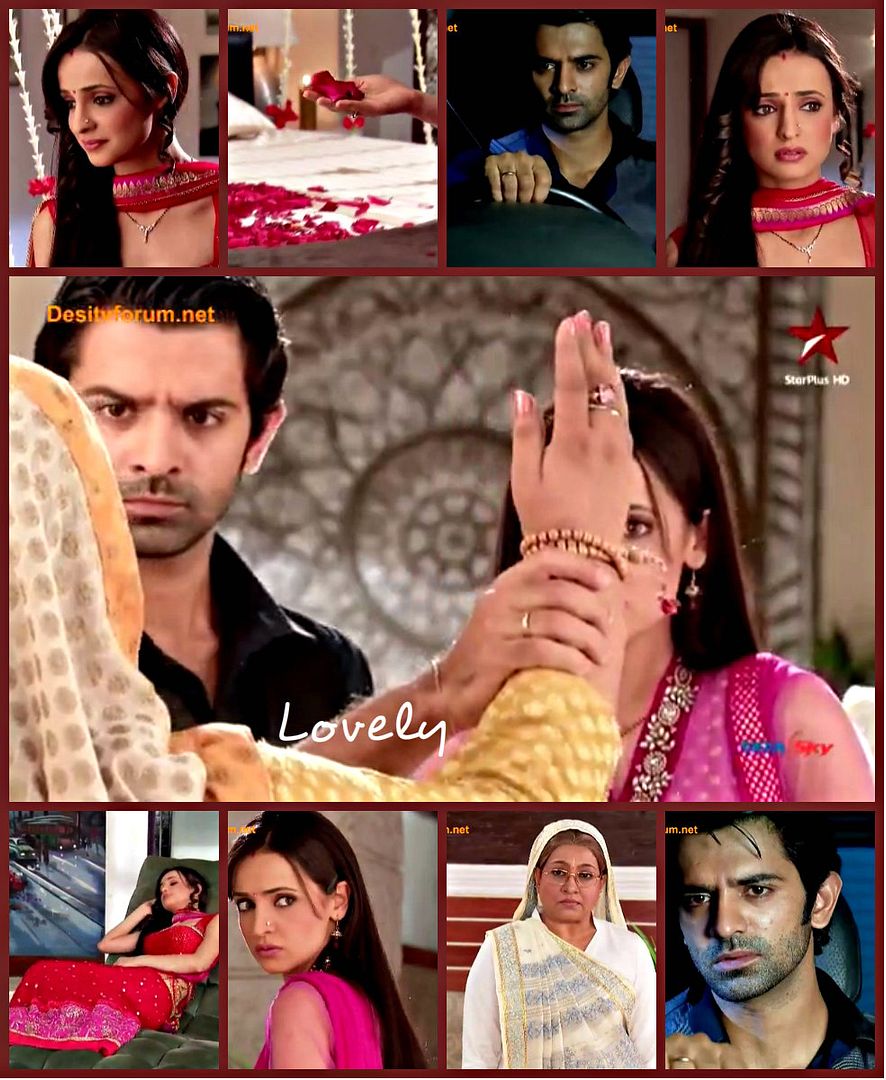 Suhaag Raat #4
Finally, Arnav and Khushi would get remarried with all the rituals..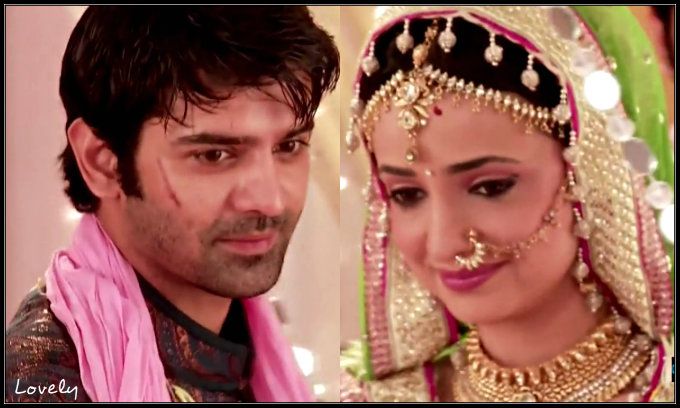 Arnav would bring his bride home!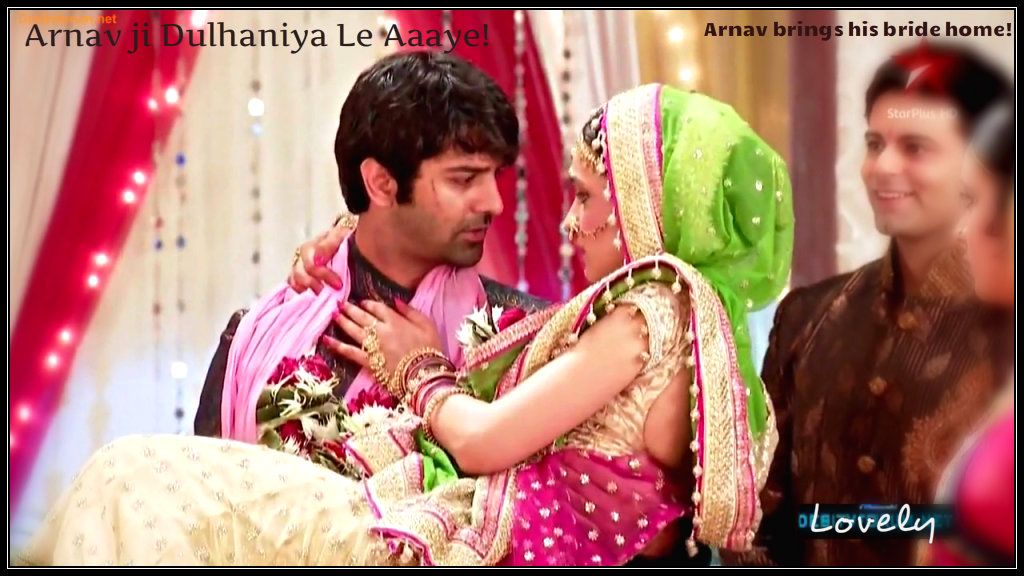 The 'Sej of Suhaag' is decorated once again.. Arnav brings his bride to it...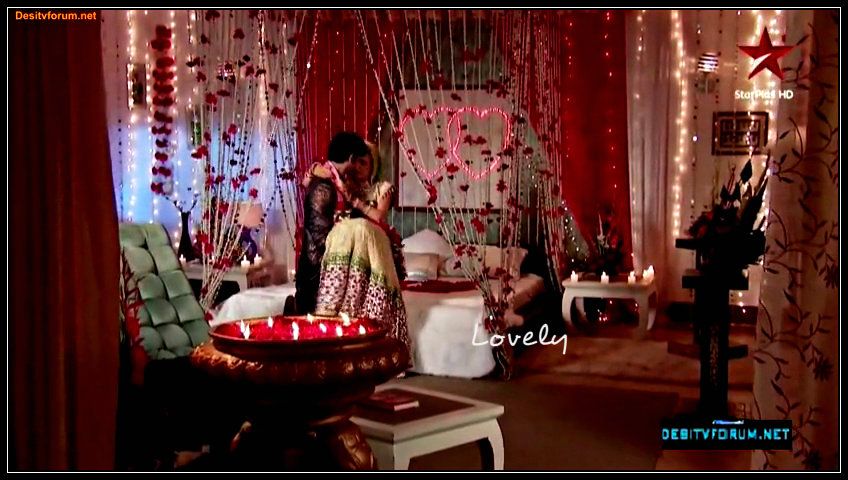 Their hearts filled with anticipation... finally at peace... Khushi now anticipates... Arnav goes to seal the bond with a kiss but.. pulls away last moment... something bothers him just too much..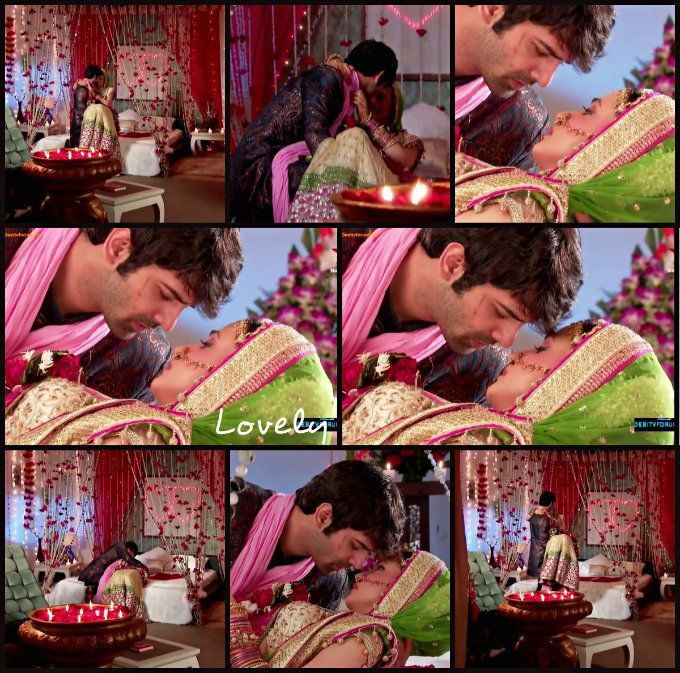 Khushi now does not let go of Arnav... she holds his hand... her eyes urge him to come back.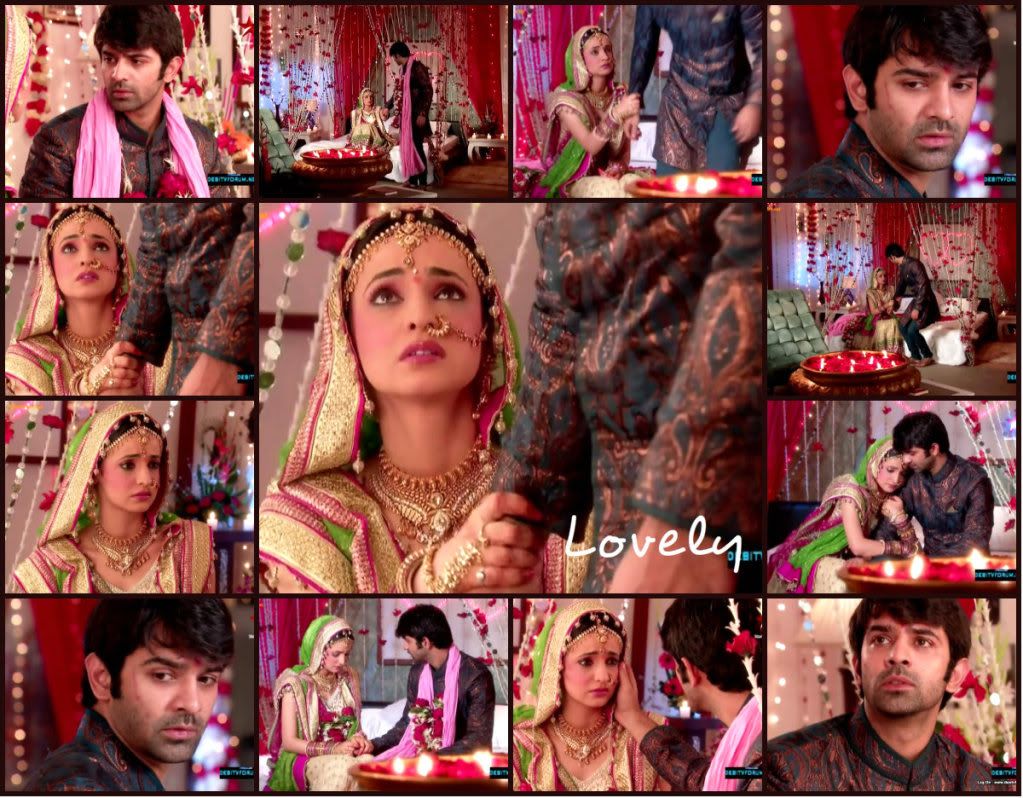 Khushi shares his grief... his emotions.. his restlessness.. gets Arnav talking... Arnav opens his heart up to her... and Khushi soothes him...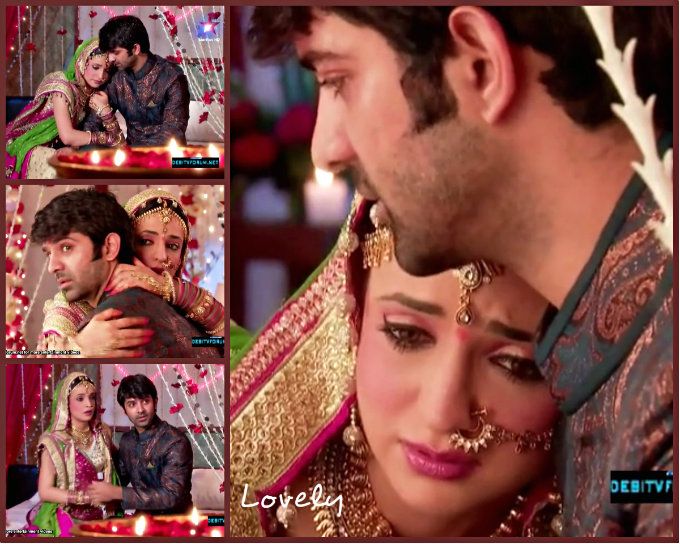 Just then, the siblings would strike for another fun rasm... ritual.. that Khushi would enjoy immensely..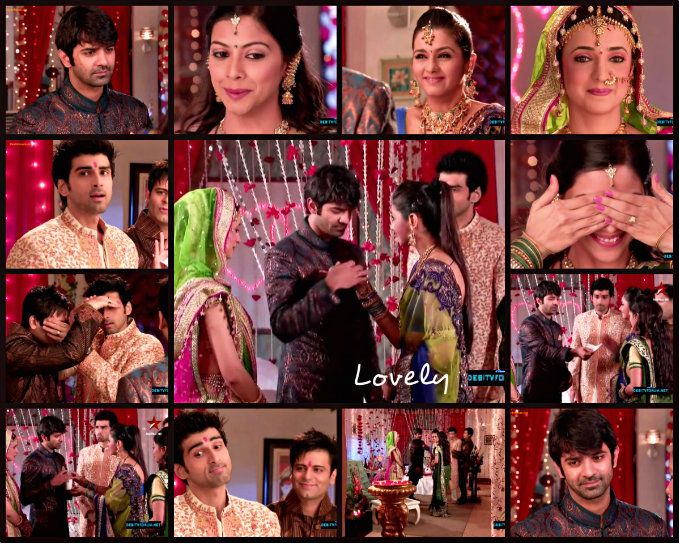 In a way, the siblings end up doing a favor to them as Shyam's spying camera is discovered by Arnav...
Instead of the suhaag raat, Arnav and Khushi now have to solve the puzzle.. of Shyam and his spying cameras..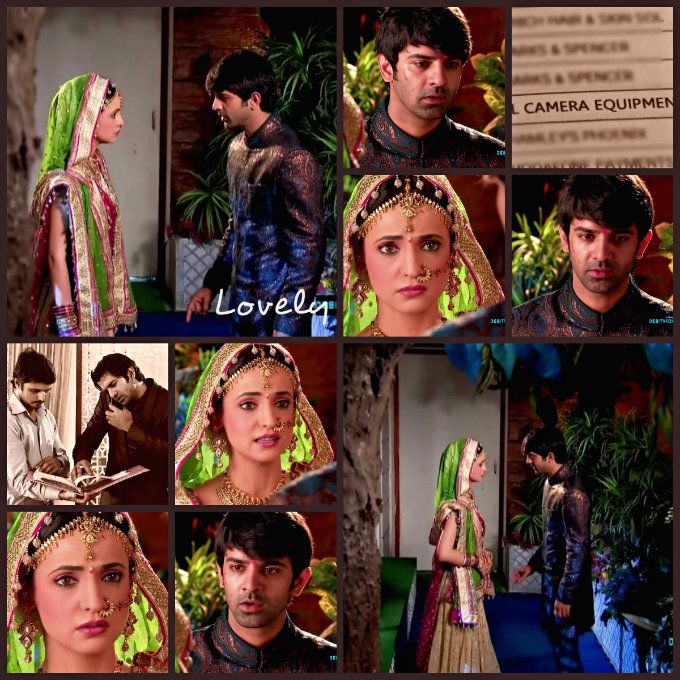 The first time lovers.. Arnav and Khushi,.. have to wait some more for their suhaag raat..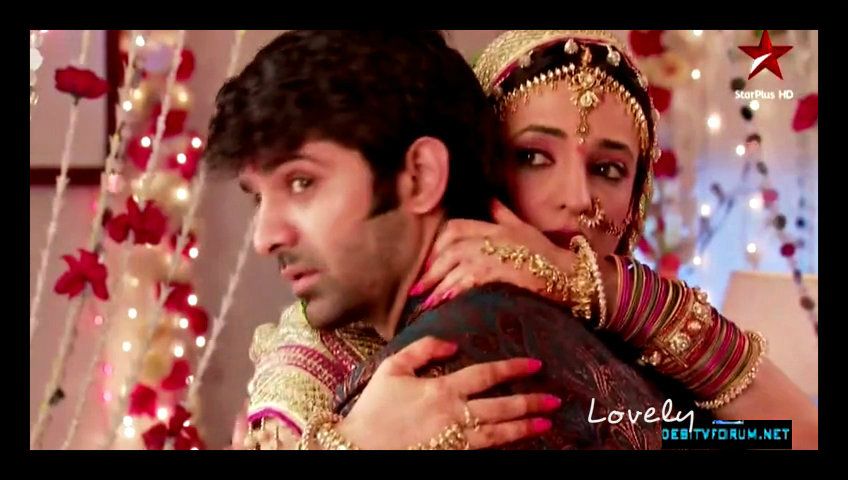 Arnav says to Khushi, "You always know how to make my mood better!"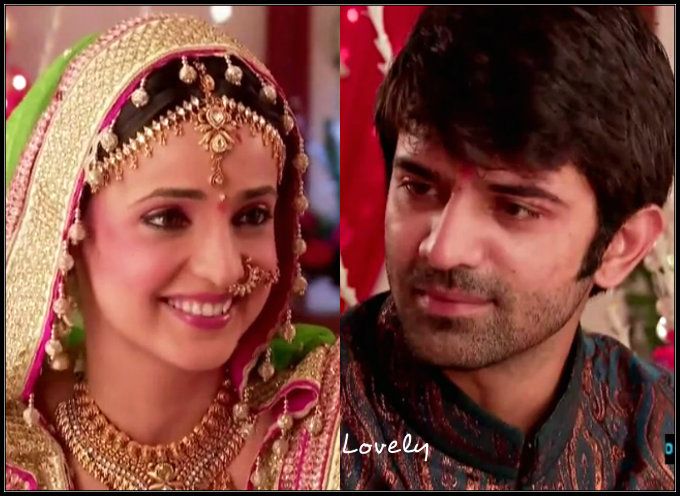 So, will this so close yet so far...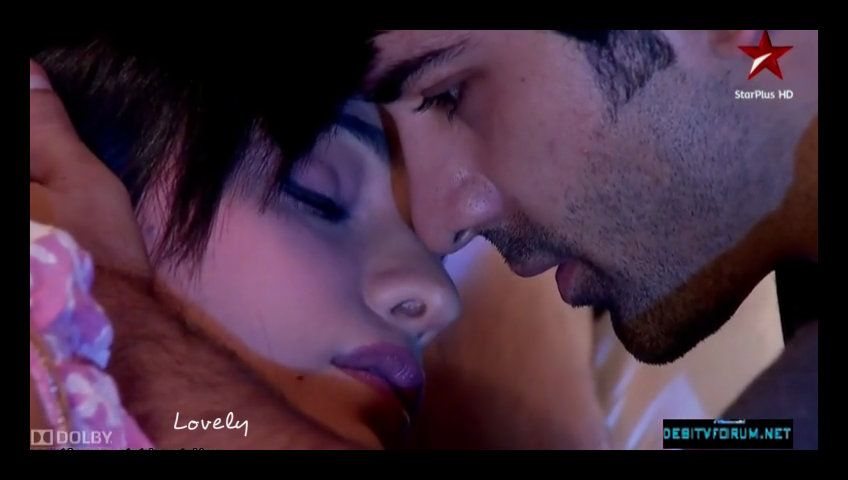 The spying camera keeping them away... now gone..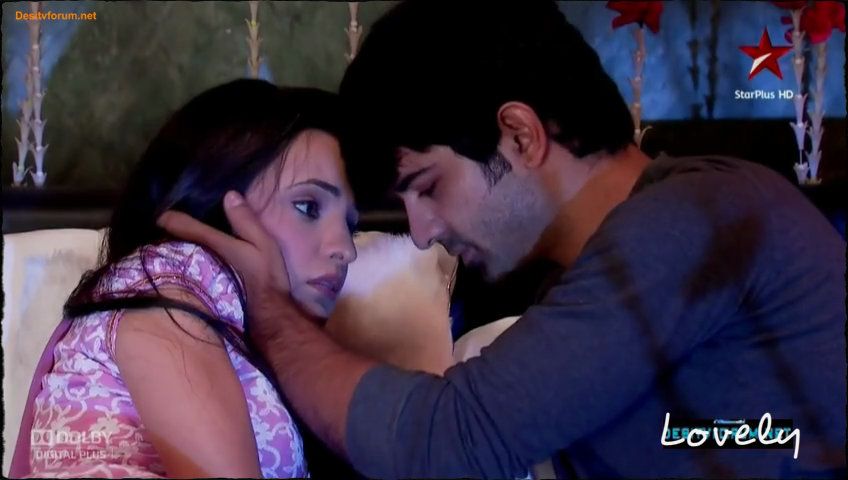 Arnav and Khushi need to celebrate a proper Suhaag Raat.. For Khushi rituals are so important,.. then how about a proper Suhaag Raat?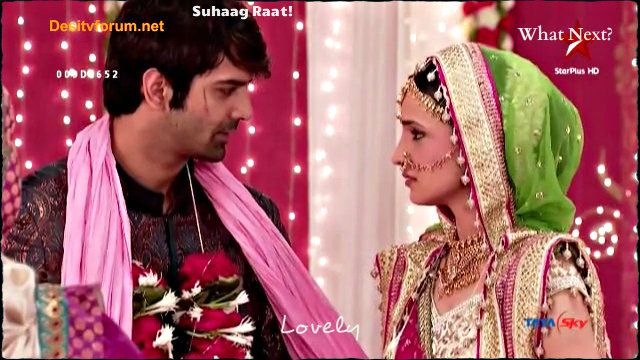 Remember this moment.. most beautiful but was not suhaag raat!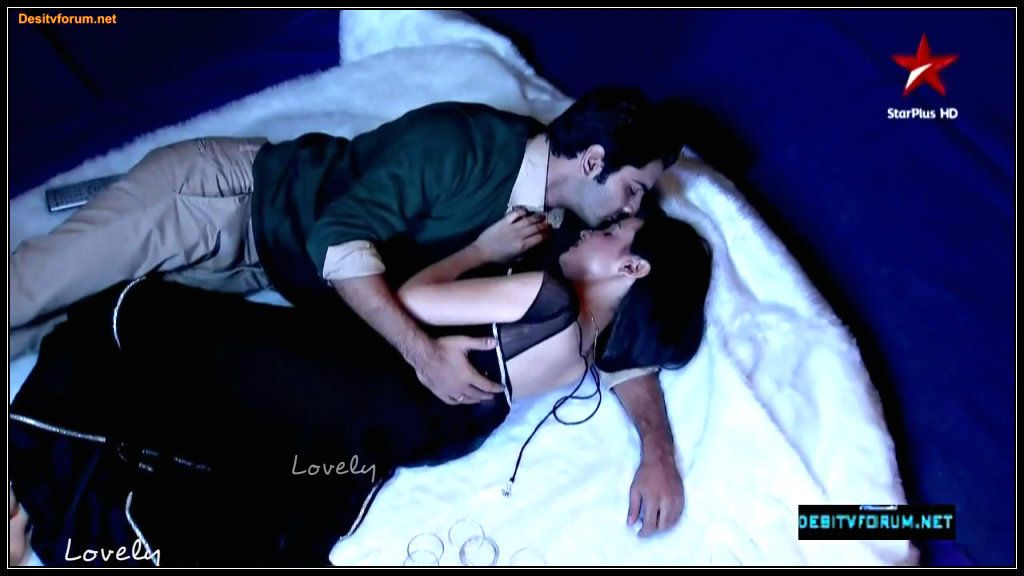 Will these eyes filled with longing get their wish ever?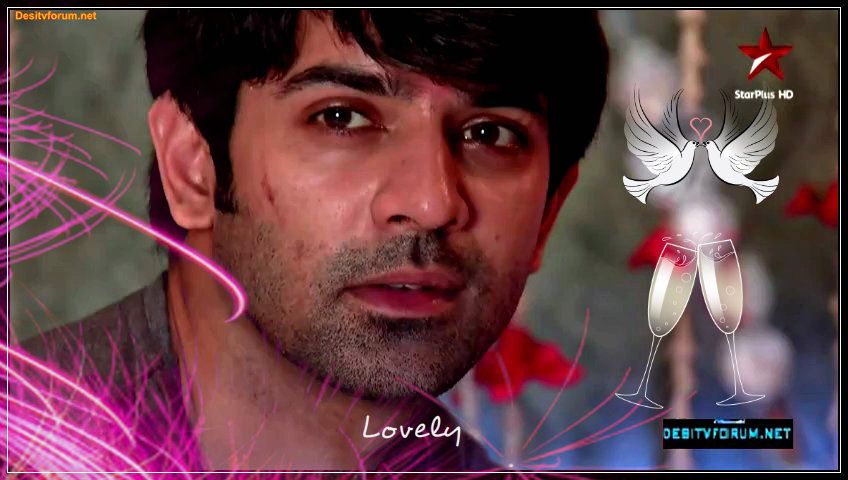 CVs.. we are waiting for those beautiful moments!
Suhaag Raat #5?



Index to all my picture posts...
Breaking News From RM #4: Suhaag Raat
http://www.india-forums.com/forum_posts.asp?TID=3203151

Daily Analysis:
http://www.india-forums.com/forum_posts.asp?TID=3198514




Hit 'Like' and comments are always welcome..



Dear Gul, We Love You...
NO BASHING! ONLY RESPECTFUL COMMENTS AND WISHES, PLEASE!

[Author of This Post Reserves All The Copyright - do not copy /paste or reproduce the materials or ideas, in part or complete, without written permission from author]