THE PICTURE STORY
A weekend dose
Good Evening Fellow members...I am a silent but not too silent member...Weekend is here and for those who can't help but curse the 2 days because they don't get any PVtime...Here's a new Weekend Bonanza Offer for you...
My creative brain will churn out a Picture Story sometimes based on the episodes and sometimes off the beat
I have been a big time follower of JYO's Action Thread and @Angel Dark's Series of Bua Narrates...and thus thought to try my hand at it...
Don't have any burden on your mind if you wish to give me a kick on my b*** for some disastrous work...I promise I'll take all criticism sportingly
And last but not the least...don't hesitate to pour your likes and comments praising my work...I am too greedy for recognition you see
*************************************************
Getting back to business...
This being my 100th post on I-F had to be big and special...the name of the story goes as
:: Story 01 - Aarti on the run ::
Aarti was determined to leave Yash from his Grand Birthday Party...none but Jalebi Bai knew about what she was upto
Yashji I have decided its better to leave you..I can't predict how you will react on knowing about my pregnancy...I don't wish to see you in pain again because of me
Thanks to Dubey and other guests in the party...Yash (tubelight) finally understands that his wife has been hiding the truth about her pregnancy
Yash : Aartiji..why did you hide it ?
As per the plan Aarti leaves the venue and a confused and agitated Yash without answering
Ticket Checker to Aarti : Madam show me you ticket please
Aarti : (OH My God...I lost my purse..I should have handed over the tickets to Ansh when he asked) Actually..Mr. Conductor...I don't have the tickets I didn't lose them...my husband has my purse...
Ticket Checker : How could you give your tickets to your husband and get into the bus ?
Aarti : Mr. Conductor...you have no right to ask me this question...and I did not give it to my husband..he got it from a thief and...
Ticket Conductor (Interrupts): Then why didn't you take it back from your husband ??
Aarti : Mr. Conductor let me tell you for the last time...you don't get into our business...its a long story...but I don't mind telling you through the journey
Ticket Checker : So you think I'll allow you in my bus till Delhi...No...you and your child get down at once from my bus
Ansh : Yes Mumma lets get down...I too hate travelling by bus...lets tell Papa...he'll take us wherever you want
Aarti : Don't be a fool Ansh...I already told you we're playing the hide and seek game with your papa
And Mr. Conductor I will get down at the next stop
Ticket Checker : No madam...I'll stop the bus here in the jungle and you get down now
Aarti : As you wish
Meanwhile at the Scindia Mansion :
Pankaj : Bauji I just called Yash..he told me he didn't get Aarti at the bus stand but he got her purse
Suraj Pratap : So Aarti was there at the bus stand...tell Yash to come home now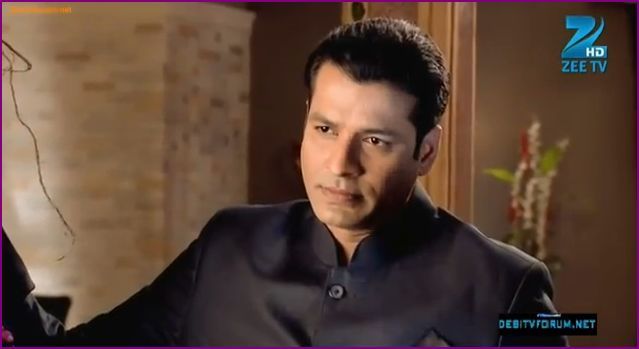 Yash : Tell Bauji I'll come home only when Aartiji is with me
But little does he know that Aarti along with Ansh are walking their way through the jungle when...
Ansh : Mumma...what's wrong with you??
(Ansh/ Divyam was so adorable in this scene and the scene itself was so beautiful that I don't want to add my inputs)
Ansh gets help from none but his original Papa
Prashant : Kid, why fear when Prashant is here? Where's your mother?
Aaarti...what happened to her...why did she leave her hubby Scindia.and wait a minute is this kid mine?
Ansh : Arrey Uncle...will you help me?
Prashant : Yes kid, lets go and help your Mother..(in his mind Abhi bahut hisaab lagaana baaki hai)
Aarti can't stop taking Yash's name even in her subconscious state
Yashji...Yashji...aap aa gaye...but why so early I was enjoying this Luka Chupi game so much...Khair...but Yashji promise you won't repeat your " I am a sinister " speech again
Prashant : Woman !!! whom are you talking to..who sinister...so Scindia Hero made you a destitute again?
Doctor : Congratulations...your wife is expecting !!!
Prashant : I had absolutely no idea of both (Aarti still being my wife and her pregnancy)
Ansh : Uncle why did he call Mumma your wife?
Prashant : Listen kid...you go and ask the Doc...till then I'll get the medicines for your Mumma
Prashant calls back home : Hello Papa...its me Pras..
Shobha : Prashant you scoundrel..how dare you call us ? don't you remember we performed your last rites...you are dead for us...everything that we have belongs to our daughter Aarti...do you understand
Prashant : Maa you are OTT (over the top) sometimes...wait...she just said everything belongs to this Aarti...Now I have a plan...I'll do xxx and xxx and some more xxx and all their property is mine
Sergio Aragones quotes
Suspense is very important. Even though this is humor and they're short stories, that theory of building suspense is still there.
STORY GOES FORWARD IN THE COMING PARTS...TILL THEN HAVE A VERY GOOD WEEKEND...ENJOY BUDDIES