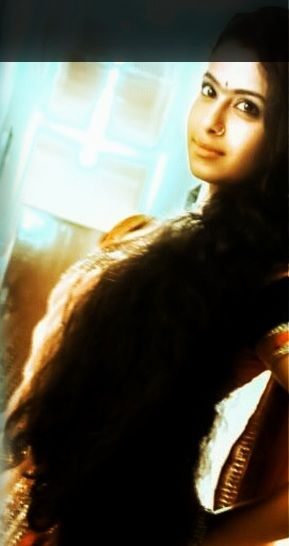 Ok so here i am ... sorry for the delay but this was the roli's attire which i was thinking and was unable to think a ways thru which i can describe u what i want ... glad that i found this pic
so without further ado i will continue...
Siddhant was in deep sleep when roli entered the room... she was wearing blue shafoon saree... her hears wet and open ... blue bangles in her arms which are covering her beautiful arms more than half .. she was wearing a silver anklet which are making cute sound with her each step .. she was holding a tray in her hands and she was walking towards siddhant... she on reaching near him .. saw his face and smile and thinks in her mind he looks soo cute and innocent while sleeping.. she then put the tray on the side table and sat beside siddhant ..After sitting there she started shaking her hands .. due to which her bangles started making noise... siddhant hold her hand and pulled her towards him and then opens his eyes... next thing he does he shouts and said tummm... ohhh that was a dream (sigh) but how it could be that was so real i heard all the sounds and saw her but now (Sigh) .. but what are you doing here??? Siddhant u were saying something i came closer to u to listen and as soon as i came closer you hold my hand and pulled me i had no tym to free myself... by the way what were u thinking ?? prem anxiously asked him...he said nuthing and i am sorry brother.. dunno what i was thinking.. saying this siddhant radily moves away as he dint want prem to asked anything else... but in his head he was thinking...i know this is a dream but i will make it come true one day
...prem left the room by saying ok now get ready fast as we have soo much work today
.. it's my wedding day...
Roli roli where are you?? what are you doing?? why it's taking you so much tym... u know it's ur di's wedding day today it was roli's mother who was calling out her name since roli was laready busy running from here and there and checking all the arrangements that whether they are ok or not... she came running to her maa and asked her what happened.. she looked at her from to to bottom and said what you are not ready yet.. i have called at bharadwaj house they have left and u r wondering form here to there in such an awful condition go and change and get ready... ok maa i was just going but i was checking the arrangements.. its ok go now... and listen before changing go and check simar is she ready?? roli said ok maa.. she went to the room where simar was getting ready and saw that she was ready... her bridal makeup was done ver beautifully by the parlor girl she was looking good... roli went to her and hugged her from the back and said di u r looking beautiful.. and then they had an emotional moment where none of them said a word but there tears spoke... Then roli left from there to get ready.. she get inside her room and remembers that her mother told her that bharadwaj family has left... as soon as she thought about bharadwaj family a blush appears on her face ... a shy smile and a spark in her eyes... and she again hears the voice" i will make u mine one day" she covers her face... and then suddenly realizes that she is alone and is here to get ready .. she started getting ready for the wedding function... today's dress was her favorite.. it was a full length red color frock with a pinkish touch in it... a very beautiful embroidery had been made on it with kundan and silver... it was soo elegent and beautiful that roli loved it in first sight and wanted to buy it at any cost... so yes she did and here it was and now she was imagining herself in it...
Bharadwaaj family had arrived and roli knew it as she heared all the sounds of band and all those patakhay and every thing.. she was ready to go downstairs .. she was luking herself in the mirror and was unable to understand that why there is so much glow on her face... then she sighed and said to herself relax roli relax... it's a big day for ur di.. as soon as she said this her heart said is it only big day for di?? not for u??? and she shied on her thought then she just smiled by looking herself in the mirror and gets out of the room to go downstairs...
When roli reached the stairs at the same tym some fault happen and electricity went out... suddenly there was soo much noise ... look what has happened why electricity has gone... all stopped moving and roli mother called out loudly dunt worry we have generator simar's dad have went to switc it on...as soon as she said it the chandelier above the stair case lit up and all peoples' eyes went there and wat they saw beneath it they thought there must be some fairy standing there... A beautiful girl dressed in long and beautiful red frock with a pinkinsh touch and with silver and stones work on it.. and those stones were glittering in the light... she has long hairs which were curled and tied on the top only with a clip and were resting on her left shoulder .. some of the hairs are beautifully covering her right eye as they were cut in layers and were free form any pin or clip... her ear rings were seems to glitter more than her dress's work.. but what was making her more beautiful was her black long eyes which were covered in kajal and were hidden beneath her long eyelashes and her beautiful innocent face which was fair with a slight touch of pink...it seemed that at that moment every body stopped breathing on watching that stunningly beautiful girl.. but the only person who seemed to be more observant then any of the persons' standing in the hall is siddhant bharadwaj... his heart beat had stopped alongwith the breath ... and then the hole hall lit up as the generator started working properly .. though these were some seconds but they felt some magical moments.. roli who was also confused due to what happened moved downstairs and it felt as if she is not walking instead she is gliding... Siddhant wanted to reach out to her and hide her as she was looking sooo beautiful that he wanted to save her from all bad eyes ..
Roli was so confused that she did not notice siddhant standing there, she just passed by him... then she started meeting different people in the hall and welcoming them but now her eyes are in search of some one, that some one who was standing behind the pillar and was watching only her and observing her every move...and as he was observing her so he very well knows the fact that her eyes are in search of some one and he knows in his heart who that some one is so he was enjoying her silent search, He was standing there because right now all he wanna do is to capture this beautiful princess in his mind, in his eyes and his heart, where no other eye can see her...and obviously he cannot look at her so continuously while standing with other people in the hall so he chose this corner.. where no one can see him but eh can watch all .. as he was lost in watching his fairy he heard some one calling his name... he listened this tym carefully and yes mata ji was calling him... then again she called out "siddhant" quite louder this tym ... he had to go now but one thing he noticed before leaving and that is when mata ji called his name roli suddenly looked at her and then her eyes anxiously started searching mata ji's surroundings to get a glimpse of him ... He smiled to himself on watching this as this has proved that those beautiful deep eyes were in search of him ... his smile had a shine of relief and satisfaction in it.. he moved towards mata ji knowing that two beautiful eyes are following him now ...
She heard his name .. no she imagines it... ahaan ... no she again heard it some one is calling him.. she looked there yes it was mataji who was calling him ... she smiled and started looking around mata ji as now she knows that she will obviously see him.. the person whom she was searching since she entered the halll... then she spotted him.. he was coming from the opposite side and he was watching only mata ji but still roli get the impression that he knows her presence that he is aware of her looking for him... she thought to herself that it is impossible but then why is she feeling it... then she heard her friend saying OMG .. siddhant is looking tooo gooodd.. as soon as she heard it from her friend she felt like turning around and ask her dunt u dare look at him he is just mine... but her own thought make her stunned what ... what did i just thought... she then shook her head as if putting all the thoughts back and then again started looking at him... now as she was looking at him completely she realized that her friend was right siddhant was looking soo much dashing.. she again felt that stab that all her friends were also looking at him with awed expressions... she sighed.. what is their fault... black was his color it seems soo.. he was looking like a prince.. who was wearing black sherwani with red patterns on it his sherwani had red buttons .. that sherwani was making him look more manly and strong... he was wearing red "dhooti" with it... as she was observing him her smile gets wider as obviously she got the similarity in his and her dress.. the color Red.. as soon as she got this similarity she was very happy.. shudn't she be.. they have one common color today in their dresses and that color is not a normal one that color was RED ... the color of LOVE .. the color of relationship or should i say the color of that gives a girl her final identity .. the color of Sindoor...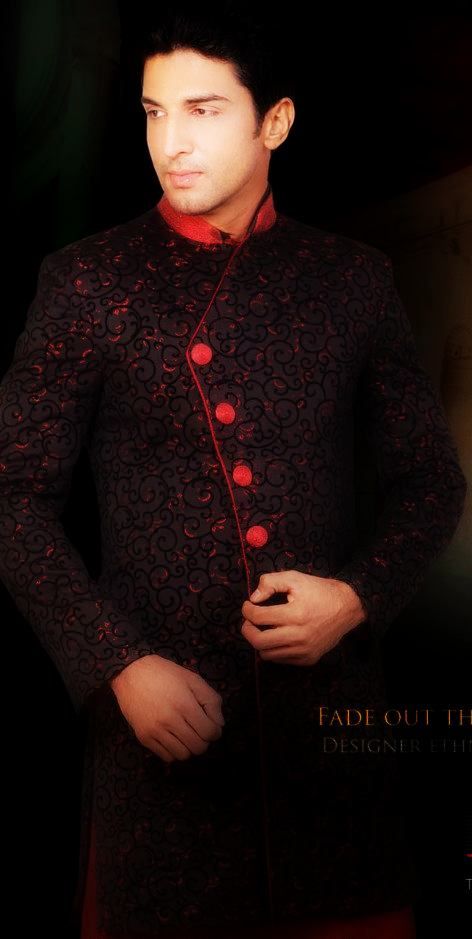 As soon as she realized this similarity between hers and siddhants clothes a smile came on her face .. this was the smile of contention... siddhant from side eyes was observing her.. he was listening to mata ji as well but a part of his mind was reading roli's expressions also and he did noticed the smile but then why is she smiling what happened?? he suddenly lost into his own thoughts when suddenly mata ji's one word brought him back to real world.. roli... what roli??? what about her??? he then asked her eagerly what were u saying mata ji... Mataji gave him a cold look and said where is your concentration we are talking about and important matter and all u r doing is standing and smiling if u r not interested in listening it now.. then dunt complain in future that we dint share this with you... siddhant on hearing this becomes 100% attentive as he could sense some hint in mata ji's tone... Roli who was observing them was also reading his expressions and saw some tension on his face .. she also wanted to listen what they were talking and she started moving closer carefully... but before she could reach near enough to hear ... some one called her .. she ignored initially and kept on moving forward but nopesss... her friend came and said roli i had been calling you what are you doing?? come you mother is calling you we had to bring sim di downstairs for pheras... pandit ji is calling bride and groom.. roli sighed and turned to go away with her... but just before leaving she looked back stealing a glance at siddhant and she saw immense happiness on his face... he was looking so happy and contended that it felt as if he just won a treasure... she got puzzled .. as first worried and then this wats happening?? but obviously she cannot do a thing right now.. she took a deep breath and moved from there... she went upstairs in sim's room...After talking to mata ji siddhant looked around and he could not find roli... he then heared pandit ji calling prem and realized that roli must have gone upstairs to bring simar downstairs as it is the ceremony tym... he started looking towards the stairs ... every one else was also looking there but they all were waiting for bride .. siddhant was also waiting for the bride but not his brother's he was waiting for his bride to be.. he was looking for her only...And then she came there she stood on the top of the stairs holding her di's lehenga and helping her to walk easily ... all were looking at the bride now... but siddhant was unable to keep his eyes off the beautiful girl beside the bride... she looked worried about her di that was she comfortable in walking or not and he was worried for her .. as she herself was wearing a very long frock and long heels... with her every step he was feeling like holding her and making it easy to walk for her as she was making it easy for her di... he controlled himself and just keep on looking her... they came downstairs and this tym when roli passed by siddhant she was totally aware of his presence and he also saw a slight smile on her face... she led simar to mandap and make her sit comfortably ...and then stood behind her..pandit ji started the rituals... roli started moving back and she dint realized that she unconsciously reached at the place where siddhant was standing...She stood there still unaware of who's standing next to her ...she was just looking in the mandap..but then she felt some one held her hand.. she turned and to her astonishment it was siddhant who was holding her hand... she dint realized that while watching at her di getting married her tears silently started falling from her eyes.. siddhant who was standing beside her how could he see her crying ... he tried to stop himself but couldn't and he held her hand to comfort her to let her know that he couldn't see her crying that she shouldn't cry and that he is with her ...
Roli looked up into his eyes and then her focus shifted at his back , she looked puzzled for a moment and then comes a smile at her face... siddhant looked puzzled he looked back and wat he saw really made him angry... roli's friends were standing there with prem's shoes in there hands... siddhant said... what.. howw. and then he realized that it was all planned he looked back at roli who held her thumb up and she had a winning expressions her eyes... she pulled her hand back which siddhant was still holding but he was ready for it he held it more tightly this tym.. roli looked into his eyes and raised her eye brows.. siddhant said "ahaan .. making siddhant fool" now i got ya what u will do .. she said leave my hand siddhant ji... he replied nopezzz i will not let it go... she looked at his back and said mataji he on hearing mata ji's name leave her hand and turned but again roli made him fool .. he looked at her who was already at a distance from him now and was making faces at him.. he said i will not leave u but before let me find sankalp where is he..He found sankalp who was standing behind prem and was looking at a piece of cloth... siddhant said what are u doing the girls have got prem's shoes.. he said no they are here ... siddhant said where.. when sankalp pick up the cloth shoes were lying there but they were of simar's dad... siddhant said sankalp u can never do some work properly now come with me we will have to chase the girls to get the shoes back... roli on the other hand was asking her friends how they did it.. they replied it was all your plan .. she said mine??? they said yes.. did u forget what we planned before we brought simar downstairs .. Actually roli had already noticed that siddhant is the one who is keeping eye on the shoes and sankalp is also helping him.. and then she told her friends that she will distract siddhant and they will fool snakalp and take the shoes and fooling sankalp was easy and also she dint want any other girl to go to siddhant so she chose herself to be the one who will distract him but once she brought simar downstairs and all rituals started her attention was all diverted to her di and to the fact that her di is getting married and she will leave her.. she unknowingly moved back and all that happened between siddhant and her was not the part of her plan but still her frnds thoughts that she is acting as per plan.. and they act according to it as well..they fooled sankalp easily and got the shoes.. this is the reason when roli saw them with shoes first she couldn't understand why they were there and what are they holding but then their expressions told her everything and smile came on her face..
She then ran with her friends upstairs siddhant saw her running and came after them... it was roli who was holding the shoes so siddhant started chasing her.. he was after her... girls tried to distract him and he fooled them and followed roli whom he saw running towards terrace... when he reached there he couldn't find her any where ..he was about to turn when he heard the sound of anklet and he realized that roli is there but where... the terrace had two pillars and the second pillar had a shade above and it was quite dark there as moonlight was unable to reach at that point .. despite these two pillars there was no other place where roli would have been hiding... so now he knew that she was watching him... he moved towards the pillar that was at the darker side.. suddenly a shadow came out and ran towards the other side of the terrace obviously it was roli and this tym before he could reach her.. her heels deceived her and she was about to fell but siddhant was just on tym to catch her.. with the fear of falling her eyes were closed and she was holding on siddhant's shairwani from the collar very firmly ... she was looking amazing with cute big eyes which were tightly shut and beautiful petal shaped lips which were pursed together tightly and her cute little nose... but in this beautiful view a stray lock of her hairs was disturbing him ... he slightly moved his hand and carefully put those hairs behind her ears.. just when he completed his action roli slightly opened her eyes and looked into his eyes.. she keeps on looking in them and he was bound by her eyes again.. she looked as if she is asking.. why u?? why its always u who saves me?? why u r the one who always saves me from falling... he though she dint say a word from her mouth but still understood her silent question and let his eyes replied .. his eyes said coz i am the one who will hold u forever and trust me i will be there forever and ever no matter what but i will never let u fall...
They both were lost in their own world of thoughts and it seemed that tym had stopped but then some one called siddhant ... and they both get their senses back and they came back to reality roli now realized that how tightly she is holding onto siddhant from the fear of falling she loosened her grip and tried to stand straight . siddhant helped her in standing but her feet dint support her this action.. it felt as if her ankle was hurt.. she was having problem standing at her own.. that's why she was still holding siddhant's hand... she then tried to move forward but of no use she tripped ...siddhant on watching all this ask her to stop he then bent and before roli could understand what he is doing she felt her feet left the ground... he was carrying her in his arms now... her eyes were widened with shock of what's happened she looked at siddhant perplexed he said what?? do u have any other option?? she said no but... he said what but?? now keep quite and tell me where is your room?? she asked my room?? why my room?? he said do u want me to carry u downstairs like u??? is it ok with u?? this he asked with a raised eye brow.. she on listening this got blush on her cheeks and he felt heat coming out of her cheeks... she then told him that the 2nd room on the left is my room... siddhant did listen to her and never blinking his eyes kept on looking at her glowing face which was glowing more than any of the lights around her ..he moved towards the room as per her description and entered into roli's room...he saw a sofa with the wall opposite to the door he went there and gently lied roli there...
He lied roli on the sofa, Roli sat up and started looking at him, he looked at her and then sit and took her foot on his lap, he started removing her shoes, while doing this he noticed her anklet and this took him by surprise that it was the very same anklet which he saw roli wearing in his dreamhe felt an urge to touch it as he wanted to believe that it is real but he stopped himself from touching it,after removing roli's shoes he took her foot in his hands, roli asked what are u doing? he said , what do u think? i should be doing? she then pursed her lips and he looking on approval in her eyes started twisting her foot and moving it left right, on the movement he heard a very silent cry from roli's mouth he looked up and asked what happen? did it hurt she faked a smile and said no, he smiled and then again starting moving her foot and then with a sudden jerk he straigthen her foot she siad ouch quite loudly this tym he said it did not hurt na.. she said it hurted a bit ... he said dunt worry now its ok move ur foot and u will not feel the pain, she did as asked and was amazed that her foot was perfectly fine and she was feeling no pain. she said wow its not paining anymore, then she looked into his eyes and said Thank you Siddhant ji.. he smiled and bowed his head My pleasure and Winked... then he said we shall go downstairs now as all must be worried.. she said yes... he then held his hand to her for support... she was although fine and perfect and did not need support but still she felt that she needed his hand and his support so she willingly hold his hand and smiled at him.. they both together leave from the room.. Hands in hands and walking with the same steps... Side by Side...
While leaving the room holding siddhant's hand roli realized one thing that if any one on earth is made for her it should be siddhant and he is the only guy who can make her leave her house, her parents and all relations behind with no sadness at all and with a relief in her heart .. she will be really happy if siddhant will be the one who is taking her home with him forever making her his's forever .. at that very same moment siddhant was also thinking about roli that she is his soul mate and the one for him... he realized that he had been longing to holding this hand for so long and now the moment, the person , the soul mate he had been waiting for is with him ,,, in those precise seconds they both realized one thing that unknowingly they are now bonded together with a strong feeling called Love and its destiny who brought them together and their is nothing else on earth which they want other than being together forever...they both are walking together holding hands but as soon they came out of the room.. ... roli's friends were standing in front and they have a puzzled expression in their eyes... they were looking at them and then they moved towards roli and hold her and started asking what happened??are u alright? roli and siddhant looked at each other.. siddhant read the unsaid words in roli's eyes and unwillingly let go of roli's hand and moved away from her... though he just moved some steps away from her but still he felt a sharp pain in his heart as if he had been separated from his soul ... he wanted to ask her friends to let go of her and leave her to him as he cann't bear to be separated from her... he was amazed on his strong feelings for roli... then he looked at roli's face and it felt to him as if he was watching a mirror at that tym, donn't know why but he felt that roli's face was a reflection of his face at that tym and he can see the same feelings on her face as his's ... he smiled on his own thought and then started listening to roli's frnds questions .. roli was assuring them that she is okay she just fell and siddhant hold her ... so all okay nothing to worry about .. they all sighed with relief looked at siddhant with thankful expressions but suddenly they remembered one thing and asked roli what about the shoes... roli looked back at siddhant .. he said u girls won roli still has the shows , go and ask for the money..Roli with confusion looked at him as she was not holding any and after coming from terrace to her room, he took shoes from her but he just smiled nodded his head as if telling her that yes its okay and pointed towards room.. roli smiled and tell her friends that the shoes are inside room.. go and bring them.. they all left.. siddhant felt as if roli just sent them to have some more tym alone with him (but then he think aren't u having so much wishful thinking) but that wasn't his thinking only as roli was definitely walking towards him she came closer to him and said "thank you siddhant ji, thank u soo much" he said why are u saying thank you she said for everything, a smile came on siddhant's face actually more in his eyes then his face he leaned closer and whispered in her ears .. all those moments are my treasure and it should be me who should be thanking you .. he than looked back at her; he can feel the warmth on her face due to sudden blush , he felt sudden urge to touch her cheek to feel the warmth more but he moved back and goes from there leaving behind stunned & more than stunned blushed roli...


Edited by Aemy - 04 January 2013 at 1:02am