Mohan's babysitting!
Bhatnagars' house Sunday late morning!
Megha is busy in the kitchen. Lots of noise from the living room! Megha gives a peep with a smile to see Mohan playing Snakes n' Ladders with the Addu and Nanhi. Pari is sitting beside them and playing with her toys!
Megha's phone ringing, Mohan sees it to find Prerna calling! He picks up the phone and walks to the kitchen saying hello to Prerna. When Megha tries to hold the phone on her shoulder while working in the kitchen, Mohan holds the phone against Megha's ears and signs her to talk! Megha smiles at him and continues her talking with Prerna. Megha says "No Prerna, I can't come for a shopping. Who will take care of the kids at home?" Mohan looks at her and tries to say something then he himself talks with Prerna on phone "Don't worry Bhabhi, Megha will join you for the shopping!"
Disconnecting the phone Mohan says "You are always at home doing things for us. Why don't you go out for sometime and do some masti with your friend"
Megha "What do you think Mohan? I can't take the kids with me and can't leave them too!"
Mohan "Kids will be just fine! I will take care of them"
Megha is surprised and asks "Do you know what you are getting yourself into?"
Mohan "Worry not! I can handle everything well and fine! You just enjoy"
Megha is very reluctant to go but Mohan manages to send her out after lunch. Megha gives all instructions about the kids' routine to Mohan and Mohan is just nodding his head for everything! Mohans asks "Anything for me Mirchi?"
Megha places her hand on his face and smiles saying "You take care yourself too". Megha then leaves with doubtful face but also with a grin hoping that everything goes alright!
Nanni comes along to say Goodbye to Megha and looks @ Mohan "Do you think you can handle this, spiderman?"
Mohan "Hey Chavvanni, We will do all masti and only fun!"
Nanhi "Yes, that's what Pari and Addu are doing now!"
Mohan gives a confused look and runs into the house he sees the entire fridge content is outside everywhere!
Mohan was like "Arrey yaar" and about to say something then seeing the smiles on Pari's face his face changes into smile as well!
Mohan gives a look @ Nanni and she understands! All of them join together to make a mess out of everything which is a mess already! They throw tomatoes at each other, apply curd on others' faces, play with the vegetables! They have fun and laughter finally a messy kitchen in display!
Then in FF mode Mohan helps them cleaned and dressed up, while Nanni helps him out in cleaning the kitchen as well! Then they all settled down for a game with toys in the living room! All of a sudden Pari starts crying!
Nanni "Spiderman, she must be hungry!"
Mohan "Naah Chavvani! Mummy has told the time for her food. We will wait for another hour" But Pari's cry continues Nanni looks @ him then Mohan says "Haa naa.. I will give food to her now! Do you kids too want to eat something?"
Addu and Nanni settles down with some snacks while Mohan prepares some cereal food for Pari. Mohan tastes it while preparing and says "WOW! This tastes very good!" And he adds more to the bowl! He then starts feeding Pari while he eats some in between!
Megha enters to the house to see the scene Addu and Nanhi munching on the snacks while Mohan's back is seen! Nanni and Addu in chorus "Hiyyaa Mummy!" Mohan slowly turns towards Megha, with a face covered in cereals around his mouth! Megha looks @ Pari where both her hands are inside the cereal bowl and her face is completely a mess
! Looked like Pari was trying to eat on her own as Mohan was busy eating himself!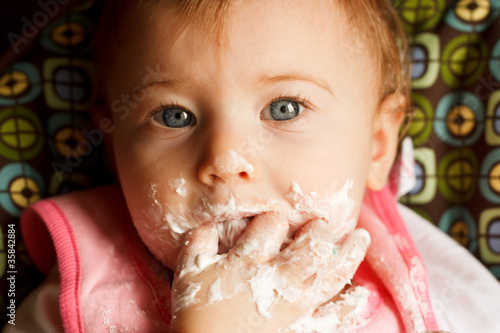 Edited by Senpoo - 17 December 2012 at 2:24am