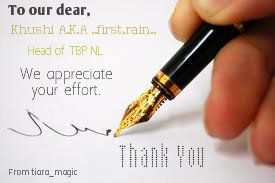 This picture is especially for Khushi A.K.A. ..first.rain..
Khushi is that girl who worked very hard on TBP's NL so i wanted to tell her thank you . I'm not a good editor but i really wanted to make her know that we appreciate all her efforts...
I know she must have got better appreciations but still i wanted to post it to show others how some people work their socks off to make the TBP forums better...


Edited by tiara_magic - 06 October 2012 at 4:18am