I'm sorry I missed your birthday,
The time flew by so fast,
I never realized that it was here,
Until it had already past.
So let me just send greetings now,
I hope it's not too late,
I wish you a happy belated birthday,
Even though I'm late!
Hope it was wonderful!


Dance among the ribbons
of the birthday balloons.
Smile through the lit candles
and sing to the classic happy tune.
Eat the cake of wishes,
frosted with sweet dreams of parties to come.
Blindly swing at the flying unicorn,
sending treasures across the lawn.
Spin among the music and laughter
in your perfect party dress that's brand new.
And till next year my darling,
Happy Birthday to You.


BELATED HAPPY BIRTHDAY
DAE-DRMER



Prathiba's B'day was on 4th october
AND
I need to be kicked in the butt that I forgot to wish my love on the day of her birthday.
Sorry my darling preeto(payalibm)
Tum Jiyo Hazaaron Saal
Saal Ke Din Hon Pachaas Hazaar
Happy Birthday to You!
Happy Birthday to You!
Happy Birthday to YOU!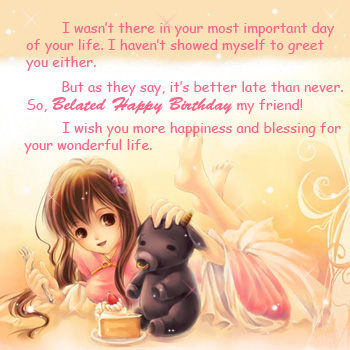 We the PKDH Forum want you to be happy!
Not just at birthday time,
but always!
May all your dreams and wishes come true!
Hope u had a wOnDeRfUl B'Day
Enjoy the yummy cakes My Dearest Preetoo and All the Wishers too. Cake for everyone
Best Wishes,
God Bless You
Keep Smiling,
Payal & My BigGeSt & HaTeSt EnEmY Supriya
&

PKDH Forum
Hey everyone, you may post your birthday wishes, presents, foods, and other stuffs for our sweetest and kindest member prthiba akaa dae-drmer...my pretto(payalibm)


Edited by payalibm - 05 October 2012 at 3:00am