pt1.
hello ummhh sorry for the super delay
tasha's first marrige has to be my most searched video on yt when show was on air...i dont know what was in it the loud background score ,dutta's rage, nakusha's silence...every thing just thrilled me...at that time i had no clue about india forums ...neither had any access to articles related to show...so like many others who knew dutta will marry nakusha in order to punish her ...it came to me as the most shocking surprise it made me literally jump in my seat ...the was he dragged her to the mandap and giving her the dhorri [sorry dont know what its called
] ..followed by that pehan isko ...so typical of dutta...to the point convo .
the whole part was so well picturised...direction was superb here and it was actually the turning point of the show...you have well pointed out that many other shows tried to copy this scenerio but failed badly...sangni was one of the show which i followed for some time...but ummhh when i saw the same bits on those leads what a bad yaste it left in my mouth...
Coming back to their marrige bit how can i skip that phamous aae pandit
my god that pandit was the one with those expressions main zinda ghar jaonga na
...for me the second marrige is like a journey from aae pandit to pandit ji
it was like just no one could stop dutta today...AS baaji those people who hold a significance place in his life even knew that today he will do what he wants to do...and nakusha she kind of stopped resisting at all maybe she was happy what god was gifting her
the biggeset loser had to be kala after so much planning one thing is clear there is one Planner who has penned everyones destiny and no matter what you do you just cant compete with Almighty...Tasha were bound to meet and they did...How? that is indeed a special story..God is really kind :)
the second clip is where he drags him to his room...everyone was so shocked among the family when he openly asked blessings for suhag raat
...thank god it never happened doesnt suit a man like dutta ...there actually the convo he had with naku showed the hurt on her face...when you know you cant even justify yourself...the lone tear which fells from duttas eyes when he drops on bed made me cry too.
Thankyou hammie for this brilliant write up...if i had ever requested any scene it had to be this one...and you have decscribed it so beautifully
coming back with next clip
ummh heard or actually read
you dont expect me on this thread
.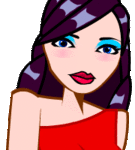 Edited by Warda. - 04 February 2013 at 8:23am