Episode1(Part2):
Deepa, "Chikuram intha application form la sign podu, enum oru mani nerathila submit pannanum" (
ivalo thana
)
Scene shifts to park.
There is a child playing on the swing. An ice cream man comes there. The child almost falls of the swing to run towards the ice cream man(
be careful
).
A beautiful girl, looks up from her videocam that she is using to shoot her niece and the park, shouts out to her, "Pooja ma. Nilu. Chittapa ice cream vangitu varuvanga."
She calls out, "Anna. Enga irukura? Un kuttimaku icecream venuma. Poi vangi koodu. Anna!"
A handsome guy comes there with a big teady bear and some chocolates in hand, "Itho vanthuein." peeping his head out through the teddy bear.
He goes to Pooja, takes her of the swing, kneels down to her height and gives the teady bear and chocolates to her. "Sollu kuttima! Ena icecreaam venum? Vanilla? Strawberry? Chocolate? Pista? Chocobar?"
"Conela ella flavours um mela mela vechu persa" stretching to her arms wide open
. "Ok! En chella kuttimaku innai ku super deluxe ice cream. Itho vangitu varein.", getting up, " Unaku ethavuthu venuma Lavanya?"
"Enakum same same." says Lavanya in a kidish voice
.
"Um..Enaku oru thangachi!" and keeps his arm on her head lovingly and makes a face in front of the video camera and leaves to buy the ice cream
.
Pooja starts playing with the teddy bear in the park bench. Lavanya continues taking the video. Pooja says, "Inaku en birthday ku ivalo special a ena pathukirathu ku. Thanks attai and chittapa!" into the videocam.
Just then, they hear a heavy thud.
They can hear Tamil's voice and both of them turn towards the sound
.
Tamil, "En ma? Pathu vara kuda tha? Ice cream kotu nathu kuda parava illa anna rendu perukum dress nasam aidichei"
Thulasi gets up and hurries away murmuring a sorry
. (
Thulasi ya?
Oh! Intha kuttimaku than icecream a?
).
Tamil, "Ena ga ithu? Konjam nilu ga! Ada sorry kuda olunga solla ma poranga
" looking at his shirt which has formed a tricolor flag of white, pink and brown icecream, "Ice cream mum nasam! Shirt mum nasam!"
Pooja and Lavanya come there laughing.
Tamil, "Ena siriuppu?"cutely annoyed, trying to take of the icecream from the shirt making it worse
, then he also starts laughing
thinking about something.
Lavanya contrlling herself, "Ena annai? Ni ethuku srikira?"
Tamil, "Illa enodathu avuthu 500 rupa shirt, antha ponnu poturinthathu pakum pothei therinjichu romba costly ana saree nu, athuvum white colour, atha nenchain, sirichein.
"
Lavanya, "Summa iru nain ena azhaga irunthanga theriyuma?
Itho intha cam la kuda record airuku nenga rendu perum motitu vulunthathu.
"(
Even I want to see
)
The three of them watch the rerecord and Pooja and Lavanya start laughing again.
Tamil, "Seri vidu! valkaila ithu elam sagajam appa" smiling.
Scene shifts to the temple.
Thulasi hurries inside. Thilaga notices her coming towards them, "Va ma Thulasi enga poita?"
Thulasi, "Athu...antha pakam..."
Velaytham, "Nan anga vanthu pathaine." with quering, suspicious looks.
Thulasi, "Illa antha pakam..antha kolathu ka kita..."
Just then Velayuthm notices the icecream stains on her saree.
Thodarum!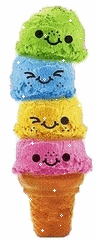 Changing lifes!
Back to contents


Edited by Gisel - 05 October 2012 at 4:36am