His feet casually drifted against the pebbles and the bushes swayed gently as the breeze of the evening carried along with it, the fragrance of freshly mowed grass .The mood was high strung as in hushed tones people gossiped looking at him. He was not amused at all.
Her hurtful eyes made him throttle and the feeling of guilt sat down in the pit of his stomach like a handful of cold gravel. He knew He had done something terrible but there was no looking back for him now'Certainly not at this point.
The world went blank for him ,he felt light and a sharp blow on his face made him trip, The head reeled and the stone pierced his skin making a sharp neat cut right across his cheek.Kesar shook his head lying flat on the ground, the dust blinded his eyes.
"Meri di k barein mein aise kaise kahan tumne'.",He shivered lying right beside him.RV was shivering like a drunken monkey. His face red and his eyes blazing with rage. The shock of the blow made him equally weak and while knocking Kesar off he too fell beside him.
Cracking his voice cried hoarse as he sat on his chest and was about to hit another blow, his hands stopped just at the right moment, "Ooops ruk yaar",Kesar chewed his lips and smiled looking at his pathetic plight and toppled him pining him on the ground, his grin widened looking at RV's red face.
"Nahi'.How dare you'",RV grabbed Kesar's collar and struggled to punch his face, Kesar's Grin grew wider
"Ruk'Freeze right there", He shouted pointing his finger at RV and wiped out a few drops of blood that had oozed from his cut on his cheek.
"Hain",RV's eyes rolled out
"Aise aise marega mujhe'.",Kesar burst into a cynical laughter as he looked at RV who was trembling and was barely able to stand at his feet
"Haan main jaan se mar dunga'",RV's eyes rolled as he stuttered
"Pehle theek se khade ho ja chandramukhi'",Kesar walked up to him and patted his cheeks and held his shoulders to make him stand upright
"Tumhari himmat kaise hui'",RV hurled a loose punch and Kesar ducked quickly and Rv just fell on the ground trying hard to balance himself
"Himmmat ki chod. "Kesar extended his hands . and lifted Rv on his feet making him stand again , "aise'Theek aise khade ho samne",He stabilized his trembling form with a devilish smirk on his face
(RV'S CHIRP-WTH Yes I was timid and weak,yet I had the instinct to mince his flesh and feed it to the vultures..Damn'I hated the smirk he had on his face.His mannerisms confused me.I was hell shocked and hell scared.I could feel my heart coming to my mouth .i COULD HAVE PUKED ANY MOMENT)
"Ye aise mukka nahi banate".Kesar held his fist in his hand and unfolded his fingers one by one, "'Hold your fist tightly ",He tightened Rv's fist making him stand straight , "and ab mar' mar'",He raised his eyebrow grinning.
"Hain",Rv's eyes squeezed in confused.
"Hit me'Duffer'",kesar patted his cheeks while RV stood frozen ,rooted to his spot trying to comprehend the vicious look on his face.
Kesar's eyes darkened with mischief looking at the miserable plight of RV.
(Kesar's Confession. Lol this Chimp was the cutest thing ever ,I had seen, His cheeks were red like an apple and his nose like a strawberry ripe and puckered. I wanted to pull his cheeks, I did not know why this strange bonding I felt with him, and The twinkle in his eyes was just like Gulaal ')
Kesar walked close to him and giggled holding his hands, "Chandramukhi'Your hands so soft ekdum teri Di ki tarah
"How dare you'.",RV glared and hit Kesar on his cheeks
"AISE'.chiii'.",Kesar nodded his head in amusement ,. "isse karara punch to teri di marti hai'..50 squats.50 push ups daily and these will be fine samjha'."
"Di ka naam mat lo'",Rv ploughed onto him ,struggling hard to keep his feet firm and glued to the ground and grabbed Kesar's collar.
"Oh god'.",Kesar held his hand , "No grip'saley aise nahi. Aise pakad",He held RV's hand taking him by surprise and made him tightly hold his collar, " 'tightly'.aur ankhon mein ankhein dal kar Punch kar aur haan awaz mein thoda dum lekar aa '.How dare you AISE BOL ",he growled , BE A MAN 'samjha'",Kesar patted RV's cheeks..
"How dare you'..",RV nodded his head like an innocent student learning his first lesson and raised his eyebrows, "Ab theek hai'"
"Better much better'",Kesar grinned patting RV's cheeks .., "and dude .Chill your Di likes me'.Tujhe problem nahi honi chahiye'."
"Di hates you samjhe ",RV bounced back from his stupor and suspended state of shock and yelled , "..she hates you'."
"Sun aur bahut dhyan se sun" Kesar walked close to him and winked at him,"She hates me'yet kisses me like crazy ..she hates me ' tab ye haal hai soch agar'."
"STOP IT",RV placed his hand on his ears , " You're lying Di sach kehti hai..You are so '."He gritted his teeth in anger.
"DISGUSTING SICK RIGHT'.koi farq nahi padata'..jo main hun so hun ",Kesar ran his fingers through his hairs and whistled.
"I WILL KILL YOU'.",RV jumped on Kesar in anger trying to hit him .Kesar ducked quickly and grabbed his neck in his hands ,"Stay outta this Samjha'.your Di is mine ..Samjha'.Lock her up behind steel bars , duniya k kisi kone mein bhi chupa de use, army le aa ladne k liye'I will take her right away 'Coz she's mine samjha''",Kesar tightened his grip around RV's neck and stared at him with blazing and scornful eyes.
RV shivered fearing the intense look in his eyes and coughed trying to free himself.
Twinkle who had been accompanying RV ran towards them ,"Kesar no'Chhod de ise..please'.",Tears ran down her cheeks as she punched Kesar's arms with her balled fists.
"Twinkle'Le ja ise'", Kesar released his grip and pushed RV towards her, "Aur kuch sikha..warana Negi iska kisi bhi din kachumar bana dega'."
"Tum Di se dur raho'"RV coughed hard and yelled
"HAAN HAAN.Jis din tu dhang se do phatke mar dega mujhe main us din ..han sirf us din k liye main teri Di ko chhod dunga' baki k din she will be mine'.",Kesar winked at him carelessly.
"Rajveer chalo..please yahan se he is mad '.Wo pagal hai'",Twinkle dragged RV quickly
"Aur sun ye le gym ka no'",Kesar frisked his pockets and hurled a card towards RV ,.kal se subah roz mere saath bhagne chalna'2 kms and do glass doodh samjha'..And Your Di will love it when you hit me back'.."
"Main tumhe jaan se mar dunga",RV yelled back while Twinkle kept dragging him away.
"Le ja twinkle ise mar mara jayega mere hathon'." ,Kesar folded his hands across his bosom .Twinkle's feet huriied holding RV's arms , "Aur haan , "Kesar blew a flying kiss in the air , ghar jakar apni Di se kehna that I will be coming to take her away'.."
RV fumed as Twinkle pulled him making him sit in her car and drove off.

She leaned back against her high seat. To a stranger it would seem as if she was alert but the fact was that she was a million miles away. Her heart was oblivious to the dazzling neon lights and brilliant fire tricks played by the bar tender 'THE SPIRIT WAS HIGH STRUNG at the crowded Opal lounge and bar. The swaying people on the dance floor, the dizzying smell of the alcohol and the brilliant dull criss cross of flickering neon lights amidst the thumping backdrop of music Loud and irritating her core, NOTHING NOTHING SEEMED TO EASE HER DELIMMA.This was her worst birthday ever, Her Mother was nowhere, She wanted to shut her eyes and pass off but there was no warmth around her. Her eyes misted and her cheeks burned in humiliation recalling whatever she had undergone. She silently cursed the day when Kesar entered her life. Her life had been hell since then. She kept up a lively chatter as they talked. But in her hear there was SILENCE-COMPLETE YET SCREAMING. She took her glass and sipped THE Vodka shot in one go, drumming her beautifully painted nails impatiently on the table.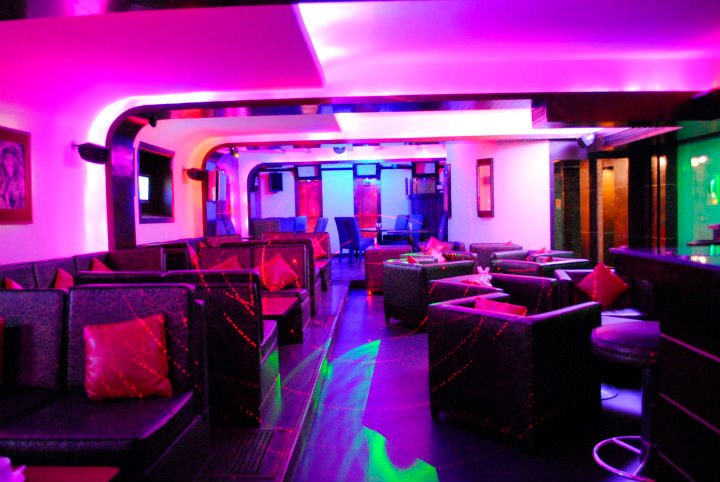 "Bloody psycho main kehta hun Pinky ko phone kar k bula letey hain'.." RV banged his fist on the table and gulped his Fresh lime soda in anger.
"I think'.Uska marana mere hathon tay hai..Let me'",Karan nibbled on the freshly salted peanuts in his hands.
"Nahi'.main mmain baat karungi Kesar se'",Mumbled Twinkle looking at RV with a pleading look
" Bhai'I think..Ki Police mein report karana hi hoga ..",Rewa placed her hands on her forehead trying to contemplate an alternative. The mood at their table was gloomy as everyone was tensed and irritated.
"Shut up'.SHUT UP will you'.",Gulaal banged her fist and got up in anger , "Will everyone just shut up'.Since when. All of a sudden, I have protectors all around me'haan'..Jise dekho'.bodyguard banne ki koshish kar raha hai'It's my problem, It's my situation and it's my mistake. Main khud nibatungi'Don't you all dare and poke your nose in this'.Achanak sab bade hog aye acahnak sab trying to control'ENOUGH ALREADY ENOUGH'..Samjhe''.I will bloody not tolerate this ..Ok'.Enough. ALREADY'.Bahut tamasha ho chukka ..Ok'..",She yelled loudly. Her eyes were blazing with anger.
(KARAN'S KADAK PHATKA-In all this chaos, I never realised we all had suddenly started behaving weirdly. Inks were never the woman who wanted people taking care of her. I knew she was capable of handling situations but to make matters worse like that public humiliation was not enough ,we were all trying to relive the issue every now and then'.)
"Ok ok..Tinks..RELAX'Koi kuch nahi karega'",He held her hand and made her sit rubbing her back, "arey bhai'.Idhar ka temperature badh gaya hai'Chotu'",Karan signalled the waiter who stood by the table, "Do u see this lovely lady", Karan placed his hands on Gulaal's shoulders , " it's her birthday today ..Can we have some more drinks '. please.."
"Sure sir", The waiter nodded and went away. Everyone shrug off the haunting silence and started chatting again while Gulaal sunk back in her abandoned hope for some respite. Karan looked at her dark gloomy eyes
"Chal Tinks..Come on everyone..Let's dance'",He almost dragged her away and others followed too.
"No PLS..MERA MOOD", she sighed the umpteenth time shaking her head which was already dizzy by now.
"Mood ..mood to ban jata hai",He placed a small peck on her cheeks and they all walked towards the dance floor.
The few steps that led to the almost crowded area, were hard for her, for she could not make herself feel alive again. This suspended state made her more gloomy.Karan spoke but her heart was too full for any sort of answer. Her hands meandered in the faint light holding on to the metal bars caging the grooving area, the other hand just being dragged by Karan.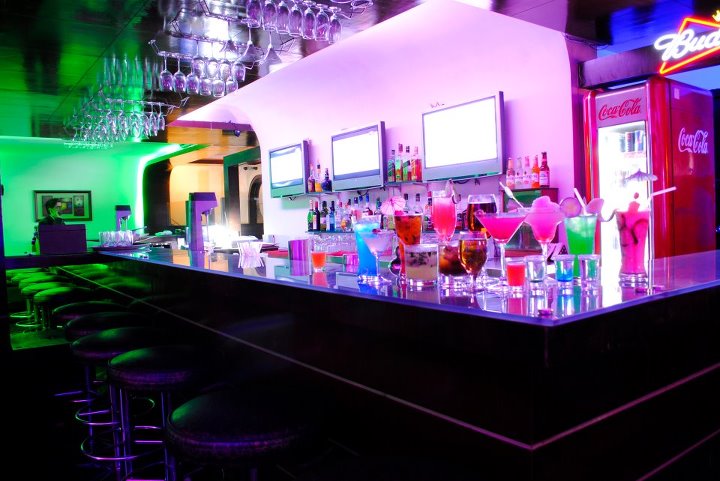 "Relax Tinks'..Just enjoy'.",He pulled her in his arms and was about to say something when the vibrator of his phone buzzed in his pocket'
"Oops Mom ka phone Be right back'.You stay right here", He smiled and walked away trying to reach out for the signals marching right outside the alley which led to the entrance.
Gulaal sighed. The lights were dim and the crowd was swaying ,gyrating ,swaying in each other's arms .The world around her seemed PERFECT. The disco lights dulled and sparkled alternately and the music became softer. Her head reeled as she looked around. Everything was just OK everything was just right. She could see Rewa sitting on a faraway sofa away from the maddening crowd chatting happily on her phone. The smile, the twinkle in her eyes visible faintly through the opal haze 'Everything was just perfect. Her eyes fell on RV and Twinkle who had happily sneaked in another secluded corner far away from her-Swaying in each other's arms and looking at each other-Completely oblivious to everything around. Every eye seemed to be in love, Every arm just snugly fit with each other.
Her loneliness screamed from inside but the song played on making people groove swaying gently in the arms of their beloveds.
(TINKY'S TWEET-Who would say I had a lonely life when everyone around me cared for me so much. I had Karan but nothing felt right. It never had. Why did I feel nothing in Karan's arms ?Why should I be longing for something when I had the whole world right in front of me.They say man is indeed a fool ..Never satisfied with what he gets But the truth was that women are BIGGER fools who have this impromptu habit of yearning more always. I WAS LONELY,CONFUSED and above all terribly deprived..HAAHA strange how can a person be deprived when he had everything. I think that the alcohol had made me go bonkers.)
Main hoon gumsum tu bhi khamosh hai
Sach hai samay ka hi sab dosh hai
Dhadkan dhadkan ik gham rehta hai
Jaane kyu phir bhi dil kehta hai
Jee le zara, jee le zaraa
Kehta hai dil jee le zara
Aye humsafar, aye humnawa
Aa paas aa jee le zara
A strange intoxicating ,overwhelming fragrance filled her lungs suddenly as his warm fingers barely touched her back ,sliding down her arms and those strong arms twirled her around caging her right there in his arms 'GULAAL COLLIDED WITH HIM. She raised and locked eyes with a set of the deepest brown eyes, those same eyes that had swept her off .KESAR'S EYES .He stood there right in front of her. A series of goose bumps defied all logic cascading all over her arms making her angry at herself.
Yanking herself away from his touch, she frowned at him. "What're you doing here?"
"Kyun pehchan hi liya na mujhe'..",He grinned ' a sudden break of his pearly white teeth along his tanned face faintly visible .He lowered his face and he rained kisses all over her arm ,his lips grazing at the tiny goose bumps and revelling in his own cunningness.. She slung off her hand with a jerk of annoyance and suddenly struck him with a sounding slap on his cheek which muffled subdued by the music, "GET LOST BEFORE I KILL YOU MY OWN TWO HANDS'."
"Haath ki kya zarurat ek nazar ki kaffi hai'.Kyun zabardast lad rahi hai khud se ..mujh se'maan bhi ja na " His eyes had a glint that he knew would trigger a reaction. He smiled one of his crooked smiles and turned to face her, encircling her waist in his arms. While he spoke, his fingertips touched her cheeks.Her little heart flipped , gave a little leap of pleasure which she instantly checked struggling to free herself. Her impossibly high black heels clicked on the floor as she fumbled backwards still pulling away from his grip and her back hit the cold metal iron bars.
Hai zindagi mana dard bhari
Phir bhi isme ye raahat bhi hai
Main hoon tera aur tu hai meri
Yunhi rahe hum, ye chahat bhi hai
Phir dil ke dil se, pul kyu toote hain
Kyun hum jeene se itne roothe hain
Aa dil ke darwaaze hum khole
Aa hum dono jee bhar ke ro le
Jee le zara, jee le zaraa
Kehta hai dil jee le zara
Aye humsafar, aye humnawa
Aa paas aa jee le zaraa


"Missed me right",,His plae dreamy eyes seductively gazed at her crushing her even more tightly .
I HATE YOU'Suna tumne I hate you'.",Cried she
"And I hate you bloody desis'Bloody cheaters Koi nayi baat bata'.",He gritted his teeth and held her closer to him ,suddenly attentive, the dreaminess all gone from his gaze. He laughed his eyes twinkling in mirth. His voice was deep and warm. Her lips thinned at his dishevelled appearance.
"You made such a fun of me'You made me the cheapest woman in the whole college. Screw you''. ",She brushed away the frustrated tears that were about to race down her face, stinging were her eyes which accused him.
"Ya'You screwed me ..You screwed me BIG TIME..Tujhe kya laga'.You will fool around with me and sing your Sacha pyaar waala lara lappa in my ears and I will bid you goodbye and teri doli ko kandah dunga Devdas ki tarah'.So not done'So bloody not done'..Why don't you accept that you do not love him'.You are mine'And nothing can change that samjhi''",The baritone of his voice jolted her as he stared at her 'ANGRY AND DEVOID OF ANY WARMTH.
He was gazing at her with so much intensity that she felt the urge to look away.
"Kesar you made a horrible show of something that was so '.",Gulaal gulped a huge lump in her throat.
"Kya so'What'.What was that tell me'.?You too bloody well slapped right across my face when you fell in his arms and believe me I can never let you play with me'Never'..You belong to me now'..",Kesar 's words slapped right across her ears.
She stared at him ,a tiny hint of remorse in her eyes, but for a terrible outrage against what she had done to him, there can be no forgiveness. She pushed him back .
"I hate you Kesar", she yelled her tiny fists balling into punches across his chest " '.You just made my life a complete hell'.."
" Your heart wants me Gulaal ,stop denying it now'maine kaha na baS KAR AB YE SAB BAS KAR..YE LADNA YE jhagadna'. TRUST ME' I WILL MAKE YOU THE HAPPIEST WOMAN ON EARTH'.i KNOW IT'S HELL 'And I know you just love it here'right here in this hell' in my arms'.hai na'.", Gulaal's mouth suddenly became dry, trying to steady the wild beating of her heart. She wondered what he saw as he stared intently at her face, he looked angry but he crushed her in his arms. Pulling her closer, he kissed her, gently at first but growing harsh every passing second,. She struggled for a few seconds but her mind started becoming dizzy. The danger was exhilarating, intoxicating, and made her tingle all over in the best possible way.
Gham ke ye baadal guzar jaane de
Ab zindagi ko nikhar jaane de
Chhod de ab yaadon ke dukh sehnaa
Sun bhi le jo dil ka hai kehnaa
Jee le zaraa, jee le zaraa
Kehta hai dil jee le zaraa
Aye humsafar, aye humnawa
Aa paas aa jee le zara
(TINKY'S TWEET-I wanted to slap myself for secretly enjoying his rough touch .I should be screaming profanities at him. I should have shouted so that Karan and everyone who were busy in themselves should have come to save me..WAIT Did I really need a saviour,I myself was strong enough to push him back but after whatever happened, I was shocked at the way I felt for him )
His strong fragrance filled her heart, he parted from her sand looked straight into her eyes. She held her chest trying hard to control her rapid breathing and hammering heart .
"Gulaal",his husky voice whispered her name and she shivered," See I told you are mine, you cannot deny it'."
"No'I am not yours ..Just get lost ",she pushed him back with all her might ,the baritone of his voice brought her out of her reverie.
"Gosh why Do you have to wear those super high heels ,you are already tall,Ahh my neck hurts due to craning while reaching out to your lips'",said he with a smirking sneer completely changing the topic.
"What the hell are you even listening? "Gulaal stomped her foot and looked around ,RV and Twinkle had just vanished somewhere and Gulaal quickly yelled to Rewa,"Rewa..mmm"
Her voice hushed by his palms and his hands grabbing her wrists harshly, "Abhi itni jaldi nahi'.Ek secret to sun k ja'I tried my best to go away from you'But tu'Tu 'You are such a tease,You just make me do things which I avoid'",He smirked winking at her and gradually released her face .
"Ab maine kya kiya'.",Gulaal nodded her head in confusion innocently.
"Huh..Like you don't know'.",. Kesar groaned and laced his fingers in the hair at the back of her head, tugging gently at it and sending shivers down her spine pulling her closer, his hands slipping down the hem of her dress and practically touching her knees, "You wear this short dress and claim to be so innocent and tempt me with your long legs'Do you think it's fair? ",His hands slid up while he whispered lustily in her ears,his alcohol laced breath gently fanning her neck.

"Gosh you're sick,", Her high heels crushed his feet almost digging his shoes threatening to pierce his skin as he grimaced in pain and Gulaal tightened her jaws ,"You deserve this samjhe'You are cheap mad fellow'.You're mad ..absolutely mad'."
"Ya I am 'Mad about you'..par tu hai kya'",He smacked her hand and puckered her face tightly in his grip, "Behind these meek timid eyes you're such a vixen'.No wonder I want you so badly'.Screw you for making me the devil'..",Kesar was about to place a peck on her cheeks again ,when she slapped him again, "Just stay away ok'..and I am not yours ..I cannot own me'."
"I will darling'No one can stop me..Not even you'.",He ducked his head to kiss her again and she struggled.
"Chal aaj tera birthday hai isliye aaj maaf kar diya'.",Kesar left her suddenly , smirked and frisked the pocket of his jacket.
"Happy birthday'.",another beautiful red rose bud popped up right in front of her eyes .
"I don't want it'",Gulaal was about to walk away when he grabbed her again this time harshly, "Tujhe mere diye hue tohfe pasand nahi atey na'.",He held the rose in his hand and crushed the petals in his hands,his eyes dark and sinister ,blazing with rage.
"my gift", He blew those petals in her face with his breath fanning her face with accentuated playfulness.
"And you will have to accept it ' my style'Cheesy but my style' Sick and cheap'just like me ''",He winked at her leaving her confused as he hurried and vanished in darkness .
A HUGE SPOTLIGHT focussed on her and she squeezed her eyes covering her face with her palms. The music came to a halt and the floor came to a standstill.
"Ladies and gentlemen. Here's wishing the most beautiful Girl'.a very happy birthday'.Happy Birthday Gulaal Tomar'.",The DJ 's voice echoed in the pub and suddenly a shower of red rose petals startled Gulaal.
She was taken aback and looked at the falling petals on her.
"Wow Tinks''..",Karan who had just walked in ran towards her.
An impromptu smile ,a strange mesmerisation gripped Gulaal as she held her arms open as the tiny rose petals kissed her everywhere. Her teeth glistened as she burst into peals of laughter. Mirth overwhelmed her heart and she stood there oblivious to everyone enjoying the shower .Kesar's voice echoed in her ears , "my gift And you will have to accept it ' my style'Cheesy but my style' Sick and cheap'''",
Though she was devastated from inside but everything made her feel alive once AGAIN'..
"Ye kisne ",Karan silently asked the waiter
"Oh sir..That's complementary from the pub'..",The waiter quickly hid the 1000 rupee note which Kesar had given him in his pocket while Karan.Rewa,RV and Twinkle watched Gulaal's eyes dance and twinkle with utmost joy.

The silence was eerie so was her delimma.She stared blankly lying on the bonnet of the car beside him.
"TARA RU RU TARAU RU TARATARAAA TARA '..tara ruru",He sung in his hoarse voice.His voice shaking due to intoxication.
GULAAL :"Champ", SHE PLACED HER HAND ON HIS PALMS
KARAN: Hmmm
GULAAL :Hum kar kya rahe hain
KARAN: Tarein Dekh rahe hain Tinks'..
GULAAL :Yahan basement ki ceiling pe'.
KARAN: Wo dekho'..Babuji'..Tinks'.Tinks'.Mian',His voice choked.
GULAAL : "Kya baat hai'",She stared at him her own guilt overriding her overwhelming emotions.
Karan: "Kuch nahi'.Tinks'.I know this has been difficult for both of us'Specially When I have been the one who had all these years never tried'.Seriously Tinks'.I never found anything attractive in this relationship'..Yes'You know'I was never attracted'To you..sach'.Babuji wanted us to be together'So we are here'..But but'.I know we had a long relationship'TOGETHER'And ek secret bataun'.Shhh..HONESTLY'..I was not loyal to you'.Hmmm'.Ek'.nahi shayad do ho gaye the'.One night stand sachi'..I am not lying'..I knew tujhe jalan nahi hogi'.Coz what we share is above all this'..hai na'..To tu pls guilty mat feel kar'..I would be happy if you would be happy'.But off late..Tinks..Off late'I have been thinking'Thinking a lot'and'.Off late'I really started missing you sach'..I always thought, Where we stand..But I know the answer Tinks'10 years is a long time'Many girls came in my life 'But no one can be like you sach'I mean who understands me..Tinks'We know each other so well'.If I can really think'of someone'.It has to be you'.I have started dreaming'. bahut ho gaya TInks..Ye denial'.I have started dreaming I HAVE STARTED DREAMING ABOUT A LIFE TOGETHER'.Where we both have a house ,tu mere side mein. Cameras flashing, I will bring everything you could ever dream off and tu ek achi si wife ki tarah khub sari shopping karna..aur haan'Humare ghar k agey 'Mr and Mrs. Karanveer chauhan aise shining stylish board hoga ... aur cheeku,tutu and kittu sab humare saath'.And then we have kids 'Tinks'Oh wow'.Such a pleasant dream'.TIinks'.Sometimes I dream'..Ya'.It would be great '.To have a life with the woman whom I love 'Ok not love Lowe that way. But we love each other. Isn't that enough'.Tinks'
GULAAL :Hmmm,she mumbled ..her eyes full of tears
KARAN: I just wanted to say that 'I juts miss you a lot these days'sach'.You look so beautiful'..
Karan cupped her face in his hands, " I just Love you'.",He brushed aside the curls .
(TINKY'S TWEET- I wanted to run somewhere, The guilt of cheating on him made me weak.What was I expecting from life. I did not know how blissful it could have been with Karan'A home a life 'fame ,money everything I could ever dream of. We both understood each other ,loved each other 'What better I could ask for in my entire life. But I just could not feel anything for him, He stared into my eyes ..his eyes asking me numerous questions ,,yearnings but none I could answer)
"You are so beautiful Gulaal '.",Karan pulled her closer and moved his face closer to her lips.
Gulaal trembled with horror. There were no butterflies in her stomach, she was in terror. She could feel just nothing .She closed her eyes and the tears that had welled in them started trickling down her cheeks.
"Bas teri thodi si muchein hain'.Kill me'."Karan burst laughing and Gulaal fluttered her eyelids in shock
"Gosh Champ'..",She pretended to be annoyed but the fact was that she drew a long breath of relief.
"Hahahhahahahahahahhaha..Tu to serious ho gayi'..",He tickled her.
"Champ'.",She rolled her eyes .
"Tinks'.Mujhe teri bachpan ki roti hui shakal yaad aa jati hai'..Lol I can't seem to Kiss you..hahahahhahah but seriously..i love you'.coz no one can make feel the way I feel with you'",He held her hands in his palms.
"Do you love me", He looked at her with hope.
Gulaal choked upon her own words and stuttered ,"hmm
"Oops main keys to bhul hi gaya..",Karan smacked his forehead ,"You wait here..Be right back", He walked away leaving Gulaal as she lied with her back resting on the wind shiel,Her one hand on her forehead as she closed her eyes tired and devastated. The torment was killing her.
"Gulaal ",He whispered in her ears hovering over her and his voice shook her as she opened her eyes
"Sacha pyaar wow that was quite some show lol",Kesar ran his finger through her hair and held her arms.
"Please..",she struggled hard wincing beneath him trying to run away
"Kyun Gulaal'.Jahan sacha pyaar hota hai wahaan itna confusion kyun..itni jhijhak'.kyun gulaal Kyun itna confusion hai Tere racer k man mein '.",He squeezed her chin and she squealed in pain.
"Akhir tum chahte kya ho'.",She pushed him back toppling on the floor and got up hastily.
"Main bas tujhe ye dikhana chahta hun'.that tu kaise 3 zindagiyan barbaad kar rahi hai'",He dusted himself off and grinned moving closer to her ,his face darkening with intensity ,Meri apni aur us confused racer ki'.waise is he blind ?",He kissed her hand, his dark gaze moved down to her lips, her stomach fluttered, as it did whenever he was near. "'such a beautiful lady and he is not tempted. But you know what good for him ..warna tujhe haath bhi lagata to haath kat deta main uska'.",his face grew hard.
"Listen you are mine'Tell him Tell your Champ and come to me '.You belong to me'.I am waiting ",Kesar placed a peck on her forehead.
"I am not your's..I llove..",Gulaal shivered ,her tongue just tied.
"Kya hua '.ruk kyun gayi bol na'.You know what'No matter how much you scream you want me too 'Coz you know'No one can make you feel the way I do' coz you are mine and I will take you away, chup sakti hai to chup ja'Bhag sakti hai to bhag le'.But you have to come to me'..I will get you 'By hook or by crook",He winked at her and walked away .
"Get lost'..just get lost''I hate you'..",Gulaal's voice echoed in the basement parking lot.

PRECAP
"The Way You Make Me Feel"


Hee-Hee!
Ooh!
Go On Girl!
Aaow!

Hey Pretty Baby With The
High Heels On
You Give Me Fever
Like I've Never, Ever Known
You're Just A Product Of
Loveliness
I Like The Groove Of
Your Walk,
Your Talk, Your Dress
I Feel Your Fever
From Miles Around
I'll Pick You Up In My Car
And We'll Paint The Town
Just Kiss Me Baby
And Tell Me Twice
That You're The One For Me

The Way You Make Me Feel
(The Way You Make Me Feel)
You Really Turn Me On
(You Really Turn Me On)
You Knock Me Off Of My Feet
(You Knock Me Off Of
My Feet)
My Lonely Days Are Gone
(My Lonely Days Are Gone)

I Like The Feelin' You're
Givin' Me
Just Hold Me Baby And I'm
In Ecstasy
Oh I'll Be Workin' From Nine
To Five
To Buy You Things To Keep
You By My Side
I Never Felt So In Love Before
Just Promise Baby, You'll
Love Me Forevermore
I Swear I'm Keepin' You
Satisfied
'Cause You're The One For Me
The Way You Make Me Feel
(The Way You Make Me Feel)
You Really Turn Me On
(You Really Turn Me On)
You Knock Me Off Of My Feet
Now Baby-Hee!
(You Knock Me Off Of
My Feet)
My Lonely Days Are Gone-
A-Acha-Acha
(My Lonely Days Are Gone)
Acha-Ooh!

Go On Girl!
Go On! Hee! Hee! Aaow!
Go On Girl!

I Never Felt So In Love Before
Promise Baby, You'll Love Me
Forevermore
I Swear I'm Keepin' You
Satisfied
'Cause You're The One For
Me . . .

Ain't Nobody's Business,
Ain't Nobody's Business
(The Way You Make Me Feel)
Ain't Nobody's Business,
Ain't Nobody's Business But
Mine And My Baby
(You Really Turn Me On)
Hee Hee!
(You Knock Me Off Of
My Feet)
Hee Hee! Ooh!
(My Lonely Days Are Gone)

Give It To Me-Give Me
Some Time
(The Way You Make Me Feel)
Come On Be My Girl-I Wanna
Be With Mine
(You Really Turn Me On)
Ain't Nobody's Business-
(You Knock Me Off Of
My Feet)
Ain't Nobody's Business But
Mine And My Baby's
Go On Girl! Aaow!
(My Lonely Days Are Gone)


"Please Stop !! We need to talk about this please",She held his hand .
"What ? Please relax...I know everything...I won't hurt you...",He looked at her curiously
"Silly not about this...Please we need to talk...",Her eyes twinkled but her heart was sad.
"Gosh...You always have to talk at the wrong time ...",He stomped his foot in annoyance leaving her.