http://www.celebritycenterpieces.co.uk/media/animated-birthday-balloons1.gif" />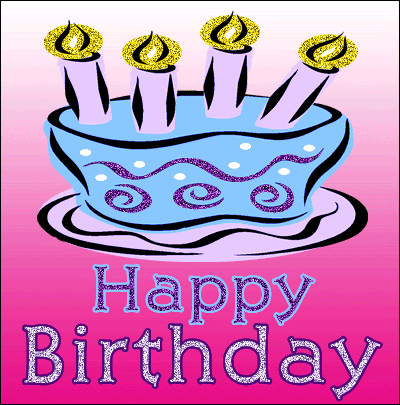 Guess what thispost is for you read the title
. yes
Its someone's Birthday today. Shocked
Any Guesses???
Let me give you some hints.. and lets see if you can guess who it is.. Approve
Here is a little story of the birthday girl: Cool
Once upon a time, in a land far far FAR away, a girl was born on Feb 6th.
She came to I-F on Back in 2006.. Ek Ladki Anjani Si forum and shifted to Kaisa Ye Pyar
Hai Forum ,isane tahalka machaya bb5 forum pe ,isake fav forum hai bb5,Chat Clubs and LFDR
and suggestions forum because she get to argue with obsessive teens ,iska Fav color
Purple,Fav movie Koi Aap Sa hai,Fav actor/ess Emraan Hashmi and Lara Dutta 'iska Fav Love
Quote: If you love something, let it go. If it come backs to you, it's yours. If it doesn't,
it never was
Today FEB 6th !! Aka JENNY's Birthday Today.
Happy Birthday to you!
Happy Birthday to you!!
Happy Birthday dear JENNY
Happy Birthday to you!!
H a p p y B i r t h d a y
J E N N Y
Today is indeed a lucky day for me.because on this day you my best friend were born.I have
to thank my stars that they have given me the best friend I always wanted in you.you have
always been there for me.your birthday is the special occasion where I can express how
special you are.your are special to no bounds.the love you give, the care you show can never
be measured.I'am lucky that God blessed me with a friend like you on this very day.Happy
Birthday jino,I M GLAD THAT I MET U and thanks to rebel he invited me in rockstar cc.you are
a gem of a person.you are a rare diamond to find. I hope all your dreams come true.close
your eyes and wish for all that you desire and the stars will grant you whatever you
want.may you achieve success and prosperity in every phase of your life.I have one more wish
on your birthday I wish we remain friend's forever. your friendship is very important to
me.the fun we have talking to each other.the secrets we share with each other.the laugh ,
the sadness we share all are secure in my heart.and every moment with you I'll treasure all
my life.when i saw u my happiness knew no bounds.u r the heart of rockstars. you have been a
friend when I needed a friend, friend when I needed advice.you have always been there for
me.thanku for being there.HAPPY BIRTHDAY.As you celebrate your special day here's what I
wish for you , "MAY YOUR BIRTHDAY GROW HAPPIER BY EVERY MINUTE…and GIVE YOU REASONS TO SMILE
ALL THE YEAR THROUGH." jen i have told this to you many a times but i will still repeat it
whenever you need me i'll always be there standing by your side... Waise like in between
all friends even we disagree at certain instances but that can never ever tare us apart. you
are one of the people who knows me well it really feels great to have a friend like you...
you are really a gem of a friend and you deserve nothing but the best.. love you for being
there for me always... and shrutu as i always say this, and now i'll say it again you and
me will always remain "Best Friends"... Happy Birthday Dearest...Hug
..


Edited by Ankit.Upadhyay- - 05 February 2013 at 1:00pm