Guys! I have received a complaint letter against the show lead.
There are an enclose pictures as well for just as to show the pain the writer had been though because of the acts of the leads
…..read yourself:
Dear HJNH Phankas,
You Lead Jodi (Rohan and Muskaan) are making me upset to the heart.
I wasn't willing to write against them but had to do so as am being hurt because of their love.
Its not that am jealous or don't want them to be a HIT
…the matter is I lost my two family members last night because of them.
Pyaar Karna buri baat nahi hai but har waqt pyaar ka izhaar karna is not even right.
Because of their I love U session I had to go through the pain…which I never wished for. Dono ko pyaar ka izhaar karna tha to they should have looked for a romantic place why a Car?
Why my cousins who have lost their attractiveness (car's body) and are running on life support system.
Dono ko ek saath memory loss ka plan tha to they should have jumped together from a hill or should have came under a train….
why my family members?
What was their fault? Just look at them what they have done to them….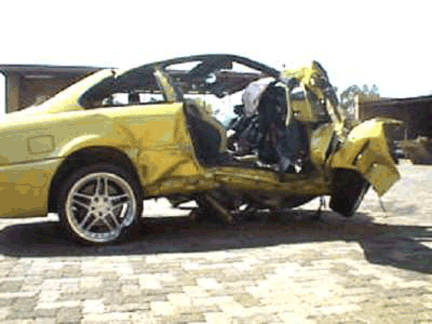 I know after reading this letter you may support your leads
….i just don't care about your support,
what means for me is my family and I wont allow any one to do any harm to my family
…..for me my golden brothers are very important and would go to any extent for bringing them back to normal….agar zara si b insaniyat baqi hai to pray for my Cousins.
Your Sincerely
Dukhi Car