Originally posted by sunshine99
Di Ke Liye...
Chanda hai tu.. Mera suraj hai tu...oh meri aakhon ka taara hai tu...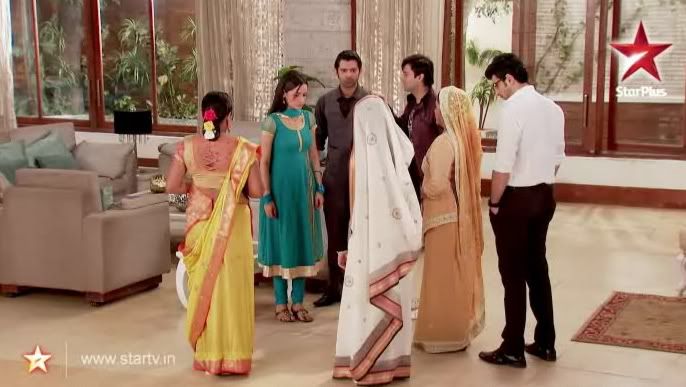 Pic Credit: sarun_deewani
Anjali who invokes a variety of emotions from the viewers of hate, pity,sympathy ... only evokes love from her family members...they love are so much that they are willing to bring in the person into their fold who had cheated on her devotion ,trust and faith...Shyam her husband...who tried sapping the life out of Arnav... Anjali's chotte... the brother who spent 14 years of his life caring for his elder sister being her protector, her friend,holding her hand in times of sorrow and happiness without even thinking about himself.. because he had a promise to keep for Di.. no harm would come her way.. he will be the sentinel guarding her joys forever...
Her tears are more precious than the rarest of pearls.. for they eclipse the laughter and mirth of the Raizada household...
The absence of a good for nothing husband.. a tragically snatched newborn... is so shattering that everyone is slowly realizing the fact that they need to fulfill her wish.. of Shyamji's return with the hope of lighting up her life. What if the hope is nothing beyond wishful thinking?And shyam once again brings in destruction in Anjali's life... Will the broken girl be able to bear another cruel blow? Will the Raizadas and Dadi be able to live with the knowledge of their actions?
Questions galore but the rational minds haves kept it under lock and key in Shantivan to relearn the lessons again the hard way... Anjali's condition is troubling them to such an extent that not once did it cross their minds to try and check the whereabouts of Shyam Manohar Jha since he left the gates of RM...
A young boy 14 yrs ago tried to stand up for his DI when no one bothered...he sacrificed his childhood then... Arnav is again standing up for his DI when no one is paying heed to him.. what will he sacrifice now?
Di.. who no longer grieves for her child... no longer remembers that her brother had hastily married a girl just because he wanted to protect her marriage...that the happiness of chotte she fervently wished on sighting a shooting star... is held hostage somewhere in taking care of her well being...Di is too broken to think logically in her fragile condition and is open to skillful manipulation.. but how does she cool and calculatingly lie to her concerned family members at the dining table without remorse?
Dear writers/makers please give Anjali's character a single direction... either she is in a mental fog owing to loss of her child and is reluctantly with guilt deceiving the loving family because her husband's constant reminder of dying opens up the raw wounds about the fear of loss every time or she is a woman who does not care about family,her dead newborn and is heart,body and mind loyal to Shyam even though he is vile because her love for him is a flaw which she is aware of...
Rangeela re tere raang mein yun rangaa hai mera mann.. chaliya re...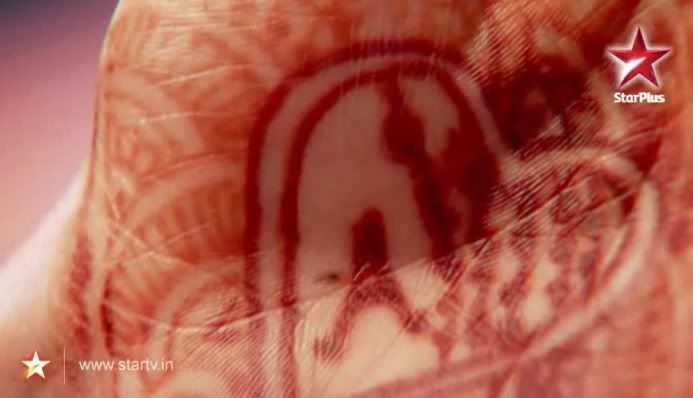 Pic Credit: sarun_deewani
Khushi has an A written in her heart...it will beat for Arnavji hameshaa...every day, every hour, every minute and every second... Di's well being foremost in Arnav's mind how can it not be so for Khushi? She catches a glimpse of Shyam making an escape from his meeting with Anjali and rightly deduces the reason for her sister in law's mood swings...She sees the wolf again in the guise of a sheep's clothing and believes in his goodness and concern for Anjali.. Convinced of his intentions she is ready on her mission... manao Arnavji for letting Shaym in Anjali's life...
6 months back Arnav fell for Shyam's lies and deceit.. he learnt his lesson... Khushi too has seen the evilness of Shyam.. infact more than Arnav. She still is unable to understand the mean streak which is evident in the guy... It is said that relationships are strained by the people who are in it.. their actions.. their beliefs...The opposing belief regarding Shyam will bring in the first serious disagreement among the love birds post confession... would be interesting to watch if the maturity experienced in the relationship until now still remains?
If you are unhappy, sad or annoyed with Khushi's monologue with Devi Maiyya... here is something to cheer you up... an excerpt from my post on the Iago Redux thread(5th sept,2012)
"I can only be thankful that she is a figment of the writer's imagination who conveniently forgets the chain of events that nearly killed her and Arnav besides bringing untold misery... for the sake of introduction of a new story track... because there lies the opportunity to make her smart again when the plot would again deem fit..."
My heartfelt thanks to all the readers who read my posts.
and those who manage to leave their valuable inputs and clicks on the like button inspite of their busy schedule...