Originally posted by iritz
Anjali Shyam Jha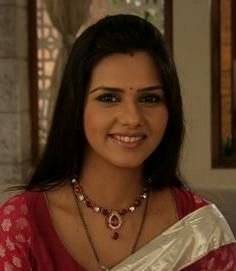 Namaste, My name is Anjali Shyam Manohar Jha and this is my story... You all know me as Arnav Singh Raizada's elder sister... I have always had a sheltered life... people around me have always loved me and pampered me... they thought that because of my handicap, the limp in my leg, I was a weakling... But I am not. I am not a weak person.

I was happy in my world... with Mumma, Papa, Chhotey and Daadi in Lucknow... until that on fateful day. It was the day of my wedding... I was happy and waiting for my life to begin when I heard a gunshot and Chhotey was crying for Mumma...

And then suddenly my life turned upside down... My parents committed suicide, Daadi left home... it was just my chhotey and me when we were thrown out of our own house by our uncle.
Naani took us both to Delhi and we started a new life, we changed our surnames from Malik to Raizada... adopted our mother's maiden name and began a fresh start ! I did not get time to mourn for my parents, my shattered wedding... the loss of all my hopes and dreams... Because I had to be strong for Arnav... my chhotey !
We started building up our lives together, slowly and things started looking better... I had given up my dreams of ever getting married... when one day I met a man called Shyam Manohar Jha... and he swept me of my feet. He was not bothered about my broken wedding nor he was bothered about my handicap, he truly loved me... Me.. Anjali Singh Raizada... for what I was, for who I was, as I was. Life seemed bright once again, everyone accepted Shyam ji and we got married.

Shyam ji loved me as much as Arnav and he took over not just my responsibility but even Arnav's... Chhotey looked up to him as an elder brother, a father figure ! Life was so good... it would have been perfect, if only Chhotey agreed to get married.
Chhotey never says no to me... he is the best brother any girl can have. I know many a times I have to twist my fingers, to get things done from him... but he is a sweetheart, he will never say no to me. So for my happiness, he agreed to marry Lavanya ji... for my happiness he let Khushi ji in Shantivan too... Even Khushi ji is a sweetheart, she doesn't say no to me either.
I was a little upset with Arnav when he broke off his engagement with Lavanya ji, but Shyam ji made me understand, that if the wedding would have happened, then my chhotey would not have been happy. God bless my Shyam ji, he understands everyone so well and he takes care of everyone's needs. I couldn't get a better husband than him.
I never understood earlier why Arnav was so affected by her. But then I realized their attraction towards each other... during Akash and Payal ji's wedding. I was so happy... Chhotey could not get a better life partner than Khushi ji.
On Akash's wedding day, I met with an accident... I almost died, that was the moment I realized the value of life... I even told Arnav how precious it is and we should not waste even a single moment. And then, I got the best news of my life... I was going to be a mother ! After trying for so many years, I was finally pregnant ! Thank you God ! Thank you !
Alas, my happiness did not last much longer... Chhotey and Khushi ji got married without informing anyone in the family !!!! How could Arnav do this to me? I had so many hopes, so many dreams for his wedding... but he got married... just like that !!! He didn't even tell me ! Such a big decision of his life, and he didn't even talk to me about it... forget taking my permission or blessings ! I felt so betrayed by him ! I knew Arnav didn't believe in the rituals, but Khushi ji... how could she get married like that ! She believed in all the rituals, she understood the importance of them... even Khushi ji did not give any answers.
In a few days, I realized how much these two were in love and by Holi, I made my peace with it... at least Arnav was happy and he chose the right partner for himself... one who loved him more than herself. Things were going smoothly... all was well. Arnav had gone to Scotland and while he was gone, I finally could understand Khushi ji's love for him. I was very happy for Arnav.
One day, while at the temple, Maami came and started saying such silly things about Shyam ji and Khushi ji... I just couldn't understand what she was saying ! Maami bhi na... she overreacts to everything. There is nothing between Khushi ji and my Shyam ji... Shyam ji loves me so much and Khushi ji loves Chhotey a lot.

I didn't believe her, called Shyam ji and Khushi ji both to prove Maami wrong, but they both were not picking up my phone ! I came back home to see Shyam ji had met with an accident, but Maami would not stop... so I had to tell her I didn't want to hear anymore of what she was saying. My Shyam ji will never lie to me.

But suddenly, Khushi ji came in... she looked as if even she had met with an accident, and then Arnav... my chhotey came in behind her... looking completely dishelved, as if he never went to Scotland ! He said he was kidnapped and Khushi ji... Khushi ji blamed Shyam ji for it ! NK Bhai is now claiming Shyam ji loved Khushi ji' Chhii !
Have all of them gone mad? First Maami said Shyam ji wanted to divorce me and now Khushi ji is saying he kidnapped my chhotey and wanted to kill him... only for money ! Don't they know Shyam ji doesn't have a single materialist bone in his body ! Poor Shyam ji kept defending himself, he kept asking for proofs against him but no one had any proof whatsoever against him ! Only Khushi ji's words and what did Chhotey did I could not believe my eyes. My chhotey, who respected my Shyam ji like an elder brother, he slapped Shyam ji and threw him out of the house. My whole life crumbled in just one day and I could not even utter a word.
I decided I didn't want the baby because who would love this baby, if they all thought so wrongly about Shyam ji. They would blame the child too. But chhotey stopped me and made me realize that it was not the baby's fault.
Chhotey has become distanced from me ever since he got married. Khushi ji has taken the most important part in his life, I am in so much pain, my life has become a question mark, but chhotey is busy celebrating Khushi ji's birthday ! Why God... why did I have to se this day? My Chhotey is not mine anymore. He is not the same brother who would do anything for me... now he listens more to his wife.
Shyam ji called me and explained to me that Chhotey has had a big misunderstanding regarding him and that soon all will be fine. Shyam ji will soon be back in the house with me, and we all will be happy once again. I kept meeting Shyam ji without telling anyone about it. No one would understand it now. But soon, they all will.
Daadi has now come to live with us and I am so happy that at least she supports Shyam ji. She helps me in meeting him.
Things are looking good once again. Chhotey and Khushi ji are getting married again, the way I wanted Arnav's wedding. I'm so glad everything is going according to how I've always dreamed for Arnav's wedding. Khushi ji is the right person for him. And I'm sure they have a big misunderstanding with regards to Shyam ji and it'll all be fine very soon.
It is the day of my "Goad Bharai" ! Very soon, our little princess will be in my arms... I just wish Shyam ji was here with me in front of everyone, not in disguise. I can see his love for me and our little princess, he could not stay away from us, so he disguised and came to be with us as he knows how important it is for me. How can anyone blame this man, he loves me so much.
But as I said, God doesn't want to see me happy for long... My foot hurt and I slipped... I lost my precious baby ! Why, God Why !!!! Why does this always happen to me? Why can't you see me happy? I can't bear this alone... I need my Shyam ji with me, even he wants to be with me.

I will make sure Arnav will bring him back... he has to. If I stop eating and taking medicines, then he will have to bring Shyam ji back. I am sure once Shyam ji is with me in the house, everything will be ok. All the misunderstandings will be cleared and we'll all live happily ever after.