ENTRY 9
At the Forensic Lab
ACP: Kya hua Salunkhe... Kaafi pareshaan lag rahe ho????
Abhijeet: aap ko phir se overacting scene mil Gaya kya?? Kahin phir se Nikhil pe goli chalaani hai????
Dr. Salunkhe : Arey nahi yaar... Singh Saab ne Abhie Abhie Mujhe aaake Bataya ki ek naya storyline yaani side track start karne waale hai... Love story!!!!
Abhijeet: kya ek aur love story ???? Ohh shayad daya ki hogi... Aakhir hum Dono ko ek saath Jo shaadi Karni hai...
Chalo...accha hua... Daya ke saath saath Meri bhi love story Zara aage badegi... Kuch naye dialog bolne ko mil jaayenge...
Dr. salunkhe : arey nahi yaar,... daya ki nahi... Meri love story...
ACP: Kya!!!!!
Dr. Salunkhe: Haan... Singh Saab ne kaha hai...ki story mein side tracks Kam hogaye hai... Waise abhijeet toh har baar forensic lab nahi aaatha... Toh Thoda side track add Karne ke liye nayi CID officer aayegi... Aur jab abhijeet forensic lab nahi ayega... Tab.. Woh nayi officer aayegi...
ACP: kya!!!!! Salunkhe .. Tum aur ek CID officer
Hey ram
After sometime in Qualis
ACP: bechaara salunkhe ... !!!!
Daya: kyon sir... Dr salunkhe ko toh khush Hona chahiye... Thoda change milega unhe... Tarika aur abhijeet ko Dekh dekh kar bore ho Gaye honge...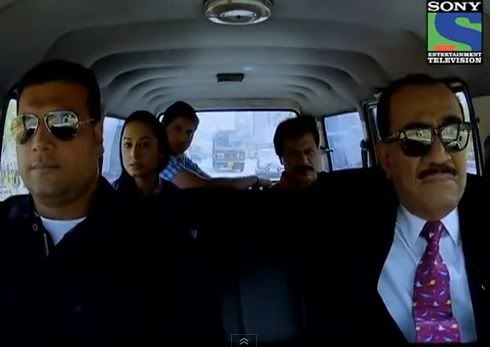 Purvi: sir... Waise aapne toh Mujhe ek minute ka liye heart attack de diye tha...aaj subah Singh Saab ne Mujhe phone kar ke Bataaya tha ki unhe mere story mein twist ke baare mein baat karni thi... Mujhe toh ek minute ke liye laga... Ki woh lakdi Mein hi hoon
Daya:
haha... Acha... Waise story mein twist kya hai..
Purvi:. Kuch naha hai sir... Woh Bas ... Agle case mein mera ek boyfriend aayega... Aur Uske agle case mein mai kidnap ho Jaoongi...
Daya: aur agle case mein pata Chaltha hai ki ...boyfriend ne hi tumhe kidnap Kiya hai
Purvi:sir... Aapko kaise pata????
Daya:
Freddy: arey Daya sir ,... Woh sab chodiye... Aap sochiye... Salunkhe Saab ki toh Nikal padi...
ACP: Freddy...kya Nikal padi... Ab is umar mein use romance karna Padega...
Freddy: sir... Yahi toh sab kuch Chaltha hai aaj kal... Humaara CID chodke saare serials mein... do Saal mein ... teen chaar shaadiyaan... Chaar paanch affair... Aur Che saath Bacche toh ho hi jaathe hai... sir Baat toh yeh hai... Ki Salunkhe saab Roz bar Roz Jawaan ho rahe hai...aur hum budde...
Daya: Tum apni baat Karo Freddy... Mujhe buddon mein shaamil mat karo... Meri toh abhi tak girl friend bhi nahi hai...
Freddy: wahi toh sir... Pandhraah saal hogaye... Ithne mein toh kisi aur serial ke main actor ki teen baar Shaadi aur saath aath Bacchae ho jaathe hai...
Daya: Freddy ... Tumhaari toh hogayi na...Mujhe yeh sab nahi sochna...Mai khush hoon... Mujhe abhijeet ke jaise dukhi nahi hona hai...woh toh soch Raha hai...ki Singh Saab se baat kare,,,...aur yeh flirting ka Kaam...sachin ya nikhil ok dede...
Nikhil:
At the bureau
Daya: arey abhijeet ... Tum yahaan... Tum toh lab mein the na... Kyon salunkhe Saab ki nayi girlfriend acchi nahi lagi tumhe ...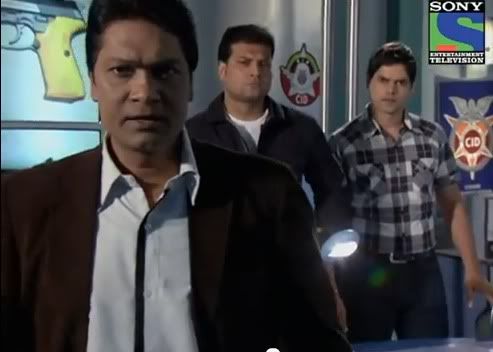 Abhijeet: Daya ...tumhe mazaak sooj raha hai...Mujhe toh ithna gussa aaraa hai... Yeh DCP Saab... Yaani Singh Saab Bhi na,.,.. Pandhraah saal hogaye hai yaar...Logon ko toh yeh bhi bata Diya hai ki hum log chalees saal ke hai... Make up kar ke chote bhi nahi lag sakthe
Nikhil: yeh Kab Bataya sir...
Abhijeet: Jale par namak mat chidko nikhil... Yeh Singh Saab Jo sab ko bataathe hai ki CID pandhraah Saal se chal raha hai... Matlab...Mai aur daya ab chalees saal ke hogaye hai... Indirectly yahi toh declare Kiya hai...pachees (25) saal ki umer mein joining aur pandhraah saal...yaani... Chaalees saal hue na...
Daya: toh problem kya hai...
Abhijeet: problem ... Tum pooch rahe ho???? Mai Singh saab se yahi Kehne waala tha ...ki... Yeh Tarika Ji ke saath romance acha nahi lagtha hai...koi chaalees saal ki umer mein college me bacchon Jaise flirt kartha hai bhala????? Tumne kaha...Thode din rukjao... Shayad kuch change ho jaaye...kya khaak change hua... Abhi Salunkhe Saab se is umer mein flirting karwa rahe hai... Toh Mujh se toh abhi ped ke irdh-girdh dance karwaange...
Daya:


Edited by astonish - 16 September 2012 at 4:14am