ENTRY 6:
ACP and Abhijeet enters in Forensic lab.. ACP asusual in hurry
ACP: Han Sarlunka kuch Pata chala??
Dr.Sarlunka: Kye Acp humesha Gora pa he sawer ho ka ata ho... Kabi Quaills ki raftar sa b ayea karo..Humesha sochta hon kabi tu late ayo ga..Traffic ma panso ga..per traffic b tum sa Darti ha.
Abhijeet to ACP: Sir lagta ha mood karab ha ajj..
ACP: han lagta tu ha..Kyun Sarluka..Mood karab kyun hai ajj??...
Sarluka: tu aur kye karon boss
.. Roz 2, 4 lasshen la ka rak data ho mera samna.. Kud tu maza sa Investigation karta rahta ho..kabi yahen kabi wahen..muja dako aik room ma Band ho ka in lasshon sa baten karo..
ACP feels Sarluka in really bad mood so tries to change the Topic to feel him relax..
ACP: han Sarluka yah tu ha..Tum b meri taran intelligent hota tu Ajj yahen na hota.
.
Sarluka smiles little bit...
Sarluka: han boss yah tu hai.. Khere main tu kahta hon main jo hon wo b tumari he mehrbani ha
..
ACP: han bilkul
Sarluka: Acha tu tum asa he sochta ho
... Kyun abhijeet tumara kye kyeal ha iss bara ma???
ACP winks to Abhijeet:
Abhijeet: han han Bikul...asa he lagta ha muja tu Sarluka Sahab
...
Sarluka makes the sad mood again
Sarluka: Kye
tuma sach ma asa lagta ha??...
Abhijeet and ACP both smiles and tries to hide their smiles from Sarluka
ACP: han tu dosti ka aser tu hota ha na
..abi dako Daya ko..Wo b tu abhijeet ko kitna manta ha
..kahta ha wo jo b ha Abhijeet ki waja sa he ha...
Sarluka: acha
..daya na asa Bola
...
ACP: han tu aur.. main na daka ha
..Daya ko abhijeet sa seekta hoe... abi tum na b muj sa seak lyea tu kye hoe sarluka
...Dosti ma sab chalta ha yar
...
Before sarluka Says anythng to ACP in anger..ACP and abhijeet left the forensic lab immediately
after saying...
Abhijeet: acha sarluka sahab kuch pata chala tu phone kar dijyea ga ACP sahab ko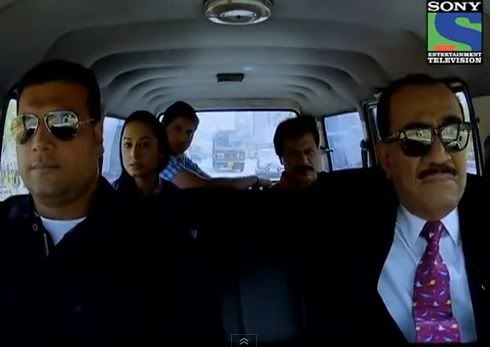 All in Quails moving for investigation purpose..here all thinking..
ACP: Yah Nikil ajj peecha kyun beta ha..wasa tu sab sa Zid lagya beta rahta hai ka Daya sir k sath jana ha..Muja aga betna do.. aur itna peecha bet gaya..
Kuch tu garbar hai ... Kuch tu garbar hai
Purvi: ajeeb baat ha ajj Tu Nikal ana he nae cha raha tha
.. Daya sir ka peecha achanak kasa chor dyea uss na.. Kuch tu garbar hai
Freddy: Yah jo ajj maine daka kye wo sach tha
kahen sapna tu nae tha..
Daya sir na nikil ko bola chalu..aur uss na zid laga di ka wo breaue ma he raha ga
asa tu pala wo Daya sir ka sath jana k lyea karta tha...tu per ajj kye hoa
Kuch tu garbar hai
Daya: Kye yar... Breaue ma he rah jata.. ajj tu zara driving ka mood nae tha.. Nikil sa kah data hon wo kar laga Driving..
Daya to Nikil...
Daya: Nikil Ma Gari rokta hon..tum zara drive karo aga... ma thak gaya hon...
After saying so he thinks..
Daya: oh yah maine kye kah dyea
.. kahen Nikil na sab k samana mera hath peer dabana shuru kar dyea tu
main kasa jan churaion ga...
Nikil: Nae daya sir.. app freddy sir ko bolya...
Daya: kye
tum mera kahna nae mano ga??
Nikil: asi baat nae ha sir.. per app Freddy sir ko bolya...
Daya and All shocked
Daya: acha rahna do..hum wasa b pochna he wala han..
After few seconds..all heard someone crying slowly..
Daya: Freddy kye ho gaya
Wife sa jagra ho gaya tha kye ajj subha??..
Freddy: nae sir... asa kyun poch raha han app???
Daya: muja laga tum ro raha ho...tum nae tu per kon ro raha ha???
ACP To Nikil
Nikil: Daya ko gari chalana k lye mana nae karna tha na..dako ab rona shuru kar dyea tum na..
Daya:
Nikil: nae sir.. Main tu...
ACP: kye main tu???
Nikil: kitna kam ha Breaue main..aur abhijeet sir akala han..kasa karen ga Wo itna kam and he starts crying loudly
...
Nikil: sir main app ko akala chor k nae ana chata tha..per meri kssi na suni he nae..
Quails stoped with high speed jerk...
All faint... ACP pushed Daya..who was looking like he is In Coma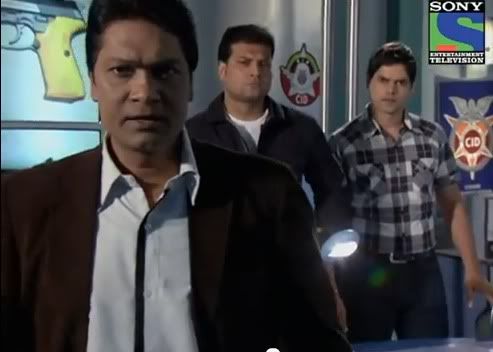 In breaue...
Daya and Nikil enters.. Daya gives an anger look to nikil who reminds him.. that ACP sir gaves permssion to him to go back to breaue but don't cry at all.. ..
Abhijeet after seeing daya and then nikil thinks
Abhijeet: Yah Nikil per sa kahen ayea gaya
.. wo b daya k sath
...hey bagwan..ajj kitna kam ha muja.. Ab yah Copy cat ma nae dakh sakta..
He stands with complete anger...
Daya: wo abhijeet muja tum sa kuch kahna hai...
Abhijeet: kye kahna ha tuma.. Mera demag pala he karab ha..abi koe ulti seedi kaber na suna dana case k bara ma...aur tum log wapis kasa ayea gaya itni jaldi..
Daya tries to say somthing..but how he don't knw...
Nikil Seeing Abhijeet very carefully and now thinking..
Nikil: kasa kara hota han abhijeet sir
ajj sa he una copy karna ha muja.. kal sa Aik coat be kareed lon ga.. her month ki salry sa aik coat
.. hair style tu ajj he un jasa bnawata hon... aur muja unn jasa bolna b tu seekna ha...
sab kar lon ga... Jab sacha jazba app ka sath ho tu koe cheez app ko roke nae sakti...
Abhijeet in anger speaks...
Abhijeet: Daya chup kyun ho..bolo b kye hoe??? muja pala he itna kam ha..
he moves behind and sees Nikil is watching him with complete Concern and attention... Abhijeet says
Abhijeet: yah tuma kye hoe Nikil..daya ko chor ka muja kyun gorna shuru kar dyea tum na
Daya: woe tu main tuma batana ayea hon.. Nikil ajj sa tuma follow kara ga..
Abhijeet: kye
Daya: han Wo forensic lab ma ajj tum na sarluka sahab ko btya ka main jo b hon tumari waja sa hon..nikil na wo sab sun lyea...aur uss ka kahna ha. wo aik aik seeri chara uss sa betar ha wo lift sa uper jaya
Nikil with complete shy look speaks
: han sir wo..ajj sa app mera guru...app muja apni sharen ma la lijyea.
..
he tries to touch Abhijeet's foot
.. arshirward dijeya sir apna Shishya ko..main app ko kabi nirash nae karon ga..
.
Abhijeet tries to move and thinks...
Abhijeet: yah sab tu Nikil ko dakna k bad main na aur Acp sir na jan boj ka bola tha..ta ka Daya ki jaan chota..per yah Bala tu mera sir ann peri...
Abhijeet to daya instantly...
Abhijeet: Daya bechio ...
Daya: nae Boss... Meri tu kud Muskil sa Dua kabool hoe ha... iss bar maded k lyea muja na dakna plz..baki tumara lyea jan b hazir hai...


Edited by neeme - 13 September 2012 at 3:28am