Originally posted by Madhu123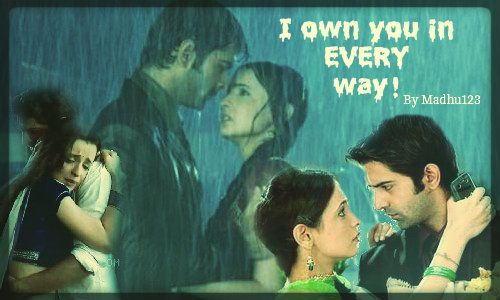 Part 65:
The Kiss continued for some more time and Khushi saw the bedroom door open. She pushed him and pulled back from the kiss.. He gave her a "WHAT NOW" expression and she gestured him that the door is open..
Arnav: So what? There is no one at home.. And Daadi.. I dont give her a Damm.. If she sees, its her problem..
Khsuhi hit him lightly on his chest and then replied back..
Khushi: Arnav.. Please.. I wouldnt be comfortable.. Lock the door..
Arnav got up from the bed on his wife's request and then walked to the door to lock it.. He locked the door and then turned to the bed and saw her already got up and walking to the closet..
Arnav: What The..!! Khsuhi.. Who asked you to get up from there?
Khushi smiled.. She knew he would be irritated to see her out of their bed like this.. She continued walking and then opened the closet and took the Lingerie Box out..
Arnav was totally shocked now.. Was she actually going to wear it for him tonight?
Khushi turned back and saw him..
Khushi: Dont you wish to see me in this Arnav???
Arnav smile and smirk was one now.. He noded a Yes and she walked to the Bathroom door..
Khushi: Give me 5 minutes..
Saying this she entered the bathroom door and locked it from inside.. Almost some minutes passed and Arnav wasnt happy being restless here outside.. He wanted to see his wife.. In that gift of his.. THis night was truely special for him.. After all the efforts that he had put in getting close to her, after all the nights that he spent sleepless dreaming of marking his wife was finally arrived and he had no more patience to start loving her in his own ways.. There were still some bad thoughts in his mind which were disturbing him though.. The thoughts of the first time he had called her in his Guest house and tried to force himself upon her, the next time when he had dropped her in the pool and then forced her to change her wet clothes before him and last but not the least the day after their marriage when he was almost one step less to actually mark her as his but forcibly.. How much hurt and pain he had given his wife , his Khushi and today still she is with him , standing with him with all her support and Love.. He should be truely thankful to her Devi Maiyaa who has still made her Love him .. He closed his eyes and waited for her to come out.. He was sitting on the recliner and thinking about the past deeds of theirs when finally the bathroom door opened and she came outside.. He didnt open his eyes though.. He knew he was eager to see her, he was dying to feel her but he wanted to confess some more things before he could actually start something..
She was wearing a Black Robe over that Red Lingerie.. The Robe covered only till her Knees and she was still feeling all shy and uncomfortable to stand before him.. But when she saw him closing his eyes and sitting on the recliner, knowing she was out, she was little surprised..
She walked towards the bed and then stopped feeling more shy ..
Khushi: Arnav..
Arnav opened his eyes and saw his beautiful wife before him in a Black Satin Robe till her knees.. He so wished to get up from there and Hug her.. He looked at her blushing Red Face and he could easily read how much uncomfortable she was feeling tonight.
Arnav: Khushi.. You are still in the Robe.. Relax..
Khushi smiled and then didnt know what she had to do next .. He kept on looking at her face and he could sense she was totally nervous..
Arnav: Okay.. You dont have to think about all this anymore Khushi.. Just come here and sit beside me.. I need to talk to you..
Khushi smiled seeing this Humble side of his and his so called Patience.. She walked to him pulling her Robe down as much as possible and then finally sat beside him on the recliner..
Arnav gave her some space moving aside and then held her hand and placed it on his lap..
Arnav: You ok now?
Khushi was still breathing hard and she noded a YES looking down..
Arnav: Khushi.. It must be hard for you to accept me as your life partner right? I mean my anger, my arrogance, my dominance.. How do you manage to take it all from me ??
Khushi: Thats what a wife is for.. (She said looking in his eyes) If a Wife cant take it then who would Arnav??
Arnav gave a weak smile and started playing with her fingers.. Her fingers were cold as ice.. May be she was still not adjusted to the fact that they were spending a Proper Married night tonight..
Khushi: You dont need to think all this Arnav.. I have crossed that phase long back .. The phase of accepting you the way you are.. And I am sure you too have done that.. So its balanced..
Arnav: Are you Happy with me Khsuhi? I mean is there anything in your mind that ever tells you WHY ? WHY COULDNT YOU DESERVE SOMEONE BETTER THAN ME?
Khushi left her hand from his and cupped his face .. He looked in her eyes which were about to burst tears from them..
Khushi: I couldnt have got anyone better than you Arnav.. Why do everyone think People like you cannot change anytime? I have seen the change in you.. Everytime.. Since the time we have met I have seen the Beast in you changing to a normal Man.. Trust me Arnav.. You are no longer the same person who was the reason of my pain and tears.. You have changed for me.. And that makes me think No one else could replace you in my heart..
This sentence was so reassuring for Arnav.. He truely didnt deserve a wife like her though.. But she was his now and nothing and no one could change that.. He hugged her passionately, forgetting all the ill thoughts in his mind. She knew he was still somewhere repenting for the horrible past he had given her but now she was happy with him and she knew he would do anything to keep her happy and contended hereafter..
She kissed his cheek neck and then continued hugging him tight.. He whispered in her ears kising her ear lobe..
Arnav: So did it fit properly?
Khushi was tomato red now.. Ofcourse the Lingerie he got was of perfect size.. He was her Dark character husband and such husbands clearly can guess more easily about their wife's sizes without even seeing .. And her husband had seen her in much less clothes until now.. So he had to get the perfect size only.. She noded a Yes and pressed herself inside him wanting to hide herself.. She was very shy and her innocence wasnt going to work tonight, she knew that..
He pulled back from the hug and then picked her in his arms and then walked to the Poolside.. She was so confused.. Why was he walking in the opposite direction?
Khushi: Arnav.. Why are we going therE?
Arnav: To refresh some sweet memories Khushi.. Remember how I had dropped you in the Pool and then we shared some moments at the edge there? (He said gesturing her to look at the Pool which was all crystal clear inviting them.. She smiled and blushed harder.. )
Khushi: That means you going to drop me inside now? No Arnav.. The water must be cold..
Arnav: Firstly I am not going to drop you and secondly even if the water is cold, I am here to make you Hot..
Saying that he stepped inside the pool using the small stairs.. His Black Track Pant was all wet by now and he slowly landed her inside the pool so that she can stand too.. She held his shoulder and pressed it tight when the cold water immersed her lower body in it.. Her eyes tightly shut feeling the chilling cold water and she couldnt help but hug her husband once again.. He hugged her back..
Khushi: Is it done? I mean when are we getting out of here? (She asked in a shaky voice)
Arnav: This was just a trailer Khushi.. I am planning to make The entire Film here..
She pulled back, looked at his face to see if he was actually serious and then pushed him feeling shy and in the process of moving back, her leg slipped and she was about to fall back when her husband held her hand and supported her.. Her hair were left open now and they were half immersed in the water .. She was waiting for him to pull her towards him and she knew in next few seconds he would.. Arnav looked at her face and then his eyes roamed on her Satin Robe Knot.. He pulled the Knot open making the Robe sides to hang lose on her and the gift that she was wearing inside was now visible to his eyes.. She felt cold, she felt hot and she felt much more than this at the same time.. She started struggling and he pulled her towards him and started kissing her lips hungrily.. Her taste always drove him Mad and today was no different.. His hands were busy in roaming on her bare skin inside the robe and pressing her towards him from every possible side making sure not an inch of hers was left untouched by his fingers..
He slid the robe down still not leaving to kiss her lips and she could feel gossebumps all over her skin due to the exposure.. She hugged him tight making sure he doesnt see her like that. The kissing was far better than him admiring her inch by inch.. He rolled her to hit her back at the Poolside edge and then picked her from her waist and then made her sit on the edge.. The kissing was stopped and they looked at each other.. Their eyes speaking volumes, their desires already out before each other and waiting for their next move..
Arnav: It was my dream to make love to you here.. But only if you fine ..!!!
Khushi: Never say its YOUR dream anymore.. Its OUR Dream Now..
Arnav kissed her back getting the confirmation from her and then the Poolside romance actually began..
To be Continued