Okay we have a formidable team of 'crushers' ( poetic license used with utmost liberty) now with Amar and Ahana in the picture.
What if each had 2 minutes (heavily inspired by Maggi Noodles) to speak for their crush and market themselves as prospective candidates.
Drool over Doc (DOD) participant Ahana:
I am your pretty intern
Who can remove your frown stern
Forget what I have to learn

I am your cure for heartburn
As what I cook will make your yearn...
Ashutosh: No thanks it has already made my stomach churn
Your attention I have to spurn
For I will wait forever for my wife to return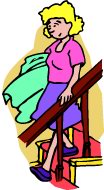 Ahana: He's married what a nasty turn!
(Faints after hearing the news and eating the lunch she had cooked for Ashu)
Nutty about Nidhi (NAN) participant - Amar
Here I am after a gun shot
To be treated by a doctor hot
Will take all chances and plot
Without getting caught
For you I have ready a yacht...
Nidhi: All your attention will not
Allow me to be bought
As I have already tied the love knot!
Amar: What a waste of time, I'm so distraught!
( Falls down shocked and winks at the new intern who catches him)
To be continued...