@Jyo: That is really interesting! I had never thought that maybe both Prashant and the diary might be involved in this whole mess. It would paint two entirely different pictures of Aarti and maybe explains Yash's sarcastically telling her not to do any more favours for his family. Anyway, I am pretty sure it is the divorce truth, considering I have had a hunch since the beginning of this whole track. If it is not, I will be very disappointed after all this hype.
@Z: Great take! I agree. Yash must only know about the lie but not about what Aarti went through with Prashant. I think when he sees Prashant's true colours, the side of him that beat up Aman for nearly touching Aarti will come out full force. I think this is why Aman was brought in. It was sort of a foreshadowing of what was going to come when Yash found out about Prashant...sort of an if he can be so jealous about a friend, how will he react to Prashant?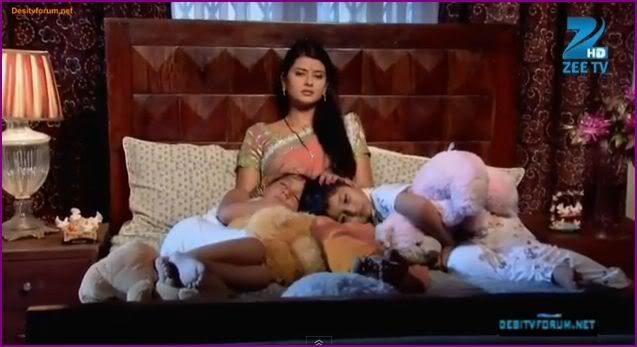 @Deeps: I just love the picture above just for how natural it looks and how in character the kids are. Look at the way Palak is all curled up gracefully, with her hand over a teddy bear while while Ansh's legs are sticking out at all odd angles and the teddy bear's butt is flying in the air. It is too cute! Also, isn't that Palak's teddy bear that Ansh is holding on to, the one she talks to all the time? If that is done on purpose than my kudos to the CVs! It shows how much these two have become one unit together...AW!
@Doratalk: Yes! I was glad to see this civilised and awake Yash too. I know he is kind of a freak of nature but I can see now that he was doing the best be could with the tools he had. When I was reading your take, it actually reminded me of the pin-bum incident where Gayatri asks why Yash has a fever and Aarti is about to confess about the pin poking him. Yash cuts her off and says fevers can happen any time. Later, Aarti, not getting the hint makes Ansh confess in front of everyone and look where that landed poor Ansh? So I think basically, the point is that Yash knows his family and he knows what information to reveal and what to withhold when he is in his senses. I am guessing that is precisely what he is doing here.
@Prasadini: Beautiful poem!
@Angel: Thanks! I think that rainy night was his first step towards Aarti and that is why he keeps remembering. Maybe the storytellers are painting that moment as the point of no return?
@Binde: Oh, I hope so! Yash adopting Ansh legally would be a wonderful thing to see on the show.
@Zet: Thanks! Yes, rain and loss seem to have a strong association in Yash's head. That is why he was so uncomfortable that day, seeing Aarti interact with the rain without any fear.
@Anonee: I am talking about the flashback, ie, just what Yash is seeing now, not what we know transpired that day. And as far as I remember he has only had flashes of that one moment, not the one that followed. I could be wrong so do tell me what episode it is in, if so.
@Veena: I think I just have a much more optimistic view of Gayatri than you. I saw sincerity in her voice and her demeanour today which was starkly different from the usual cold shoulder she gives Aarti, minus those few days when she loved her. She just wanted to get to the bottom of this, but there is also no denying that she has a soft spot for Aarti and I think Aarti made the Scindias love her in a way they never expected, which is actually making them guilty about saddling her with Yash.