Originally posted by GanBarunFan
Priya:
Very pertinent Crooner...you reflected the thoughts of many of us who have always given the creatives the benefit of doubt and tried to hang on to the silver lining of a track when the rest of the forum was crying for blood. This digression of what used to be signature IPK: darkness related to turmoil of complex human emotions to this ultimate celebration of evil is becoming a pain to sit through. Since the clandestine tea party of Shyam and Anjali at RM, I can say that fast forward feature of YT video has been one constant in my 1st viewing of every episode sans a couple. I know an antagonist is needed for adding a kick to the drama...but the previous episode's "Shyam walk" in the hospital corridor is one example of how things are being taken too far...what the hell was that? I ranted in the previous crooner about repercussion of over-importance of Shyam on the TRP... a simple one time walk through the numbers vis-a-vis the content of the episodes will give them a crisp picture of why inspite of other part of the script and execution working fine, the TRPs are hovering in the 2.7 zone.
The only reason it has not dropped further is for the guy in my collage.
I need to add as usual brilliant title, quotes and fantastic caps edits.
~Edited~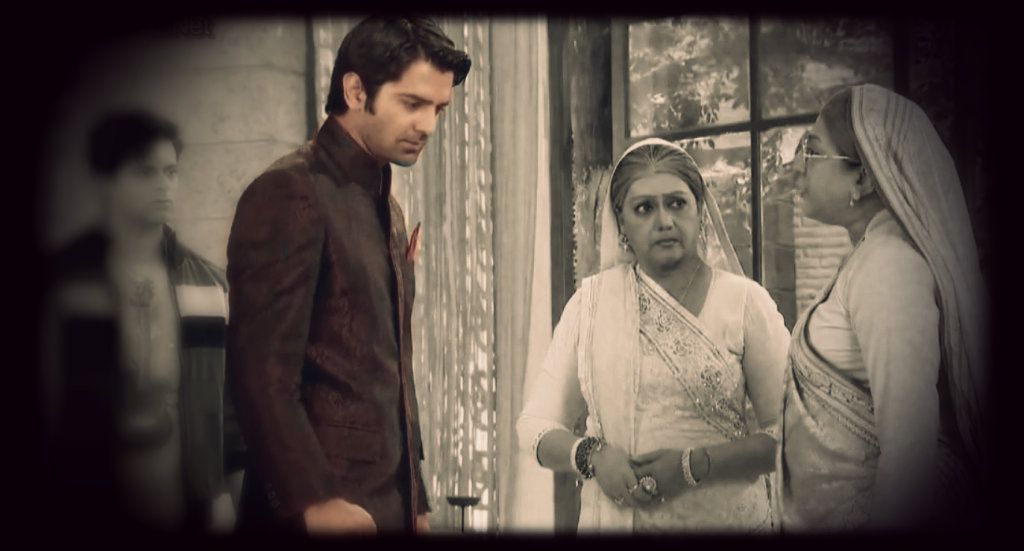 The episode had me rooting for the man ASR in the beginning and wanting me to hug the brother Arnav at the end. What myriad of emotions a guy went through. The caring brother who tried to comfort his grieving Di... Only to be accused by Daadi(another gullible victim of SMJ's brainwashing) of being callous about his Di's needs. That led to an ultimate face-off between Daadi and ASR. The best scene of the day. We saw a man with conviction, who's not afraid to acknowledge his own mistake reminding Daadi about her misconceptions both in the past and present, about her abandonment of the orphans for 14 years and at the end reaffirming that he'd take care of Anjali's safety like he has since their parents' death. And the shatir dimag takes no time in connecting the dots about Daadi-Shyam nexus.
Barun was fantastic in the scene! It gave him an opportunity to use all his acting chops; He optimally used every single muscle of his face to perfection, to that add the gulps, gritted teeth, the expressive eyes and great diction ...end product is an acting of a class of its own! He was aided by some great script and awesome dialogs.
I agree with you Priya about the "Are you kidding??!" scene between ASR and Khushi. I was surprised to hear it from her! I could understand her trying to give Shyam benefit of doubt on Payash wedding day after she came to know of Anajli's pregnancy. But since that day she's the one who was on the receiving end of Shyam's lecherous advances which reached disgusting proportion during Arnav's kidnapping. She had seen first hand how a smooth talker he could be, when it comes to getting something he wants. So for her to feel sorry for him was just a bit too much. Thank God sense prevailed on her for now. For those who said, she's in her character, I have to disagree because Khushi has till now never been shown as gullible. Yes she has given ASR numerous chances because he's always been by her side when it matters and people do weird stuff when they fall in love
...there's no such feelings for Shyam, especially after his attempt on both of their lives.
I skipped through the parts between Shyam and Anjali.
The last shot of disbelief on Arnav's face hearing Anjali's request for allowing her 'Shyamji" to come back,spoke volumes.
Few questions for CVs:
The mysterious case of missing shards of broken glass: no mention or sign of injury since those bloody feet around the mishap...no one absolutely no one noticed her bloody feet: her family who took her to the hospital or the hospital staff. Another convenient amnesia? RM has secret passage : Otherwise explain to my little brain how does one reach Anjali's room inspite of a house full of people and "security"...
What was in the soup or whatever in the bowl?: It gave a woman who just miscarried that day, with her feet slashed by broken glass, miraculous boost of strength; more than she had during her pregnancy to walk up to her brother's room to request for her favorite playtoy.
An episode which I enjoyed the 1st part, was livid at the irritating middle part and felt sorry for a brother who sacrificed 6 months back his dreams for his Di who in return cares only about her own feelings. An all in all Sobti episode.

@ Gandhari, exactly my points...but of course defined and dsecribed in much better way...
Shyam has been established as a villain but there is an attempt to highlight his screen presence which irks me...
Anjali is beyond redemption now...she thought about this blackmailing idea and is clearly on her way to play with her brother's emotions...she knew very well what can change his decisions...i can no longer see her as gullible...she has an equal shaatir dimag which she will be using to exploit her brother to full extent..
for d soup i have an answer it was d magic potion of Popeye
.
a special mention of d collage of that person who is not allowing d TRP to dip further...


Edited by mouramen - 06 September 2012 at 1:24am